(Disclosure: Some of the links below may be affiliate links)
Update July 2021: No more inactivity fees!
Interactive Brokers (IB) is an excellent broker. I have been using their services for about two years now. It is time to give my honest review of Interactive Brokers.
In this review, you will find all you need to know about Interactive Brokers, what you can do with IB, how much IB will cost you, and much more!
By the end of this review, you will know whether IB is a good broker for you or not!
What is Interactive Brokers?
Best Broker for Swiss Investors
Interactive Brokers
Interactive Brokers is an outstanding broker, with extremely affordable fees! Trade U.S. security for as little as 0.5 USD!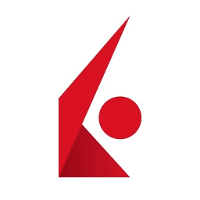 Interactive Brokers (IB) is a well-established brokerage firm (a broker) from the United States. IB was founded in 1978 already.
Today, Interactive Brokers is a huge brokerage company. They are the largest trading platform in the United States. IB is also a profitable company with more than one billion US dollars in yearly revenue. IB is employing more than 1500 employees worldwide.
IB offers access to stocks, bonds, options, futures, and other financial instruments in the leading stock exchange of the world. You will have access to all the investing instruments you will ever need.
So, let's see precisely what IB has to offer as a broker.
Interactive Brokers Account Types
Interactive Brokers offers two types of accounts.
The default account type is the Cash account. With this account, you can only trade with the money you have on the account. It is the account type I am using and the one that is good for most people.
The other account type is the Margin account. With this account, you can trade on margin. It means that you can buy stocks with money you do not have. So, IB will lend you money to trade on the stock market. And you will pay interest on the money loaned to you. Generally, with margin, you have a certain level of margin. For instance, if you 10K cash and a 4:1 margin, you will have 40K available.
For most people, a Cash account will be the best choice. If you do not know what margin is, do not think of getting a Margin account. If you do not know what you are doing, you could lose a lot of money. On the other hand, if you know what you are doing and want to use leverage, you can choose a Margin account.
Interactive Brokers Fees
In the long term, you need to reduce your fees. Investing fees are extremely important.
Interactive Brokers has two fee systems:
Fixed Fee System
Tiered Fee System
The fixed fee system is straightforward. You will pay a fixed fee for each exchange. For instance, you will pay 0.10% on transactions on the Swiss Stock Exchange (with a minimum of 10 CHF).
The tiered fee system is much more complicated. You will pay all the individual fees, such as clearing fees, trade reporting fees, and transaction fees. And the rules are different for each stock exchange.
A lot of people are turned away by the complexity of the tiered fee system. But for simple investors, the tiered system is often significantly cheaper. In all the calculations I did, the tiered fee system was always less expensive than the fixed system. So, if you want the lowest fees possible, you should opt for the tiered system.
I will not go into details about all the fees of Interactive Brokers because they are complex. But overall, the fees of IB are really low. For instance, here is a comparison I did for the best brokers in Switzerland: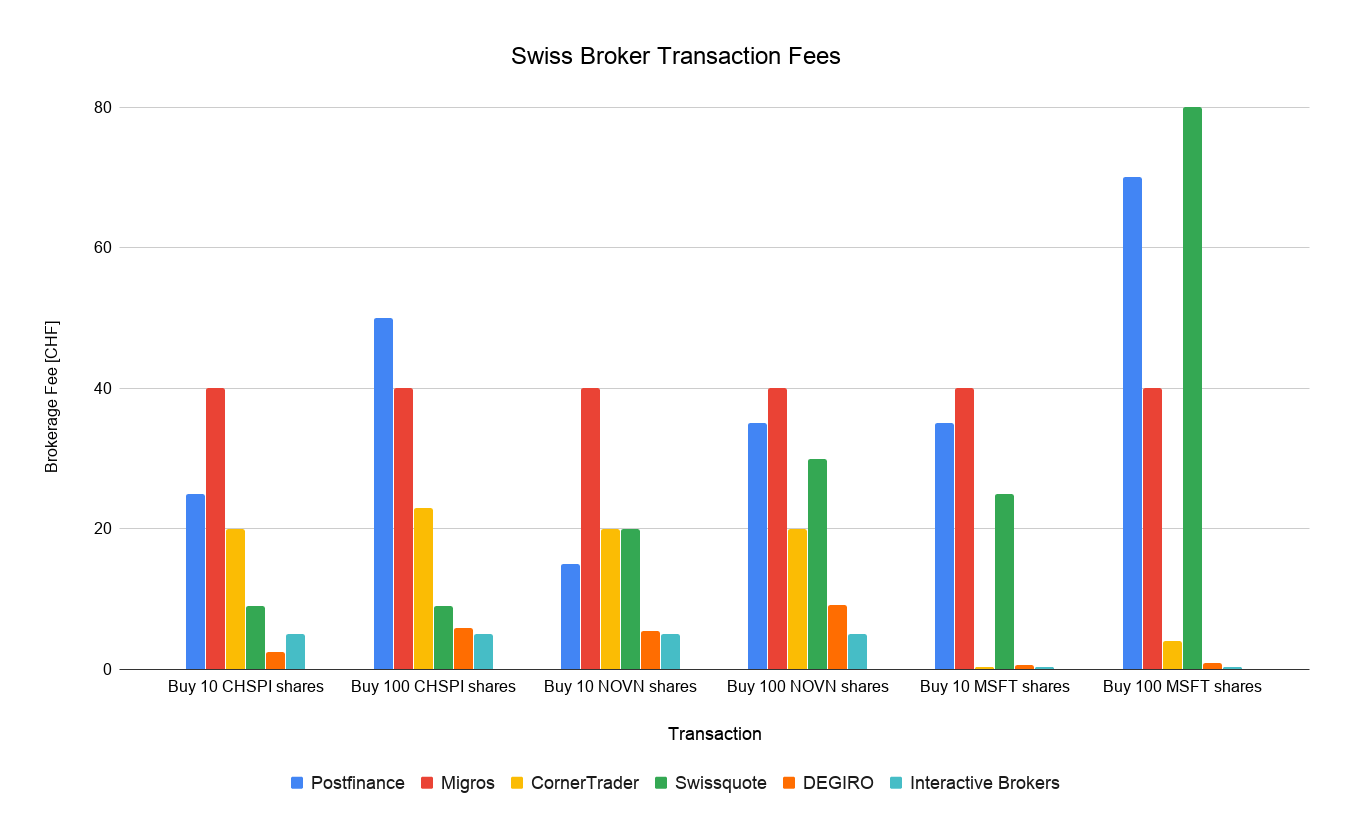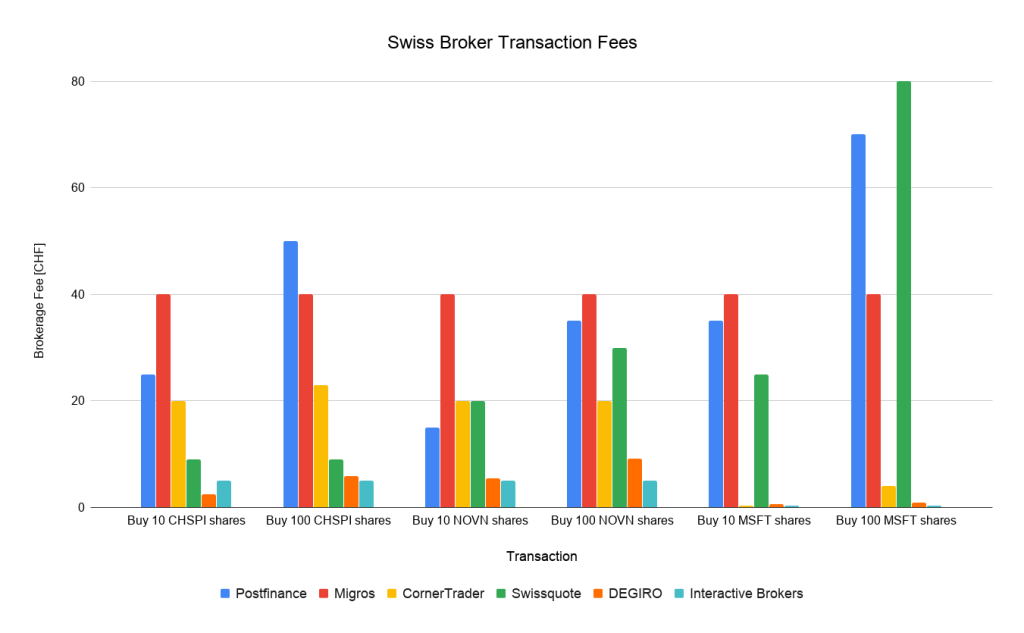 When you compare with other brokers available in Switzerland, we can see that the fees of Interactive Brokers are excellent. If you trade a few times per month, your fees will be really low!
Custody / Inactivity Fee
Fortunately, there are no custody fees or inactivity fees at IB!
This is a great advantage of IB compared to most other brokers. Not only, they have great fees, but having no custody fees is awesome!
Negative Interest Rates
If you have more than 100'000 CHF in cash (not invested), you will pay negative interest rates on the sum higher than this amount. At the time of this writing, the negative interest rate is -1.06%.
You can get the current interest rate on this page.
Many people are worried when they start investing because IB shows a warning about CHF carrying a negative balance. But currently, this only applies to balances higher than 100K CHF, so no worries to be had.
Opening an account with Interactive Brokers
Opening an account with Interactive Brokers is not complicated, but it will take some time. The procedure asks many questions and has many steps.
First, they will ask for general information about you (name, address, and such). You will also need to select the type of account you want. This choice is essential. This step is also where you will choose the base currency of your account.
The second step of the procedure is to give financial information. IB will ask you how much money you have and how much experience you have with IB. And you will have to choose which instruments you want to invest in. Do not worry too much since you will be able to register new instruments later.
The next step is about accepting the terms and conditions of Interactive Brokers. I would recommend at least skimming through them. After this, they will ask for some proof of your identity and some extra information related to taxes.
Finally, you only need to fund your account for it to be complete. While this is not the most straightforward procedure out there, I do not think this is too complicated.
If you want more information on the process, I have a guide on how to create an Interactive Brokers account.
Using IB to trade
Interestingly, IB has many user interfaces:
The standard web application
The mobile application (IBKR Mobile)
The WebTrader web interface
The Trading Workstation (TWS) desktop application
So, there should be an interface for everybody!
You can do most things from all interfaces. For instance, you can trade stocks from each of these interfaces. The problem with IB is that many people have been talking bout the TWS interface. So, many beginners believe they should use it. But the TWS interface is the most complicated of these interfaces, by far.
I have never used the TWS application for trading. It is just too complicated for most investors. If you are a simple investor and invests in ETFs, you only need the Account Management interface. If you prefer phones, you can also use the IBKR Mobile application to trade as well.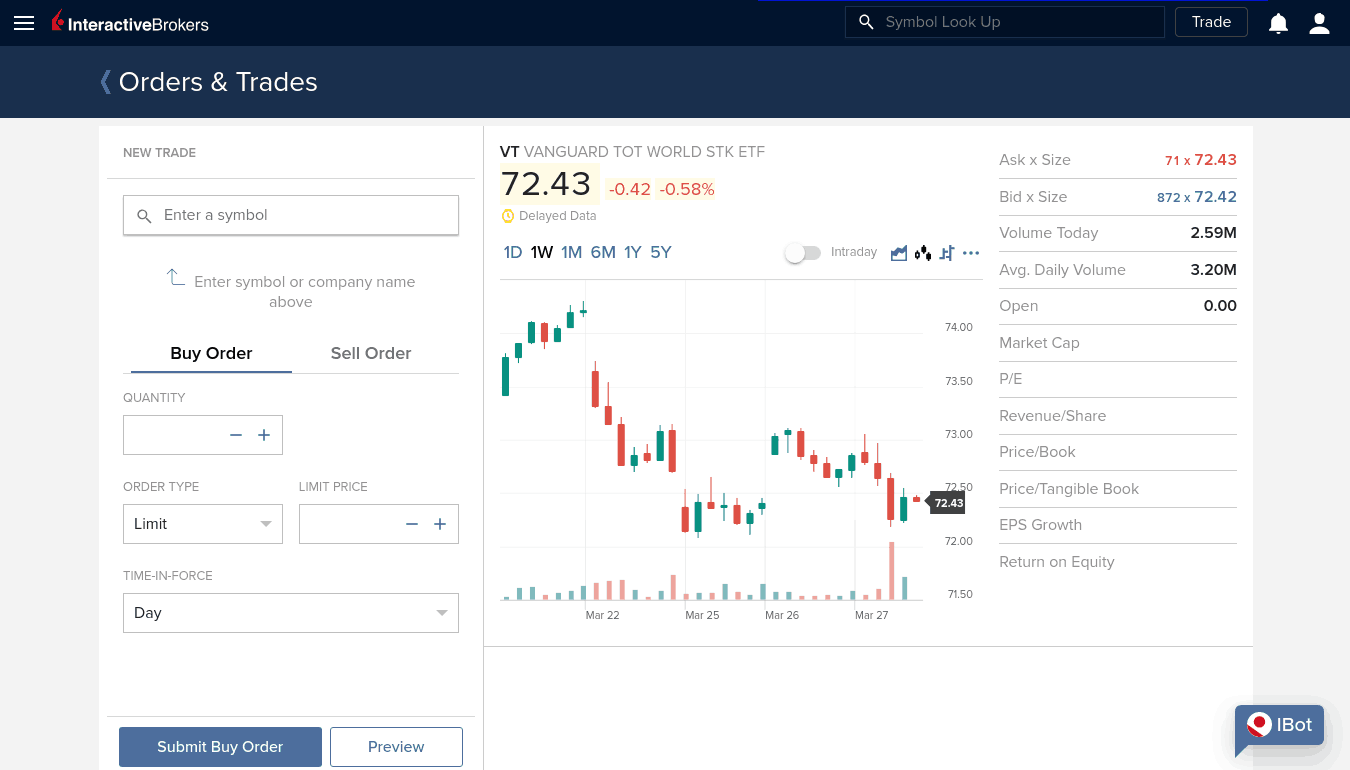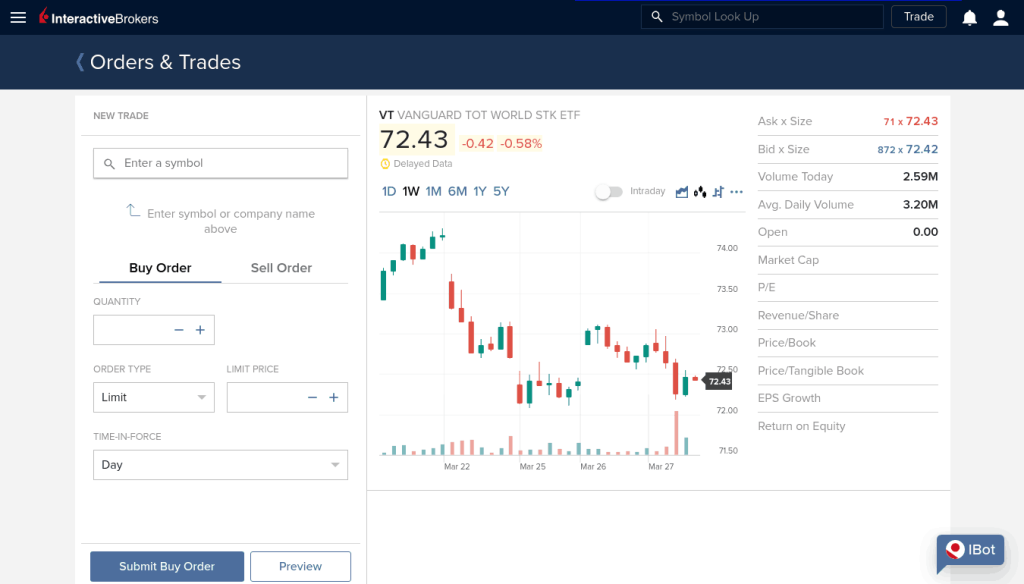 From account management, you can trade everything you want. And you can also transfer money to and from your account. All these operations are relatively simple.
You can fund your account for free with a bank transfer. First, you will have to declare your bank account in IB, and then you can make a deposit. Withdrawals are working in the same way. You can only send money to accounts in your name. I never had any issues with either deposits or withdrawals.
If you want more information, I have a guide on how to fund your IB account and trade an ETF.
Is it safe?
You want your broker to be safe if you are going to invest a significant account of money. So, let's look at the safety and security of IB.
Regulations
First, we can take a look at regulations. Depending on the country of the customers, Interactive Brokers has seven different legal entities. For instance, Interactive Brokers LLC works in the US while Interactive Brokers (U.K.) Limited works for European clients.
Each of these entities is regulated. For instance, the US Entity is regulated by the Security Exchange Commission (SEC), and the UK entity is regulated by the Financial Conduct Authority (FCA). So, overall, IB is extremely well-regulated.
Protections
On top of that, protection in case of bankruptcy is also critical. Again, your protection with IB will depend on where you are domiciled. The SIPC will protect US Investors. SIPC protects your assets up to 500K USD. On the other hand, SIPC will only protect your cash up to 250K USD.
For European investors, it is a bit more complicated than that.  Your protection will depend on what you are trading. With forex, CFDs, and non-US options and futures, you are protected by the FCA, up to 85K GBP. For stocks, bonds, funds, and US options, you are protected by the SIPC, up to 500K USD (cash is only protected with 250K USD).
Again, you have good protection against bankruptcy with Interactive Brokers.
If you want to learn more, I have an entire article about broker bankruptcy.
Technical security
Finally, technical security is also essential.
With Interactive Brokers, you will have strong technical security. All the communications with the server are encrypted. But all honest brokers are using encrypted traffic.
Most importantly, you can use Two-Factor Authentication for your account. For that, you will be able to use the IBKR Mobile Application. Every time you log in from the web interface, you will have to confirm the login and enter one more code on your phone. This second factor adds a great layer of security to your account.
So, Interactive Brokers has excellent security!
My Experience with IB
I started investing with Interactive Brokers when DEGIRO suddenly blocked access to US ETFs to Swiss Investors. Since then, I have been extremely happy with Interactive Brokers.
My entire stock portfolio is in my IB account. I am buying new shares of ETFs every month from the default web interface. I have tried other interfaces as well. The IBKR Mobile application is very well done. But I generally prefer using my desktop computer rather than my phone.


I am doing everything from the Account Management interface. This interface suits all my needs. With time, I have learned to ignore most of the features of the tool. I only need a few features for my trading. And IB fits my needs perfectly well.
Since I sometimes get paid in USD, I can wire them directly to my Interactive Brokers account. That way, I do not have to pay any currency exchange fees. And that way, I can directly invest the money.
Since I have reached the 100K threshold on my account, I have paid minimal fees. I wish I had started to use Interactive Brokers directly. For serious people, it does not make sense to worry about 10$ per month in custody fees. This fee will be insignificant in the long term.
Overall, I am happy with my experience with IB. I never had an issue with the broker. All my transfers reached IB very quickly. When I need to withdraw money for my downpayment, I did not get any issues either. And all my trades have been perfectly executed. The reporting on the web interface is also exactly what I need. I can only recommend IB!
IB Reputation
It is essential to look at a broker's reputation before using it to invest in the stock market.
As a source of review, I always use TrustPilot. So, let's look at the reviews of IB on TrustPilot. On average, users are rating IB at 3.3 stars. Before looking at this, I was expecting a higher score. So, let's look at what people are complaining about.
First of all, let's look at what people do not like with IB. we can categorize most of the negative reviews into two categories:
Poor user interfaces. It takes a while to get used to the user interfaces of IB. But after some time, it is straightforward to use.
Poor customer service. It seems that many people have issues getting help from customer service. I cannot comment on that since I have never used their customer service. But I know people in Switzerland that did and never had issues with them.
Overall, I am not too worried about these negative comments. A lot of them do not seem serious. And many of them seem like people pissed off at making mistakes with the platform. But of course, it would be better if they are fewer negative reviews.
One good thing is that the majority of the reviews (39%) are rated at five stars. So, let's look at what positive reviews are saying:
Excellent customer service. It is interesting to note that there are both negative and positive reviews on IB's customer service.
Excellent fee system
Excellent order execution
Good platforms
So, we can see that overall the reviews are mixed for IB. I think it comes from the fact that it takes a while to get used to it. Once you get used to it and you focus only on the things you need, IB is quite simple to use.
Interactive Brokers Pros
Let's summarize the main advantages of Interactive Brokers:
A vast range of investments
Very low fees
No custody or inactivity fees
Very professional service
Offers US ETFs to Swiss Investors
Good overall reputation
Long experience
Excellent security
Interactive Brokers Cons
Let's summarize the main disadvantages of Interactive Brokers:
It can be intimidating at first
Too many user interfaces
Customer service has a bad reputation
Interactive Brokers vs DEGIRO
For European investors, DEGIRO is another interesting alternative. So, it is interesting to compare these two brokers.
The first main difference between the two brokers is that only Interactive Brokers offers access to US ETFs to Swiss investors. It means that if you invest with DEGIRO, you will have to invest in inferior European funds. It will make a  significant difference in the performance of your portfolio. This single difference makes IB a much better choice than DEGIRO for Swiss investors.
But we can also look at the fees of both brokers. There are a few differences between DEGIRO and IB:
IB is much cheaper for the American Stock Market
DEGIRO is very slightly cheaper for the European Stock Market
IB is much cheaper for Foreign Exchange (FOREX)
For the features part, there are a few differences as well. IB is also a FOREX broker so that you can hold many currencies in your account. And foreign currency exchanges are cheap. On the other hand, DEGIRO offers automatic currency exchanges when you buy and sell, but it is significantly more expensive than IB (unless you do tiny conversions).
For the user interface, DEGIRO is slightly easier to use than IB. On the other hand, IB has many more features. But, likely, simple investors will not need many of these features.
Also, there is another difference in share lending. By default, DEGIRO will lend your shares to other investors. If you do not want that, you will have to opt for the Custody account, but you will then pay a fee on dividends. On the other hand, IB will not lend your shares by default. But with IB, you can choose to do that, and then IB will give you some share of the profits. I believe IB's approach is much superior by not lending your shares by default.
Finally, IB was established in 1978, while DEGIRO only started offering brokerage accounts to retail investors in 2013. So, IB has more extensive experience.
So, overall, Interactive Brokers is a much better broker than DEGIRO. You will be able to access US ETF if you are Swiss. And you will be able to get excellent service at very low prices.
If you want more details, I have two comparison articles for you:
Conclusion
Best Broker for Swiss Investors
Interactive Brokers
Interactive Brokers is an outstanding broker, with extremely affordable fees! Trade U.S. security for as little as 0.5 USD!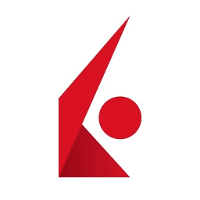 Overall, Interactive Brokers is an excellent broker. Their fees are incredible, and their service is top-notch. If you want a professional broker at a very fair price, Interactive Brokers should be your choice.
Since they are still offering US ETFs to Swiss investors, Interactive Brokers is currently the best broker for Swiss investors. If you want to optimize your portfolio, no other broker even comes close.
I have been using Interactive Brokers for more than two years now. I am pleased about IB, and I plan to continue using it for a long time. IB is the broker I am currently recommending to Swiss investors. And it is also an excellent choice for European investors.
If you are interested in IB, I have a guide on how to open an IB account.
What about you? What do you think of Interactive Brokers?