(Disclosure: Some of the links below may be affiliate links)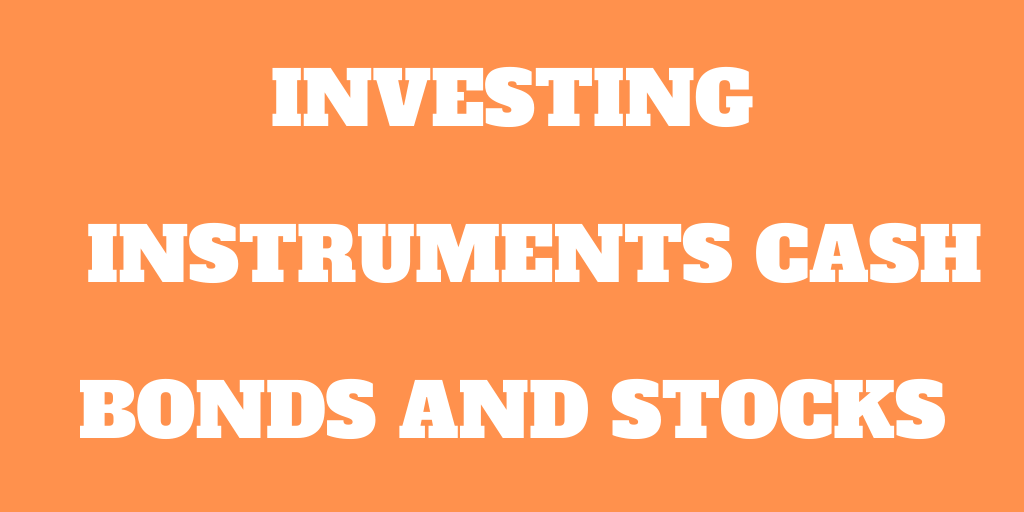 In the first post of the Investing Guide for Beginners series, I covered the basics of investing. This should have given you a few important rules you should follow before you invest. However, we did not cover into details about how to invest. In this post, I am going to cover the most important financial instruments that you can use to invest: Cash, Bonds and Stocks.
All these instruments are quite different from one another. They are all important. If you are serious about investing, you should be aware of them. We are going to see the advantages and disadvantages of each of these instruments. By the end of this post, you should have a better understanding of them. And you can always ask questions for more information!
Cash
Cash is the basic form of money. You need cash. I am not necessarily talking about hard cash in notes in your wallet. I am talking here about cash that is directly available. This can be cash in your wallet, in your checking account or in your savings account. We are going to cover all these forms.
If you have no cash available, you will not be able to make any purchase. You will not be able to handle emergency situations where you need a significant amount of cash. Therefore, if you do not have cash, you should start with accumulating a few months of expenses in cash. This is called an emergency fund. We will cover this in more details in the series later. Personally, I keep 3 months of monthly expenses in cash. It depends on many things. If your job is very stable, you probably will not need more than 3 months. But some people need or want more. If you are close to retirement, you probably want to store more cash.
Where to store the cash we need?
Needless to say, you should not let it sit under your mattress. Most of your cash is probably stored in a checking or savings account. A savings accounts will generally give you more interest. But your money will be locked for some time. There is generally a limit in the number of withdrawals you can do from a savings accounts. Be careful to keep some money in a checking account for monthly expenses. In these accounts, your money is earning some interest. It means that each year, you will earn some money. If you are in Switzerland, the interest rates are close to zero. If you are in the US, you can easily find accounts with more than 1% interest. This is good of course. Who does not want to get more money? And it is safe.
Today, there is one big problem with bank accounts: Inflation
Inflation
Inflation is the increase of prices in the economy for goods and services. Since the 1950s, Inflation has almost always been positive. That means that each year, the average prices of goods and services are going up. Of course, this highly depends on the countries. Here is the inflation rate in Switzerland since 1956: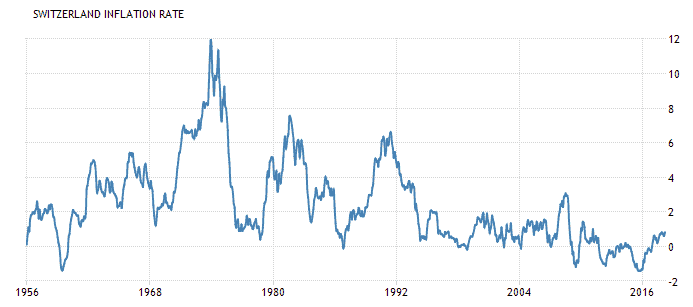 For instance, in Switzerland in the last 20 years, inflation has been quite low. It only went once to more than 2 percent, after the financial crisis of 2008. And we even had several years of negative inflation. In the United States, inflation has been much higher: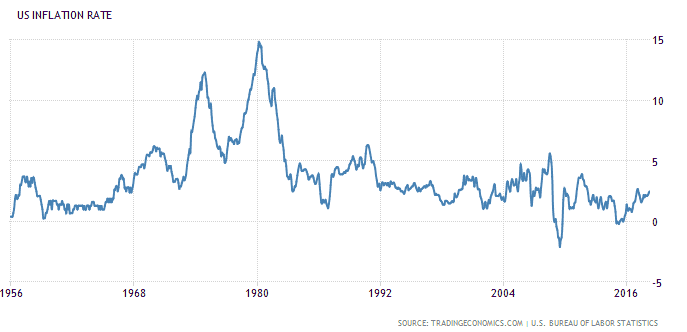 It has seen several years are more than 2-3 percent in the last 20 years.
What does inflation have to do with investing? 
Inflation increases the prices of goods and services. That means that each year of positive inflation, your money will get you less than the previous year. That means that inflation is reducing the value of your money. Every year your money is worth less. This is very important to know. Many people do not realize this.
In most countries, interest rates are now lower than inflation. Let's consider an average of 1% inflation. In Switzerland, interest rates are very low, around 0.1%. That means that each year, you are losing 0.9% of your money. This will not be reflected on your account, but your money will get you 0.9% less each year!
This is very important! If your interest rate was higher than inflation, you could still increase your buying power each year in a bank account. Around 10 years ago, interest rates were higher than inflation. However, this is not possible anymore. It may come back. Unless you find a very high-interest rate account (please tell me about it!), checking and savings accounts are not worth it anymore.  You should still use it to store the cash you need. But you should invest the rest to fight inflation.
How to find better returns than inflation? 
This is investing start to be a bit more complicated. But do not worry, it is not very complicated either! To fight inflation, you have to invest in bonds or stocks.
For me details and examples on inflation, read my guide on currency inflation and how to fight it.
Bonds
The second financial instrument is the bonds. While everybody had cash, not many people actually hold bonds.
A bond is a debt. In financial investing, you are lending money to a government, a municipality or a company. You are lending some amount of money to them. In return, they are giving you some interest on your money. You may think it is the same as what your bank is offering you. But in fact, the bank offers much less interest than bonds. The reason is pretty simple. They are themselves using bonds as an investment. And they are getting most of the profit! What you want is to have a bond yourself and get the profit.
A bond works like this. You lend the money for a certain amount of years. The issuer of the bond will then pay you some interest on the principal. The interest will be paid annually or semi-annually. At the end of the duration, the bond will mature and you will get your principal back.
If it is better than a bank account why does not everybody use bonds?
For two reasons! First, for most people, it is not as convenient as bank accounts. You can get a bond directly from a company, municipality or government. You can also get them from a broker or a bank. But you need to know exactly what you are looking for. And secondly, there is some risk! If the bond issuer goes bankrupt, you will not get your principal back. Some issuers are very safe, for instance, treasury bonds from the U.S. government bond. However, their yield is not incredible. Generally, the lowest the risk, the lowest the interest rate. If you want a very high yield, you need to take on some risk.
Historically, you can expect around 2% of Swiss bonds. However, now, Swiss bonds are really bad investments. They actually have a negative yield. This means that each year (or month), your money is going down. Thanks for the Swiss government. Fortunately, you can also get bonds from other countries. In this case, do not forget about the risk of currency exchange.
You have another option to invest in companies. You can directly buy some stocks of them. By owning stocks (or shares) of a company, you own a part of it.
Stocks
A stock is a share of a company. It is a part of the company that you own. If you own some shares of a company, you actually own some part of the company.
There are several advantages to stocks. First, if the company goes well, the price of the stock should go up. And as such, your investment should go up as well. Second, most companies pay some dividends to their shareholders. You will receive, generally on a quarterly basis, some money for each share you own. Finally, you own a part of a company. If you like a company very much, it would be good to own part of it. And if you own enough shares of the company, you can actually be a part of the company's decisions.
So, stocks are the best investment? 
It is definitely a good investment, but not a perfect one. Even though the stock price is generally going with the financial health of the company, it is also based on the market. This is based on demand and offer. If a lot of people want to buy one specific stock, it will drive the price up. There is definitely some trends in stock investing. That means that the companies that you are likely to be interested in are likely to be overpriced. Moreover, sometimes even very healthy company's stock will fall.
Historically, stocks have returned around 8% per year. Some year you can expect much more and some year you can lose a large part of your investment. Until now, over the long run, stocks have been an excellent investment. But you need to be ready to take on some risks. Do not sell at the first time of loss!
And owning stocks from a single company is a bad idea. If you only invest in one company and it goes bankrupt, you lose everything. And if the company you are invested in does not keep up with its competitors you are losing on a lot of growth. You should own stocks from many companies. Generally, experts recommend owning stocks from at least 20 companies. But this is only a rule of thumb.
But choosing the companies you want to own is a difficult choice. You need to look at all the financial characteristics of a company to try to guess its future. How much debt does it have? How much potential for growth? What are the policies of the company? And so on… And answering these questions is not easy. Even finding all the financial information about a company is not trivial. It is actually a job to find the best companies to invest in. Some people are very good at it, like Warren Buffet. Some people are very bad at it and lose a lot of money. To put easily, choosing a company to invest in is like gambling.
If you want to invest in the stock market, you need to invest in a lot of companies. Actually, you should probably invest in every possible company. The idea is to replicate the performance of the entire market. With this, if the market goes up, your investment goes up as well. Since nobody can consistently beat the market returns over a long period, you are better off with the market returns.
However, that is highly impractical. You surely do not have enough money to buy one share of every company in the stock market. If you do, you probably are not reading this blog ;) And even if you had enough money, it would be a lot of work. And a lot of trading fees. However, there is a solution for you. Instead of buying all these shares, you can invest your money in a fund. A fund is a collection of stocks. You only buy some shares of the fund itself. And via the fund, you own a part of all the shares of all the companies inside the fund!
In the next installment of this series, we are going to cover funds in details. This is what I am using to invest!
Conclusion
Now, you should have a better understanding of the main financial instruments you can use to invest. As we saw, cash only get you so far. The returns are very low and inflation is eating most, if not more, of your profits. You can use bonds to lend money to companies or governments. Bonds offer better investment returns, but you take more risks. And stocks allow you to own a part of a company. They will generally return more than bonds but also expose you to more risks.
The biggest problem with bonds and stocks is to pick them. How can you pick the best stocks in a portfolio? You need many of them to diversify. Fortunately, there is something called funds. There are bond funds and stock funds. This is what I recommend to invest.
To continue learning about investing, read my article about mutual funds and index investing.
Do you have any question about these financial instruments? Did I miss something?