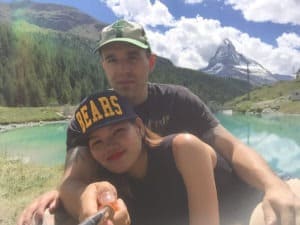 Is it possible to retire early in Switzerland ? This is the question I was asking myself when I started this blog. I am going to try to find out and try to become Financially Independent in Switzerland.
I am Mr The Poor Swiss. I am a 30 years computer scientist, living in Switzerland. I have just finished my doctorate in Computer Science. I'm learning about personal finance and investing and trying to improve my finance and especially my savings rate.
I started The Poor Swiss in October 2017. The blog is still young and so is my journey to Financial Independence. In May 2018, I married my beautiful wife, Mrs The Poor Swiss. We are living together now in Switzerland.
Journey to Financial Independence
My goal is to become financially independent. I don't have a set year in mind. But I would like to be financially independent before the age of 50. Ideally, before ;) I do not know yet if I will retire directly since I currently like my job a lot. But there are many reasons why being Financially Independent is highly desirable.
Every month, I'll publish an update on how I'm doing financially. You can also follow my important numbers such as my net worth and my savings rate. These pages are updated every month.
What is this blog all about ?
I'm trying to communicate my experience on this site along the way to Financial Independence (FI). The idea is to motivate myself to get better at managing my expenses and income. If I can help some of you along the way, it would be great as well!
I'll try to share my thoughts and information about personal finance, budget, Switzerland, and such…
What makes this blog different ?
There are several things that may make this blog from all the other personal finance blogs.
Basic situation I'm not a millionaire who already retired and had a 300K yearly income. I'm not very successful in finance or investing for that matter.
Different perspective I'm among the few Swiss (and European) bloggers, so I may have a different perspective.
Follow the full journey This blog is starting from the early beginning of my finance path. This blog started a few months after I finished my Ph.D. so just before the real work starts.
Transparency I'm going to share as most details as possible regarding my finance. You should be able to see the full story here!
I hope these traits will help make my blog interesting for my readers :)
Why the "The Poor Swiss" ?
Come on, everybody knows all people are rich in Switzerland…
Not really! But, if you look at net worth per capita, income per capita, Switzerland is always in the TOP 10. However, we are also in the TOP 10 of the most expensive countries in the world. And Zurich is considered the most expensive city in the world. Switzerland is also one of the countries where it is the most difficult to possess your own house. It's also a country where many people don't get medical treatment because they can't afford it. The main problem is that there is a huge number of wealthy people in Switzerland, because we don't pay a lot of taxes. This completely skews the averages. Don't get me wrong, I love this country! However, compared to the image that most people have of Swiss people, I'm a poor swiss.
My story
The story started when I realized that my finances were not going well. Therefore, I decided to fix my budget and I started reading many personal finance blogs. I soon discovered the Financial Independence and Retire Early (FIRE) philosophy. I decided I wanted to get financially independent. So I started investing and
If you want to continue following my ongoing story, you can follow me on Twitter. You can also subscribe to the posts of this blog using the form below:
Subscribe to Blog via Email
If you have questions or suggestions about the blog, please do not hesitate to contact me. I will do my best to answer you as soon as possible. You can also comment on any post on this website
Mr. The Poor Swiss
Disclosure
I'm not a financial advisor and not nearly an expert in investing. What I share here is my experience, not financial advices. This website is here for entertainment purpose only. What I share on this is not to be taken as financial advice. I'm not responsible, nor reliable, for any money loss or suffering one would face after reading from this blog.