I'm going to try to keep this page updated along the way with the state of my portfolio.
Add bonds – Remove Crypto – 06.03.2018
I got rid of my crypto-currencies and added a few bonds and some Switzerland dividend paying companies.
50% World Stocks – Vanguard Total World (USD)
10% Switzerland Medium-Cap Stocks – UBS SMIM (CHF)
10% Europe Stocks – iShares Europe (EUR)
10% High Dividend World – Vanguard High Dividend Int. (USD)
5% High Dividend Switzerland – iShares Swiss Dividend (CHF)
5% Tech – Vanguard Information Technology (USD)
5% Pacific – Vanguard FTSE Pacific (USD)
2.5% Europe Corporate Bonds – iShares Core Euro Corporate Bond (EUR)
2.5% Europe Government Bonds – iShares Core Euro Government Bond (EUR)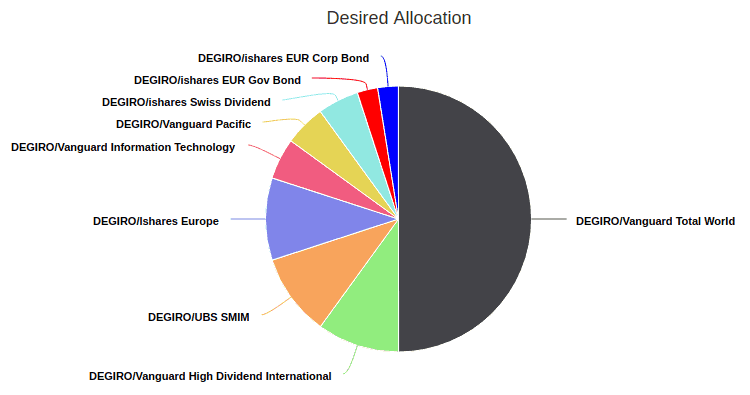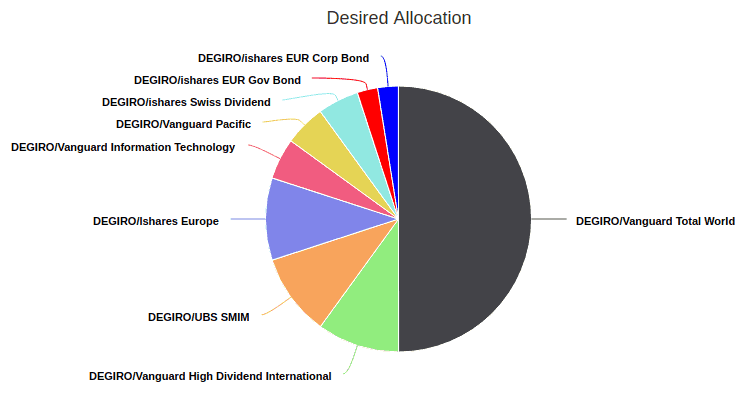 Original Portfolio – 01.01.2018
This is the first portfolio I settled on. We'll see how this goes.
55% World Stocks – Vanguard Total World
10% Swiss Medium Stocks – UBS SMIM
10%  Europe Stocks – Ishares Europe
10% High Dividend – Vanguard High Dividend Int.
5% Tech – Vanguard Information Technology
5% Pacific – Vanguard FTSE Pacific
2.5% Bitcoin – XBT ETN
2.5% Ethereum – XBT ETN