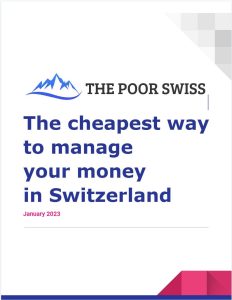 Switzerland is an expensive country, but there are some ways to save money. For instance, you can save money by using the best financial services available.
You want to manage your money for less in Switzerland? This ebook is made for you! It will help you use the best financial services available in Switzerland!
Download this ebook to find the cheapest way to manage your money in Switzerland. You will learn how to find out:
The best bank accounts
The best credit cards
The best brokerage accounts
The best third pillar
The best vested benefits accounts
The best Robo-advisors
And more…
Fill up the form below and I will send you the PDF ebook!