(Disclosure: Some of the links below may be affiliate links)
One of the first things I noticed when I switched to Interactive Brokers is that they have too many different user interfaces. It is overwhelming. Moreover, most of them are not intuitive to use.
Although Interactive Brokers (IB) is a great broker, they are not the most user-friendly one, at least at first sight! Once you get to know it, you will find that it is easier than it looks. You just have to know where to look. And this is precisely what we are going to cover in this article.
Indeed, you can trade from the account management interface, the WebTrader interface, the Trading WorkStation (TWS) interface, and the mobile interface. And all of these interfaces are very different from one another. Some are limited in what they can achieve. And some are much more complicated than the others. When you start investing with Interactive Brokers, it is quite challenging to know which interface to use.
In this post, we are going to see all the available interfaces. This article is not meant as a guide on how to use them all. It is more meant as an explanation as to which interface exists and which you should use for what purpose. I hope that this will help you feel comfortable using Interactive Brokers.
Later on, I plan to write more targeted guides as to how to use these interfaces.
IB Account Management
Best Broker
Interactive Brokers
Interactive Brokers is an outstanding broker, with extremely affordable fees! Trade U.S. security for as little as 0.5 USD!
The Account Management interface is the first one you should use. It is also the most polished interface. I believe it is the only one of the non-mobile interfaces that look nice. You can access it from Interactive Brokers by clicking on the Log In button on top of the page. You should then see all the options: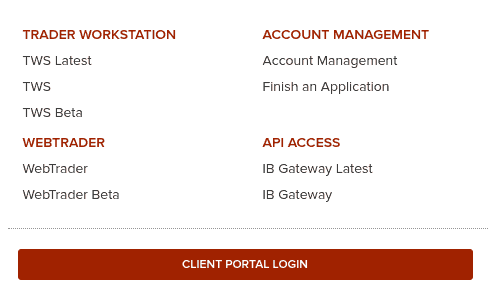 From here, you can use either the Account Management link or the Client Portal Login. They will both redirect you to the Account Management interface. You will, of course, have to log in and use two-factor authentication. From the base view, you should have an idea of everything that is going on with your portfolio.


This interface is best for seeing the state of your portfolio. It is obvious what is going on with the various shares you own. It is also the best place to declare incoming funds once you want to transfer money into your broker account.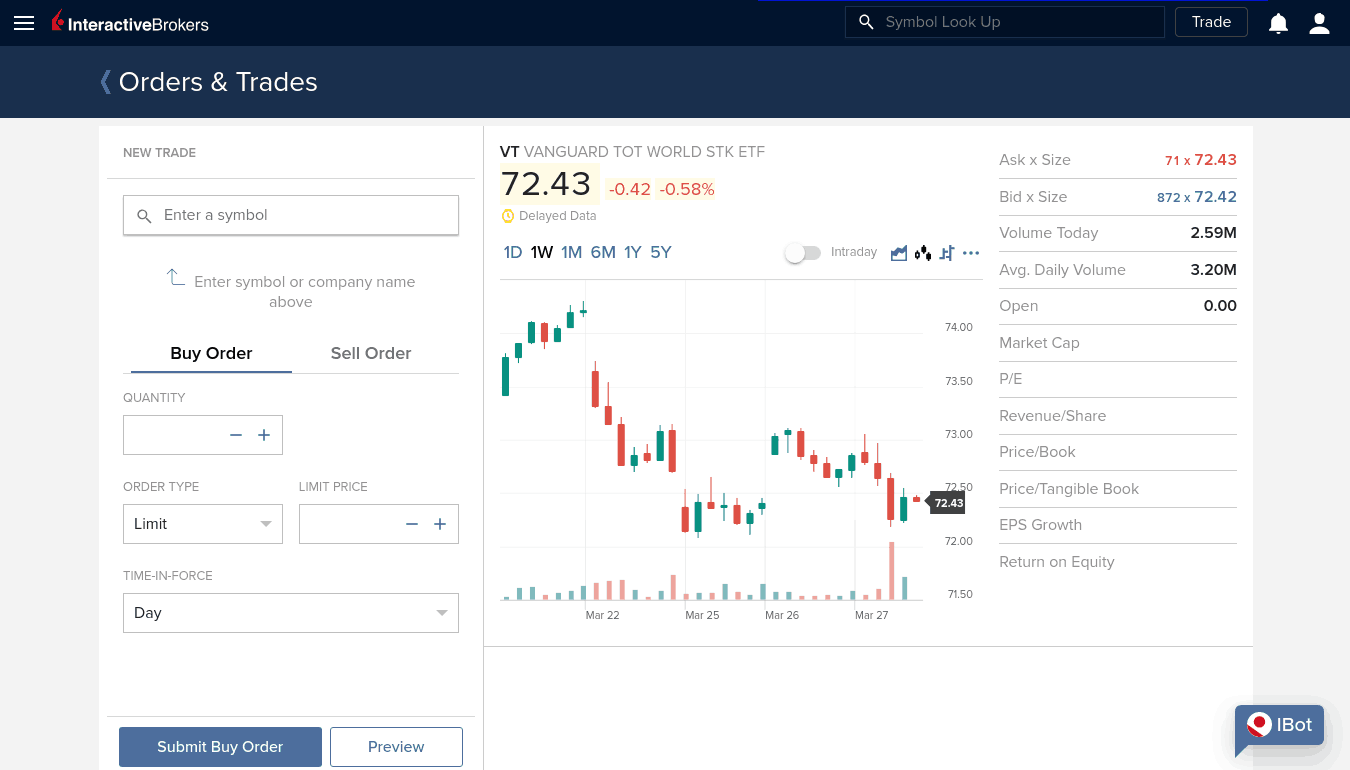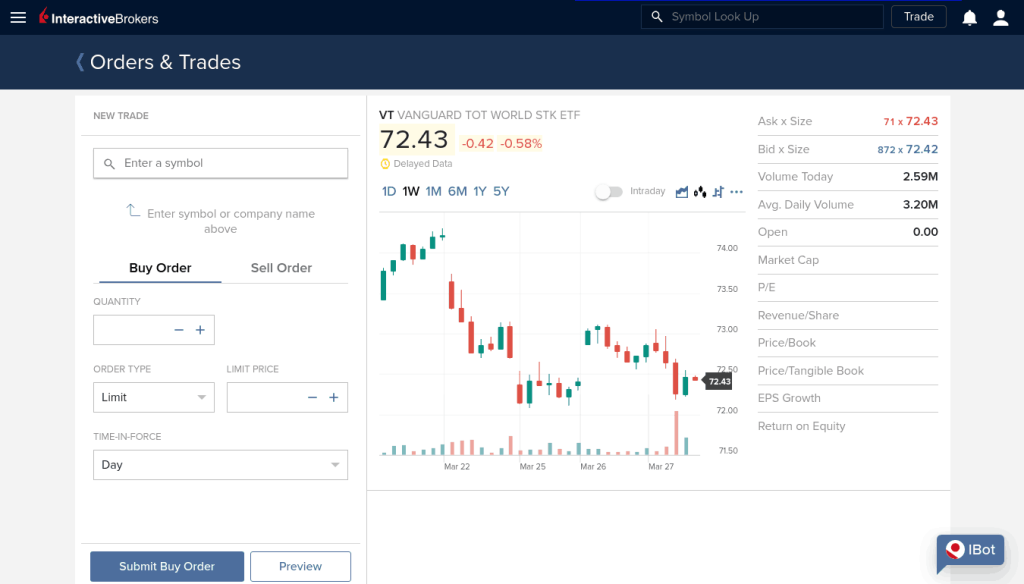 Even though it is called Account Management, you can trade from the interface as well. You can also convert currencies by simply making a trade. For instance, you can search for USD, and you will get a list of all the possible trades. This view is a bit more limited than the other trading views. But generally, the options that are missing are mostly used by advanced traders. For instance, you cannot set a Trailing Stop Loss order from this view. For that, you would have to use one of the other three interfaces.
Generally, the Account Management interface is the one you want to use! It has all the features you need on a day-to-day basis unless you are an active trader. But if you are an active trader, you probably will not learn anything from my article.
If you want to learn more about this interface, I wrote a guide for the Interactive Brokers Account Management interface.
Interactive Brokers WebTrader
The second interface is the WebTrader interface. You also access it using the Log In button on the top of the IB website. You have the choice between two versions: WebTrader and WebTrader Beta. A Beta version is a version that is currently being tested. I do not know about you, but I do not want to do any trading in a Beta version. Therefore, I only use the WebTrader option.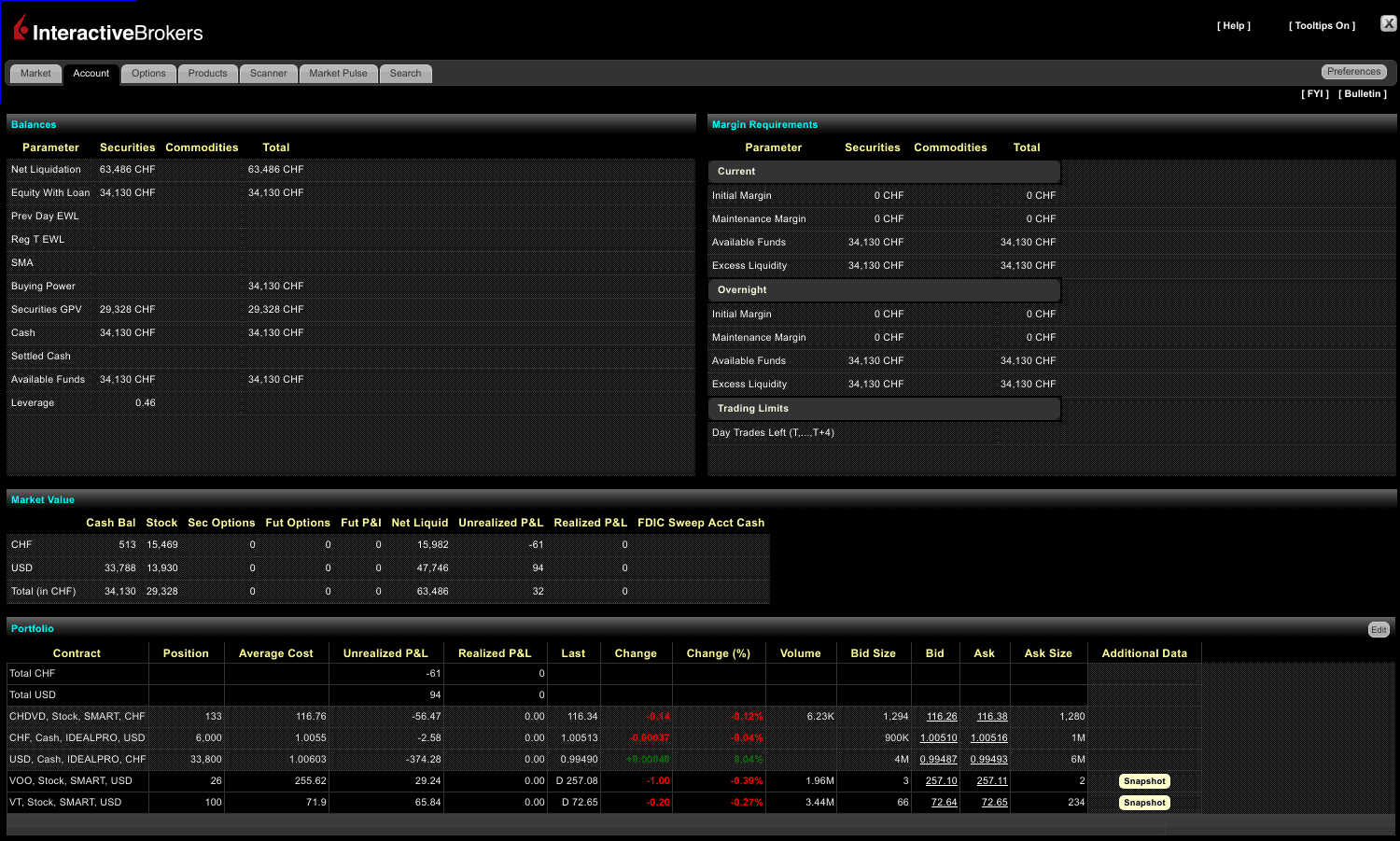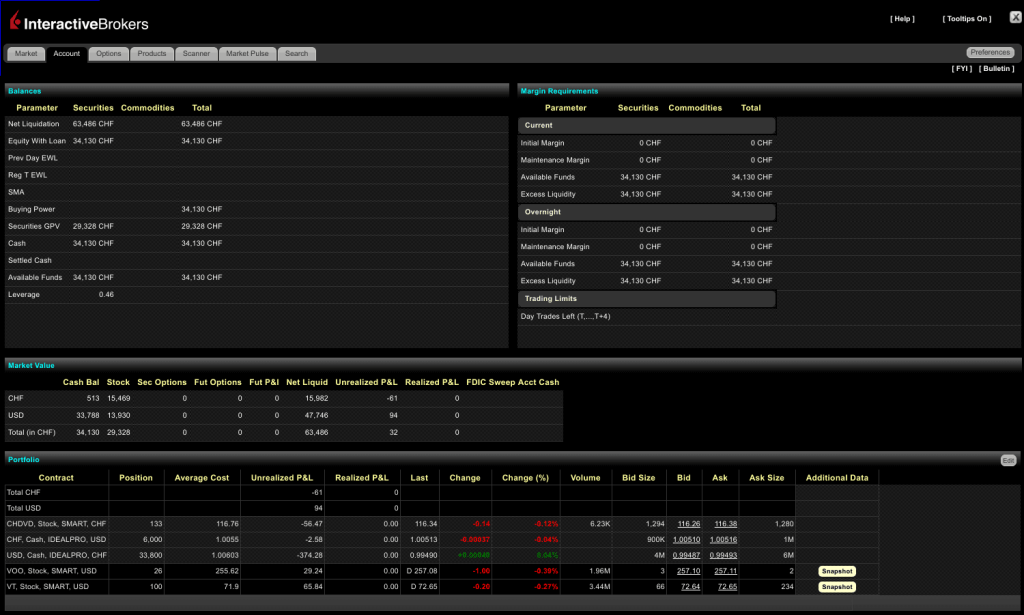 This interface contains a lot of information. I believe there is too much information for most people. You can view all your positions and have details on any stock. There is also a scanner that you can use to get information about the biggest losers and winners of the day.
The only advantage of this interface compared to the Account Management interface is that you can use more types of orders. For instance, you can use the trailing stop order that was not available in the first interface.


I do not use this interface. It is more complicated to use than the Account Management interface. And it is less user-friendly as well. Even though there is a lot of information, it is difficult to find it. I do not understand the need for this interface. There are very few features in this interface that are not in the Account Management interface. Simple investors should use the first interface, and advanced investors should probably use the TWS interface.
Trading WorkStation (TWS)
The Trading WorkStation interface (TWS) is the most complete of all the user interfaces. It is also probably the most popular. At the beginning of Interactive Brokers, it was the only feature-complete interface they had. The other interfaces got added and completed over time. On the other hand, it is the least intuitive to use. And I think it is pretty ugly. And for passive investors like us, it is probably the least useful. It is a tool more suited to active traders that make many trades and that do day trading. Active trading is something we do not want to do.
Nevertheless, some people like to use this interface. And it is a valid option to use. Nothing prevents passive investors from using this interface only. And most online tutorials on using Interactive Brokers are about this interface. That this interface is the most talked about is a bit sad since it is the most complicated to use. These tutorials make you think that it is necessary to use TWS. And most people do not need this interface.
To access this interface, you also use the Log In button on top of the IB website. From there, you can follow the steps to install the tool. And then, you can simply start it from your computer. The next time, you will not have to go through the website.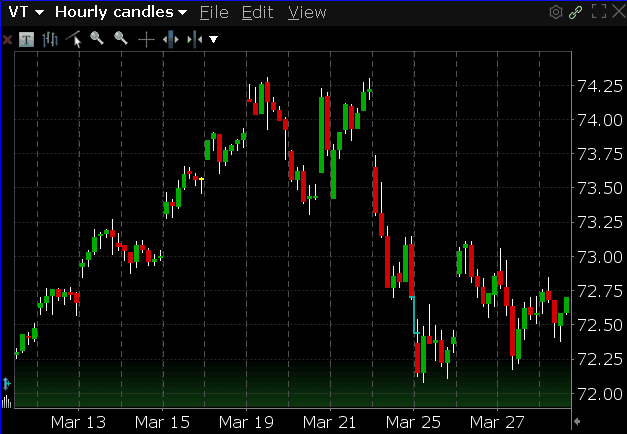 I have rarely used this interface. It looks kind of cool, very geeky. But it is highly user-unfriendly. I am completely lost in this interface. The learning curve for using this interface is very steep. TWS is an interface for professional traders. You can execute some very complicated trades like below: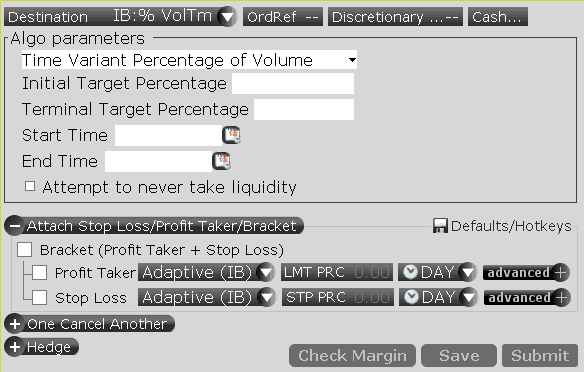 That is using one of the algorithms available only in TWS. But I honestly have no idea why anyone would use that.
Just like WebTrader, you have some account management options. But this interface is made for trading and monitoring your shares. I do not see myself using it at all. But it is there if you want to use it. Just remember that you do not have to!
IBRK Mobile application
Finally, you can also use the mobile application. If you read my posts, you probably know that I do not like mobile applications. I do not like phones. Whenever I can, I much prefer using a computer. However, I have to admit that the mobile app is well done. It is not as simple as the one I was using for DEGIRO. But it gets the job done, and all the information is available.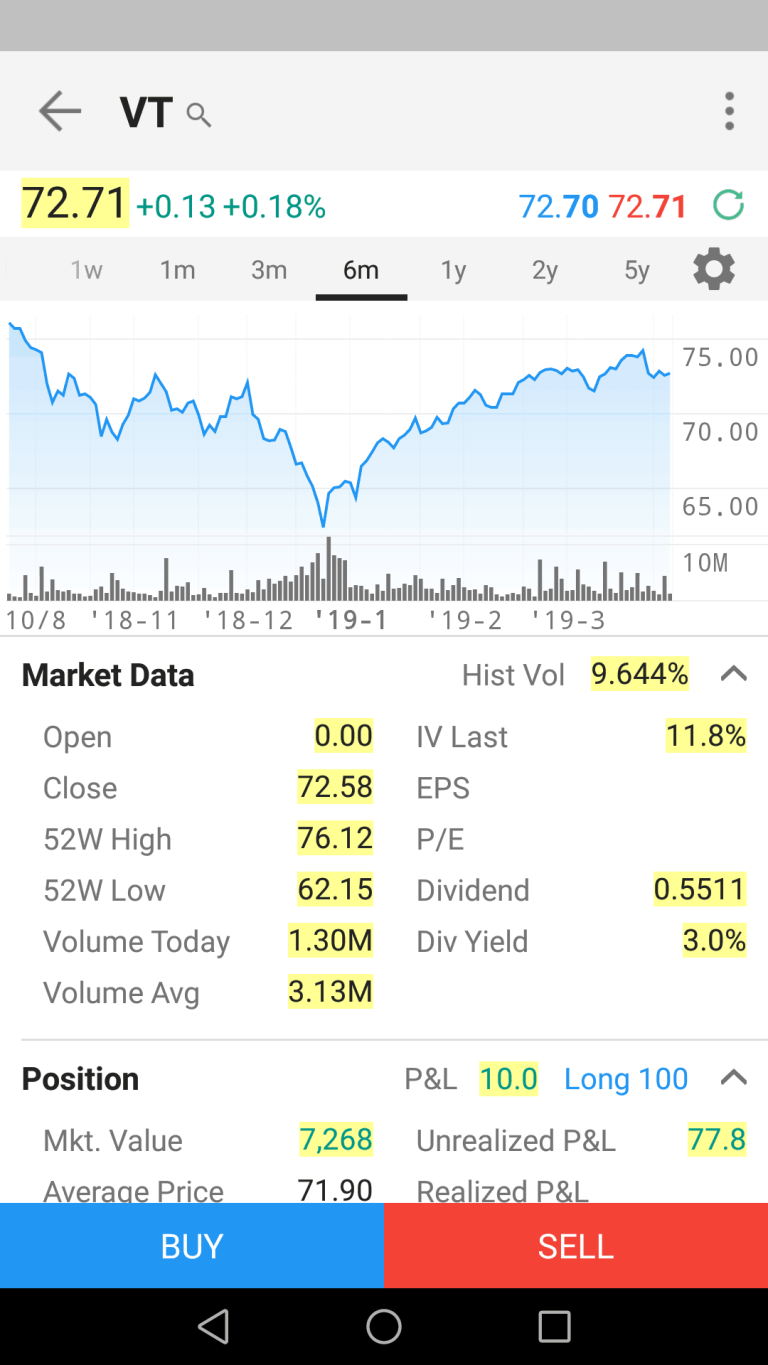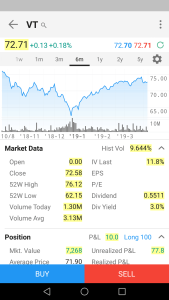 The mobile application is excellent for checking the state of your portfolio. If you do not have your computer at hand, you can use your phone to check everything that is going.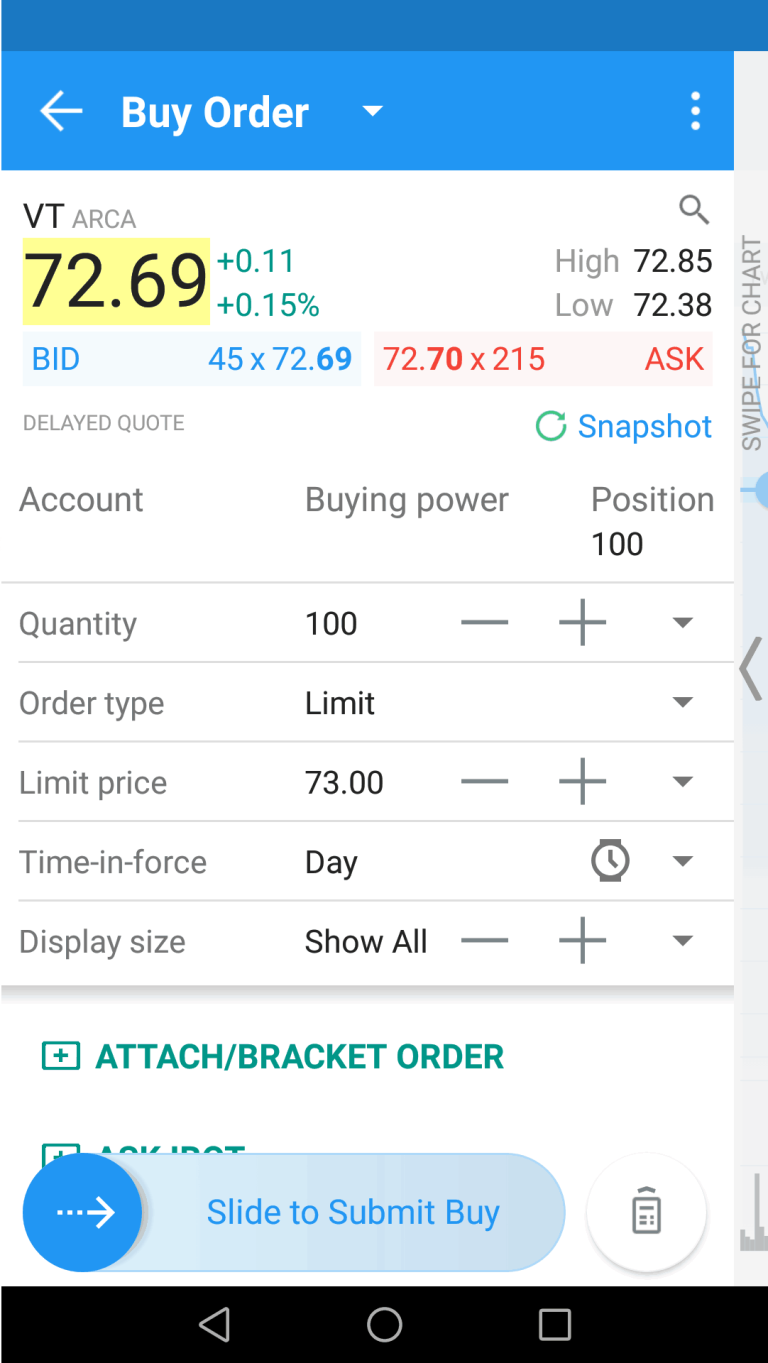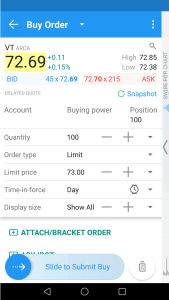 You can also trade from your phone. Trading works quite well on the phone. But I still prefer the computer version for that.
Account Management is also possible on the phone. However, some things are limited. First, this will load a second web interface for account management. It will load the Account Manager user interface into the mobile application. The account Manager is not as mobile-friendly as the basic mobile interface. But it can help if you want to transfer funds from your phone. And you cannot withdraw money using the mobile application. You will have to use the Account Management interface directly on a browser.
Overall, I like the mobile application. It is nice-looking and rather simple to use. Moreover, you can do almost anything from here. If you are into mobile applications, this should be your interface of choice. You will just need to use the Account Management web interface to initiate the transfer of funds. But that is not something you are going to do every day usually.
If you want to learn more about this interface, I wrote a guide for IBKR Mobile Application.
Conclusion
As you can see, it is a bit overwhelming to have four different user interfaces for the same broker. Some of Interactive Brokers (IB) interfaces are not intuitive and somehow difficult to use.
On the other hand, the Account Management interface and the mobile interface are straightforward to use. It is a bit sad that most articles about Interactive Brokers (IB) are focusing on the worst of the interfaces for beginners: Trading Workstation (TWS).
Honestly, if you are a passive investor like me, simply use Account Management all the time. If you like mobile applications, you can also use the IBKR mobile application. It is good too.
If you want to look cool and let your friends think you are a professional trader, you can even give a try to Trading Workstation. But almost nobody uses all these options. It is better to know a useful and straightforward interface than to get lost in an incredibly complicated one. And investing should be easy!
Now, this is, of course, subjective. Some people like the TWS interface. This post is here to let you know that it is not the only interface available. And your learning curve with Interactive Brokers will be much smoother if you start with the Account Management interface. You could even stay in this interface for all your investing life.
If you do not have an Interactive Brokers, I have a guide on opening an IB broker account.
What about you? Which of the IB user interfaces do you prefer?