IBKR Global Trader Review – Simple stock trading
|
Updated:
|
(Disclosure: Some of the links below may be affiliate links)
Many people believe that Interactive Brokers is too complicated for them to trade. So, they choose an inferior platform instead.
Well, Interactive Brokers is not that complicated, and it just became even simpler! Interactive Brokers recently introduced a new mobile app, IBKR Global Trader.
Interactive Brokers designed the IBKR Global Trader to simplify trading and reduce friction. So, in this review, we see what this new app is about and whether it holds its promises.
About IBKR Global Trader

| | |
| --- | --- |
| Custody Fees | 0% per year |
| Inactivity Fees | 0 CHF |
| Buy Swiss ETF | 5-15 CHF |
| Buy American Stock | 0.50 – 1 USD |
| Currency Exchange Fee | 2 USD |
| Languages | English, French, German, and Italian |
| Mobile Application | Yes |
| Web Application | No |
| Custodian Bank | 8 different US banks |
| Established | 1978 (IB), 2020 (Global Trader) |
| Headquarters | United States |
IBKR Global Trader
Best mobile trading app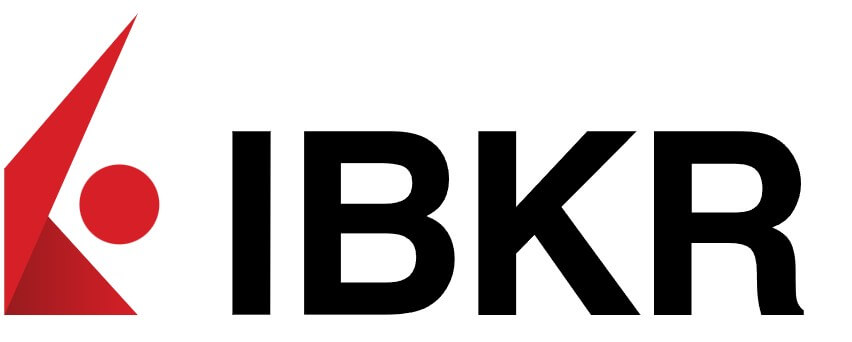 IBKR GlobalTrader
IBKR Global Trader is the latest mobile application from Interactive Brokers for easy and affordable trading!
Trade now
IBRK Global Trader is a mobile application from Interactive Brokers. It is important to note that this is not a broker by itself, only a different way to trade with IB. If you have an IB account, you can use IBKR Global Trader.
However, this application differs from the previous IB, IBRK Mobile application. Indeed, IBKR Global Trader was built from the ground up to be easy to use and to help global trading.
This application's goal is to be easier to use for every user of IB. Many people think that IB is difficult to use. So, IB is acknowledging this fact and creating an application specifically to ease the difficulties in using it.
Interactive Brokers is currently the best broker for Swiss investors. This app makes it even better. If you want to learn more, you can read my Interactive Brokers review.
The mobile application
To get the application, you can search for it on your local app store or go to IBRK Global Trader and follow the Android or Apple Store links.
Once you have the app, you can connect to it or use the paper trading account to start without a complete account.
There are five main views on the account:
The home page
The portfolio
The watchlist
The explore view
The Trade view
You can also access your account details, transaction history, and account settings in different views.
We now get into the details of some of the interfaces. We will also see the operations you can do from the mobile app.
The home page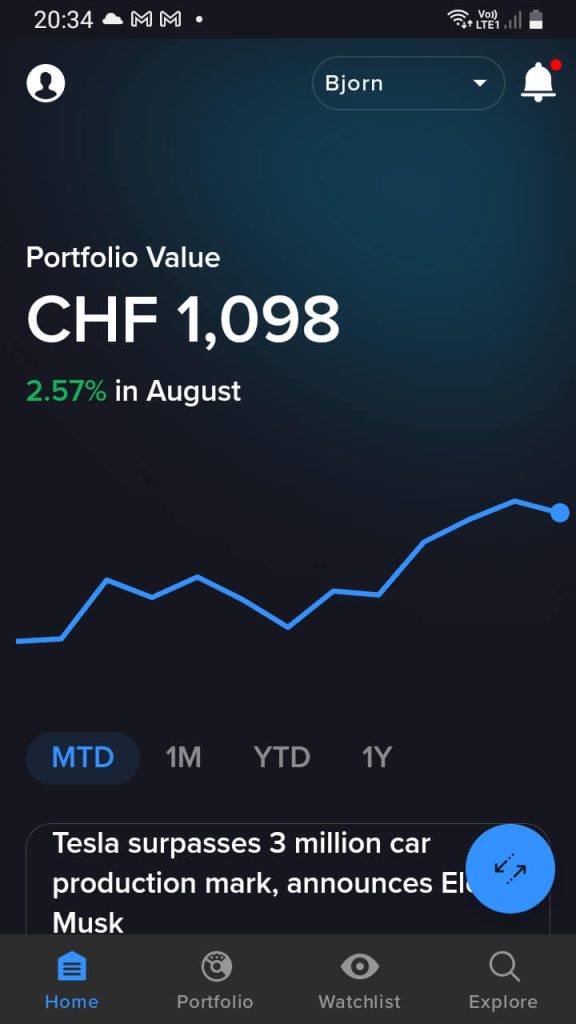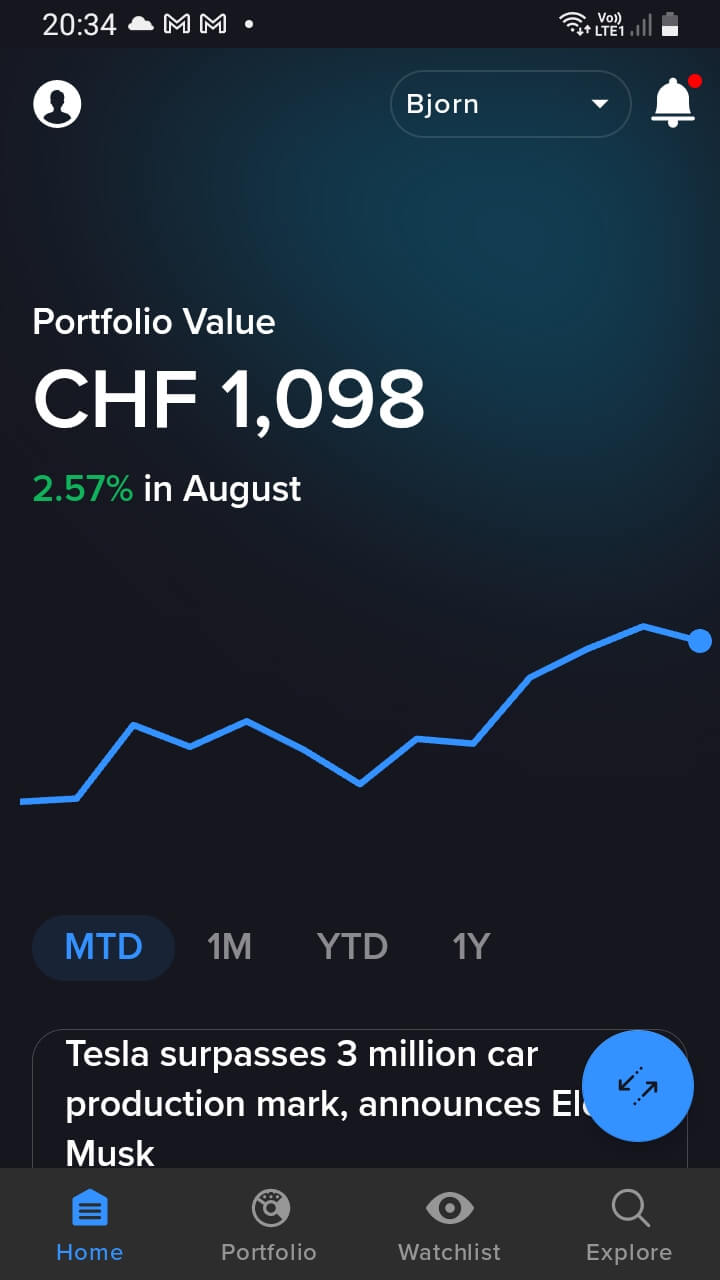 The home page gives you access to your portfolio graph and shortcuts to the essential actions:
Trading
Account settings
Withdraw money
Transaction history
Support
The home also gives you recent news on the stock market. Many people will appreciate the news, while passive investors like me think this is irrelevant. I wish we could remove them, but they are not very invasive.
On the other hand, you can filter the news by news that relates to your portfolio contents. For instance, you will get news about Apple if you have Apple stock. This feature could be good if you have a few stocks in your portfolio.
Overall, this is a good home page, with the critical information visible and the noise is mostly hidden.
The portfolio page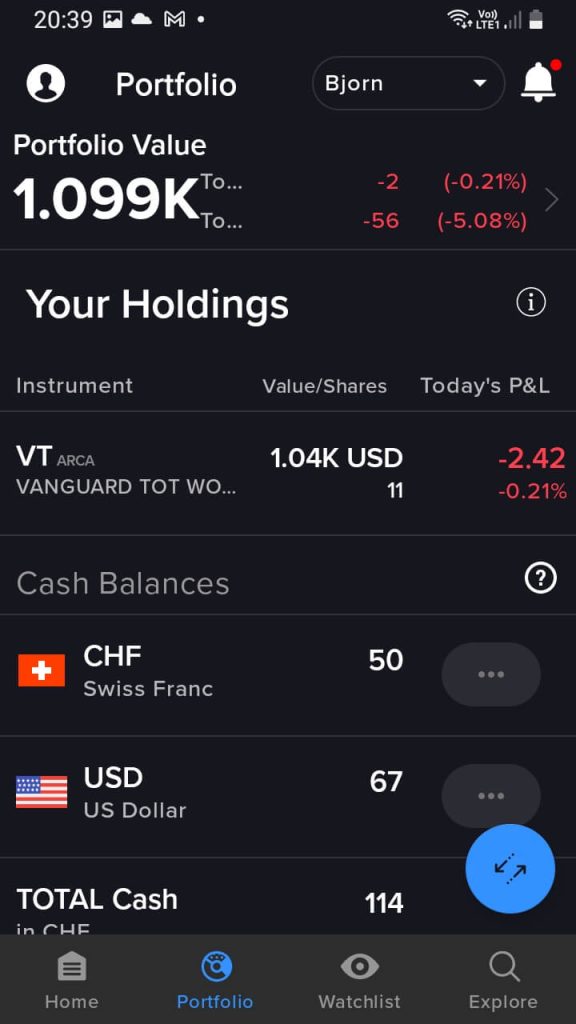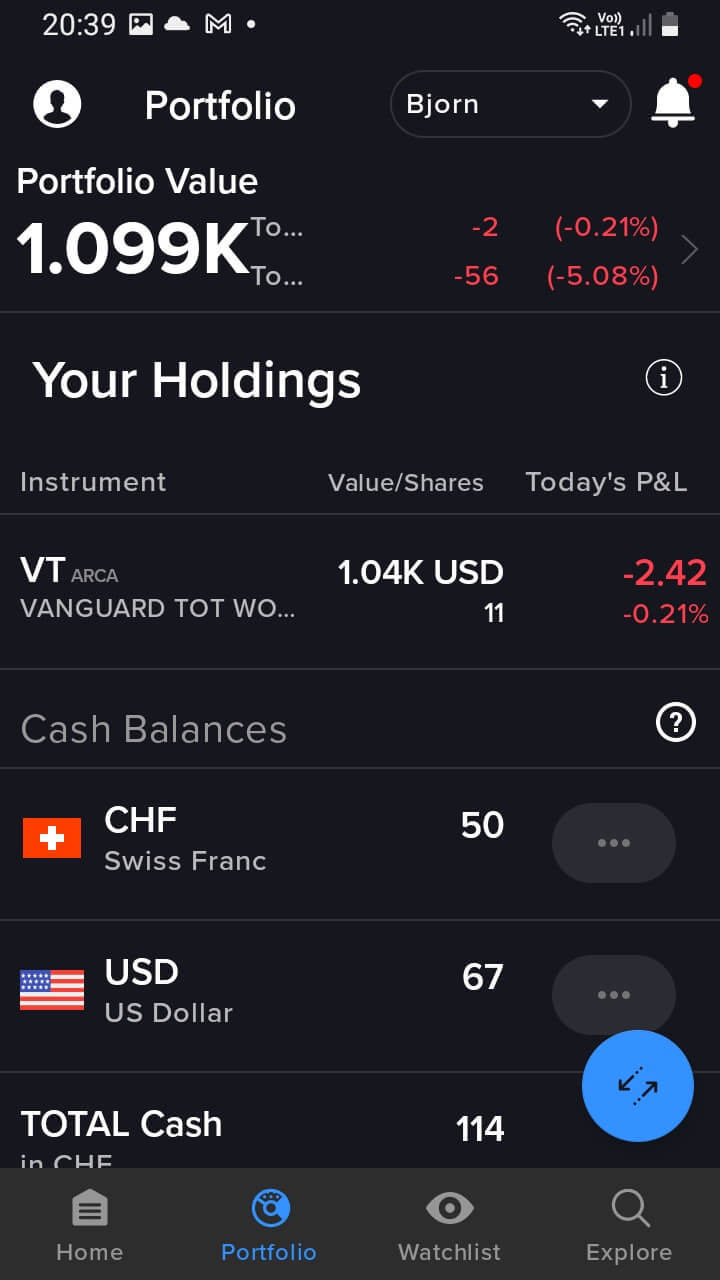 The portfolio view is very simple. It shows you all your positions, their value, and performances. And it also does show your cash balances. From the cash balance, you can directly convert currencies easily.
This view is nice and simple.
The watchlist view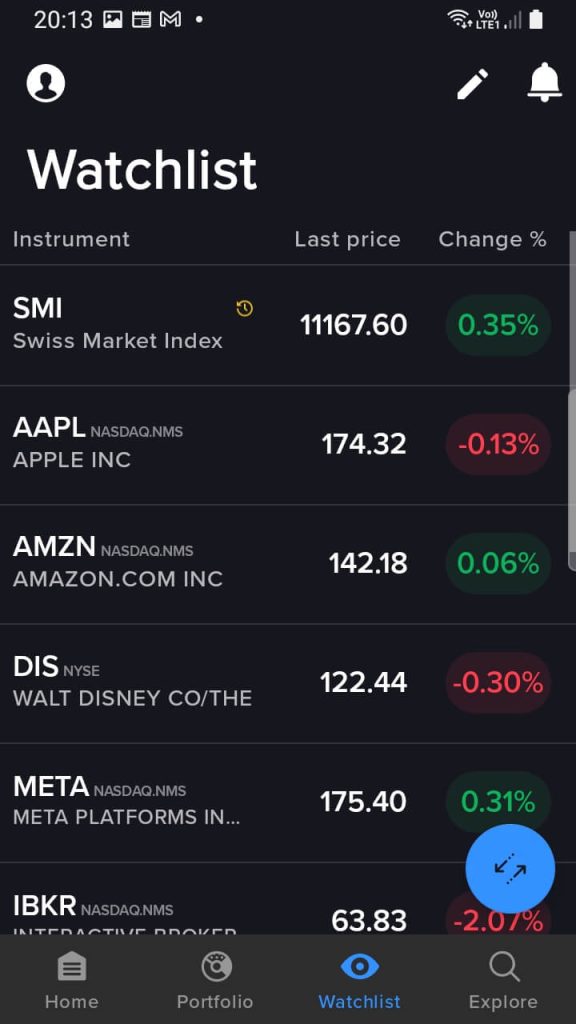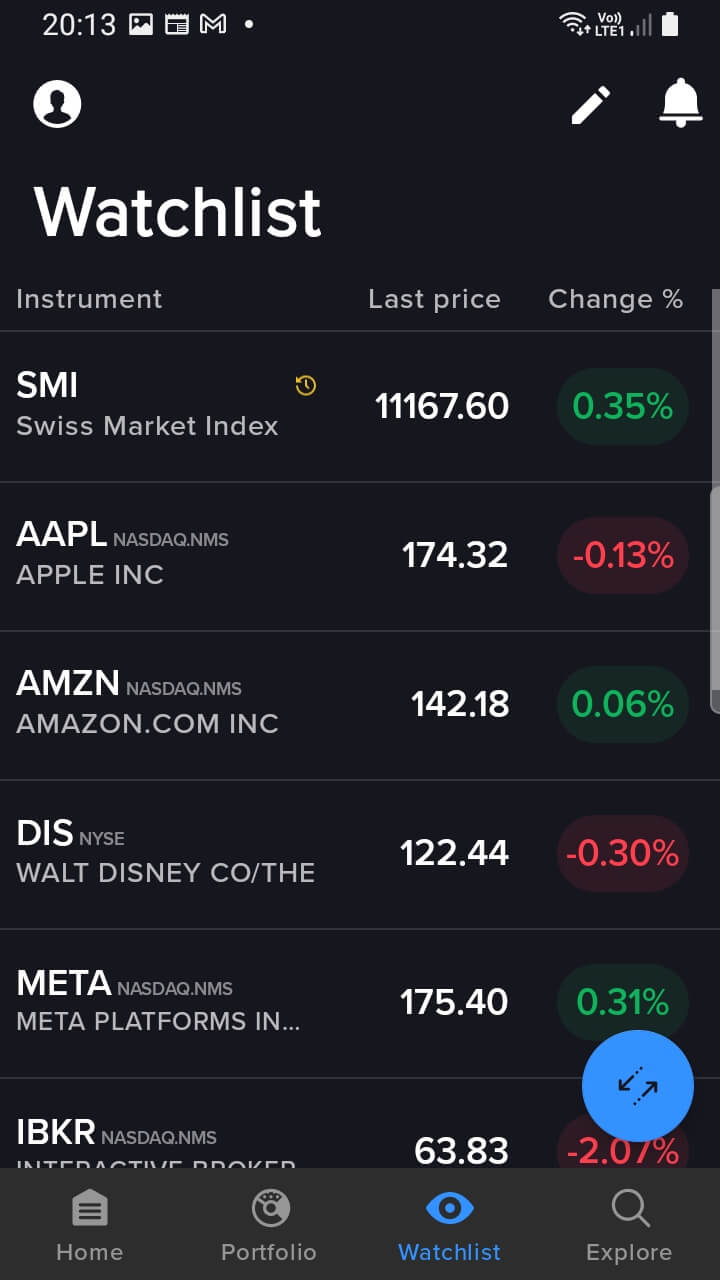 As its name indicates, the watchlist views let you see your watchlist easily. If you are watching some single stocks or ETFs, using a watch list is an excellent way to have access to them easily.
The view gets the job done. There is not much to share about this view.
Convert currencies with IBRK Global Trader
One operation you may have to do often is to convert currencies. You can access this view from your portfolio.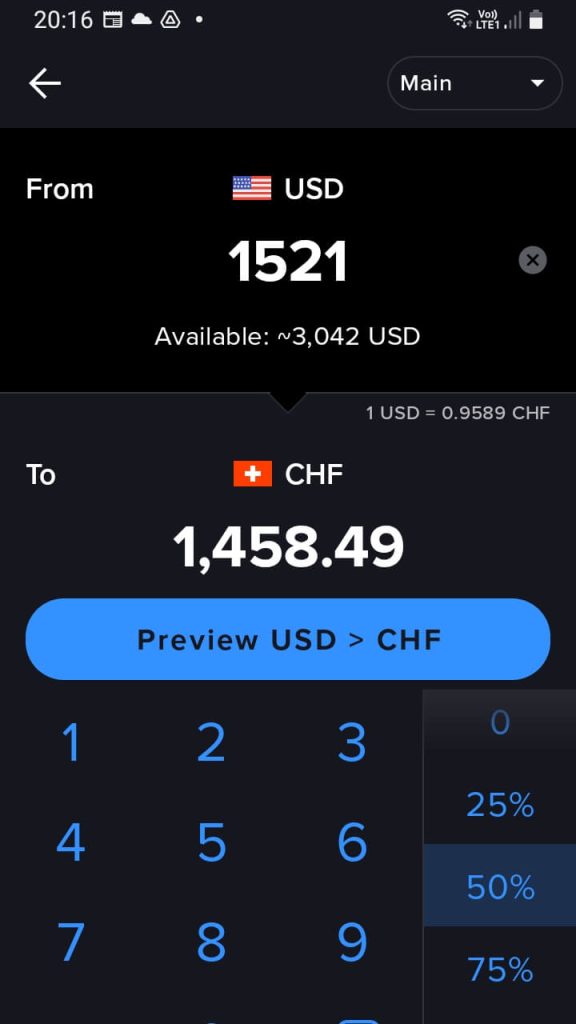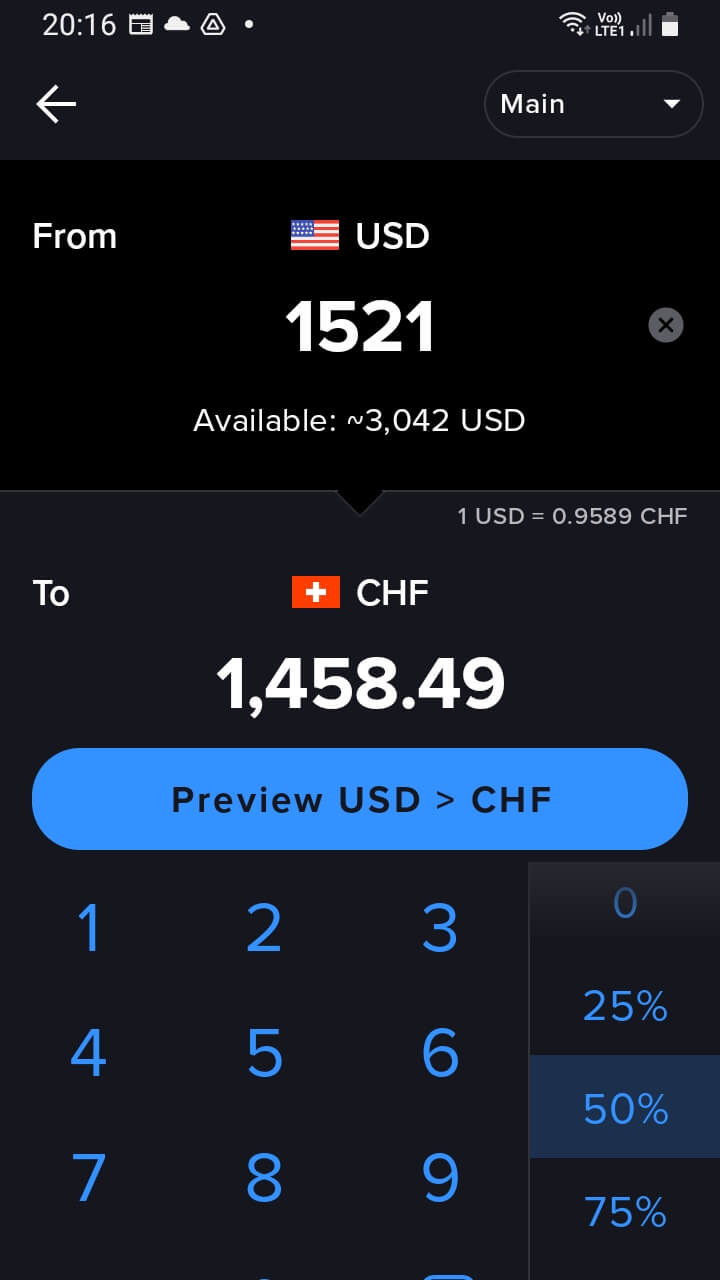 It is extremely simple to convert currencies with IBKR Global Trader. You can select the currency you have and the currency you want. Then you can choose how much you want to convert. You can enter the amount directly or convert a percentage of your cash, which is interesting.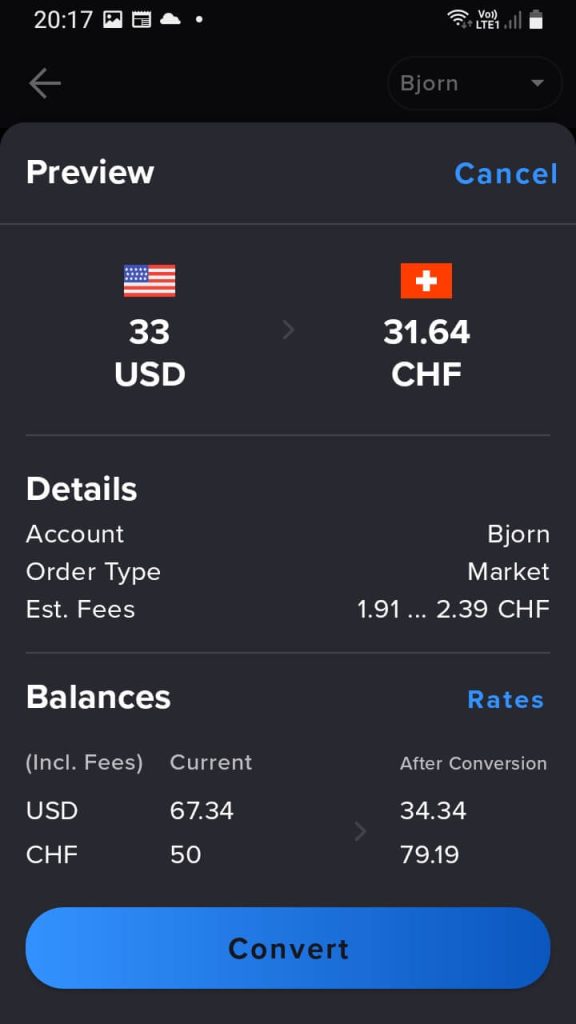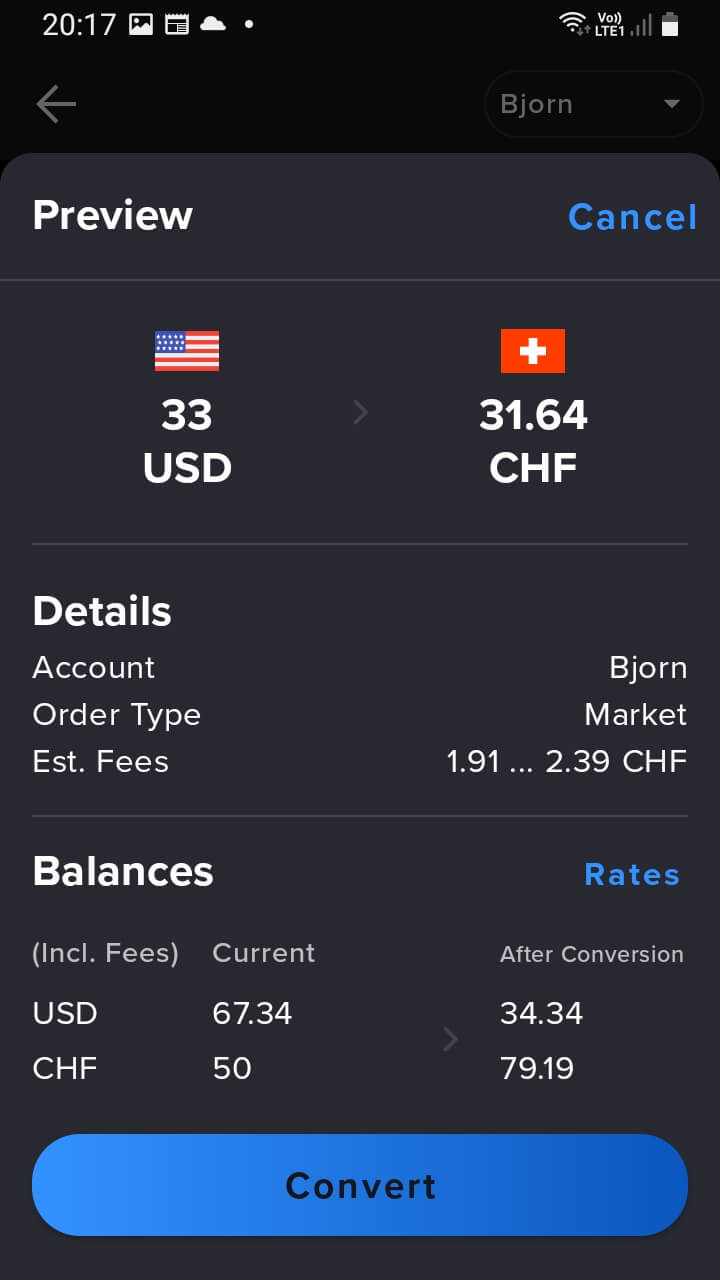 Once you are ready, you can preview your order. The preview is excellent, in my opinion. I always preview my orders to make sure this is what I want. And this also previews the fees you will pay.
As you can see on this screenshot, I will pay about 2 CHF for my conversion. You should not convert tiny amounts with IB since they use a fixed fee of 2 USD. But it becomes very cheap to convert more significant amounts.
Overall, it is straightforward to convert currencies with IBKR Global Trader. What is remarkable is that the potential for error is minimal.
Trade with IBRK Global Trader
If you are investing regularly, the most helpful action is to trade stocks, whether to buy or sell. We can take a look at this view in detail. You can access it from the blue button at the bottom right of each interface.
From this interface, you can search for the ETF (or stock) you want. You can also access this view from your portfolio by clicking on any of your position in case you want to buy more (or sell).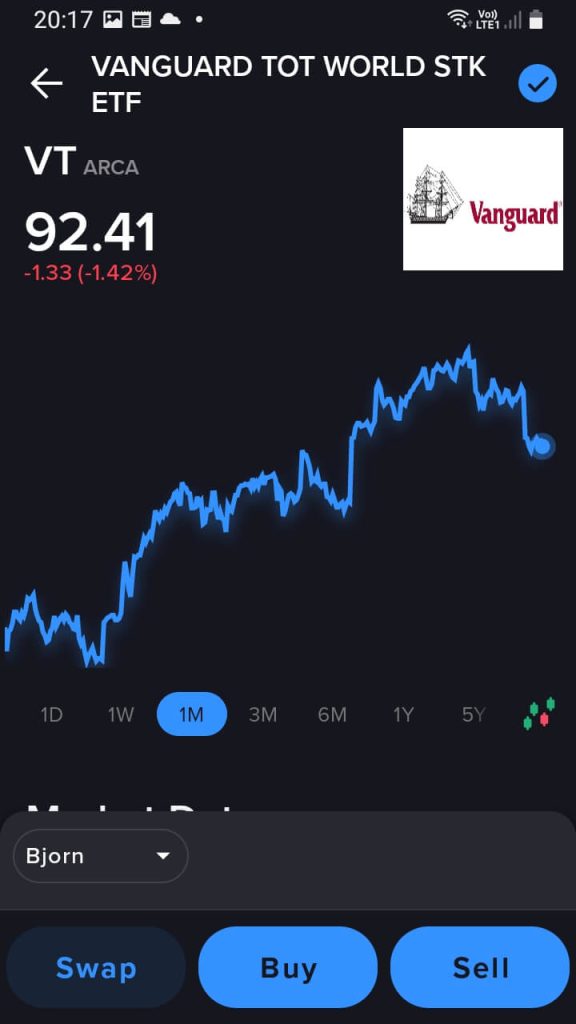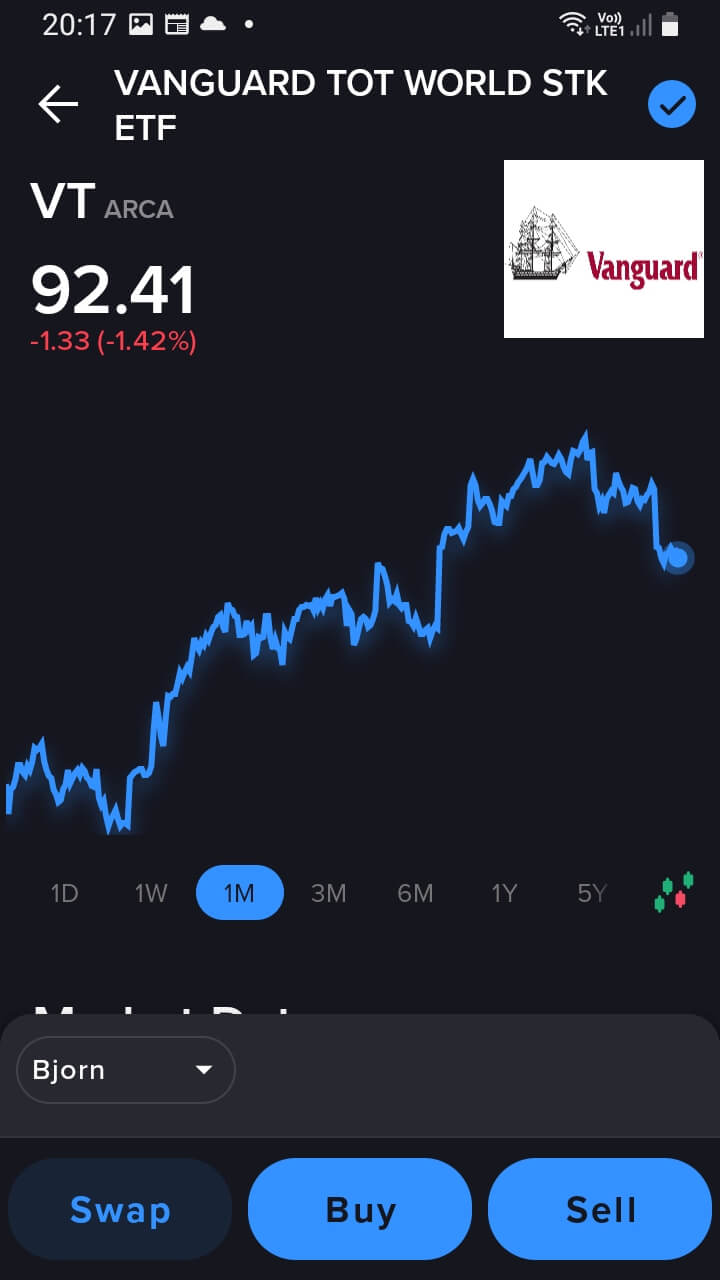 Here, you can see that I searched for the Vanguard Total World ETF (VT), my favorite ETF. From there, you can choose to buy or sell.
There is also a unique feature, Swap. Swap allows exchanging stocks for other stocks. Swapping means selling some of your shares in one position and buying a similar amount in another. This feature is convenient if you change ETF, but I do not see people using it often.
So, here is how to buy VT with IBRK Global Trader.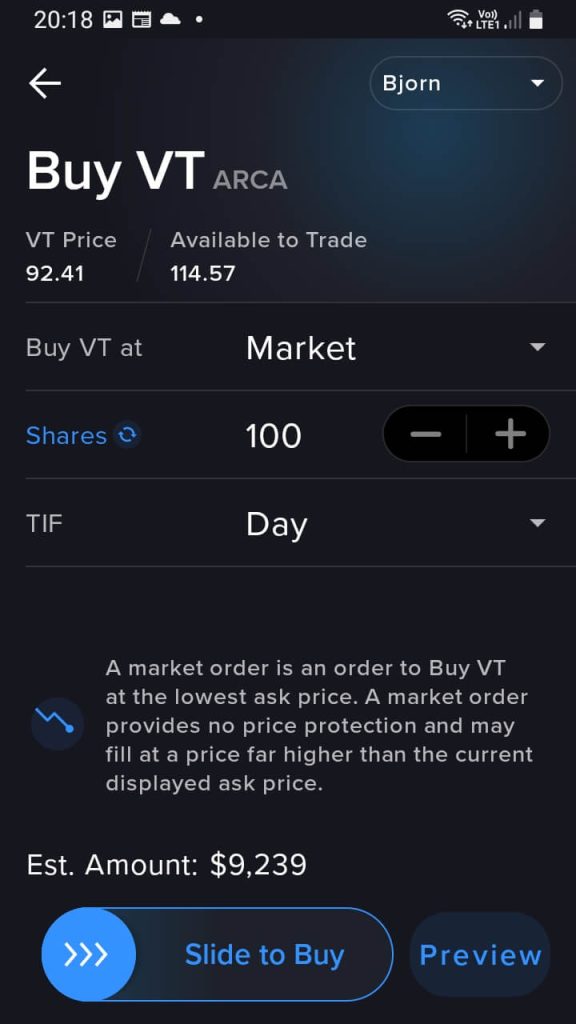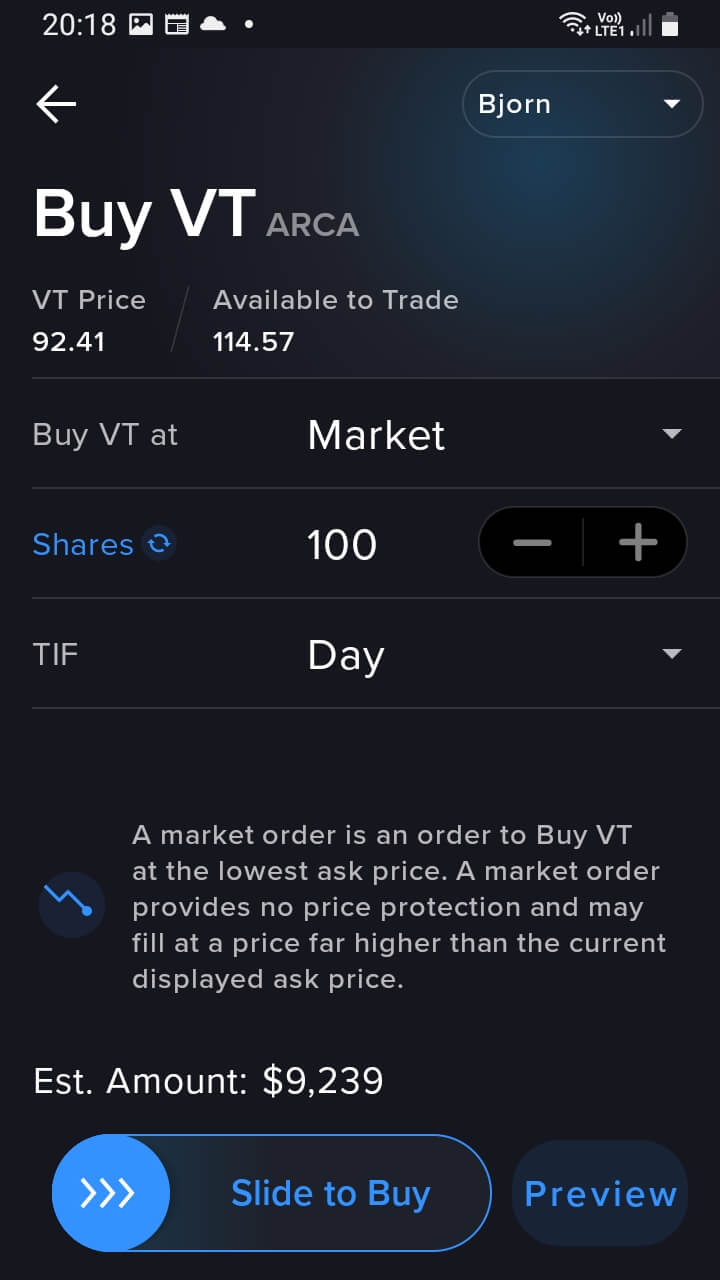 From this view, you can choose between the different stock market order types, the number of shares, and the valid time for this order. I generally only trade with market orders. That is so much simpler. And market orders are not nearly as dangerous as people believe.
Once you have set up your order, you can either slide to buy directly or preview your order. I recommend previewing your order to make sure everything is correct before you send the order.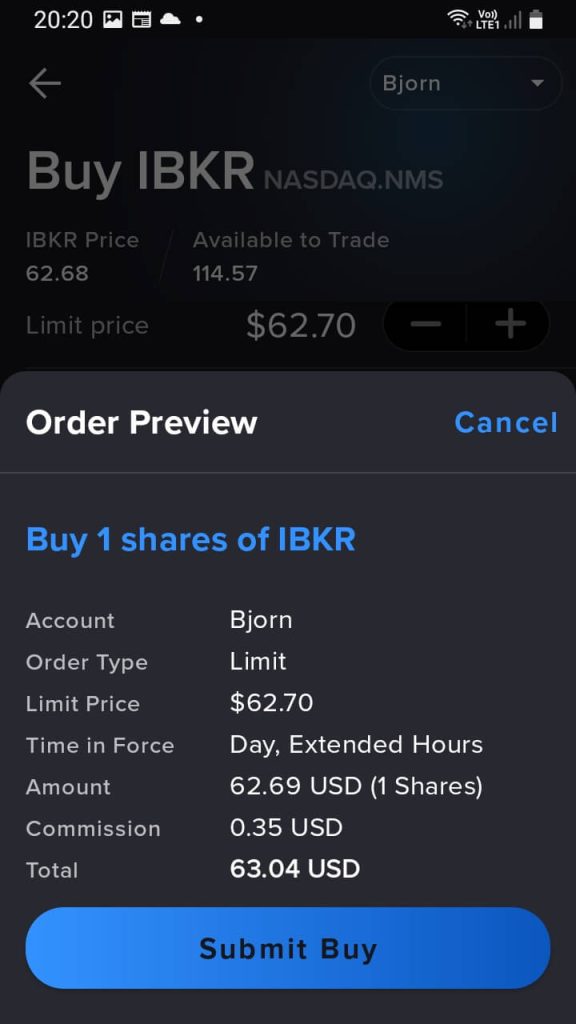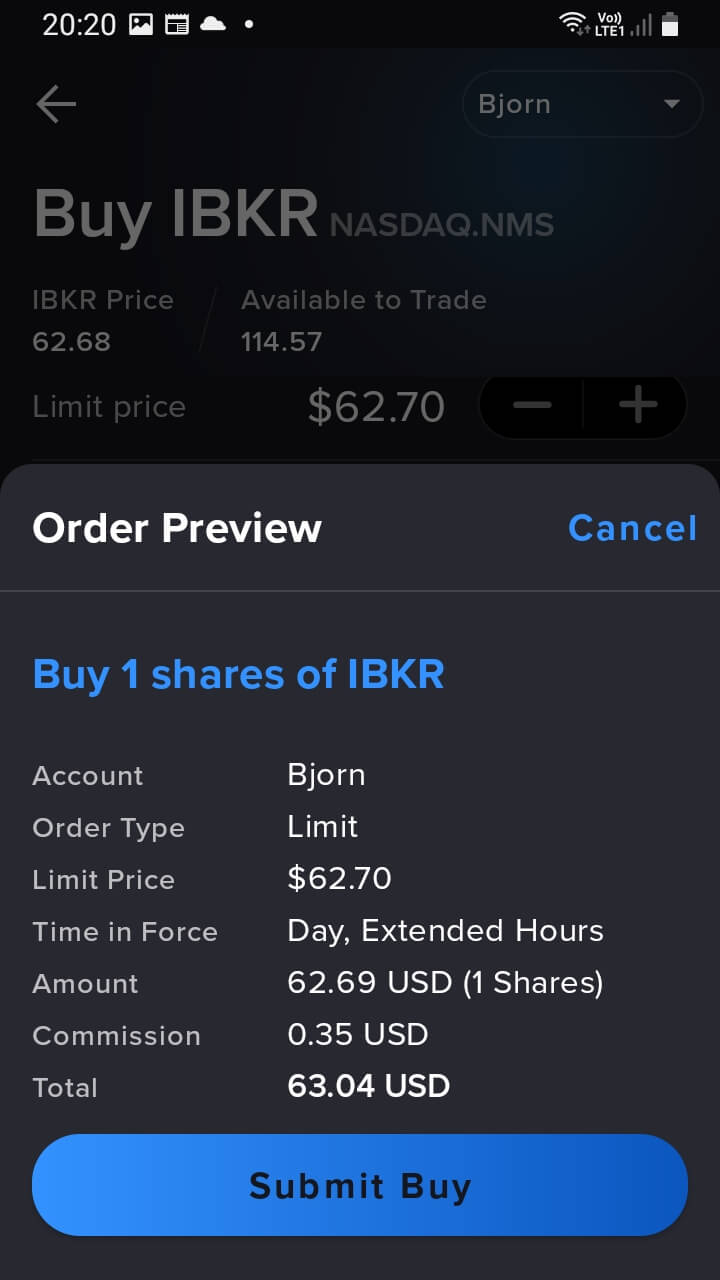 From the preview, you can see what will happen, for instance, with a limit price on IBRK stock (just an example, I do not own this stock). You can see the total and the fees you will pay. This example shows that IB is extremely cheap since you would pay 0.35 dollars for this transaction!
Overall, buying and selling from IBRK Global is extremely simple. They did an excellent job integrating only the necessary features to simplify trading.
IBRK Global Trader and other interfaces
We should also quickly compare IBKR Global Trader and the other interfaces.
IBKR Mobile is the previous mobile application from Interactive Brokers. Overall, IBKR Global Trader is a better version of IBKR Mobile. The new interface is significantly easier and less bloated than the previous one. If you want to trade on mobile and have something simple, IBRK Global Trader is better than IBKR Mobile.
If we compare it against the web interface (account management), both interfaces are really easy to use. The account management interface is significantly more practical if you want to deposit or withdraw money. Indeed, the mobile application will load the mobile-unfriendly web interface into a mobile browser.
Finally, we must say a few words about Trading Workstation (TWS). TWS is the desktop interface. Most people should avoid TWS. The IBKR Global Trader is ten times easier to use and much better looking.
Overall, IBKR Global Trader offers the best way to trade on mobile for Interactive Brokers accounts.
FAQ
Can you trade in fractions with IBKR Global Trader?
Yes, you can trade in fractions with many stocks.
Is IBKR Global Trader a different IB account?
No, it is a mobile interface to your IB account, you do not need a new account.
What is IBKR Global Trader?
IBKR Global Trader is a new mobile interface by Interactive Brokers, to make it easier to trade globally from your phone.
IBKR Global Trader Summary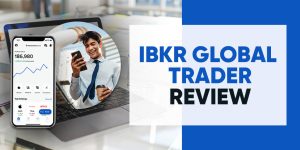 IBKR Global Trader is the latest mobile application from Interactive Brokers for easy and affordable trading!
Product Brand: Interactive Brokers
IBKR Global Trader Pros
Let's summarize the main advantages of IBKR Global Trader:
It is very easy to trade
Can trade on many stock exchanges
Very user friendly
Easy to start with
The best mobile app from IB
IBKR Global Trader Cons
Let's summarize the main disadvantages of IBKR Global Trader:
Not practical to deposit or withdraw money from the application
Lack of customization
Too many news
Conclusion
Meilleur app pour investir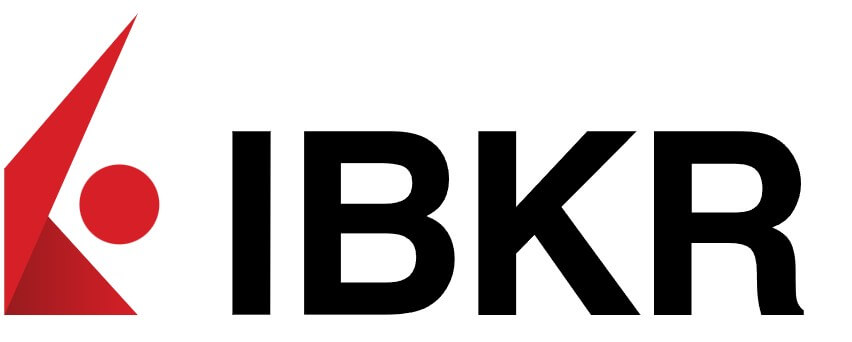 Overall, the IBKR Global Trader mobile application is an excellent mobile application. It allows you to trade easily from the phone and is significantly easier to use than the IBKR Mobile application.
On the other hand, it is not a revolution. There is nothing fundamentally new with this application. It allows simpler trading with your IB account.
Overall, it is an excellent mobile application and a promising new addition to the IB universe. I have replaced my IBRK Mobile application with this new mobile application.
I wish we could turn off the news on this app. For a simple passive investor like myself, they do not help much. But nowadays, every mobile trading app has this kind of information.
However, I am not an ardent user of mobile phones. I will continue trading and checking my portfolio on the account management interface from my computer. The default web interface remains the best interface for most users.
But it is true that most people now prefer using a mobile phone rather than a desktop. So having a simple mobile application is essential.
To learn more about Interactive Brokers, you should read my IB Review.
What about you? What do you think about IBKR Global Trader?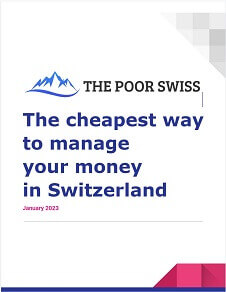 The best financial services for your money!
Download this e-book and optimize your finances and save money by using the best financial services available in Switzerland!
Download The FREE e-book