(Disclosure: Some of the links below may be affiliate links)
Neon is a great digital Swiss digital bank! It offers an entirely free bank account. Having a free bank is very important if you want to save money for managing your money. Swiss banks are becoming more and more expensive. So it is great to see some free alternatives!
Neon is a digital bank. It has no offices. So, you can manage your money entirely from your phone. With your bank account, you will receive a Mastercard that you can use for your payments. And you can use the mobile application to pay your bills and transfer money to other bank accounts.
I have been using Neon for more than one year now. So, I want to share my experience in this review of Neon.
One of the great things with Neon, compared to other digital alternatives, is that your funds are insured! If it goes bankrupt, your money is insured for up to 100'000 CHF! You have the same security as if you had a classical bank account.
We are going to see precisely what Neon is! And whether you should use it? How does it compare to other Swiss banks? And what about Revolut?
If you keep reading to the end, I even have a special offer for you!
Neon
Best Digital Bank
Neon
All the banking services you need, in a neat package, with extremely good prices!
Use the F9YMGT code to receive 10CHF for free!
Pros:
Pay abroad for free
Everything from your phone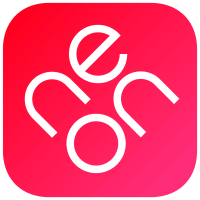 Neon is one of the earliest digital banks in the Swiss banking industry. It is an entirely digital bank. You will do everything with your smartphone. They do not have any office you can do business at.
Neon started in 2019. But even though they are only two years old, they already got more than 80'000 users. And they are expanding features very quickly. They are now on the road to reach 100'000 users.
Their main point is to provide free banking to everybody in Switzerland. Since they do not have big offices, not many employees, and do not pay huge bonuses to their managers, they can afford excellent prices. Unfortunately, most large banks in Switzerland are not free anymore!
There are some limitations as to who can open a Neon account:
Only Swiss residents can open an account. The identity check system supports people from 19 different countries!
Foreigners need a B or C permit to open an account. You will need to present your residency card to open an account.
You need to be over 16, which is the same limitations as for most Swiss banks.
You need to pay taxes exclusively in Switzerland.
These limitations are very reasonable. Neon is an account for people living in Switzerland, and most people in that category can open an account!
Do not pay for a bank account. Use Neon, the new Free Digital Bank
Neon Features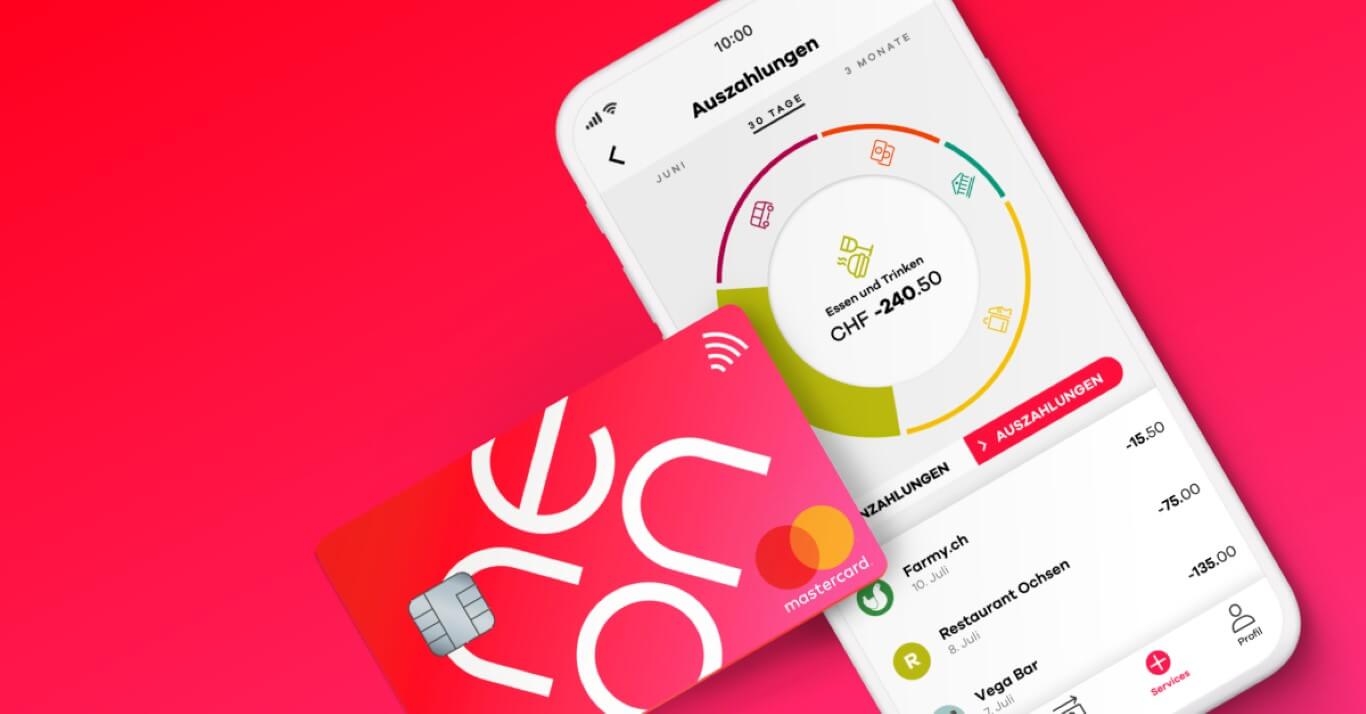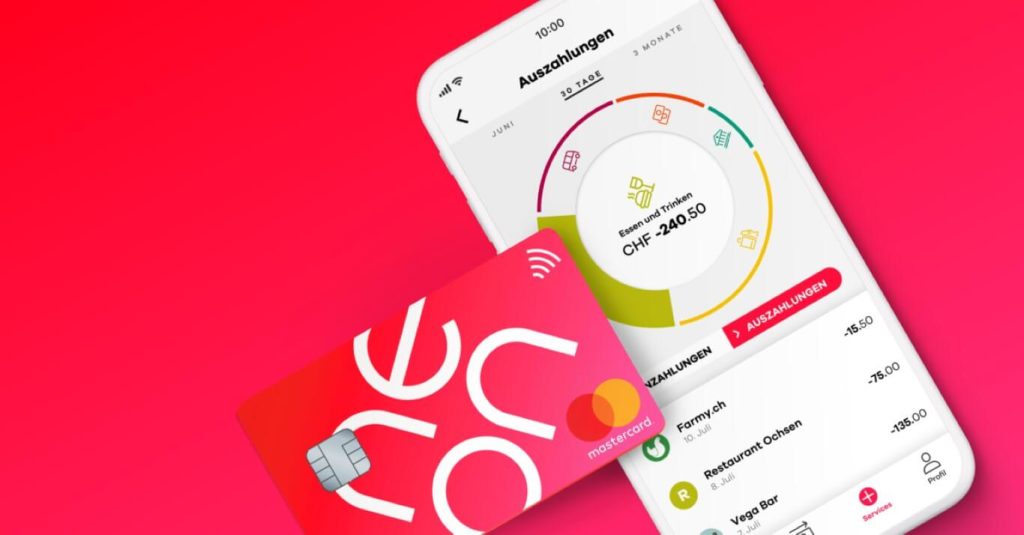 So, let's take a look at the features of the Neon bank account.
Neon is a digital bank account, so you will need to access it with a smartphone. It is available on Android, iPhone, and Huawei.
From the application, you will be able to see your balance, make payments and transfers. In addition, you will get some basic information as to how your account is doing (expenses versus earnings). And all these features work pretty well. I use Neon every month to pay my bills, and I am pretty satisfied with their system.
With Neon, you can also send money directly to other Neon users. So, if you have people in your contacts with a Neon account, you can send them money directly.
With your Neon account, you will get a Neon Mastercard debit. With this card, you can pay in Switzerland and abroad and also withdraw money. And we will see later that the fees on this card are outstanding!
Neon was the first digital bank to introduce support for electronic bills (e-bills). The support is simple since they simply use the SIX portal for e-bills. But it works well.
The application also lets you freeze your card temporarily. This feature is great if your card is lost or stolen.
Since May 2022, you can even have Spaces in your account. This means you can create sub-accounts, dedicated to your needs. For instance, many people want to save money for holidays in a different account.
You can also use Neon with Google Pay and Apple Pay if you want to pay from your phone! And you can also use Neon with TWINT. That way, you will not even need a physical card to do your groceries!
Neon uses two-factor security to make your account more secure. You need to activate this feature. And you need to use a strong password to make sure nobody can access your account.
A great thing about Neon is that they are available in English and the three National Swiss languages: French, German, and Italian. These languages make Neon a great option for expatriates in Switzerland.
Overall, Neon has more than enough features for any bank user. I do not think anything is missing to make it an excellent bank account.
Is Neon a Bank?
Interestingly Neon is not a bank! This is because they do not have a banking license. However, they do not have to be.  An official bank, the Hypothekarbank Lenzburg, manages your accounts.
The most significant advantage is that your money is fully insured according to Swiss laws, contrary to other digital banks. That means that 100'000 CHF of your account will be protected by law!
Moreover, this also means that Neon can focus on what they do best: their mobile application and its products. And the official bank can focus on what they do best: manage money!
So, there is no disadvantage to the fact that Neon is not a licensed bank.
Neon Fees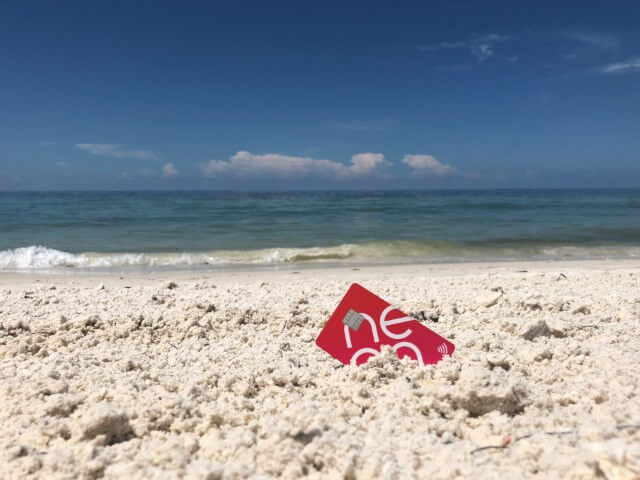 The Fees of Neon is where they are shining! Almost everything is entirely free! If you follow a few rules, it will be completely free for you!
First of all, opening an account is free. And there is no management fee! And all your payments in CHF will be free as well.
Your Neon MasterCard will not have any yearly fees either. A free payment card is essential because the essential feature of a payment card is to be free! However, you will need to pay 10 CHF to get your card delivered (unless you get a Neon Green account).
You can also withdraw twice per month for free at any ATM. After that, you will have to pay 2 CHF per withdrawal.
The card is also very interesting abroad! For any transaction with the Neon card outside of Switzerland or in foreign currencies online, you will not pay any fee. Free transactions in foreign currencies and abroad make Neon an alternative to Revolut.
If you withdraw money abroad, you will pay a 1.5% fee. Generally, you should avoid withdrawing money abroad with any card.
Neon also has a partnership with Wise for outgoing foreign payments. So, you can profit from very cheap transfers in foreign currencies with Neon. This partnership makes Neon the best Swiss bank account for foreign transfers.
If you only use your card in Switzerland, it will be entirely free! Neon is much better than most Swiss bank accounts!
Neon Limits
Like with most bank accounts, there are some limits with your Neon Bank account.
Most of the limits are related to the card itself. Here are the limits of the card:
You can withdraw 1000 CHF per day at most
You can spend 5000 CHF per day online and in stores
You can only spend 10'000 CHF per month
These limits are acceptable since they are similar to what most payment cards have. I have never been over these limits with any of my cards.
There is also a daily transaction limit of 30'000 CHF. In most cases, this will not be an issue. In my life, I only had to do a larger transaction once (for the downpayment of our house). So, it should be fine for most people. But it is still important to know that this limit is there.
Neon Green – Carbon-Neutral account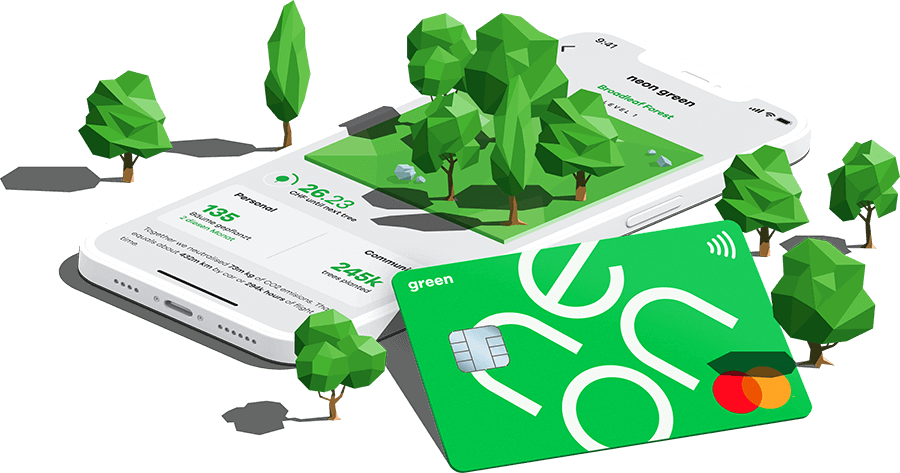 Neon Green is the second bank account from Neon. It started in May 2021. The idea of Neon is to be carbon-neutral. And to achieve that, Neon will plant trees for all Neon Green users.
For each Neon Green user, they will plant five trees every month! On top of that, they will plant one more tree for every 100 CHF spent with this account. So a user spending 3000 CHF monthly on this card would result in 35 trees planted per month!
Finally, you also get an extended warranty of 3 years for your electric and electronic devices.
The Neon green account has all the features of the basic Neon Free account. The Neon green account costs 5 CHF per month. And you will receive the Mastercard for free (10 CHF for Neon Free).
Neon Green is an interesting approach for people that want to have a positive effect on the climate. And even that 5 CHF per month, Neon is still an interesting bank account!
Neon Metal – Extra insurance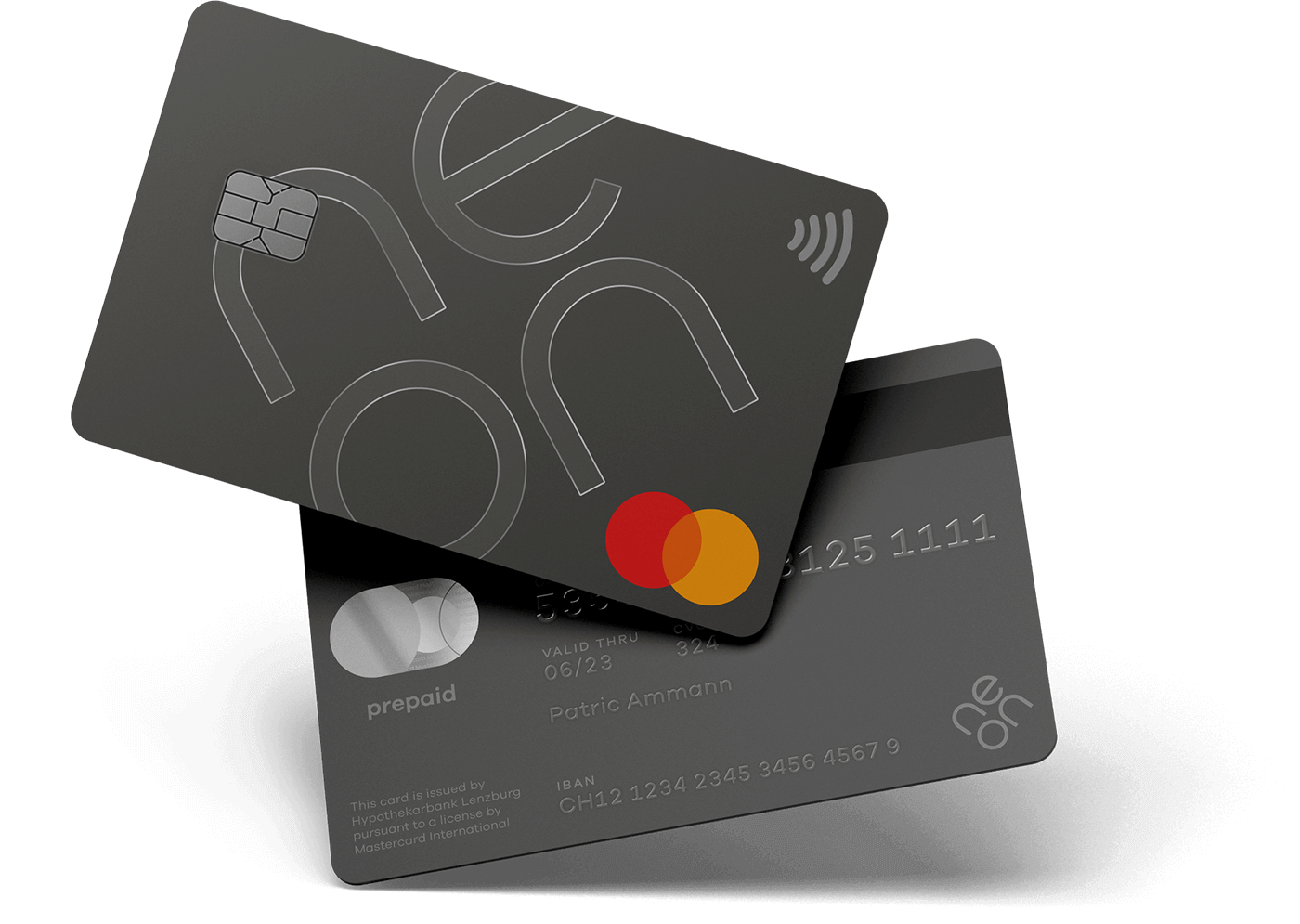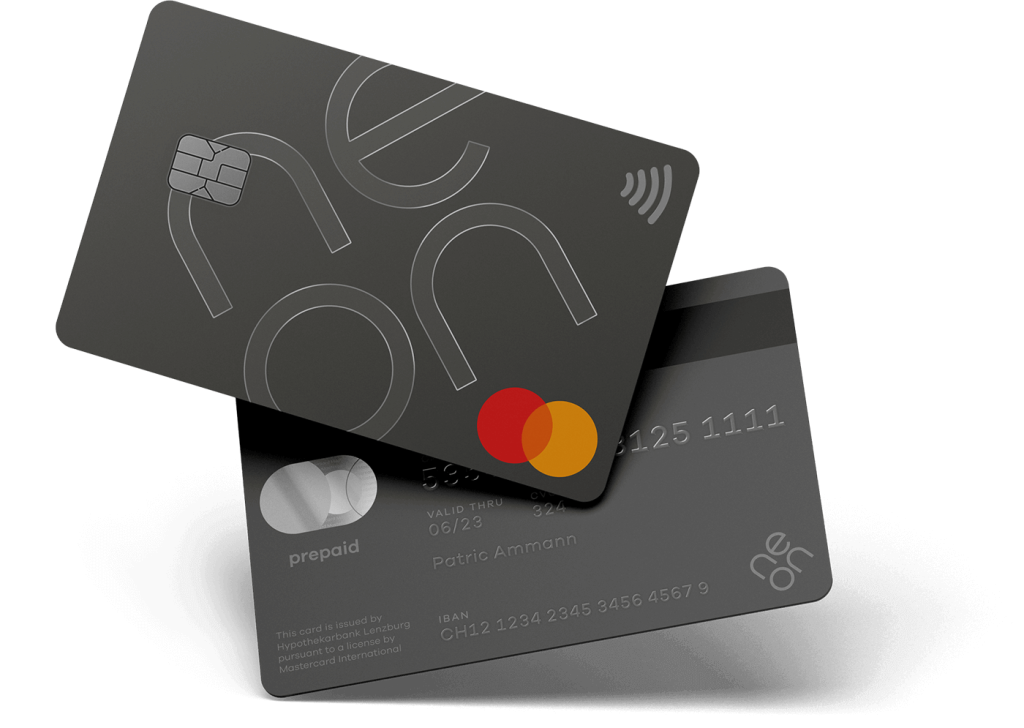 In April 2022, Neon introduced a new account: Neon Metal. As its name indicates, the card you will get is in metal, 22g of stainless steel to be precise.
Neon Metal has all the features of the standard account with extra advantages on top. You can withdraw cash for free in the entire world (except in Switzerland, where you only have 5 free withdrawals per month).
With Neon Metal, you get several insurances included:
3 years warranty on electronic devices
mobile-phone insurance
ticket insurance
best-price guarantee insurance
On top of that, you will get also get extra insurance as you use your card more:
Shopping insurance if you spend more than 500 CHF with your card

Insurance if what you received is not what was advertised for instance

Cyber insurance if you spend more than 5000 CHF with your card

Insurance if one of your online accounts gets hacked for instance

Travel insurance if you spend more than 15'000 CHF with your card

Insurance for your luggage for instance
All these packages are actually covering many more areas that I did not cite here and are well covered on the Neon Metal website.
Compared to the basic account, this account is not free. You will pay 15 CHF per month.
Given the amount of insurance you can get with this price, I actually think this is a fair price. However, I do not think everybody needs it. Several of these points will already be covered if you have legal protection insurance for instance. And medical care outside of Switzerland will also be covered by complementary insurance. Household insurance may cover some issues with your phone and it is generally possible to get travel insurance on your travels should you decide to.
So, if you are interested in this account, you should check exactly what you need coverage for and see whether 15 CHF per month is a good deal for it.
For our own case, I am not thinking of using Neon Metal, Neon Free is good enough for me.
Extra features
Neon does not have any extra features. But you do not need any additional features!
Nevertheless, Neon has several partnerships with interesting digital companies that you can access directly from the application:
It is great that Neon is partnering with innovative companies like these companies that care about their customers. This strategy is much better than trying to reinvent the wheel and do everything. I like Neon's approach there.
User Reviews
If you want more points of view than my own, we can take a look at online reviews for Neon.
On the App Store, Neon got a 4.7-star average rating out of about 1.1K ratings. This is an excellent score! On the Play Store, Neon got a 4.6-star average rating out of about 1.6K ratings.
The positive reviews are talking about several points:
Great fees
Very easy to use
Nice looking app
The negative reviews are also mentioning several specific points:
It takes a few days to activate the app since you will receive the code by mail
People complaining that they cannot open an account while being out of Switzerland (but this is well explained on the website)
The app is sometimes a little slow (when there are many users).
Given the excellent ratings and the number of positive reviews, I would not worry too much about these negative ratings. Most of the negative reviewers do not read the conditions and complain that they cannot open an account.
So, overall, users are extremely satisfied with Neon! And so am I!
Neon Bank Advantages
Let's summarize the advantages of Neon Bank:
Extremely cheap bank. If you use it correctly, your account will be entirely free.
Free purchases abroad and in foreign currencies! Neon is the only Swiss bank with this feature!
Cheap transfers in foreign currencies
Support of ebills. Neon was the first digital bank supporting ebills.
Protection of your assets up to 100'000 CHF
Very good reviews
Excellent reputation
Fast-growing company
Carbon-neutral option with Neon Green
You can freeze the card from the app
Neon Bank Disadvantages
Let's summarize the disadvantages of Neon Bank:
The account takes a few days to be activated. Creating an account is very quick. But then, you need to wait for a mail to come to you to get the access codes.
You cannot deposit cash for free in your account.
Neon does not offer a Maestro card.
You cannot send money to Interactive Brokers directly (you have to change to a wrong address for it to work)
No offices. If you have an issue, you have to call support.
Neon Bank vs Migros Bank
Before Neon, I was using Migros Bank. Now, I am using both accounts. I think that Migros Bank is the best traditional bank account available in Switzerland. Let's see how they compare with Neon.
Neon is entirely digital, while Migros is still a traditional bank with offices. However, it does not matter much these days. You can do everything on both banks with your smartphone. Migros has a few more options, like broker accounts. But these are not services that you should generally take with your bank anyway.
Both accounts are free. However, Migros Bank is only free if you have more than 7500 CHF in your account. Otherwise, it is expensive at 3 CHF per month. If you do not hold 7500 CHF in your bank account, Neon is an excellent bank!
Another disadvantage of Migros is that you will pay 0.20 CHF for each incoming payment. However, at Neon, it is free to receive money in your account (as it should be for any bank!).
There is a big difference between the cards offered by Migros and Neon. Migros card is a Maestro, while Neon's card is a Mastercard. Sometimes it is quite practical to have a Maestro in Switzerland. Many administration offices only take Maestro cards and not Mastercard. But you can also almost always pay cash. You will not be entirely blocked with only a Mastercard, either. And with Neon's Mastercard abroad for free while, it would be very expensive with Migros Bank.
I keep Migros Bank as my primary bank account these days because it has higher daily limits and that I have my mortgage there. Without my mortgage, I would probably make Neon my main account.
Another advantage of Migros is that you have no limits on withdrawals. So if you use a lot of cash, you should use Migros over Neon.
Neon is superior to Migros bank. The most significant advantage of Neon is that Neon's mobile application is much better than the app from Migros. I have had many issues with the app from Migros. I do not like it. And with Neon, you only need a single card, and you can use it abroad! This is why I am using Neon for almost everything these days.
Neon vs Revolut
Revolut
Revolut offers a credit card without any fees for currency exchange.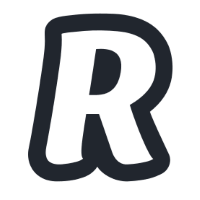 Another option I have talked about before is using Revolut Card. Revolut allows you to do transactions in foreign currencies with no transaction fees.
Since 2020, Neon offers free payment abroad with the card in any currency. Free payment abroad is an awesome thing! Furthermore, neon is cheaper than Revolut since they do not have weekend fees, for instance.
Neon has one big advantage over Revolut. Your assets are insured up to 100'000 CHF. Assets on Revolut are not insured by law. It is because Revolut is not a bank.
Another advantage of Neon over Revolut is that you have no limit for free withdrawals in Switzerland. You can only withdraw twice a month with Neon but with no limit. With Revolut, you can only withdraw 200 CHF per month for free.
On the other hand, with Revolut, you can receive money in other currencies for free. And you can also keep money in foreign currencies in your account. However, for the time being, you can only keep CHF on your Neon account. And receiving foreign currencies will not be free.
For now, it is still good to have a traditional bank in Switzerland for monthly payments and a small emergency fund. And in Switzerland, it is still necessary to get some cash from time to time. And Neon is an excellent alternative to other traditional banks.
So you need both a Swiss bank account and a free foreign currency card to minimize your fees! With Neon, I feel you have all the advantages. I will probably close my Revolut account in the future to simply my accounts.
To learn more, I have made an in-depth comparison of Neon and Revolut.
Neon as a Payment Card
While it is an excellent bank account, it is not the best option as a payment card. If you want to optimize your cashback, you should avoid this card for payments in Switzerland.
The reason is simple: there is no cashback using the Neon debit card. It is free, but that is not enough to make a good credit card.
In my credit card strategy, I am using two credit cards:
Swisscard Cashback American Express with 1% cashback. I am using this card every time it is possible.
Cumulus Mastercard with 0.33% cashback. When American Express is not supported, I use this second card.
Both these cards are free, and both these cards have higher cashback.
So, you may use it as your bank account. But using Neon as a payment card is not optimal!
Now, is it going to change your life? No! It is just an optimization. If you are not using payment cards a lot, then you will be fine with Neon only. And if you do not want to carry several cards, then Neon's card is as good as it gets.
FAQ
What is Neon?
Neon is a great Swiss digital bank. It is an entirely mobile bank that provides modern banking features with no account management fees.
What is Neon Green?
Neon Green is an alternative to the Neon Free account. With Neon Green, Neon will plant trees each month for each user. On top of that, every time you spend money, Neon will plant more trees. This makes Neon Green a carbon-neutral account.
Who can open a Neon account?
Any Swiss resident that is at least 16 years can open an account with Neon. Foreigners from 19 different countries with a B or C permit can create accounts.
Is Neon entirely free?
It is almost entirely free. You will only pay if you withdraw more than the allowed free limit or withdraw money abroad.
Is Neon a Bank?
Technically, Neon is not a registered bank in Switzerland. However, your assets are held by Hypothekarbank Lenzburg, a licensed bank. So you have the same security as with any other Swiss bank!
Conclusion
Best Digital Bank
Neon
All the banking services you need, in a neat package, with extremely good prices!
Use the F9YMGT code to receive 10CHF for free!
Pros:
Pay abroad for free
Everything from your phone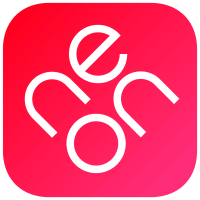 Neon is an excellent bank for Swiss people. If you use it correctly, it is one of the best Swiss banks. You will not have to pay any fees. Neon is currently the best Swiss digital bank. And now that they offer free payment with the card abroad, it is even better!
If you are still using an expensive bank such as PostFinance, UBS, or Credit Suisse, you should consider changing to a cheaper bank such as Neon! And if you do not want a digital bank, Migros Bank is the next best alternative, but you will pay a bit more.
I opened a Neon account more than one year ago, and I am pleased with it. It replaced my Revolut account for usage in foreign currencies. And since the mobile application is so much better than the applications at Migros, I am paying all my bills with Neon! In the future, I would like to keep Neon as my only bank account.
If you want to open a Neon account, please use the code "F9YMGT" during the registration process, and you will receive 10 CHF for free. And I will also receive 10 CHF.
If you want more digital bank alternatives, you can look at my comparison of Zak vs Neon.
If you want to learn more about Neon, you can also take a look at Neon's blog. It is worth reading!
What do you think about Neon? Do you use this bank?
Neon Bank Review [year]: The Best Swiss Digital Bank - The Poor Swiss
Neon is a free digital bank in Switzerland. It is entirely free, is used from your smartphone and is an extremely attractive Swiss Bank!
Price Currency: CHF
Operating System: Android, OSX
Application Category: Banking app