Alpian Review 2023 – Pros & Cons
|
Updated:
|
(Disclosure: Some of the links below may be affiliate links)
Alpian is a Swiss digital private bank. They focus on the mass affluent people. They want to offer private banking services to more people and make it easier, simpler, and more humane than traditional private banks.
If you are looking for a private bank, should you use Alpian? This review will cover this question in detail by reviewing its fees, features, and philosophy. By the end of this review, you will know whether you should use Alpian.
About Alpian

| | |
| --- | --- |
| Monthly fee | 0-15 CHF |
| Users | Unknown |
| Card | Visa Debit |
| Currencies | CHF, EUR, GBP and USD |
| Withdrawals in Switzerland | 2 CHF per withdrawal |
| Withdrawals abroad | 2.5% fee |
| Currency exchange | 0.2% (0.5% during weekend) |
| Management fee | 0.75% |
| Product costs | 0.20% |
| Languages | English, French, German, and Italian |
| Custody bank | Interactive Brokers |
| Depositor protection | 100'000 CHF |
| Established | 2022 |
| Headquarters | Geneva, Switzerland |
Private Banking
Private banks are serving affluent clients with customized services and advice. They are generally helping affluent customers invest their money.
I have not talked much about private banking on this blog before. The reason is simple: private banking is generally expensive. I have never seen the need for private banking before.
However, several readers have told me they were interested in private banking. I would never recommend very expensive traditional private banks. However, digital private banks may offer a good alternative for people that want to delve into private banking without excruciatingly high fees.
So, we can see what Alpian offers to people looking for affordable private banks.
Alpian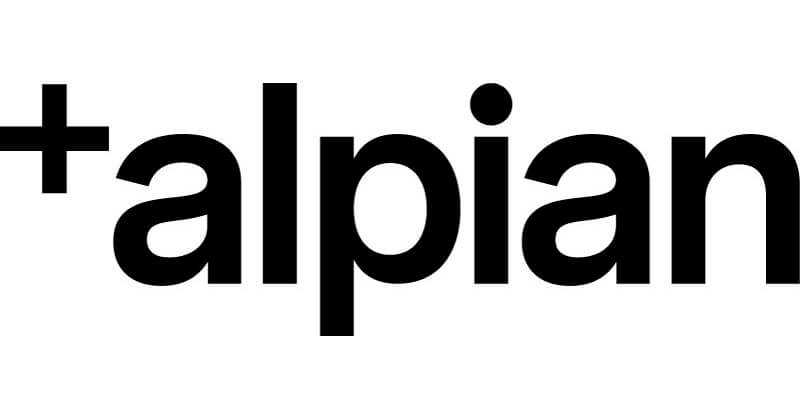 Alpian is among the first Swiss digital private banks. The bank was created in 2019 and launched to the public in 2022.
They focus on mass affluent people. This is the category of people with wealth between 100'000 CHF and 1'000'000 CHF. You can still use them if you have more or less than that, but it is essential to mention that traditional private banks focus on higher categories of wealth.
One of their goals is to demystify private banks. In most people's eyes, private banks are only for the ultra-rich. Alpian wants to break that myth. To achieve that goal, they provide an online knowledge platform about investments and private banking.
Traditional private banks are generally only used for investments. On the other hand, Alpian also focuses on providing a great bank account. So, you could use this bank as your main bank and directly invest with them.
Finally, Alpian wants to grow its customer wealth, not only make money. Therefore, they do not accept any investment kickbacks or have no custom products. This allows them to focus on the best products available.
Now, we should see in detail what are their features and prices.
Alpian Features
Alpian has many interesting features on multiple fronts.
Banking features
Each Alpian account is a multi-currency account. This is great to have this by default. Alpian supports CHF, EUR, GBP, and USD. All these currencies are under a single IBAN. You can convert between these four currencies directly within the app.
You get a 1.0% interest rate on your CHF deposits (up to 100'000 CHF). You even get a 1.50% interest rate on deposits between 100'001 and 250'000 CHF. These are significant interest rates if you are holding a lot of cash.
With your account, you get a Visa debit card that you can use to pay and withdraw money in Switzerland and abroad. This card does exactly what you expect from a debit card.
Currently, Alpian does not support e-bills. However, they are working, and this should come in 2023. Alpian is also working on new features., Next, they plan to work on mobile payment with TWINT, Google Pay, and Apple Pay.
Overall, Alpian has all the features you would want from a bank and more. It is good that they have a multi-currency account. There are very few Swiss banks offering that feature.
Investment features
Alpian also offers wealth management features.
Alpian uses an artificial intelligence model to generate a basic portfolio model for their investors. These portfolios are then vetted and customized by professional wealth managers. Each portfolio is different based on a thorough questionnaire.
The client then has the choice to let the wealth management team implement or change things. This allows an excellent level of customization.
As far as sustainable investing goes, Alpian provides a tool to measure the impact of your portfolio. If you want something more or less sustainable, you can communicate with the wealth managers to improve in any direction.
For your portfolio, they will use bonds, stocks, and ETFs.
Interestingly, Alpian is using Interactive Brokers for their investments. It is, therefore, important to know that your stocks will not be stored in Switzerland. This is not a problem (I am using and recommending Interactive Brokers), but essential to understand when comparing financial services.
Overall, Alpian offers interesting features to design and manage your portfolio. A team of certified wealth managers will supervise your portfolio.
For me, a digital private bank is close to a Robo-advisor, except that you get access to professional wealth managers. These wealth managers will create your portfolio and adapt it over time.
Alpian Fees
We must now look at the fees of this private bank.
Banking Fees
First, we can look at the banking fees.
An incoming transfer in the base four currencies will be free. And all incoming transfers in other currencies will be converted to CHF, with a markup of 0.20% (on top of the interbank exchange rate). The markup increases to 0.50% during the weekends.
All outgoing transfers in the base four currencies will be free as well. Using other currencies will cost you from 2 CHF to 7 CHF, with the same markup mentioned before.
All payments with the card in the four default currencies are free of charge, given you have the amount already. If you do not have the necessary amount in one of the four available currencies, you will pay 0.20% for each currency exchange. For all other currencies, you will pay the VISA exchange rate, which is about a 0.50% surcharge.
However, you will pay the VISA exchange rate if you do not have the necessary currency or use another currency. This rate is, on average, about 0.5% worse than the foreign exchange rate.
So, overall, these currency exchange fees are much better than the average in the industry. Only a few banks can beat them.
If you want to withdraw money in Switzerland, you will pay 2 CHF for a CHF withdrawal, 5 EUR for a EUR withdrawal, 5 USD for a USD withdrawal, and 5 GBP for a GPB withdrawal. It is pretty disappointing that there are no free CHF withdrawals in Switzerland.
If you withdraw money abroad, you will pay 2.5% of the transaction amount. This is relatively expensive.
On top of that, you will pay a quarterly fee based on your assets:
From 0 CHF to 10'000 CHF: 15 CHF per month (180 CHF per year)
From 10'001 CHF to 50'000 CHF: 7.50 CHF per month (90 CHF per year)
From 50'001 CHF: Free
The assets are both your current account and your investments. This management fee is not cheap if you are below 50'000 CHF. However, this is on par with many retail banks like UBS.
Overall, these fees are good except for the custody fees. The currency exchange fees are well below the average for Swiss customers.
I wish the limit for free accounts would be lower. But since they target mass affluents, it kind of makes sense. I also wish you could withdraw money for free in Switzeralnd.
Investments Fees
For managing your wealth, Alpian will charge you a 0.75% fee on the value of your investments per year. There are no maximums nor minimums on this management fee. If you have 100'000 CHF with Alpian, you will pay 750 CHF per year in fees.
This management fee includes all advice by Alpian and your portfolio management. It also includes all transaction costs. However, this management fee does not include the following:
The Stamp tax duty.
Currency exchange fee (0.2% during the week, 0.5% during the weekend).
Product costs in case your portfolio invests in ETFs.
Regarding currency exchange fees, it is important to mention that most investments at Alpian are hedged to CHF, reducing the fees. It is up to you to decide whether currency hedging is good.
First, traditional private banks are more expensive, generally around 2% per year (sometimes significantly more). So, while expensive, Alpian is much cheaper than a traditional private bank.
And even in general, Alpian's management fee is not great! Since most investments will be in ETFs, the total fee will be about 1.00% on average.
However, any retail bank will be more expensive. Currently, the average investment management fee is about 1.38% (as per Alpian, 31.08.22).
So, it is interesting that a digital private bank can be cheaper than a retail bank. However, these fees are still significant.
Alternatives
Since Alpian is first a wealth management platform, we should compare it with other investment platforms.
I have not yet evaluated other private banks, so I cannot compare them. So, I will first compare them with Robo-advisors. Alpian is not a Robo-advisor because humans also supervise each investment portfolio. But I doubt that this brings much value on top of a Robo-advisor.
Since Alpian focuses on the mass affluent, we will compare the fees for a portfolio of 250'000 CHF which should be pretty common in this category.
Finally, people willing to manage their money with a broker account should not be concerned. Any good broker will be much cheaper than any private bank or Robo-advisor.
Alpian vs Selma
Perfect to get started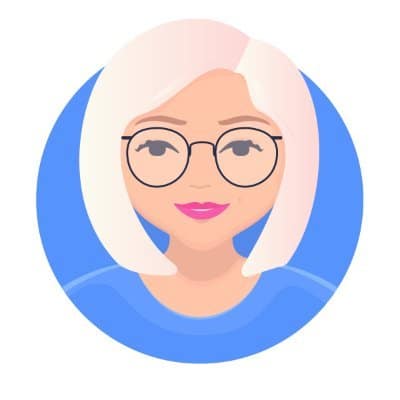 Selma is a Robo-advisor that is very easy to use and uses index ETFs to propose a simple portfolio to their users. This is entirely automated, based on a few questions they will ask you.
As far as features go, both investment offers are relatively similar. In the case of Selma, your portfolio will be entirely managed by a computer while it will be managed by a computer supervised by humans with Alpian. Both will invest in ETFs.
The main difference will be in the fees. At Selma, you will pay only a 0.47% management fee against the 0.75% fee of Alpian. This is a very significant difference.
In both cases, we need to add the TER of the ETFs on top of the fees, about 0.25%. This gives us total of 0.72% for Selma and 1.00% for Alpian.
So, Selma is about 30% cheaper than Alpian. This difference is significant.
On top of that, your shares at Selma will remain in Swiss custody. For me, this is not a huge advantage. But at the same price, I would prefer Swiss custody.
If you are not necessarily looking for a private bank or a fully-fledged solution, I would recommend Selma over Alpian.
One advantage of Alpian is that you can personalize your portfolio to a higher degree. By talking with the wealth managers, you can influence your portfolio. With Selma, your personalization would be very limited.
If you are looking for an all-in-one solution, Alpian could be interesting since it is both a bank account and an investment service. However, you will end up paying much more fees.
Alpian vs Investart
Since Alpian uses Interactive Brokers as a custody bank, I thought it would be interesting to compare with Investart.
Investart is a Robo-advisor that uses Interactive Brokers as well. They are offering direct investment in ETFs with a very high level of customization.
From an investment perspective, I would say that both services offer similar platforms. Of course, you will get human supervision with Alpian, but you must balance how much that is worth.
You may require less knowledge to use Alpian. With Investart, you must choose products directly, which requires some knowledge. On the other hand, at Alpian, some people will design a portfolio for you.
Again, the main difference will be the fees. But the total fee of Investart is about 0.50% (average product costs) while Alpian's is 1.00%. So, Investart will be much cheaper than Alpian.
For more information, you can read my review of Investart.
Alpian FAQ
Is Alpian safe?
Alpian is a Swiss licensed bank. This means that Esisuisse insures your deposits for up to 100'000 CHF. Your investments are in custody of Interactive Brokers, which is a safe and regulated institution as well. So, yes, Alpian is a safe bank.
How much do you need to open an Alpian account?
There is currently no minimum to open an account with Alpian.
How much do you need to invest with Alpian?
You need at least 30'000 CHF to use the investment features from Alpian.
Alpian Summary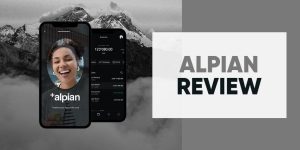 Alpian is a digital private bank, aiming to open private banking to the mass affluent.
Product Brand: Alpian
Alpian Pros
Let's summarize the main advantages of Alpian:
Multi-currency account
Fair pricing for a private bank
Access to professional wealth managers
Transparent pricing
Alpian Cons
Let's summarize the main disadvantages of Alpian:
Relatively high minimums
No free withdrawals in CHF
Significantly more expensive than traditional banks
Expensive for investments
Conclusion
When compared with traditional private banks, Alpian offers an interesting alternative. It offers reasonably good bank accounts and fees significantly lower than these large private banks. If you are looking for an account with a private bank, Alpian is a good choice.
Nevertheless, you have to ask yourself whether this is worth the price. Compared to a standard bank and an investment broker, you will pay a lot more to Alpian. And a cheap Robo-advisor can cost you less.
When considering that passive investing works well and that 99% of fund managers cannot beat passive investing over the long term, we must ask ourselves why we should pay such fees.
For me, the mass affluents should not pay such fees. This may become more reasonable if you are a High Net Worth Individual (more than a million) since you have enough money not to care too much. But to grow your wealth, you must be careful about such fees.
Using the same entity for your bank account and investments may not be the best idea. The best banks are not offering investments. And the best investment platforms are not offering bank accounts.
Despite being in the mass affluent population, I am not using a private bank. And I am not looking to use one either. I am fairly content with my simple bank system and prefer to separate my investments from my bank.
If you are interested in private banks, you could be interested in Everon, another digital private bank.
What do you think of Alpian? Are you interested in private banks?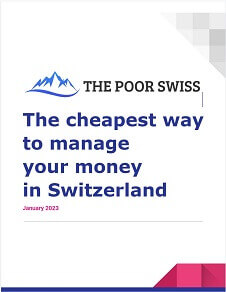 The best financial services for your money!
Download this e-book and optimize your finances and save money by using the best financial services available in Switzerland!
Download The FREE e-book