Neon vs Revolut: Which is best for you?
|
Updated:
|
(Disclosure: Some of the links below may be affiliate links)
Neon and Revolut are both digital banks. Neon is a Swiss company, while Revolut is an international company.
Neon also offers free payments abroad with their cards. This feature makes them a direct concurrent of Revolut, which everybody uses to save on currency exchange fees.
So, it is interesting to compare the two. Do you need Revolut now if you have a Neon account?
So, how can you choose between the two? This article helps you decide by comparing in detail Neon vs Revolut. The comparison will be made on many levels: fees, security, limits…
If you want to know which of Neon or Revolut is better for you, keep on reading!
Note: I will be focusing on the free Revolut account. They have premium accounts as well, but they are out of the scope of this article.
What is Neon?
Neon is a Swiss digital bank. Neon is one of the first banks in Switzerland to be entirely digital. It means they have no offices. You can only use Neon with its mobile application. Neon is growing very quickly. In 2021, they reached 80'000 customers already.
What makes them very interesting is that they are free. Currently, very few banks are still free in Switzerland. If you use Neon properly, you can use it entirely for free.
Neon also makes currency exchange free as well, when paying with the card. Currency exchange was one of the things that were not free before. They are doing this to be more attractive to people who like digital banks. And this is a great move!
Neon is not a bank directly. But when you use Neon, your funds are held by a Swiss bank (Hypothekarbank Lenzburg). In practice, this is the same as if Neon was a bank itself. It means that they cannot offer banking services directly, only indirectly. For the final customer, this does not make any difference. The important thing is that your money is protected by law if Neon or the bank holding your assets fails.
If you want more information about Neon, you should read my complete review of Neon.
What is Revolut?
Revolut is a digital bank from the United Kingdom and one of the most famous neo-banks. They are entirely digital in that they do not have offices open for customers.
Their main feature is their very cheap currency conversion services. Many people use Revolut when they travel to avoid the hefty fees that traditional banks have. For instance, in Switzerland, most banks charge at least 1.5% on each currency conversion. Using Revolut can save you a lot of money!
They have support for a significant number of currencies, and you can use them in most countries. You can even hold money in different currencies in your account. It is an excellent thing if you need to receive money in other currencies. Or if you want to bet on the exchange rates.
Now, Revolut is not a bank per see either. They have a banking license, but they did not implement it yet. And your assets are not held by a bank either, but directly by Revolut. It means that your money will not be protected by law, either. But they have been operating for several years, and it does not seem like they will collapse any time soon. But we never know!
For more information, you can read my complete review of Revolut.
Which is more available – Neon or Revolut?
Let's compare the availability of both services.
Revolut is available to each country part of the European Economic Area (EEA). It means it is available in 31 countries. And it is also available in Switzerland and the United States.
As for Neon, this is pretty simple. Neon is only available to Swiss residents. People from 19 countries can open accounts at Neon, but they have to live in Switzerland. But this makes sense since Revolut is aimed at international transfers and not at being the primary bank account.
So, for availability, Revolut is the winner.
Which has better support in Switzerland?
Now, let's compare the support in Switzerland.
Revolut has good support in Switzerland. You can withdraw CHF (although very little for free). And you can use a Revolut card in all shops that accept Mastercard. In Switzerland, most shops accept them. Also, Revolut has a Mastercard/Visa and a Maestro, which is sometimes quite valuable for Switzerland. You can also send money to your account in CHF directly. Unfortunately, you do not have a personal Revolut IBAN.
Neon has excellent support in Switzerland. You can withdraw CHF at any ATM. And you can withdraw significantly more money per month. You can use the cards in the same shops as Revolut without issue. And you can also make transfers in CHF. Finally, you have a personal Neon IBAN so that you can use this for your salary. You do not need to top it up.
In Switzerland, Neon is the winner. Only the fact that it offers a personal IBAN in CHF is a great plus. It is necessary if you want to use it as your primary account. By that, I mean to use it to receive your salary in CHF. Some companies may be willing to use a reference number to pay to your Revolut account. But most companies will not do that.
Money Transfer Services
Neon is primarily a bank in the usual sense, but it recently started offering free currency exchange. So I will start by comparing payments and transfers between currencies.
With Neon, your base currency is always CHF. And using your card, you can pay in other currencies for free when you are abroad. You can make transfers in different currencies, but this will not be free. Also, you only have a base account in CHF, and you cannot hold EUR or USD in your account, for instance.
With Revolut, you have access to the same base services as Neon. However, you can get accounts in other currencies (EUR or GBP, for instance). It is convenient since this means you can receive incoming payments in EUR for free. I do not use this a lot. But it is good to have it.
And with Revolut, you can also do bank transfers in other currencies. I do it regularly for several EUR platforms.
The advantage of Neon is that you get a CHF IBAN. But with Revolut, you will get a personal EUR and GBP IBAN account. And this is helpful.
Finally, you can use Google Pay and Apple Pay with Revolut and Revolut. And you can even use Samsung Pay with Neon as well.
One cool thing with Revolut is that you can send money directly to other app users, and doing so is much faster than doing a bank transfer. This feature is convenient if you know other people using the app. But you can do the same thing with Neon as well.
So for money services, Revolut has more features than Neon. It is logical since they based their entire business upon that. And they have more years of experience than Neon.
Other Services
We can also take a look at other services that the two companies provide.
For Neon, it is straightforward. They have no service other than their banking services.
As for Revolut, they have added many services to their offers.
For instance, with Revolut, you can trade cryptocurrencies directly from the application. They do not offer a real wallet, but it could still be useful for some people. And they also started offering free stock trading to people from some countries (not yet in Switzerland).
Revolut also supports the concept of vaults. You can use vaults to save some of your virtual spare changes. I do not think this is very useful. But many people seem to like it.
Another feature that is worth mentioning with Revolut is the use of virtual cards. You can create a new virtual card directly from the application. And then, you can use it on a website that you do not trust. After you have paid, you can directly delete the card from your Revolut account. It is a great way to protect your payment cards.
So, overall, Revolut has many more features than Neon. However, you may not need so many features!
Neon vs Revolut – Who has higher limits?
It is also interesting to compare the limits of both services.
Revolut has high withdrawal limits. You can withdraw up to 3000 GBP per day (or the equivalent in other currencies). You can spend up to 5000 GBP per 96 hours with the card and up to 30'000 GBP per year.
You can also transfer a lot of money with Revolut. You can transfer up to 100'000 GBP each day and 250'000 GBP each week. The limits are pretty straightforward and very high. You also have a limit of 15 transfers per day and 80 transfers per 7 days.
With Neon, you can have up to 30'000 CHF in transactions every day. With your card, you can withdraw up to 1000 CHF each day. You can spend 5000 CHF online and 5000 CHF in stores every day with the card. But there is a monthly limit of 10'000 CHF with the card.
Overall, Revolut has significantly higher limits than Neon. You can withdraw more money and spend more money each month.
Which is cheaper – Revolut or Neon?
Let's delve into the fees of both services now.
First, both services are free for general usage. You do not have to pay an account fee. It is a great thing!
Let's start with withdrawals. You can withdraw twice per month for free in Switzerland with Neon. After that, you will pay 2 CHF per withdrawal. Abroad, you will pay 1.5% with Neon. For Revolut, you can withdraw 200 EUR (or equivalent in other currency) per month for free. After this, you will pay a 2% fee on withdrawal.
For withdrawals, I feel like Neon is better than Revolut. The only advantage of Revolut is that you can withdraw 200 EUR per month for free. It can be helpful if you travel to Europe. But 200 EUR is not much unless you can avoid paying cash.
And now, let's delve into currency transfer. By this, I mean usage of the cards to pay in other currencies than your base currency.
With Neon, all currency exchanges with the card are free with the Neon card! If you transfer money abroad from your account, these transfers will use Wise. So, you will pay 0.40% for Neon, and you will pay the Wise fee. Generally, it will account for about 0.8% fee for international money transfers.
Unfortunately, to receive money, the fees with Neon are still high. You will also pay a 1.5% fee when you receive payment in another currency than CHF.
With Revolut, it is a bit more complicated. Under some conditions, currency exchanges are free with Revolut. The same rules apply to both the card and the transfers from the app. First, there is a monthly limit of 1000 GBP. All the amounts higher than this limit will incur a 0.5% fee. During the weekend, there is an extra 1.0% fee as well. And some currencies like UAH (Ukrainian Hryvnias) and TBH (Thai Baht) have higher costs: 1% fee during the week and 2% during weekends.
As for the exchange rates, Neon uses the Mastercard exchange rate while Revolut uses the Interbank exchange rate. Generally, the Interbank rate is slightly better than the Mastercard rate. But it depends on each currency and on the time of the day. On average, it is estimated that the spread of the Mastercard rate is 0.4% worse than the Interbank rate. And it can be worse for currency pairs with high volatility. Therefore, Neon will generally have an extra hidden fee of 0.4%.
Example of exchange fees
Let's directly compare the prices for a few examples of conversions:
| Amount | From | To | Neon Card | Neon Transfer | Revolut | Revolut Weekend |
| --- | --- | --- | --- | --- | --- | --- |
| 1000 | CHF | EUR | 0 CHF | 8.84 CHF | 0 CHF | 10 CHF |
| 5000 | CHF | EUR | 0 CHF | 41.97 CHF | 25 CHF | 75 CHF |
| 10000 | CHF | EUR | 0 CHF | 83.37 CHF | 50 CHF | 150 CHF |
| 1000 | CHF | UAH | 0 CHF | 27.01 CHF | 10 CHF | 20 CHF |
| 5000 | CHF | UAH | 0 CHF | 133.32 CHF | 75 CHF | 125 CHF |
From this table, we can draw two conclusions:
For payments by card, Neon is better than Revolut. It is always free, while Revolut is only free for up t0 1000 GBP per month and not free during the weekends. And you do not have to worry about the kinds of currencies.
For transfers, Revolut is better than Neon. However, Revolut is sometimes as expensive as Neon during the weekend if you use more than 1000 GBP (1250 CHF).
Reputation
You do not want to put your money into a bank you do not know its reputation.
Neon has an excellent reputation in Switzerland. I have never heard any controversy regarding their services. However, we need to keep in mind that it is relatively small. And also, it is relatively new. It was founded in 2017. Neon is significantly younger than Revolut.
On the other hand, Revolut does not have an excellent reputation. For instance, there have been several controversies with Revolut blocking user accounts without reason. They also have been accused of being too lax in preventing money laundering. And finally, some people think they have close ties to the Kremlin.
I never had any issues with Revolut. But taking into account what I hear, I would not keep a large amount of money in my Revolut account. But I am still using it. And I do not think my money is at risk.
So, from a Reputation point of view, Neon has a better reputation than Revolut. But it is a relatively new service, so the reputation may change over time as they have to scale.
Which is more secure? Neon or Revolut?
We also need to take a look at the security of both systems. We will consider two forms of security: insurance in case of bankruptcy and technology security.
First, for insurance in case of bankruptcy, only Neon has any protection. Neon is a Swiss bank. Your money is insured for up to 100'000 CHF if something terrible happens to Neon.
On the other hand, your money at Revolut is not insured. Revolut has a banking license, but they did not implement it yet. If Revolut fails, your money is most likely lost.
As for technical security, both banks are using MasterCard 3D Secure (3DS) technology. It means that they will ask you a question (generally an SMS code or a password) to secure the transaction on some websites. It is to protect you from the lousy usage of your card. It is a great thing and is a must for each payment card.
From a technical point of view, both banks offer the same level of safety. However, there is more risk with Revolut since your money is not insured. If Revolut goes bust, you will lose your money. On the other hand, your cash at Neon is insured for up to 100'000 CHF.
Given that, I would say that Neon is safer than Revolut.
To improve your online security, learn about nine things you can do to secure your online personal finances.
Neon vs Revolut Summary
We can now summarize the different points of our comparison in this table:
Overall, we can see that both services have strengths and weaknesses.
To spend money abroad with the card, Neon is a perfect candidate. It is always free to make payments with other currencies with the Mastercard. But you also have to take the Mastercard exchange rate into account.
However, Neon does not let you hold other currencies. And it does not let you transfer money for free in currencies other than CHF. For this, Revolut is much better.
Here are the main differences between Neon and Revolut:
Neon currency exchanges are always free when paying with the card!
Your money on Neon is insured for up to 100'000 CHF!
Bank transfers in other currencies are generally cheaper with Revolut.
Revolut uses the Interbank rate.
Revolut lets you hold money in many currencies.
Revolut has more features.
Revolut has higher limits than Neon.
Revolut has a web application while Neon only has a mobile application.
Neon vs Revolut Conclusion
Neon and Revolut are quite different. However, there are many advantages to Neon. Since it is a real bank, you can keep your money there and directly use your single debit card. It means you will not need to have a bank and a travel card.
For most people in Switzerland, Neon is better than Revolut. Your money will be insured, and you can use it as your primary bank account in Switzerland. Then, you only need to take your usual card when you go abroad. It is a great thing! But you need to keep in mind that the limits are lower than Revolut.
But there are still some cases when Revolut is better than Neon. If you want to hold different currencies, you will need Revolut. Neon only lets you hold CHF. And secondly, if you want to receive money in other currencies (EUR or GDB, for instance), you will need Revolut as well. Finally, if you need to do transfers in different currencies, you will need Revolut too!
For instance, I sometimes receive some money in GBP and EUR from various services on the internet. It means I will need to keep my Revolut card.
I plan to keep using both services. However, I will probably not need to use my Revolut card anymore. I will use the app and use it to send money and receive money in other currencies. But I should not need to take the card when I am abroad.
Regardless of Neon vs Revolut, having a travel card can save you a lot of money. And this should be an essential part of your credit card strategy. It is likely the thing that can save you the most money with your card usage.
And finally, if you use Neon or Revolut, you will not get any cashback in Switzerland. If you want cash back, you still need a second (or third) payment card. You can read about my credit cards to see what you could use.
What about you? Do you use Neon or Revolu? Or both?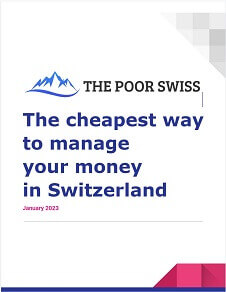 The best financial services for your money!
Download this e-book and optimize your finances and save money by using the best financial services available in Switzerland!
Download The FREE e-book