Revolut Review in Switzerland 2023: Pros & Cons
|
Updated:
|
(Disclosure: Some of the links below may be affiliate links)
A major issue with many payment cards is their tendency to impose high fees on foreign currency transactions. For instance, if your currency is Swiss Francs and you make a purchase in dollars, you'll be required to pay a certain percentage of the transaction cost. Often, card issuers charge over 2% in fees for such transactions. Fortunately, Revolut offers a solution to this problem.
Saving money on foreign transaction fees is made easy with Revolut. Unlike banks that typically offer unfavorable exchange rates, Revolut provides you with the best available exchange rates. If you frequently purchase items in other currencies or from different countries, having a Revolut card is essential to keep your expenses in check.
On top of that, Revolut has many other valuable services.
About Revolut

| | |
| --- | --- |
| Monthly fee | 0 CHF |
| Users | 15'000'000 |
| Card | Mastercard prepaid |
| Currencies | CHF and more than 20 |
| Currency exchange fee | Free for small amounts, then week: 0.5% and weekend 1% |
| Top-up CHF | Free with Swiss IBAN |
| Languages | English, French, German, and Italian |
| Other features | Stocks, cryptos, … |
| Depositor protection | 0 CHF |
| Established | 2015 |
| Headquarters | London, United Kingdom |
Revolut
Revolut is a company from the United Kingdom. They are pretty young. They started in 2015. They offer a prepaid debit card. Except in a few cases, there is little difference between both (unless you want to go into debt).
With Revolut, both MasterCard and Visa are available. They are almost the same for most usages. You can use it online and even withdraw money at an ATM. They offer two types of cards:
Virtual Debit Card: You can generate it in your Revolut account. You can use it online with its number.
Physical Card: You can order a physical debit card for a small fee.
But the essential thing with Revolut is that foreign exchange transaction is free! There are no foreign exchange fees! Since I spend around 5000 CHF in foreign currencies every year. My credit card will bill me 1.5% of this amount. For me, this is 75 CHF per year. If I use the Revolut card for all my foreign spending, I will save 75 CHF per year.
It is entirely worth having a new card for these savings. Moreover, I may travel more than usual since my employer's headquarters is in the United States. That means I will save even more money.
Since its inception, Revolut started offering many new features:
Support for cryptocurrencies directly from the application.
Insurance on some of your purchases
Premium And Metal plan for users that need even more features
Saving vaults for your money with saving goals
In 2019, Revolut got a European Specialised Bank License! It is a big deal for the company. They operate as a bank in EU countries but not yet in Switzerland. When operating as a bank, your deposits are protected by the European Deposit Insurance Scheme (EDIS) up to 100'000 EUR.
At the same, Revolut also obtained a Swiss IBAN. This is an essential point for Swiss users since it allows them to easily top up their accounts for free.
If you plan to use Revolut to save money on foreign fees, you will be okay with the free Standard plan! You can always upgrade to another plan later.
Sign up for Revolut
4/5
Now you are ready to sign up for Revolut. You have to install the application on your smartphone. There is no way around it. It is excellent for most people. But for people like me who dislike phones, it is not perfect. But I guess I have to live with mobile apps now!
Nevertheless, it is pretty straightforward. You can go to the Revolut website to get a direct link to the application to download. You can also search for Revolut in your phone application store (Google Play or App Store).
Once you have installed the application, you can go through the registration process. It is very similar to the registration of Wise. You will have to enter standard information about yourself. You will also have to scan your ID. At some point, for authentication, you will have to top up Revolut. You can use your Wise card now to top it up. And this will be free!
Once you have done this, you can start using a virtual card or order a physical card. You must pay 6.99 CHF for the delivery if you order a physical card. It should be the only time you pay anything to Revolut. My card arrived quite quickly, four working days, I think.
How to Top Up Revolut for Free
3.5/5
Since the Revolut card is a prepaid debit card, you must top it up. You cannot use it if you do not have any money on your card. You have several choices to top it up:
A debit card: Expensive!
A credit card issued in your country: Expensive!
Another credit card: Expensive!
A bank transfer: Generally free!
You should only use free options to top up your account. Anything else does not make sense. There is no point in spending more money than what you will save on foreign exchange fees.
Top Up Revolut with Swiss IBAN
You can directly transfer money to your bank account.
Revolut offers a Swiss IBAN in Swiss francs. You can transfer money directly from your Swiss bank account into Revolut. And this is a real CH IBAN from a Swiss bank! You will not pay any fee for the transfer!
Revolut offers bank accounts for most countries in Europe! With this, it is straightforward to transfer money from most countries!
You can now transfer money for free to your Revolut account directly from your bank account. You only need to wire money from one account to another to top up your account.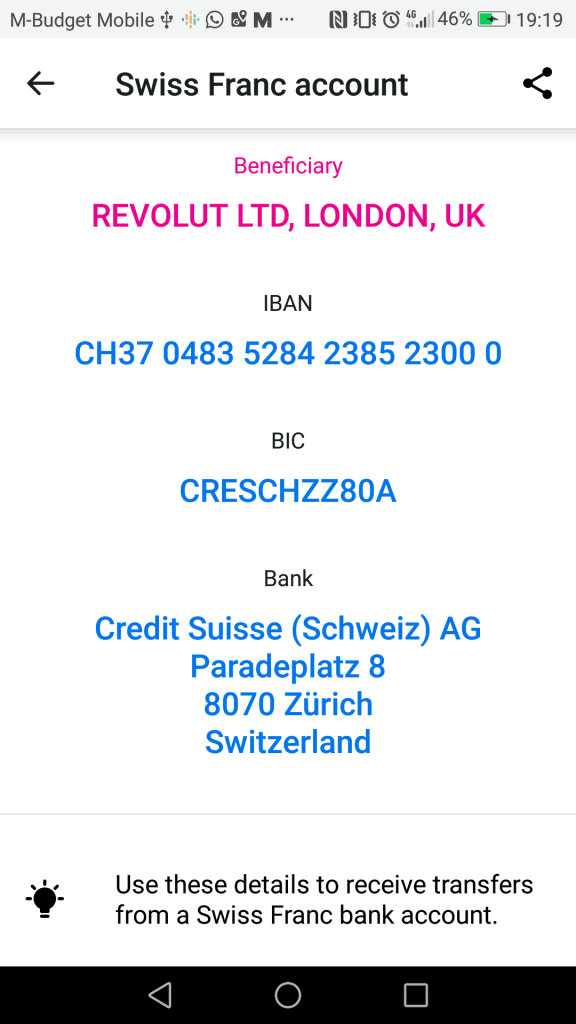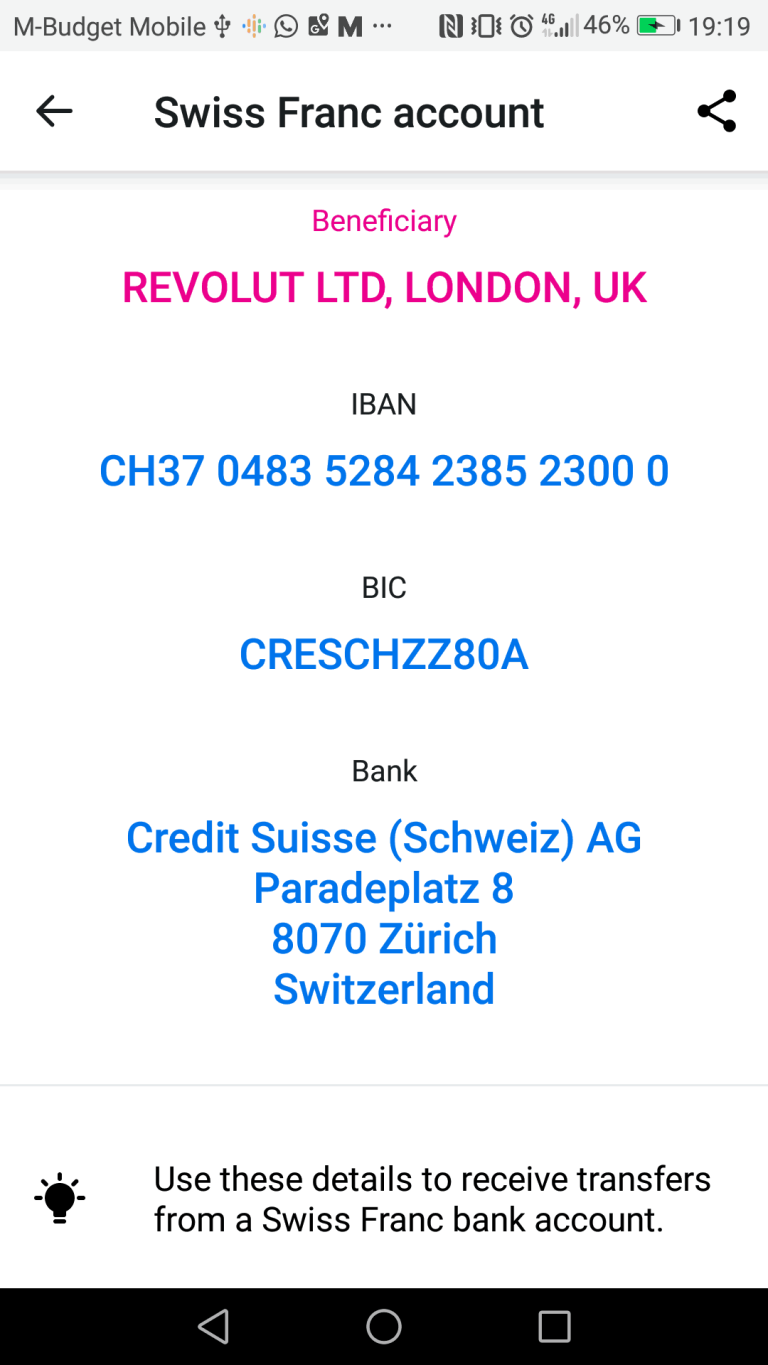 For this, go into the app, and click on Add Money (The big button, like a plus sign). Then, you can select "Transfer to your Revolut account". They will give you all the information necessary for a bank transfer to their account. Be careful when you enter the reference number because this is how they will identify you.
Once you have sent the payment, it usually takes one working day for the money to be available in your account.
Detailed Revolut Fees
I said foreign transactions are free with Revolut. Unfortunately, this is not always true, even with Revolut. There are a few details that are important to know.
First of all, not all currencies are treated equally by Revolut. For Thai Baht, Russian Rubbles, and Ukrainian Hryvnia, there is a 1% fee. All other currencies are free.
However, there is a monthly limit of 5000 GBP for free transactions. It is equivalent to 1000 GBP (1250 CHF) for other currencies. You will pay a 0.5% fee if you exchange more than this.
Also, the rates are different during the weekend. During the weekend, Revolut will charge a 1.0% extra fee on each exchange transaction for major currencies (USD, GBP, EUR, AUD, CAD, NZD, CHF, JPY, SEK, HKD, NOK, SGD, DKK, PLN, and CZK). For other currencies, there is a 1% fee. You can find more details on the official Revolut price explanation.
In the best case, an exchange is free with Revolut. In the worst case, it can be expensive, with a 2.5% fee. You need to be careful to do your exchanges during the week. And be aware that some currencies will charge you more. And you should avoid using Revolut for large transfers as well!
Alternatives
We can quickly compare Revolut with some alternatives.
Revolut vs Neon
Best App to Pay, Save and Invest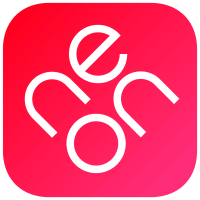 Neon
All the services you need to pay, save and invest, in a neat package, with extremely good prices!
Use the poorswiss code to receive 10CHF!
Pros:
Pay abroad for free

Invest with great fees
Use the poorswiss code
Read my review
In Switzerland, Neon is a big contender to Revolut.
Since Neon deposits money in a bank in your name, the money is insured for up to 100'000 CHF under Swiss depositor protection. Revolut has a banking license but does not operate (yet) as a bank in Switzerland. So, your money is safer with Neon.
When you pay with the card, all currency exchanges are free with Neon. Revolut has some limits on free exchanges. However, Neon uses the Mastercard exchange rate, which is about 0.4% worse than the interbank rate. Revolut, on the other hand, directly offers the interbank exchange rate.
Also, bank transfers in other currencies are not free with Neon. These transfers are generally cheaper with Revolut.
Revolut is a multi-currency account. Neon only lets you hold Swiss Francs.
As for reputation, Revolut has a poor reputation with many issues. Neon is currently free of controversies and has a good reputation in Switzerland.
Since I started using Neon, I have not used my Revolut account. I much prefer Neon over Revolut for their safety and professionalism.
To learn more, read my comparison of Neon vs Revolut.
Revolut vs Wise
Wise is probably the biggest competitor of Revolut.
Revolut and Wise are digital bank accounts focusing on currency exchanges at a fair price.
Overall, Wise has a much better reputation. Many controversies tarnished revolut reputation.
Generally, Revolut is cheaper than Wise. Indeed, Wise has fees on each currency conversion. Revolut has free conversions for up to 1250 CHF per month. However, Wise prices are simpler than Revolut fees. Indeed, Revolut has different fees during the week and weekend. And Revolut also has different fees for different currencies (called exotic prices).
While Wise focuses on its core business, Revolut tries to do everything from its app. Indeed, Revolut offers crypto, stocks, and commodities from within the app. And you can even book stays from the app. I do not see this as an advantage. I prefer having a few apps doing a good thing than a single app trying to do everything.
I should also mention that Wise has been profitable for a while Revolut only had a single profitable year since its creation.
Overall, I prefer Wise over Revolut for its reputation and for not trying to do too much. But both apps are interesting. And Revolut allows you to do currency conversions for free.
For more information, you can read my detailed comparison of Revolut vs Wise.
Revolut vs N26
Of the main competitors of Revolut in Europe is N26.
Both Revolut and N26 are digital bank accounts. Both have a bank license, but Revolut did not yet implement it. So, N26 has a slight advantage in terms of regulations and safety.
Interestingly, both companies have a poor reputation and generated several significant controversies.
N26 is cheaper than Revolut since all primary services are free. Indeed, payments in other currencies are always free with N26. With Revolut, there are some substantial limitations. Also, N26 allows you to withdraw EUR for free in your country five times a month. With Revolut, you are only allowed 200 EUR per month.
When it comes to Switzerland, N26 has very poor support of Switzerland. Indeed, they have no Swiss IBAN. So you have to deposit EUR in your account, making it inconvenient for people.
Also, N26 has no support for CHF in the app. This means that you cannot have a balance in CHF and that any payment in CHF will go through a currency conversion with the card provider, which is not free.
So, N26 is probably better in Europe, but Revolut is much better in Switzerland.
To learn more about these two, read my detailed comparison of N26 and Revolut. Or, you can read my review of N26.
FAQ
Is Revolut a bank?
Revolut has a digital banking license, that makes it a digital bank. However, since they got that license after getting started, many of their accounts are not under the license.
Is Revolut free?
It depends on how you use it. There are limits under which it is free. For instance, you can convert 1250 CHF per month for free, during weekdays, but you would have to pay a fee during the weekend. So, make sure you check their fee schedule in advance.
Revolut Summary
3.5/5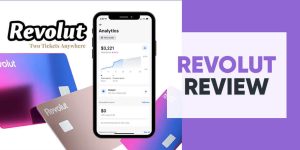 Revolut offers a debit card without any fees for currency exchange. On top of that main feature, they have plenty of advanced features such as stock trading, cryptocurrencies and sub-accounts.
Product Brand: Revolut
Revolut Pros
Let's summarize the main advantages of Revolut:
Free currency exchanges during the week.
Can hold many currencies in the account.
Very fast transfers to other users.
Fast transfers to other bank accounts.
Revolut Cons
Let's summarize the main disadvantages of Revolut:
Expensive during the weekends.
Free exchanges are limited to 1250 CHF per month.
Expensive for some exotic currencies.
Revolut has a poor reputation.
There are reports of many people getting their accounts blocked and losing access to their money.
Conclusion
I like using a travel card. It is free and saves me a lot of money each year. Every time I travel to another country, I use my travel card to pay for everything! I have never had any issue getting it accepted anywhere.
I am also using it to pay online on foreign websites. For instance, I often have to pay in EUR or USD if I order something on eBay. With my Revolut, the conversion is free at an excellent exchange rate!
A travel card is a perfect companion to your local payment card.
However, many people had issues with Revolut and got their accounts blocked without proper communication. And there are many negative online reviews about Revolut. So, you should still be careful not to trust Revolut with too much money.
I never had a lot of money in my account. My rule is not to have more than 500 CHF on my Revolut account.
Best App to Pay, Save and Invest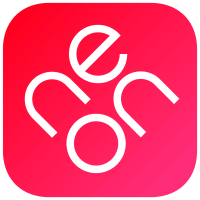 Neon
All the services you need to pay, save and invest, in a neat package, with extremely good prices!
Use the poorswiss code to receive 10CHF!
Pros:
Pay abroad for free

Invest with great fees
Use the poorswiss code
Read my review
If you do not want to trust your money with a foreign bank, you could use Neon bank for your purchases abroad. They also have free transactions in foreign currencies and abroad. This means you can have the advantages of Revolut with the benefits of a local bank. For more details about how I use cards, read about my entire payment card strategy.
Although I still have my Revolut card, I mainly use my Neon card now. It is more practical.
Finally, if you do not know what to choose between Revolut and Wise, I have written an entire article about Revolut vs Wise.
Did you ever try a Revolut card? Which payment card do you use?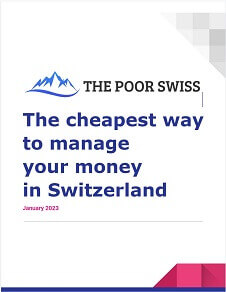 The best financial services for your money!
Download this e-book and optimize your finances and save money by using the best financial services available in Switzerland!
Download The FREE e-book