Raiffeisen Bank Review 2023 – Pros & Cons
|
Updated:
|
(Disclosure: Some of the links below may be affiliate links)
Raiffeisen is the third largest bank in Switzerland. Many people are using it, and many customers are even shareholders of the banks.
This bank has some unique characteristics that could make it interesting. For instance, you can become a shareholder of the bank! So, should you use Raiffeisen as your bank?
In this article, I deeply review the Raiffeisen Bank, its banking features, fees, and its pros and cons. By the end of the article, you will know whether you should use Raiffeisen.
About Raiffeisen Bank

| | |
| --- | --- |
| Yearly fee | 40 CHF |
| Users | 1'900'000 |
| Card | Maestro |
| Currencies | CHF |
| Withdrawals in Switzerland | Free at Raiffeisen ATMs, 2 CHF at other |
| Withdrawals abroad | 5 CHF |
| Languages | French, German, and Italian |
| Custody bank | Raiffeisen |
| Depositor protection | 100'000 CHF |
| Established | 1899 |
| Headquarters | St. Gallen, Switzerland |
Raiffeisen

Raiffeisen is a large Swiss bank that was created in 1899 already. It is currently the third-largest Swiss bank (in terms of assets under management), behind the two giants UBS and Credit Suisse. They have more than 3 million clients in Switzerland. And almost two million of them are shareholders (more later). They are a very profitable bank with about 400 million benefits these last few years.
This bank has an interesting structure. Indeed each of the 246 Raiffeisen banks is independent. And together, they form Raiffeisen Switzerland, a cooperative structure.
Historically, Raiffeisen was a very rural bank, but they have moved to cities now and are present in many places. And they also want to be a bank that belongs to its customers. Therefore, many customers are also shareholders.
Interestingly, it was created by a priest trying to help protect the money of his parishioners. This story is about how the banking system was born in many countries.
I used Raiffeisen about ten years ago when I was doing my apprenticeship. And I even invested in their funds (one of my mistakes). But this is before e-banking.
In this article, I focus solely on using Raiffeisen as a bank account. I do not go into their investment offer (but I would not recommend it).
Banking features
We should look at the features Raiffeisen offers for bank accounts.
You can access your account from the e-banking web application or one of the mobile applications on Android or iPhone. You can also do most of the operations in their offices directly. Access to their offices could be practical if you do not want a fully digital experience.
From the applications, you can do everything you need:
See your balance and transactions
Pay your bills (you can scan them with your phone)
Pay e-bills
Transfer money to other accounts
Not counting offers for young people, there are two main accounts available.
Private account
Private shareholder account
The banking features are the same between the two packages, but the fees differ, as we will see later. And the private shareholder account holders have some unique advantages (see next section).
You can choose a V Pay debit card or a Maestro debit card with your account. If you intend to use it for payments, I recommend the Maestro since it is more widely accepted. They also have a wide choice of credit cards and prepaid cards.
You can use TWINT with your account to pay from your mobile phone. However, if you want to use Google Pay or Apple Pay, you can only do with a Raiffeisen credit card.
So, overall, Raiffeisen will have more than enough features for your banking needs.
It is important to note that Raiffeisen is only available in three national languages: French, German, and Italian. You can probably find somebody that speaks English in an office, but the website and the apps will not be available in English.
Shareholder advantages
With Raiffeisen, you have the option of becoming a shareholder. As a shareholder, you are entitled to the private shareholder account (cheaper than the private account, more in the next section). But this will also give you some more shareholder advantages. These advantages are also called Raiffeisen MemberPlus advantages.
As a shareholder, you will have access to the following:
Many museums for free in all of Switzerland
Guided visits in museums at a discount price
Many castles and other visits for free or at a discount price
Cheaper day passes during the week in many ski stations
Discount prices for many concerts and events
And on top of that, you can also get special offers depending on which Raiffeisen bank you are with. For instance, at the time of this writing, I saw these offers (among many others):
5 CHF discount on Happyland, in the Granges Office
15% discount on paintball in the Crans-Montana Office
20% discount on Aquaparc in the Bouveret Office
So, these advantages could be interesting if you enjoy museums or content and events. And many of the offers are also valid for your children. For instance, the museum will be free for up to three children.
It is hard to value this advantage because it highly depends on what you consume. For us, it will be close to zero per year, 10 CHF at most. But for some people, this could save them more than 100 CHF annually. So, considering this account, you should try to estimate its value.
To become a shareholder, you must buy a share of Raiffeisen. Depending on the office, one share is between 200 CHF and 500 CHF. Your share will return some interest (currently around 2%, maximum of 6%). Keep in mind that this is not a bond. The share has no duration. And the interest is not fixed but variable based on the performance of the local office. Usually, if you leave Raiffeisen, you will be able to get back the shares at the nominal value. But you need to pay attention to three things:
The nominal value may have changed between when you bought the share and when you left Raiffeisen.
The local office can refuse to pay back the share if they do not have enough money.
This money is not covered by the bankruptcy protection scheme.
A Raiffeisen share has not been a risky investment, but it is not entirely safe either. That being said, you can invest more in their shares if you want. Depending on the Raiffeisen office, you can invest between 1000 CHF and 10'000 CHF.
Banking fees
We now look into the banking fees. I will only look at the CHF account, but Raiffeisen also offers EUR accounts.
The private and shareholder accounts have zero account management fees. However, you will pay 16 CHF for the annual account report with the private account (free if you are a shareholder).
Basic payments are free on the e-banking systems. Receiving money in your account is also free. SEPA payments in EUR will cost 1 CHF per payment.
You must pay 0.50 CHF per recurring order with a private account. They will be free with the shareholder account.
The Maestro (or V Pay) costs 40 CHF per year. The first year is free with the shareholder account. They also have some credit cards but do not have good options. So you should look elsewhere for credit cards.
Withdrawing money at the Raiffeisen ATMs is always free. However, using another ATM will cost you 2 CHF with a private account. As a shareholder, you will get 12 withdrawals per year for free.
They also have some high fees for payments with paper orders. But I do not think anybody still uses them.
You will pay at least 40 CHF per year with your Raiffeisen bank account. It is not perfect, but it is not that bad, either. But several things are cheaper with the shareholder account. The shareholder account is the only interesting option if you profit from the shareholder advantages.
User Reviews
We should look at what other users think of Raiffeisen.
For this, we can look at the review of Raiffeisen on TrustPilot. Unfortunately, they are only 13 reviews at this time. The average of 2.8 out of 5 is not great, but with so few reviews, it is hardly representative. Overall, people mostly complain about the customer service that is very difficult to reach and unhelpful.
To get more user reviews, we can look at the reviews of the app on Google Play. There are over 8000 reviews, with an average score of 3.3 out of 5. Overall, the reviews are not very useful since the bad reviews are about the app not working, and the good reviews are about the app working nicely. There seem to be some technical issues with the app, especially after updates of the app and updates of Android. On the other hand, many people seem to think that it works great. So, I would say that the reviews are right in the middle.
To finish, we can also look at the app reviews on the AppStore. There are 763 reviews (at this time), with an average score of 3.7 out of 5. The reviews are a little more positive here. On the other hand, it is funny to see that some 4-5 stars reviews say it does not work. But overall, the reviews are saying the same thing on Google Play.
So, overall, it seems to work great for many people, while many others seem to have many issues with the applications. So, opinions are very divided on Raiffeisen. But it seems more positive than negative overall.
Security
We also need to look at the security of using Raiffeisen as a bank account.
The web application, as well as the mobile application, are well secured with authentication and encryption. Interestingly, Raiffeisen offers a choice for second-factor authentication:
Use your mobile phone (or a PhotoTAN device, 50 CHF) to scan a QR code on your computer and generate a code.
Get a code by SMS on your phone.
These two options are good, and it is good that you have a choice. If you can, I would strongly recommend the first option. Indeed, SMS's second factor is not the best choice (although much better than nothing).
In case of bankruptcy, the money in your private account is protected by up to 100'000 CHF by Esissuise. However, big banks are somehow less protected than small banks. Indeed, the limit of the protection is 6 billion CHF. Given the 1.9 million customers of Raiffeisen, the protection per customer is only about 3000 CHF per customer.
Now, Raiffeisen is currently in no trouble. And if one of the small offices (and not the entire entity) were to bankrupt, the other Raiffeisen offices would help bail out the bank. This structure makes it safer than some other big banks.
Overall, Raiffeisen is safe to have your money with. However, given its size, you should not expect much from deposit protection. As such, you should avoid having too much money there.
Alternatives
We should also look at some alternatives and see how they compare with Raiffeisen.
Raiffeisen vs Neon
Best App to Pay, Save and Invest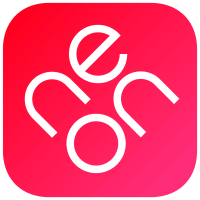 Neon
All the services you need to pay, save and invest, in a neat package, with extremely good prices!
Use the poorswiss code to receive 10CHF!
Pros:
Pay abroad for free

Invest with great fees
Use the poorswiss code
Read my review
These days, the best Swiss bank accounts are digital bank accounts. So, we should compare Raiffeisen with the best digital bank, Neon.
Both banks have the same kind of features. However, Raiffeisen has offices for you to perform operations. Neon is a digital-only bank, so you must do everything from the mobile application.
On the fee side, Neon is much better than Raiffeisen. Neon has no account fees and offers some significant advantages when using the card abroad and when doing international transfers.
Neon application is quite good, but you will only have a mobile application, no web application. Mobile-only can be a limitation, but this is by design for Neon.
Overall, I prefer Neon over Raiffeisen, but you must use your phone for this.
Raiffeisen vs Migros Bank
If you prefer a traditional bank, we should compare Raiffeisen and Migros Bank together. Migros Bank is my current traditional bank of choice.
Feature-wise, both banks will be extremely similar. They offer the same features, and both have offices to welcome you. Migros has many more places to withdraw money since you can withdraw it in any Migros shop.
Migros Bank will be free if you have over 7500 CHF in your account. On the other hand, Raiffeisen will cost you at least 40 CHF per year. But this is not significant.
One place where Raiffeisen is better is for applications. Migros Bank has a desktop and a mobile application, but they are all really bad. And you are required to have two devices whenever you transfer money to a new account.
Finally, Migros Bank seems to have a better reputation than Raiffeisen. But they are both quite similar. However, I prefer Migros Bank for its fees and transparency.
FAQ
What are the avantages of Raiffeisen shareholders?
As a Raiffeisen shareholder, you get cheaper bank accounts and you get many advantages in museums and activities in Switzerland.
Raiffeisen Summary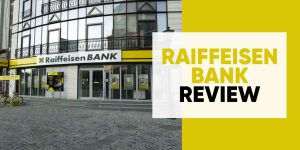 Raiffeisen is a large Swiss bank, with a long history. Each of the Raiffeisen bank is independent and grouped into a cooperative.
Product Brand: Raiffeisen
Raiffeisen Pros
Let's summarize the main advantages of Raiffeisen:
Many shareholder advantages
The security on the e-banking is good
Safe bank
Interesting structure
Support for TWINT
Support for e-bills
Raiffeisen Cons
Let's summarize the main disadvantages of Raiffeisen:
Not the cheapest bank accounts
There seem to be some technical issues with the applications
Poor credit card offers
No free debit card
Poor Esisuisse protection in case of bankruptcy
Users are not happy about the customer service
Conclusion
Overall, the Raiffeisen bank can be interesting only if you profit from the shareholder advantages. So, if you visit museums often or other attractions, you could save money with your Raiffeisen bank account. As such, you would be able to offset the cost of the bank account.
I would not recommend this bank if you do not profit from these advantages. There are cheaper and better alternatives out there. But interestingly, this is only one of the only banks that offer the possibility to become a shareholder.
Other than that, you should look at other alternatives:
Neon, if you are looking for a free digital bank account
Migros Bank, if you are looking for a cheap brick-and-mortar bank
What about you? What do you think about Raiffeisen?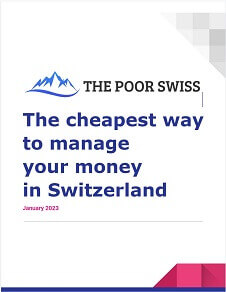 The best financial services for your money!
Download this e-book and optimize your finances and save money by using the best financial services available in Switzerland!
Download The FREE e-book