Selma Review 2023 – Pros & Cons
|
Updated:
|
(Disclosure: Some of the links below may be affiliate links)
Do you want to invest but don't have the time or knowledge to do it yourself?
Selma is a Robo-Advisor that offers you your own virtual personal assistant. This assistant will guide you through investing, and through your chat with him, the system will design a personalized portfolio for you.
You will not find another Robo-Advisor like Selma on the market today. They are extremely interesting for beginner investors or investors who do not want to spend too much time learning to invest. With Selma, investing is easy and fun!
It sounds pretty interesting. But how does it fare in practice?
We can delve into my in-depth Review of Selma. By the end of the article, you will know whether Selma is a good fit for your investments. We will also see how Selma compares with other Swiss Robo-Advisor.
About Selma

| | |
| --- | --- |
| Management fee | 0.68% |
| Product Costs | 0.22% |
| Investing strategy | Passive |
| Investing products | ETFs |
| Minimum investment | 2000 CHF |
| Currency conversion fee | 0.25% |
| Customization | Limited |
| Sustainable | Not by default |
| Languages | French, German, and English |
| Custody bank | Saxo Bank |
| Users | 12'000 |
| Established | 2016 |
| Headquarters | Zürich, Switzerland |
Selma
Perfect to get started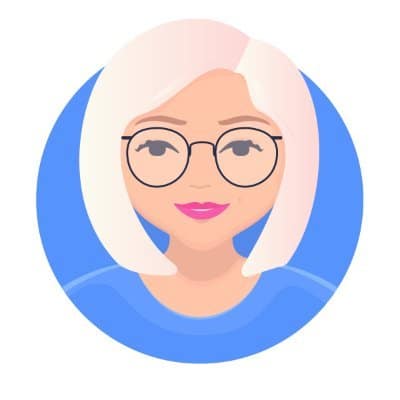 Selma Robo Advisor
Invest easily with Selma: a great way to invest in the stock market without the hassle of doing it yourself.
Pros:
Beginner-Friendly

Degressive Fees
Invest easily
Selma is a Swiss Robo Advisor. They started offering services in 2016. Since then, they have expanded their offer and are becoming increasingly popular.
In 2023, Selma has more than 12'000 customers. And they are managing assets in the 7-digit range. So they have been growing these last few years quickly.
In 2019, they also started offering access to a third pillar. So, you can have your third pillar managed by Selma's advisor. It follows the same model as their investment account.
In 2021, Migros Group invested 3.5 million CHF into Selma! Such an investment is an excellent sign about the future of the Robo-Advisor service! Since Migros Bank is a large bank, this could mean many new potential customers for Selma!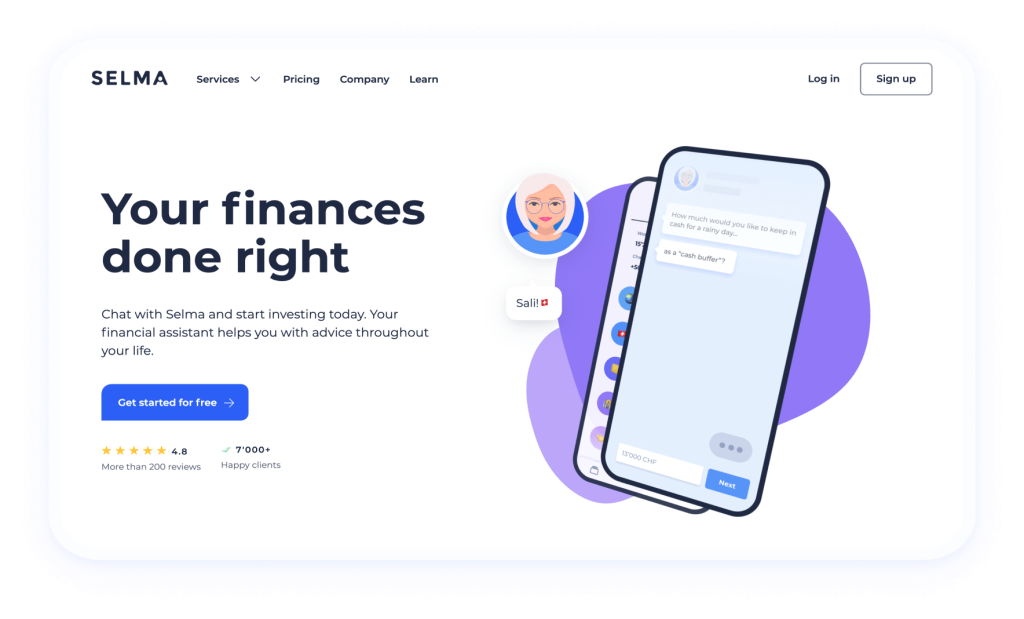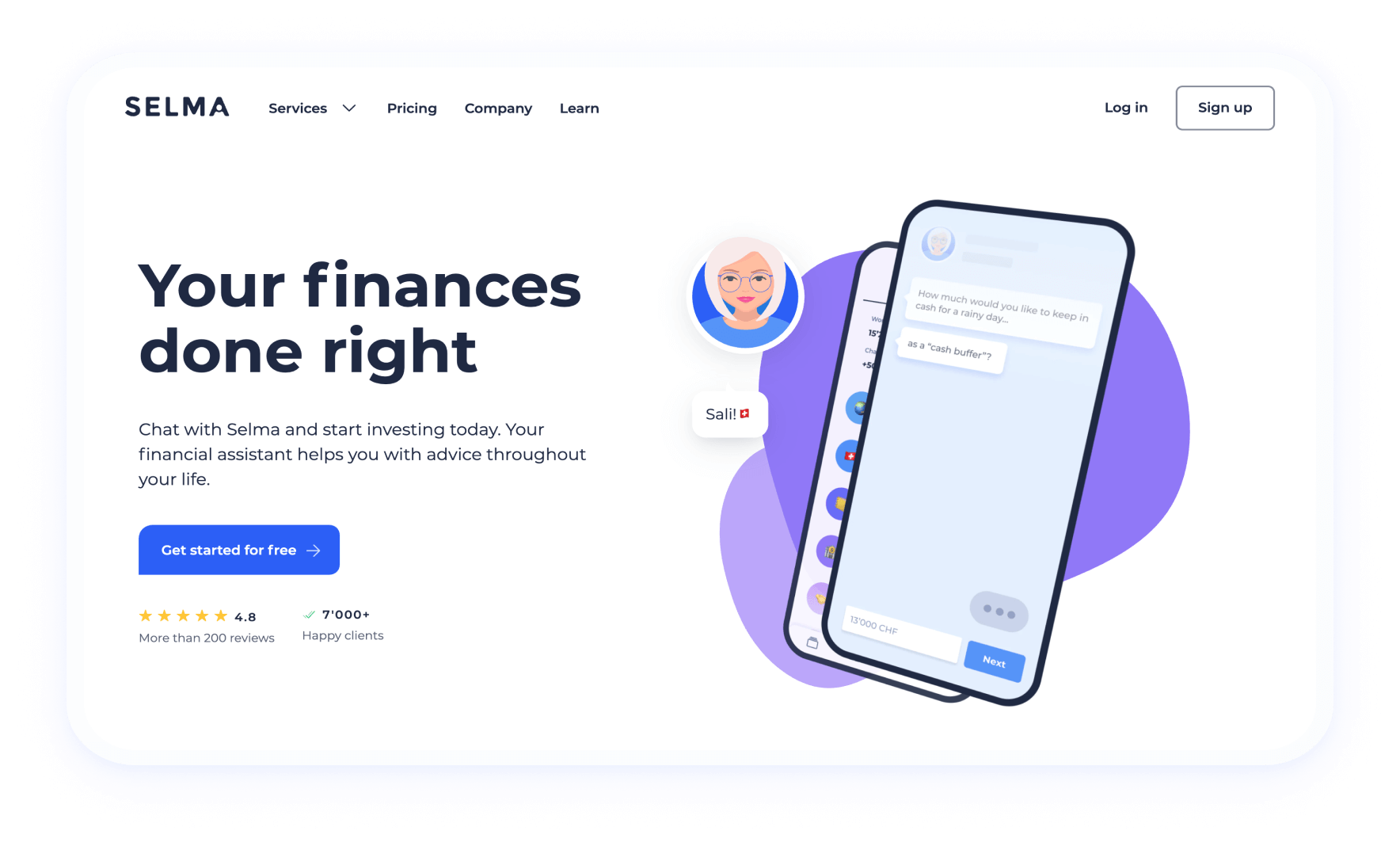 Until 2021, Selma was branded as Selma Finance. In 2021, Selma redesigned their entire website. The new website is much more professional, easier to use, and contains all the necessary information quickly at hand. They did a great job with the changes.
You can start investing from 2000 CHF. 2000 CHF is an excellent minimum, meaning you do not have to start with a large amount. You can test their service with a small amount to see if it suits you.
Selma is available in English, French, and German. This number of languages is great because many services are only available in one language!
You can learn much more from the interview I did with Selma's CEO, Patrik Schär.
Selma Investments
Based on your assessment with the virtual assistant, the assistant will choose a portfolio for you. Various investing instruments can compose your portfolio:
International Stocks
Swiss Stocks
International Corporate bonds
International Real Estate
Cash
For each of these instruments, Selma is using Exchange Traded Funds (ETFs). All these ETFs are index funds. Using index funds is great since Selma can minimize the fees by using low-fee passive funds for your portfolio. Index investing is the most efficient way to invest for most investors.
Here is an example based on my chat with Selma: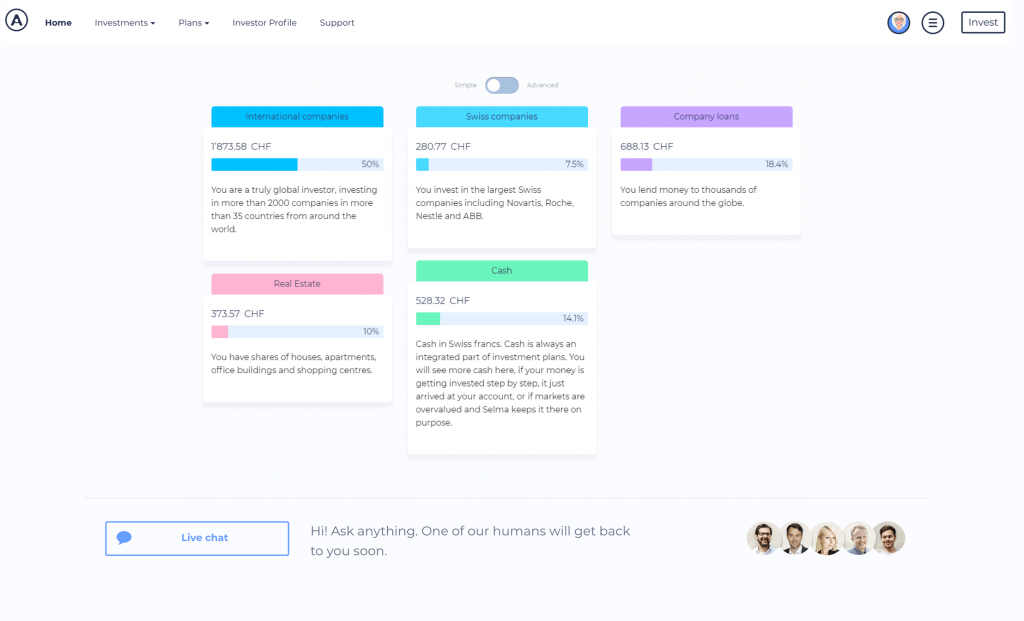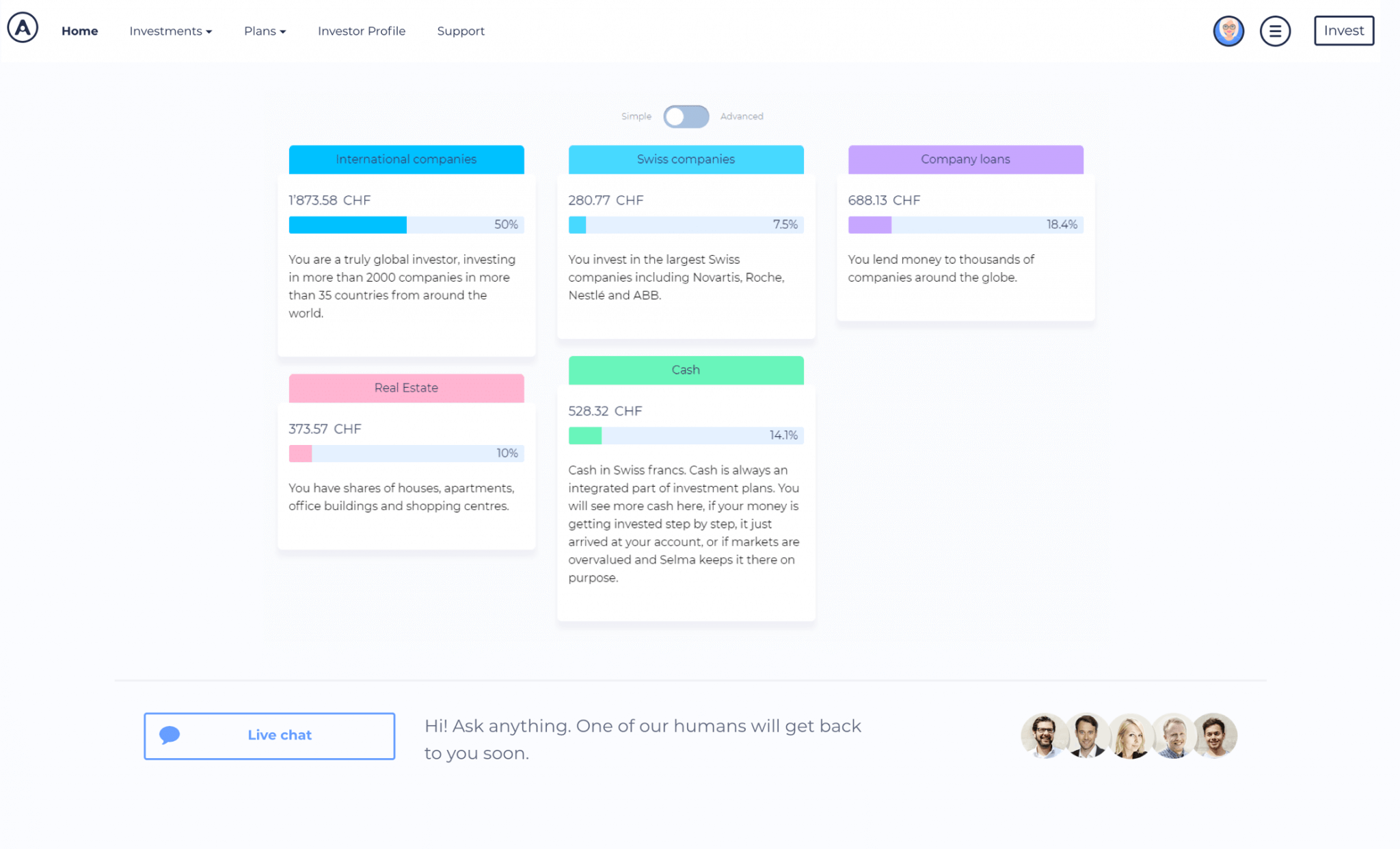 This portfolio is good, standard, and aligned with what I expected. Nevertheless, this is not how I would have invested myself. I dislike corporate bonds because they correlate too much with stocks. So they do not serve the purpose of reducing the volatility as treasury bonds could do.
Given the current state of bonds in Europe, we should bypass bonds altogether. Instead, I would also have gotten more Swiss stocks to hedge against the currency risk in the other categories.
The high number of cash is because Selma uses Dollar Cost Averaging (DCA). They do this to reduce the risks of investing at the worst time. So they will initially keep some cash and invest it over time. It would be cool if they showed the target portfolio and the current portfolio.
You have access to the exact ETFs composing your portfolio: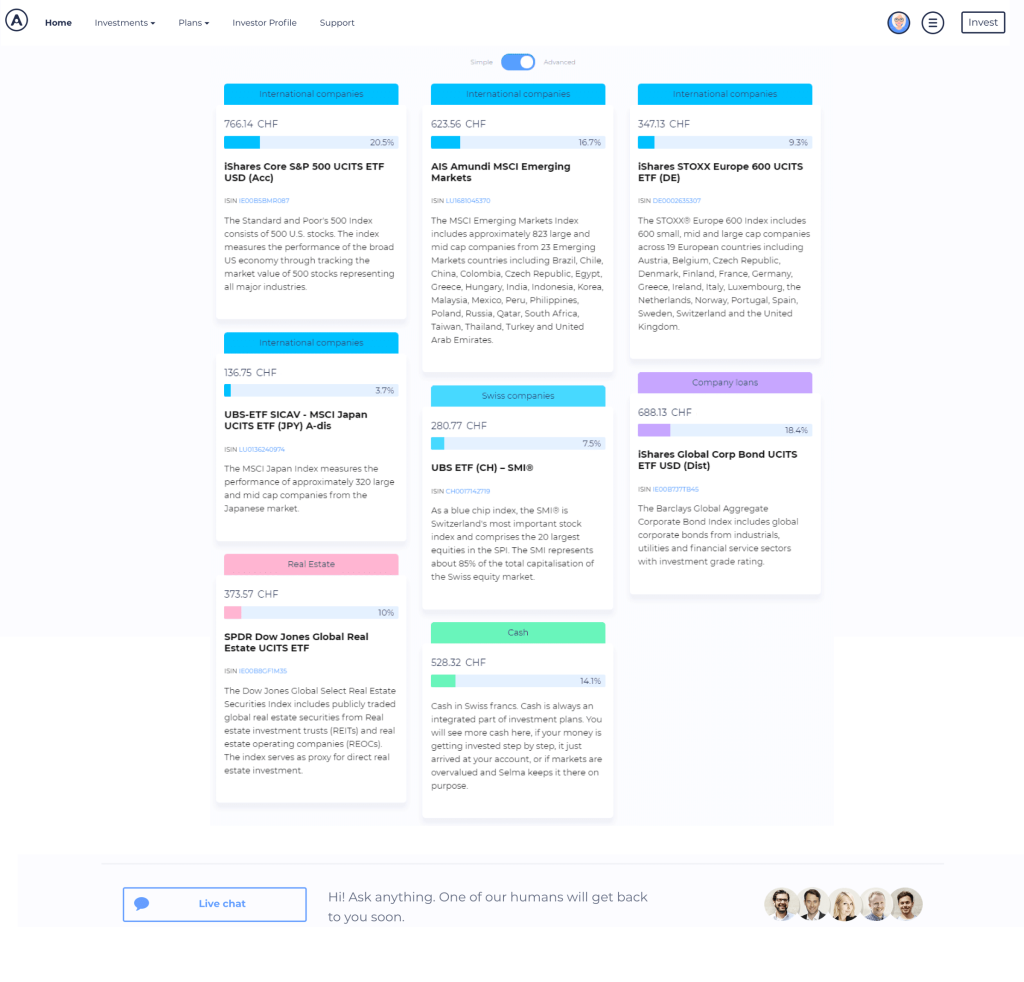 It is excellent that you can see the ETFs that they use. That way, you will know precisely what you are investing in. I did not check all of these ETFs in detail. But they seem like good fits for their categories.
On the other hand, they should allow a higher level of personalization. Aside from your answers to the Selma assistant (your investor profile), there is nothing you can change in your portfolio. It would be cool to have some advanced features.
For instance, controlling our allocation to domestic stocks would be great. Or choose to invest in real estate or not. I tried tuning my investor profile to change my portfolio. But I did not succeed in enough customization. However, this is probably better for people who do not want to invest alone. An investor that does not do proper research should not choose his investments himself.
Although it is not automated, there are other ways of making changes to your portfolio. You can request a personal check-up with a Selma expert. Based on the discussion, it could be possible to adapt your portfolio slightly. It could also be possible to do with their chat. Their employees are incredibly responsive in their chat.
Also, it is essential to know that using a Robo-Advisor means you will have less control. Less control is also an advantage. It means you cannot make bad decisions. But it means you will have to trust the portfolio made by Selma for you.
Investments at Selma are not entirely passive. They use algorithms to detect when markets are cheap and buy more or expensive and buy less. For me, this is getting close to market timing. They are checking whether some classes are overvalued or undervalued. This strategy may not be pure market timing. But I would prefer it if the portfolio was more passive.
Selma Fees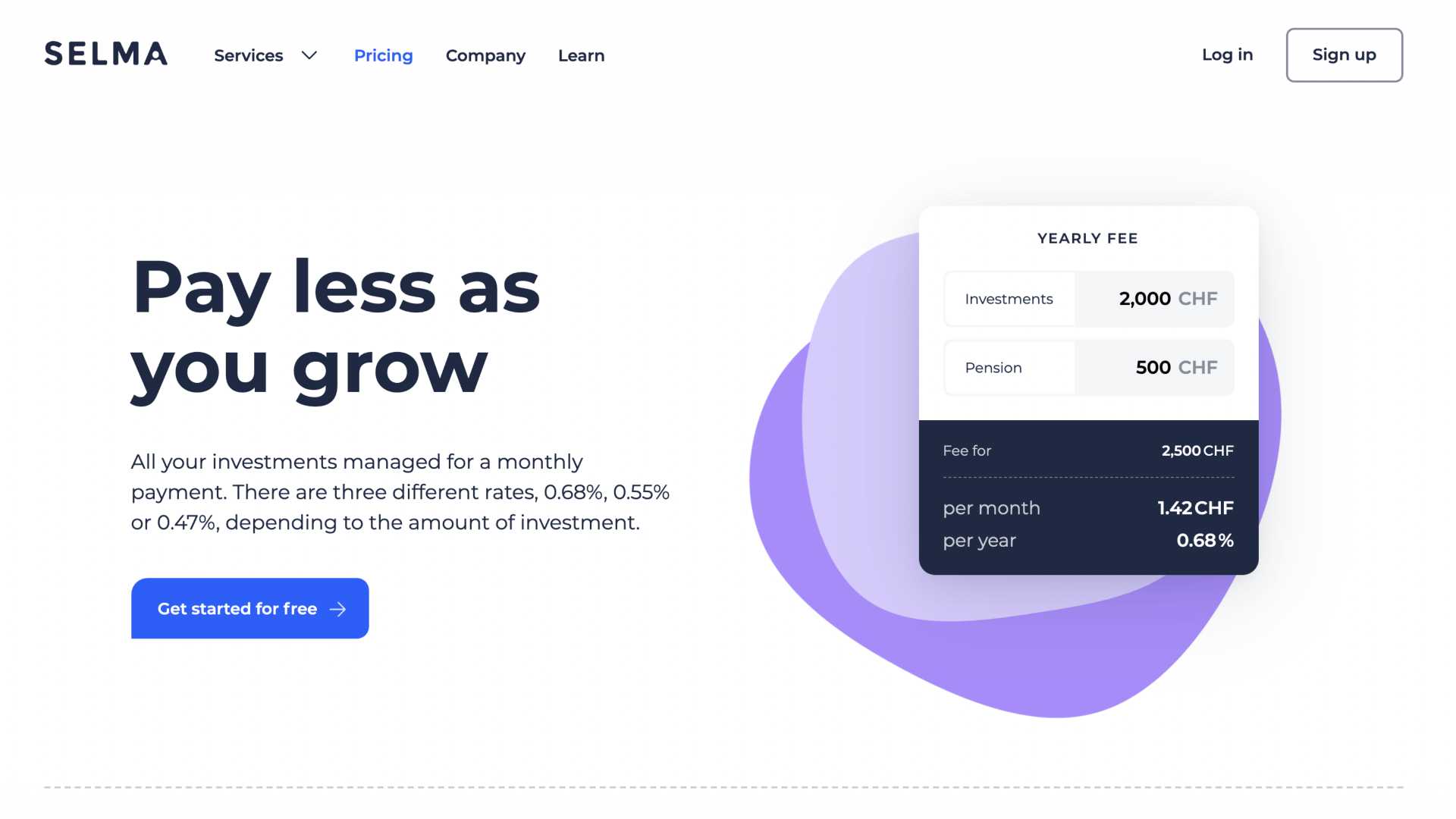 When you invest your money, you do not want to lose your money in fees. Fees are eating up your profit and are making your losses even worse. The main problem with fees is that they do not stop if the market goes bad. So you want to minimize the fees you are paying.
Selma is in the middle of the price range for Robo-Advisors in Switzerland. Selma's management fee is between 0.47% and 0.68%. Indeed, Selma has a degressive system for fees:
Below 50K CHF: 0.68% fees per year
From 50K to 150K CHF: 0.55% fees per year
From 150K CHF: 0.47% fees per year
It is interesting to note that the degressive fees will take all your Selma assets into account, including your Selma 3a if you also have one. A large account is a good way to lower your fees.
On top of that, you will pay the TER of the ETFs in which Selma invests. This last fee will depend on your portfolio. On average, they estimate the product cost to be 0.22%.
It gives you a total fee of 0.9% per year for a small portfolio. But if you have an extensive portfolio, you will only pay 0.69% per year. If you are serious about your goals, Selma could be affordable! It may seem like 150K CHF is a lot of money, but you could get there in a few years if you invest monthly.
Here is the full breakdown of the fees: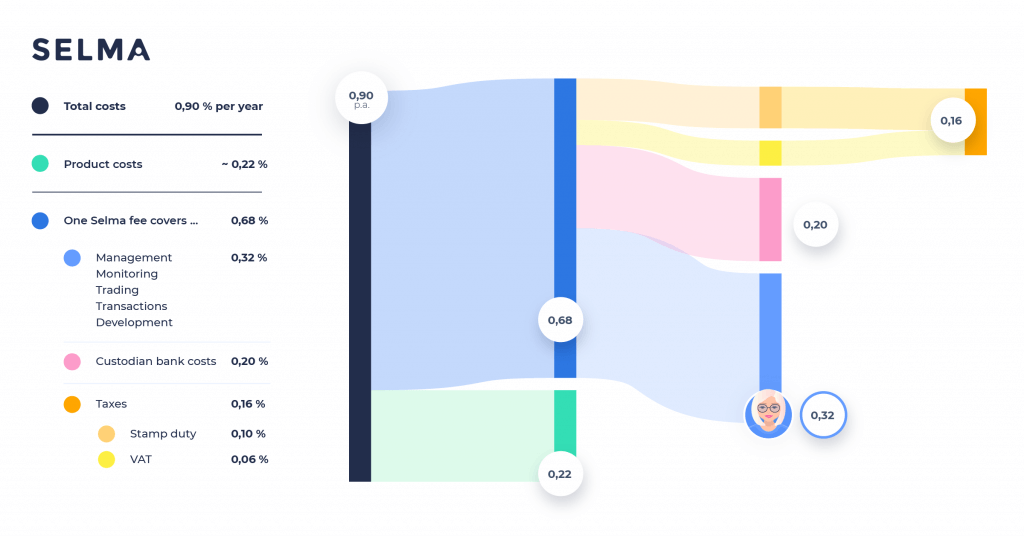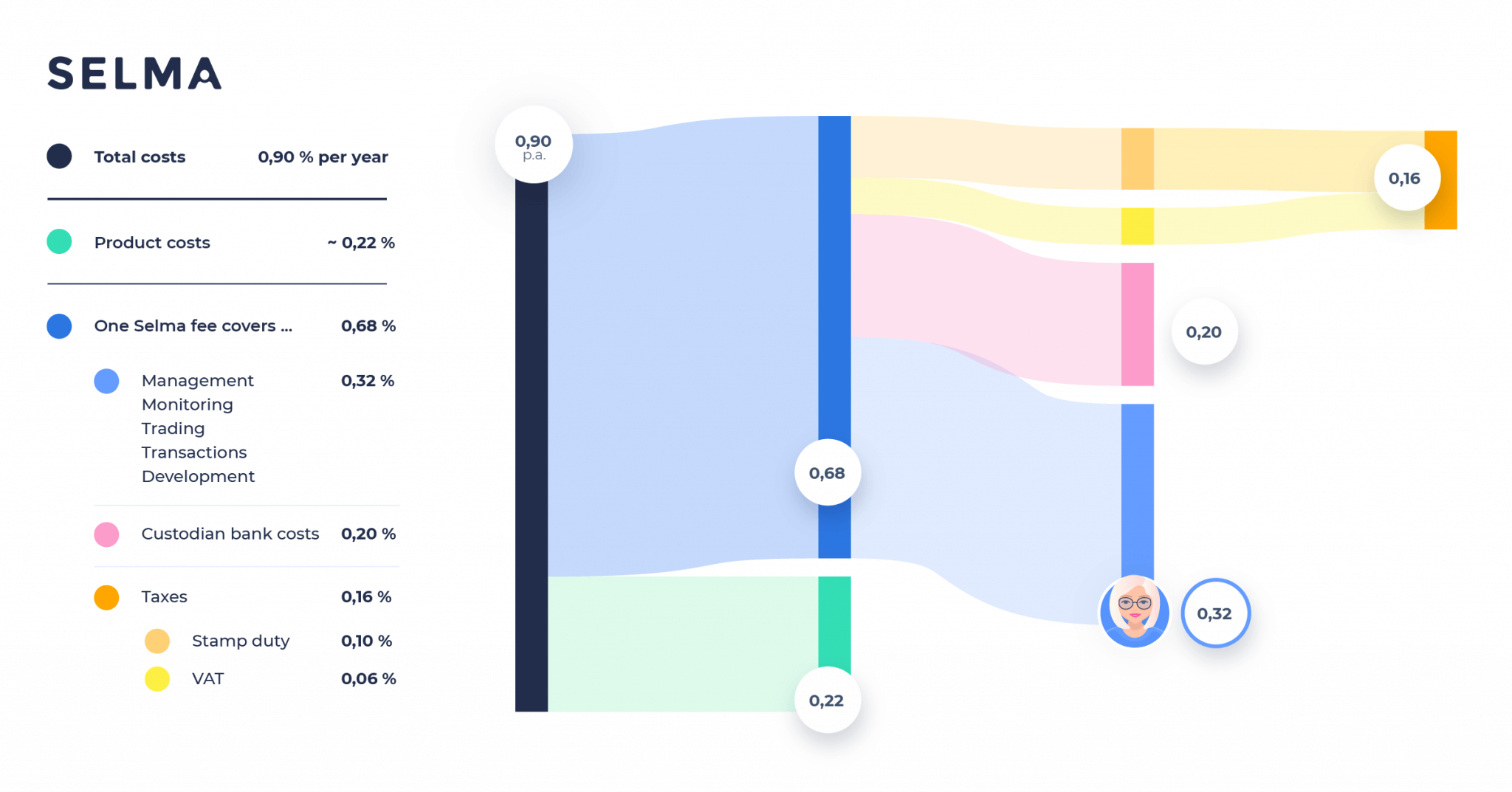 The fees are relatively expensive for small portfolios. However, for a large portfolio, the costs are very reasonable.
For a DIY investor, these are substantial fees. For instance, I pay about 0.2% per year to manage my portfolio. But I have optimized them the most by using the best broker, U.S. ETFs, and carefully researching the ETFs I invest in. And I have to buy and sell my ETFs directly each month.
On the other hand, you will have nothing to do to manage your account. Simplicity is where the advantage of Robo-Advisor lies. I would understand why some people would be ready to pay the price for this service. And it is also probably less stressful.
If you compare this to investing through a bank or a personal advisor, you will save money with Selma. You can quickly lose between 1% and 2% by investing through a bank when you count everything.
How to open an account with Selma?
Opening an account is straightforward. It will take you no more than 10 minutes, most done through chat with Selma.
Go to selma.com and click the big Start For Free blue button. From there, they will ask you the standard questions. But what is interesting is that the entire process will be done through chat with the personal assistant.
First, they will ask you the standard personal questions. But then, they will ask you questions about your money and investing profile. Here is an example of questions: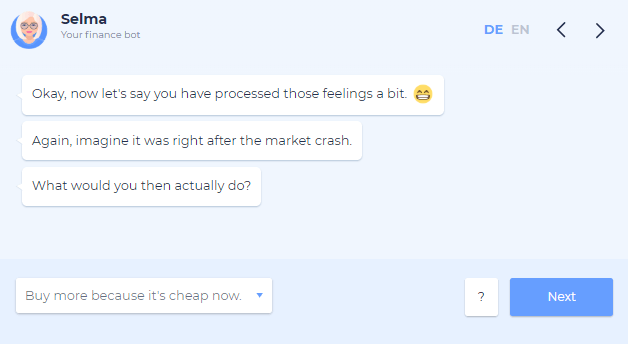 You will see your investor profile once you have answered all the questions (there are not that many!). And do not worry. You can always come back and change your answers. Many things can change in your life, and the assistant is aware of these changes. So your investor profile is not set in stone.
Interestingly, the dashboard will present you with all your financial information. This dashboard will not make a huge difference if you are already keeping track of your finances. But many people do not have a good overview of their finances. So this view could help some people see where they are.
Once you have done so, you will have to fund your account. You can transfer money directly from your bank account. After the money arrives in Selma, they will invest it according to your portfolio.
Opening an account with Selma is a straightforward process. The process is made easy, even for those unfamiliar with investments. Simplicity is the most interesting point about this service: you can invest without knowing much about investing. It is not possible if you want to invest yourself or with some other platforms.
Is investing with Selma secure?
Yes! There are using several layers of protection to secure your money.
First, your money is not stored by Selma. Indeed, they are not a bank and cannot hold your assets. It means that if they go bankrupt, your money is still safe. The shares are stored in Saxo Bank. You always want asset segregation in a financial company, especially a young company.
It should be the same for any respectable company. But they encrypt all your data from your computer to their data center. For this, they are using HTTPS.
You can also use second-factor authentication to secure your account. With this, you will need a second device to unlock your account. Your password will not be enough, and I recommend doing this for any service.
There are also using high standards of physical security in their offices. For more information, they are detailing their data security standards on the website.
If you want to keep your money safe, I have a guide about securing your money against cyber risk.
Sustainable investing with Selma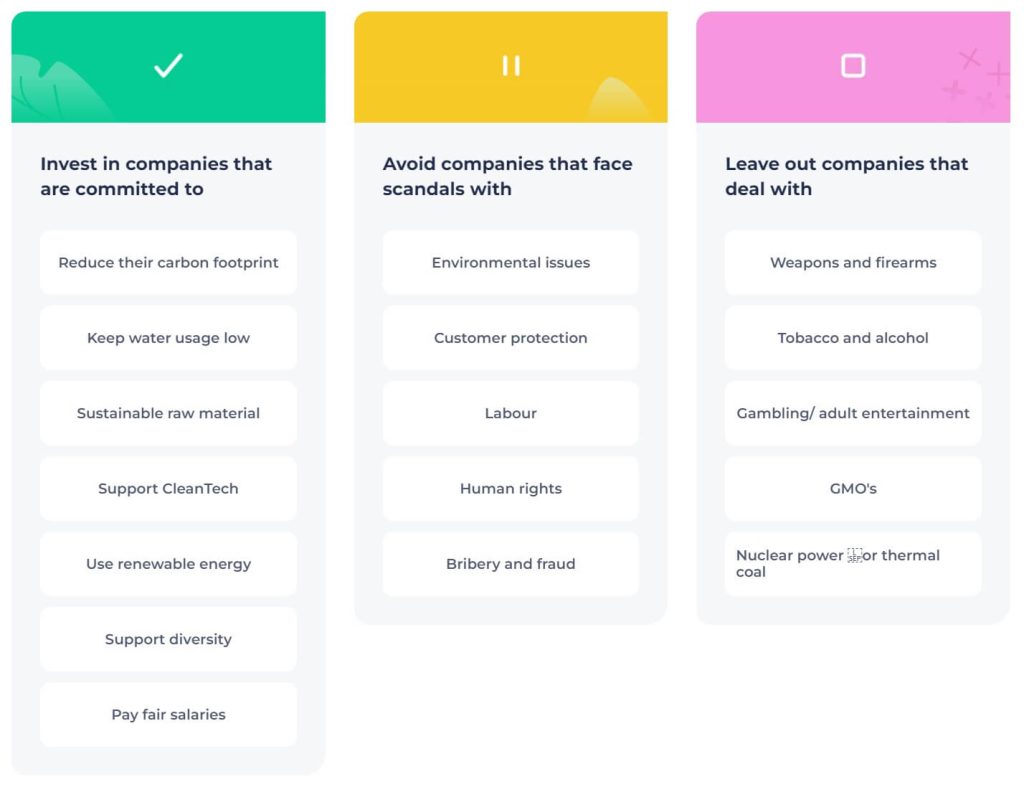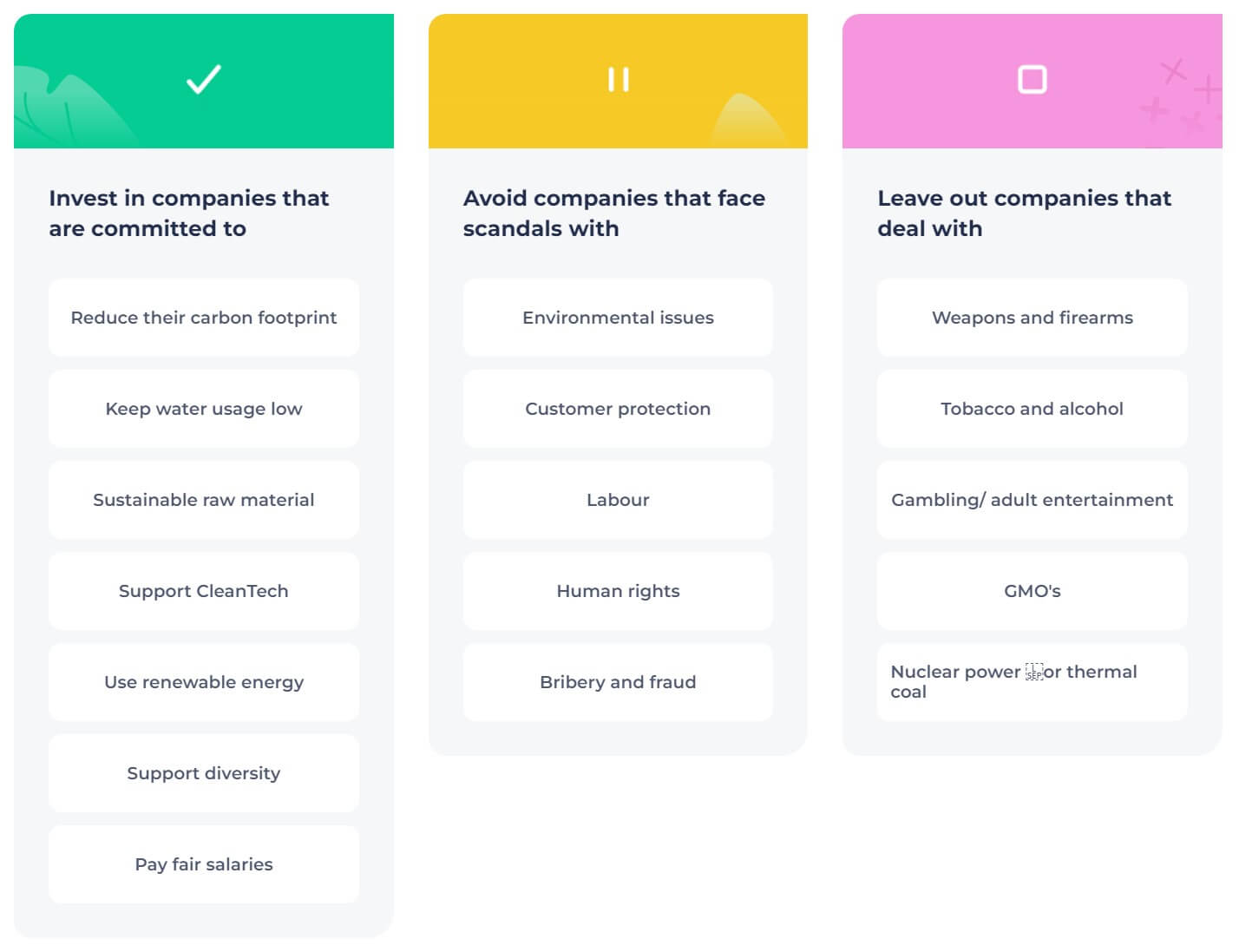 With Selma, you can also invest sustainably.
If you opt for this option, Selma will invest only in Sustainable ETFs that invest only in sustaining instruments. For instance, they will not invest in oil, weapons, or nuclear energy (which is dumb, in my opinion). They will also avoid investing in harmful products such as alcohol and tobacco (which is great!).
It is straightforward to choose this option with Selma. Since these ETFs are slightly more expensive, you may pay more annually (about 0.08% more). But the management fees will not change.
It is important to note that sustainable ETFs are not perfect. They still invest in some companies that are not extremely sustainable. If you want to learn more, I have compared Selma and Inyova for sustainable investing.
Selma Mobile Application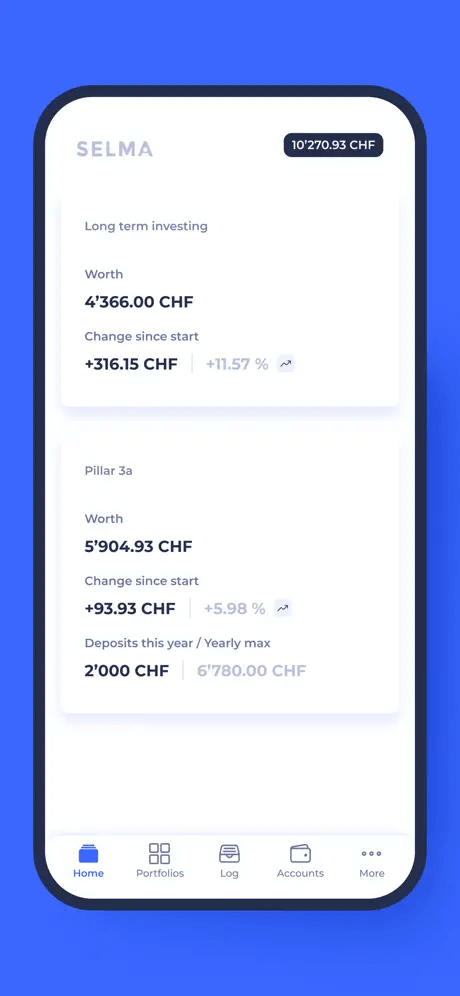 Since 2021, Selma has offered a mobile application. This mobile application is available on Android and iOS. This mobile application is a great advantage because most Robo-advisors do not offer mobile applications.
If you are an avid smartphone user, this mobile application will allow you to check your portfolio very quickly. This app presents a nice overview of your assets.
Crowdinvesting in 2023
In 2023, Selma is starting a crowd-investing round. On June 5th, the private investment round started. In 5 days, they reached 1'000'000 EUR investment from their community.
I think it is a good way to get more money into Selma and improve it while sharing ownership with the users.
Customer Service at Selma
Selma's customer service has an excellent reputation.
And this is important because many digital services have very poor customer support. You can join them by chat or email very easily. You do not have to go out of the Selma web application, and you can directly get support on the chat from your account.
Most of the time, you will not need help. Indeed, the application is all done to make it as simple as possible. And if that is not enough, there is an extensive information collection on their online FAQ.
User Reviews
When researching a service, looking at existing user reviews is always good. You want to ensure that this service is suitable for other people before investing in it.
On Google, there are now more than 240 reviews of Selma. The average review is 4.8 stars out of 5! This score is a great result! Most Swiss Robo-advisors have very few reviews on Google.
In the positive reviews, here are the most common points:
Very easy to use, accessible
Excellent communication, highly responsive
Very professional
In the negative reviews, here are the most common points:
Aggressive marketing (ads)
Too many smileys
Those are all the negative points I have been able to find out. It seems that people do not like the marketing campaigns of Selma. But these are not reviews of the service since these people did not use it. And I have seen a few remarks about them using too many smileys (which I agree with). Interestingly, the revamped version of the website in 2021 has much fewer smileys. But you can easily ignore these once you use the service. You will not have to use the service every day.
Talking with Selma, they have told me they have very high satisfaction from their users, which is very important. They run internal surveys to ensure users are satisfied and improve their products if necessary.
So, overall, people seem to like Selma. I have yet to find a negative review with solid issues.
Alternatives
There are many Robo-advisors available in Switzerland. Therfore, we should compare Selma with some of the interesting alternatives.
Selma vs Inyova
Pros:

Beginner-Friendly

Degressive Fees

Passive Investing

Great diversification

Good fees

Pros:

Great customization

Very sustainable

Degressive Fees

Cons:

No customization

Not highly sustainable

Cons:

Stock-Picking Strategy

Lack of diversification
Perfect to get started
Pros:
Beginner-Friendly

Degressive Fees

Passive Investing

Great diversification

Good fees
Cons:
No customization

Not highly sustainable
Very Sustainable
Pros:
Great customization

Very sustainable

Degressive Fees
Cons:
Stock-Picking Strategy

Lack of diversification
Both Selma and Inyova are Robo-Advisors offering sustainable investing features.
These two Robo-Advisors are very different. Inyova will invest directly in stocks, while Selma will only invest in ETFs. Selma's strategy is more passive and diversified.
On the other hand, Inyova is much more strict about sustainable investing, and Inyova has stronger requirements for what a company is doing to be sustainable. Also, you have much greater customization abilities with Yova.
Inyova is more expensive. However, if you invest money with Inyova, the fees are reduced. For example, with a substantial amount of money (500K), you will pay fewer fees with Inyova.
So overall, both are good Robo-Advisors. Inyova will be a better fit if you are into sustainable investing. Selma will be best if you prefer to keep it simple and diversified.
For more information, I have a complete comparison article of Selma vs Inyova.
Selma vs True Wealth
Pros:

Beginner-Friendly

Degressive Fees

Great diversification

A good strategy with ETF

Pros:

Outstanding fees

Very customizable

Great diversification

A good strategy with ETF

Cons:

High minimums

Not always easy to use
Perfect to get started
Pros:
Beginner-Friendly

Degressive Fees

Great diversification

A good strategy with ETF
Cheapest Swiss Robo-Advisor
Pros:
Outstanding fees

Very customizable

Great diversification

A good strategy with ETF
Cons:
High minimums

Not always easy to use
True Wealth is another well-known Robo-Advisor from Switzerland.
Both of these Robo-Advisors will invest in ETFs directly. They are both offering passive strategies with a large amount invested in stocks.
True Wealth is slightly cheaper. Indeed, True Wealth's total fees will range from 0.63% to 0.70%, while Selma's fees will be about 0.69% with a large portfolio. But, in the end, True Wealth is still slightly cheaper than Selma.
You also have better customization with True Wealth. There are more things you can change. On the other hand, True Wealth is a bit more complicated to use and less beginner-friendly.
Finally, the minimum at True Wealth is 8500 CHF, whereas Selma's minimum is 2000 CHF.
So, if you are looking for the cheapest Robo-Advisor, True Wealth is the way to go. On the other hand, if you are looking for something a little more beginner-friendly, you should go with Selma.
For more information, you should read my in-depth comparison of Selma vs True Wealth.
Other facts
One good thing is that Selma is very transparent about what they are doing.
For instance, their public roadmap is on Trello. It means you can see what they are working on. Also, they share many interesting things on their blog. I think it is great that they are willing to be transparent.
Selma also offers a third pillar account. It is interesting if you already have an account, but it is significantly more expensive than alternatives. For more information about that, you can read my Selma 3a Review.
It is also worth mentioning that I met several people from the Selma team. And all the people I met are friendly and good people. It is important to mention because many people in the investing industry are not friendly.
Selma FAQ
How does Selma work?
Selma uses your entire financial situation (risk profile, assets, and investment capacity) to provide you with the best investment portfolio. They will invest the money you send them according to your portfolio. Over time, they will rebalance your portfolio and adapt your profile based on your changing financial situation.
What is the minimum you can invest with Selma?
You must invest at least 2000 CHF to open an account with Selma. Below that, your account would not be diversified enough.
How much will you pay in fees for Selma?
You will pay 0.47% of your portfolio to manage it, and you will pay an average of 0.22% for the products.
Who can invest with Selma?
Every Swiss resident at least 18 years old can open a Selma account and start investing.
What happens if Selma bankrupts?
Your shares are stored in your name, in Saxo Bank. So if they go bankrupt, you can get back your assets.
What happens to my dividends with Selma?
Selma directly reinvests all the dividends.
Is Selma the same as Selma Finance?
Yes, Selma Finance was rebranded into Selma in 2021. The offer did not change with the rebranding.
Selma Summary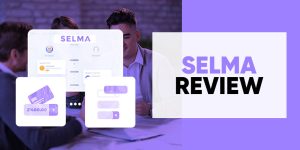 Selma is a great Swiss Robo-Advisor. It is very easy to use, making it perfect for beginners who want to invest their money without hassle. Its fees are good (without being the cheapest) and degressive for large invested amounts.
Product Brand: Selma
Selma Pros
Let's summarize the main advantages of Selma:
Very easy to use.
Mobile application on Android and iPhone.
Users can create accounts very quickly.
A very helpful virtual assistant.
Excellent prices for large portfolios.
Proper use of passive investing with ETFs.
Highly transparent pricing.
Ability to choose sustainable ETFs.
The company is growing very well.
Available in French, German and English
Selma Cons
Let's summarize the main disadvantages of Selma:
Not the cheapest Robo-Advisor for small portfolios.
Cannot invest 100% in stocks.
Limited ability to customize the portfolio.
Conclusion
Perfect to get started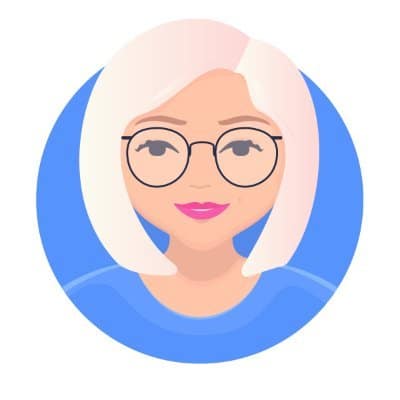 Selma Robo Advisor
Invest easily with Selma: a great way to invest in the stock market without the hassle of doing it yourself.
Pros:
Beginner-Friendly

Degressive Fees
Invest easily
Overall, I think Selma is a good fit for people that want a Robo-Advisor with some extra assistance. The virtual personal assistant can help some people feel more at ease with investing. Selma is the best Robo-advisor for beginner investors.
Selma's fees can be very low once you reach a certain amount. This is great because Swiss Robo-advisors tend to be expensive.
Now, Selma is not for everybody. People that are knowledgeable about investing can find cheaper Robo-Advisors. It is not the most expensive Robo-Advisors in Switzerland. But it is not the cheapest either. However, If you have a large portfolio, it is among the cheapest services!
Also, they do not offer customization of the portfolio. So you cannot tweak your portfolio to what you think will perform better (or avoid investing in something you do not believe in).
On the other hand, Selma is very easy to use. And they do everything to make you feel at home. It is very straightforward to create an account and start investing. And this is very important for new investors.
If you decide to use Selma, my link will get you the first 5000 CHF managed for free for a year. So it is a good way to start investing with low fees. And this will also help the blog.
To learn more about Robo-Advisors, read my post about Robo-Advisors in Switzerland. If you are interested in Sustainable Investing, I recommend reading my comparison of Selma and Inyova on this subject.
Finally, keep in mind that I am not investing with Robo-Advisors. I am investing myself directly in ETFs. Doing so is more complicated but can save you a lot of fees. And since investing fees are important, I believe it is entirely worth the effort of learning about investing and doing the job myself. I do not want to sacrifice my retirement for fees. But it is up to you to decide how much you want to get involved.
If you are interested in Selma, you may be interested in their Selma Third Pillar offer.
What about you? What do you think about this Robo-Advisor?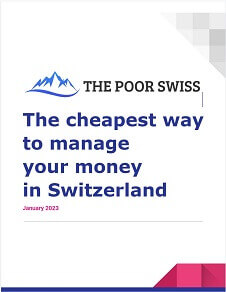 The best financial services for your money!
Download this e-book and optimize your finances and save money by using the best financial services available in Switzerland!
Download The FREE e-book