Selma vs Inyova – Best Robo-Advisor for Sustainable Investing?
|
Updated:
|
(Disclosure: Some of the links below may be affiliate links)
Many of you have asked me about sustainable investing and how they should invest in Sustainable Instruments. Specifically, many have asked which Robo-Advisor they should use for sustainable investing.
The two main Robo-Advisors for sustainable investing in Switzerland are Selma Finance and Inyova. So, today, we compare Selma vs Inyova for easy investment in sustainable companies.
Both Selma and Inyova allow for sustainably investing your assets. But both have different approaches, limitations, and fees. When you want to invest in a Robo-Advisor, select the best Robo-Advisor for your needs. So, we will see which of Selma or Inyova you should use if you want to invest sustainably in Switzerland.
I compare Selma vs Inyova on different factors. We check their fees, their investment minimums, and their investing strategies.
Remember that I do not invest with Robo-Advisors and do not focus on sustainable investing.
Sustainable Investing
Before discussing Selma vs Inyova, we start with the big question: what is sustainable investing?
Sustainable investing is a strategy where you only invest in sustainable instruments for the future. This strategy is a way to invest only in things that will positively affect the world and society.
Here are some examples of things you can avoid when investing sustainably:
Fossil fuel companies
Weapon companies
Alcohol and tobacco companies
On the other hand, here are some companies on which you can focus more when investing sustainably:
Solar energy companies
Waste reduction companies
Electric car companies
Self-sustainable housing companies
This strategy has other names, such as impact investing, green investing, ethical investing, or eco-investing. But another big name that you may have heard of is ESG investing. ESG stands for Environment Social and Governance. These are not the same things but fall under the same philosophy.
In these last few years, Sustainable Investing has become increasingly popular. There are now many mutual funds, ETFs, and Robo-Advisors that follow this form of investing.
People have two main reasons for investing like this:
Some people want to invest their money in companies that improve the world. Or they do not want to invest in companies that supposedly hurt the world, like the weapon industry, nuclear power, or gas companies.
Some people believe that sustainable investing will yield more returns in the future. They think that many companies that are not sustainable will fail in the future, so it is better not to invest in them now. Contrary to the first reason, this is an optimization for returns.
That is enough of an introduction for this comparison. If you want to learn more, I have a complete article about sustainable investing.
If you want to invest in sustainable instruments and prefer to use Robo-Advisors, you will want to choose the best Robo-Advisor for your needs.
Selma Finance
We start with Selma Finance. It is a Swiss Robo-Advisor that focuses on a personal assistant within the service. They are creating a custom portfolio for their investors based on questions that they ask you.
They are a relatively new company. Selma was founded in 2016. They have been very successful since. They now have more than 1500 customers and manage a large portfolio in the 7-digit range.
Selma Finance does not solely focus on Sustainable Investing. But, they have the option to select only ETFs that will invest in sustainable instruments. So, with Selma, you can invest either in the standard stock market or in the subset that is the sustainable stock market.
You will access Selma with their web interface.
I have already talked about Selma in the past, and for more information, you can read my review of Selma.
Inyova
Inyova is another Swiss Robo-Advisor entirely focused on impact investing. To my knowledge, it is the only Swiss Robo-Advisor focusing only on sustainable investing. They do not offer investment services for people that do not want to invest sustainably.
Inyova is a relatively new company. It was founded in 2017. But they have been growing quite quickly since its inception. They have secured more than four million in funding. Until June 2021, they were called Yova.
Contrary to most Robo-Advisors, Inyova is not investing in ETFs but directly in stocks. And they are not replicating an index either. Inyova is using a custom strategy to select sustainable companies. So your portfolio will directly be composed of shares of companies doing an excellent job in being sustainable.
They are using this technique because there are many controversies against sustainable ETFs. The criteria for sustainable ETFs are simple, and many questionable industries are part of these indexes.
You can do a few things to customize the investing strategy by choosing some companies you like or do not like and some things you are interested in. Your preferences will be taken into account in your portfolio.
You can access your portfolio from the web interface and the mobile application.
For more information, read my complete review of Inyova.
Investing Strategies
We can start by comparing the investing strategies of Selma vs Inyova.
While they are both Robo-Advisors, they are doing something entirely different.
Selma Finance is investing in Exchange Traded Funds (ETFs). Your portfolio will be a collection of ETFs with different allocations. For sustainable investing, they are following the ESG criteria.
For the ETFs, they are selecting the Socially Responsible Investing (SRI) indexes. These are indexes by MSCI. For instance, there is the standard MSCI Europe Index, and the ESG equivalent is the MSCI Europe SRI Index.
With Selma, you will diversify greatly since the ETFs will invest in many companies, all following ESG criteria.
Inyova has a very different strategy. They do not use ETFs. It means that your portfolio will be composed directly of stocks. Also, they do not use a standard approach like ESG but use their custom criteria to assess companies.
Inyova's strategy is based on the handprint (products and services) and the footprint (way of doing business) of companies.
Inyova's approach goes much further than the ESG approach. They are looking at the impact of the companies on the world, not only on the way they work.
From a pure investing point of view, Selma's approach is better than Inyova's. There are two reasons for that. First, with Selma, you will have better diversification since you will have significantly more stocks in your portfolio. And Selma Finance is based on passive investing, which is how I prefer to invest.
Of course, Inyova is still diversified. You will always have between 30 and 40 stocks in your portfolio. And they are trying to diversify across regions and industries. However, this is difficult to compare with pure passive investing.
As we will see in the next section, there are some limits to passive sustainable investing.
Which is more sustainable? Selma vs Inyova
From a sustainability point of view, it is challenging to compare Selma vs Inyova since they use very different strategies.
As mentioned before, Selma Finance uses ETFs that follow the SRI indexes from MSCI. Socially Responsible Indexes (SRI) go one step further than ESG investing. So, it is considered more sustainable than merely following the ESG principles.
Inyova picks stocks based on their impact investing criteria. They use strong factors to decide which companies they should invest in each portfolio. Some of their criteria are the same as ESG criteria. But they have other rules that go further as well. In general, they are going much further than simple ESG criteria.
One interesting thing with Inyova is that you can customize your portfolio. You can exclude some businesses from your portfolio. For instance, you can decide you do not want to invest in companies that do animal testing.
With sustainable investing, we can see the limits of passive investing. For instance, several ESG and SRI indexes invest in mining and oil companies. You can also see Alibaba in some of the sustainable indexes. If you take a sustainable point of view, we can see that Alibaba should not be part of such investing. Another example is the presence of many companies that produce plastic bottled water, which is a plague to the environment.
It is also interesting to note that Inyova has been endorsed by the World Wide Fund for Nature (WWF). This endorsement should show that they are working for a better future!
For me, Inyova has a higher quality of sustainable investing. Also, with Inyova, you can customize your portfolio to your values. This feature means you can focus on your personal view of Sustainable investing. So, Inyova is also much better for customization.
Now, Selma is still good, but they take the minimalist approach. Considering that they are a passive investing Robo-Advisor, they are also selecting the best sustainable ETFs.
Minimums
Most people who want to start investing with Robo-Advisors are afraid of investing or starting with investing. It means they are generally not ready to invest large amounts of money.
Therefore, it is essential to be able to start with small amounts of money. For this, we can compare the minimums of Selma vs Inyova.
On this side, it is easy to compare them. Both Selma and Inyova have a minimum investment of 2000 CHF. So, they are both good here. I still think this is slightly too high for some people. A limit of 1000 CHF would probably be better. But 2000 CHF is not a high limit either. And small portfolios are challenging to rebalance.
Fees – Selma vs Inyova
When you want to invest for the long term, you want to pay as little fees as possible. In the long term, minimizing fees is essential. When you compare services, you need to make sure to take all the small details into account.
Fortunately, both companies are quite transparent about their fees. So, we compare Selma vs Inyova in terms of investing fees.
Starting with Selma Finance, the base fee is 0.68% per year. However, this can go down to 0.55% when you have 50K invested and down to 0.47% when you have 150K in your portfolio.
On top of that, you still need to pay the fees of the ETFs. You will pay about 0.3% per year in fees for sustainable ETFs. So, this gives us a total of 0.77% in fees per year.
Inyova has a different approach to pricing. Since they are not using ETFs, they do not have any fees for managing the assets. So the Inyova fee is all-inclusive. The price is different based on how much money you have invested in your portfolio with Inyova:
From 0 CHF to 49'999 CHF, a 1.2% yearly fee
From 50'000 to 149'999 CHF, a 1.0% yearly fee
From 150'000 CHF to 499'999 CHF, a 0.8% yearly fee
From 500'000 CHF, a 0.6% yearly fee
The fee will be excellent if you invest more than half a million with Inyova. Below that amount, the fees are not particularly great.
If you have more than 500'000 CHF invested with Inyova, it will be cheaper than Selma Finance. Very few people will reach that amount. Indeed, you will probably start investing with much less. And that means you will pay a hefty fee for perhaps several years.
Selma has better fees than Inyova, especially for starting investing. If you plan to invest a large amount of money (more than 500K CHF) from the beginning, Inyova will be cheaper.
Security – Selma vs Inyova
If you plan to invest a significant amount of money, the security of a Robo-Advisor is fundamental. So, we compare the security of Selma vs Inyova.
Selma Finance is regulated as an independent financial advisor. They are using Saxo Bank as a custodian bank. All your assets are registered in your name at Saxo Bank. If Selma goes bust, your assets are safe.
Inyova is regulated as an asset manager. They are also using Saxo Bank as a custodian. So, again, if Inyova goes bankrupt, your assets are safe.
From a regulation point of view, both Selma and Inyova offer the same amount of security. You are protected by the custodian bank holding your assets. And the custodian bank is the same in both cases and is regulated as well.
We can also compare the technical security of Selma vs Inyova.
Both services offer SSL encrypted access. And I have not found any record of breaches with either of these companies. Both services support a second factor of authentication.
Online security is paramount, read how to protect your online personal finances.
Summary – Selma vs Inyova
Here is a quick summary of the Selma vs Inyova results.
There are some pros and cons to both services.
If you want a service focused on sustainable investing, Inyova is probably your better bet.
Now, if you prefer to focus on the investing side, Selma is a better candidate for a sustainable Robo-Advisor. This result is based on lower fees and a better investing strategy (no stock picking).
Both services are available in English, French, and German.
If you want extreme customization, you may want to go with Inyova. You will be able to choose companies based on many criteria. But if you are not against stock picking, you could probably use a broker to pick the stocks you want. You will divide your fees at least by ten by doing so!
Conclusion
To conclude the Selma vs Inyova question, Selma Finance is a better fit for sustainable investing in most cases. Its fees are better unless you invest a substantial amount of money. And they offer more diversification since they are using ETFs and are not picking stocks themselves. Also, they offer 2FA, which should be the bare minimum regarding security.
On the other hand, Inyova will offer you better sustainability and greater customization. You will be able to choose some factors that you do not want to see in your portfolio. If you feel strongly about some things (like no animal testing), Inyova could be a good fit for you. Just know that when you are getting started, the fees are high.
I am not investing in sustainable instruments myself. But if I were to do so, I would choose sustainable ETFs. And if I were to use a Robo-Advisor for sustainable investing, I would go with Selma Finance for passive investing and the lower fees.
But I understand the need to go beyond simple ESG/SRI investing. It is where Inyova shines. They are built entirely to provide greater sustainability to the investing world. With Selma, sustainable investing is an add-on, while sustainable investing is the foundation of Yova.
I will try to dedicate a future article to all the different notions of sustainable investing. But I wanted to cover Selma vs Inyova first since this is what my readers asked me the most.
If you want to learn more, read my article about Robo-Advisors and whether or not you should invest with them.
If you have tried these services, I would love to hear about your experience.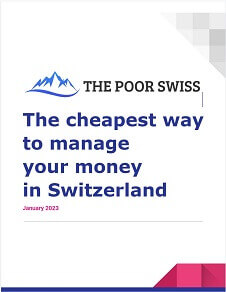 The best financial services for your money!
Download this e-book and optimize your finances and save money by using the best financial services available in Switzerland!
Download The FREE e-book