Swissquote Invest Easy 2023 – Pros & Cons
|
Updated:
|
(Disclosure: Some of the links below may be affiliate links)
Invest Easy is a new Robo-advisor service by Swissquote, the popular Swiss broker. Swissquote Invest Easy allows you to invest easily in a diversified portfolio of ETFs at a relatively low cost.
Since some of you have asked me what I thought about this service, I thought I would do a thorough review of this service. This review discusses this service, its advantages, and disadvantages. By the end of the review, you should know if you should use Swissquote Invest Easy.
About Swissquote Invest Easy

| | |
| --- | --- |
| Management fee | 0.60% |
| Product Costs | 0.14%-0.21% |
| Investing strategy | Passive |
| Investing products | ETFs |
| Minimum investment | 500 CHF |
| Currency conversion fee | 0.95% (included) |
| Customization | None |
| Sustainable | No |
| Languages | French, German, and English |
| Custody bank | Swissquote |
| Users | Unknown (Swissquote: 500'000) |
| Established | 2023 |
| Headquarters | Gland, Switzerland |
Swissquote Invest Easy
Best Swiss Broker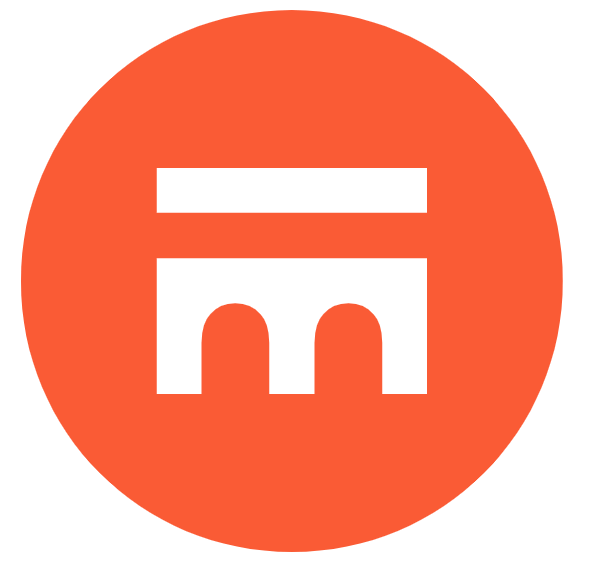 Swissquote is a popular Swiss broker with about half a million customers. It offers many investing instruments over multiple trading platforms. It has affordable prices for trading, although it is not the cheapest broker available.
In 2023, Swissquote launched Invest Easy, its new platform to make investing easier. This is not another trading platform but a Robo-advisor service integrated into Swissquote.
With this new service, you can choose a few strategies, and the service will invest automatically. This aims to make investing easier and bring customers who do not want to trade alone. Interestingly, you can use this new service and still trade on the side. Everything is nicely integrated.
So, we will look in detail at this new Swissquote Invest Easy robo-advisor.
Investing Strategy
Swissquote Invest Easy has two groups of investment strategies:
One saving strategy.
Three investing strategies.
The saving strategy is not investing because it keeps your money in cash. It is like a savings account. You can get it in CHF, EUR, USD, and GBP. And you will get different interest rates for each currency. For instance, as of 8.8.2023, you get the following interest rates in CHF:
1.00% from 0 to 50'000 CHF
0.50% from 50'001 CHF to 100'000 CHF
0.10% above 100'000 CHF
The saving strategy is a short-term investment. However, there are some limitations. You can only withdraw 25'000 CHF per month. If you over-withdraw, you will get a 1% penalty. The notice for extra cash-out is three months.
I do not find these rates particularly attractive, especially for higher amounts. In 2023, better savings accounts will be available with lower withdrawal limitations.
The minimum deposit for the saving strategy is 1 CHF (or 1 of the chosen currency).
The second group is made of three investing strategies:
Prudent Strategy: 25% in equities
Balanced Strategy: 45% in equities
Ambitious Strategy: 75% in equities
I find it weird that the most aggressive strategy has only 75% in equities. I would think there should be a strategy with 100% equities. But we can look at the details of this strategy:
75% equity
13.63% fixed income
5% real estate
5% commodities
1.37% crypto
I think there are two things wrong with this strategy. First, 1.37% in crypto will not make any significant difference. For me, any allocation below 5% does not make sense. Also, having more than 13% in fixed income in the most aggressive strategy is disappointing.
All these strategies are investing in ETFs. And Swissquote is quite transparent about that. You can find the list of the ETFs for each strategy on their website.
Currently, there seems to be no way to customize the portfolios. So, you have to use exactly the strategies proposed.
The minimum deposit for the three investing strategies is 500 CHF (or 500 of any other supported currency). This is a great minimum. Most Robo-advisors have significantly higher minimums.
You can deposit CHF, USD, EUR, or GBP into your investing strategy. However, remember that anything other than CHF will trigger currency conversion.
When you deposit money into your account, the money gets invested on the next business day. If you switch strategies, the change will be made in two business days.
Overall, these strategies are interesting but could be improved. One extra tier is missing, with an even more aggressive approach for long-term investors. Also, I wish we could opt out of real estate and commodities, but this is a personal choice.
Investing fees
When reviewing a robo-advisor service, we must look at the investing fees. For the users, fees are an essential criterion because fees will dictate long-term returns for two similar services.
First, the saving strategy has no management fee. If you get a CHF account, you will get it for free and will not have to pay anything. However, if you get an account in another currency and deposit a different currency, you will pay a 0.95% currency conversion fee. So, it is only useful to deposit in the main currency.
The fees for the investing strategies are more interesting. You will pay a 0.60% management fee for your account. On top of that, the only thing you should pay is the product costs of the ETF. Currently, the product costs are as follows for the three strategies:
Prudent: 0.21%
Balanced: 0.19%
Ambitious: 0.14%
This will then amount to a total fee between 0.74% and 0.81% per year. These fees are average fees for Robo-advisors. They are not very expensive, but they are also not very cheap.
Overall, these fees are alright, but not excellent either. We will see how they compare with other services later.
Security
We should also see whether it is safe to use this service.
Since Swissquote is a licensed bank, the money will stay within Swissquote. Currently, Swissquote appears to be in excellent financial situation. This makes it a safe place to keep stocks and cash.
If Swissquote were to bankrupt, the cash would be protected by Esisuisse. On top of that, the stocks are held in separate custody accounts. These accounts should be transferred to another broker in case of bankruptcy.
Overall, I believe investing with Swissquote Invest Easy is quite safe.
Alternatives
We should look at some alternatives and compare them with Swissquote Invest Easy.
Swissquote Invest Easy vs Selma
Perfect to get started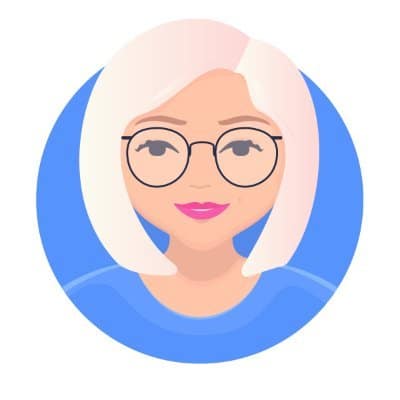 Selma is a very simple Robo-advisor, investing in ETFs. They have a similar model to Swissquote Invest Easy, with little customization and an aim to simplify it.
For aggressive investors, Selma lets you go up to 95% of stocks. This is significantly better than the 75% of Swissquote Invest Easy. However, neither of the two services allows for customization. You have to use the portfolios proposed by the Robo-advisor.
As for the fees, Selma is more expensive than Swissquote Invest Easy in most cases. Indeed, Selma has an average 0.90% total fee, against 0.,74% to 0.81% for Swissquote Invest Easy.
However, Selma's fee is degressive. If you have 50'000 CHF in your portfolio, you will get 0.13% lower fees. And if you have 150'000 CHF in your portfolio, you will get 0.21% lower fees.
So for large portfolios, Selma can be cheaper than Swissquote Invest Easy. However, Swissquote Invest Easy will be cheaper for small portfolios.
One advantage of Swissquote Invest Easy is that the minimum is significantly lower, at 500 CHF. Selma requires a minimum of 2000 CHF to get started.
Overall, both Robo-advisors have merit. Selma lets you be more aggressive, but Swissquote Invest Easy can be significantly cheaper.
Swissquote Invest Easy vs True Wealth
Cheapest Swiss Robo-Advisor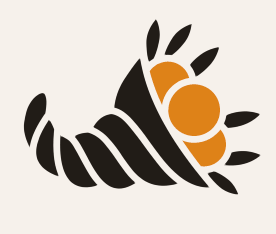 True Wealth also invests in ETFs through its portfolio. While True Wealth may be a bit more complicated, it allows for far greater portfolio customization.
You can invest up to 99% in stocks with True Wealth against 75% for Swissquote Invest Easy. And you can also choose sustainable ETFs if you want.
The fees of True Wealth will be between 0.63% and 0.70% per year. Swissquote Invest Easy is more expensive, between 0.74% and 0.81%. So, Swissquote Invest Easy is more costly than True Wealth.
One advantage of Swissquote Invest Easy is that the minimum is much lower, at 500 CHF. True Wealth requires a minimum of 8500 CHF to get started. Also, stamp duty is not included with True Wealth, which may add a few fees.
True Wealth is a better fit for aggressive investors than Swissquote Invest Easy. It may be slightly more complicated to get started, but it allows higher allocation to stocks and has lower fees.
FAQ
What is the notice period for the Saving strategy?
Below 25'000 CHF, there is no notice period. Above 25'0000 CHF, the notice period is 3 months.
What is the minimum deposit?
The saving strategy has a minimum deposit of 1 CHF. The investing strategies have a 500 CHF minimum deposit.
Can you have multiple Invest Easy portfolio?
Yes! You can have as many investing portfolios as you want, each with a single strategy. But you can only have a single saving strategy account.
What is the maximum you can invest in stocks?
Currently, you can only invest up to 75% in stocks with this service.
Summary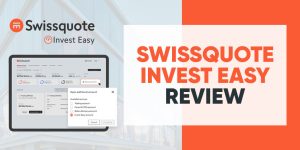 Swissquote Invest Easy is a Robo-advisor product from Swissquote, the Swiss broker.
Product Brand: Swissquote
Swissquote Invest Easy Pros
Let's summarize the main advantages of Swissquote Invest Easy:
Multiple investing strategies
Low minimum deposits
Investment in diversified ETFs
Transparent use of ETFs
Average fees
Swissquote Invest Easy Cons
Let's summarize the main disadvantages of Swissquote Invest Easy:
The saving strategy is not more interesting than a savings account
Not possible to invest 100% in equities
No customization
Cannot invest in sustainable ETFs
Conclusion
Swissquote Invest Easy is an interesting new offer by Swissquote. It offers very simple investing portfolios at a relatively fair price. The portfolios are well-diversified and use low-cost ETFs.
If you already have a Swissquote account and want an easier way to invest, this new service is a great addition to Swissquote.
However, there are some limitations to this new service. First, it only allows to invest up to 75% in stocks. This is good for many investors but not for the most aggressive investors. Then, it allows no customization and only three portfolios are available.
The fees of the three strategies are acceptable, but this is not the cheapest service available. Given the limited feature and the average fees, I feel better Robo-advisors are available here.
Since it is a very new service, there may be improvements coming in the future. With a few upgrades, this service can become quite interesting.
If you want to learn more about Swissquote, you can read my Swissquote Review.
What about you? What do you think about this new Robo-advisor service?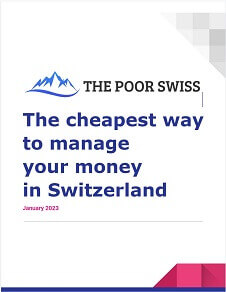 The best financial services for your money!
Download this e-book and optimize your finances and save money by using the best financial services available in Switzerland!
Download The FREE e-book