Neon Invest Review 2023: Pros & Cons
|
Updated:
|
(Disclosure: Some of the links below may be affiliate links)
I have talked a lot about Neon, a top-notch digital bank, on this blog, and they have recently launched Neon Invest, their new investment service. So, we must take an in-depth look at this new service.
This review will study Neon Invest, its fees, security, and features. By the end of this review, you will know whether you should use Neon Invest.
About Neon Invest

| | |
| --- | --- |
| Custody Fees | 0% per year |
| Inactivity Fees | 0 CHF |
| Buy Swiss ETF | 0.5% |
| Buy American Stock | 1% |
| Currency Exchange Fee | 0% |
| Languages | English, French, German, and Italian |
| Mobile Application | Yes |
| Web Application | No |
| Custodian Bank | Hypothekarbank Lenzburg |
| Established | 2023 |
| Headquarters | Zürich |
Neon Invest
Best App to Pay, Save and Invest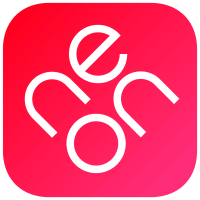 Neon
All the services you need to pay, save and invest, in a neat package, with extremely good prices!
Use the poorswiss code to receive 10CHF!
Pros:
Pay abroad for free

Invest with great fees
Use the poorswiss code
Read my review
Neon is my favorite digital bank in Switzerland. They offer an excellent bank account with outstanding fees and the best card to shop internationally and in foreign currencies.
Until now, Neon had no investment service. They offered some partnerships with other investment services, but that was all.
Things are now changing for Neon with the introduction of Neon Invest! Neon Invest is a new feature from within Neon that lets you invest in the stock market. You can use Neon Invest directly inside the Neon app.
With this new investment feature, Neon aims to be an app to do it all. You can now pay with Neon, save with Neon, and invest with Neon. This is also obviously an extension of their business model.
In May 2023, Neon Invest started in beta for app users in German. The beta lasted for about two months. On July 11th, 2023, the feature was released to all users of Neon, out of beta!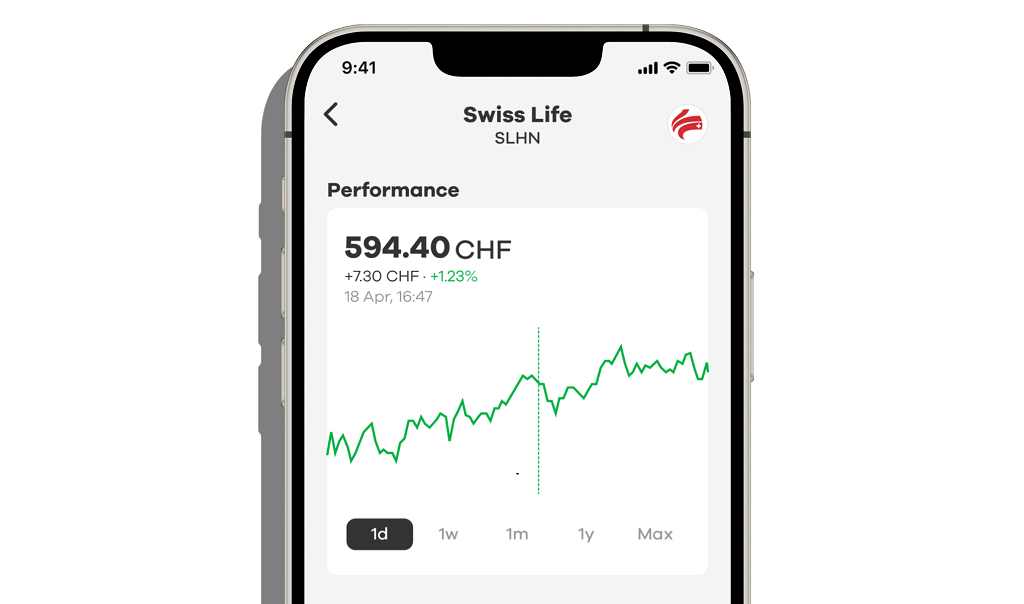 Investing features
The goal of Neon Invest is to make investing easy for everybody. Therefore, we should not expect this service to have all the services of a standard broker.
It is essential to know that Neon Invest does not give you access to the entire stock market. They currently give you access to about 220 stocks and 70 ETFs. They plan to increase this list in the future. There is currently no plan to add bonds, but for most investors, this is fine. And there are bond ETFs that can work well for most people.
It is also essential to know that they only offer access to the BX Swiss stock exchange (previous Bern Stock Exchange). All these stocks and ETFs will be traded on BX Swiss.
I have looked at the list of the actions and ETFs, and they have a good list of European ETFs. Unfortunately, since they trade on BX Swiss only, they do not offer US ETFs,  only European and Swiss ETFs. However, they have a good list of ETFs, allowing one to make a good diversified portfolio.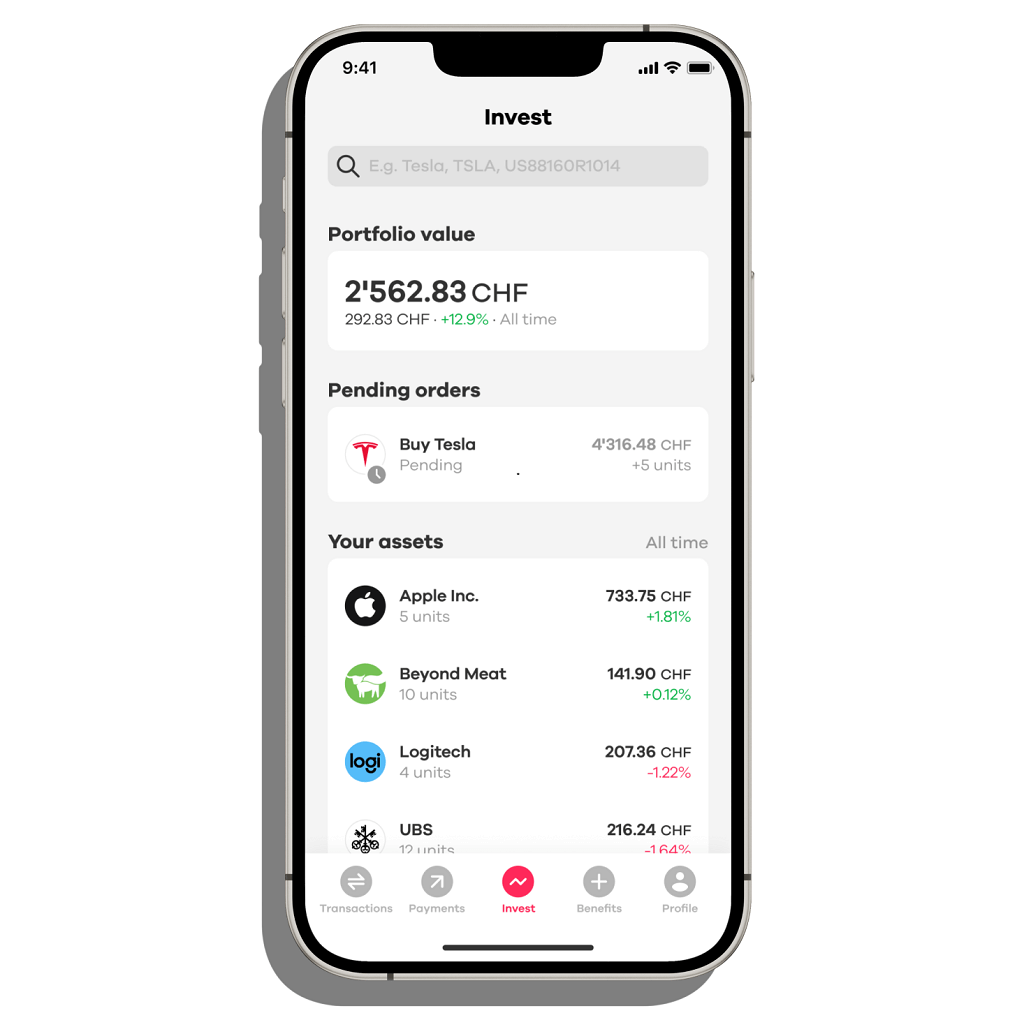 It is important to note that one disadvantage of using BX Swiss is that this exchange is rather small. This means the volume of trading is also low. As a result, the spread will be higher than on other exchanges. If you invest once a month, this should not make a big difference. But if you want to invest more actively, this can be detrimental.
Since Neon is a fully digital bank, it is only logical that Neon Invest also only works from your phone. You can access all these features directly from your Neon account.
Finally, Neon Invest currently only offers market orders. Limit orders would be great, but it is not as necessary as people think. If you are investing long-term, you want to buy now, not when you think it is a good price. When buying stocks and ETFs, I only use market orders.
So, overall, Neon Invest's features are limited, but these features should be enough for most people starting to invest. It should even be enough for most long-term passive investors.
However, it must be said that the lack of US ETFs makes it sub-optimal.
Investing fees
When investing in the stock, investing fees are very important. So, we must look in detail at Neon Invest fees.
First, Neon Invest has no custody fees. This is great because many services have hefty custody fees.
For trading, Neon Invest fees are really simple:
You will pay 0.50% of the trade value for all ETFs and Swiss stocks.
You will pay 1.00% of the trade value for all international stocks.
There is no minimum or maximum on these fees. This makes it very cheap to trade small operations and expensive for large operations. Here are some examples:
A 200 CHF trade in a Swiss stock would cost 1.00 CHF in fees
A 500 CHF trade in a Swiss stock would cost 2.50 CHF in fees
A 1000 CHF trade in a Swiss stock would cost 5.00 CHF in fees
A 5000 CHF trade in a Swiss stock would cost 25.00 CHF in fees
A 200 CHF trade in a foreign stock would cost 2.00 CHF in fees
A 500 CHF trade in a foreign stock would cost 5.00 CHF in fees
A 1000 CHF trade in a foreign stock would cost 10.00 CHF in fees
A 5000 CHF trade in a foreign stock would cost 50.00 CHF in fees
On top of that, you will have to pay the stamp tax duty. This fee is 0.075% on all Swiss shares and 0.15% on all international shares.
One unique feature of Neon Invest is that everything is traded in CHF. This is a feature of the BX Swiss exchange. One significant advantage is that there is no additional currency conversion fee.
You might think this is simply a way to hide the currency exchange of BX Swiss, but BX Swiss has no markup on the currency exchange. This makes trading foreign actions and ETFs very affordable.
There is one particular case where a currency conversion will happen. When you receive dividends in another currency, this dividend will be converted to CHF. For instance, if you hold shares of Microsoft, you may receive USD dividends. In that case, the partner bank will convert the dividends with about a 1.5% currency conversion fee. This is a significant fee!
For ETFs, this may make accumulating ETFs more attractive than distributing ETFs. But there are also other factors to deciding between accumulating and distributing ETFs.
Overall, fees are pretty good for starting investors. Having no minimum on trades makes it very easy to get started investing. Also, having no currency conversion fee on international shares is excellent. However, having no maximum means expensive fees for large operations.
On the other hand, the fee on international dividends is significant.
How to use Neon Invest?
You can access Neon Invest directly from Neon application. You can use the Invest tab at the bottom of the app to access Neon Invest.
The first time you invest, you will have to accept the conditions. After that, it will be very seamless.
I have tested Neon Invest by buying a few shares of Nestlé (a single example, not a recommendation). Once you select Nestlé, you can either buy or sell shares. In that case, if you click on buy, you should see this very simple screen: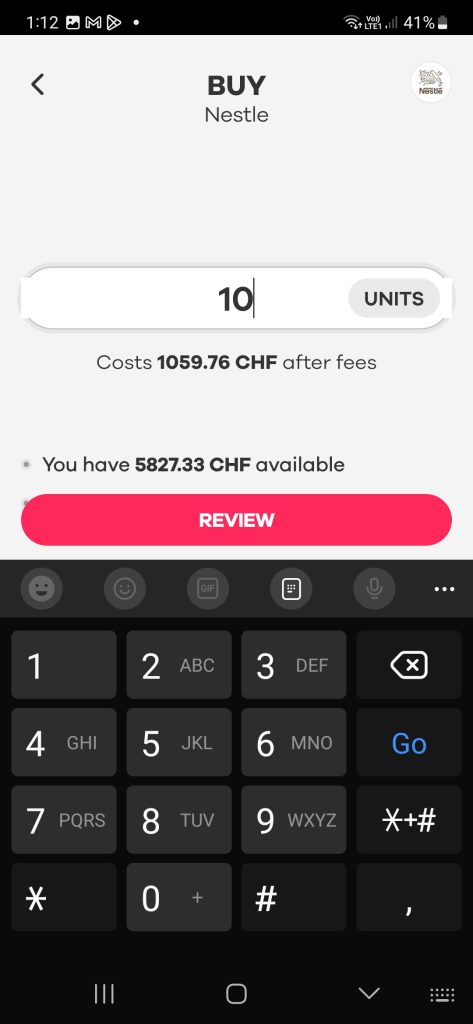 Once you click on Review, you get a summary of the operation before confirmation.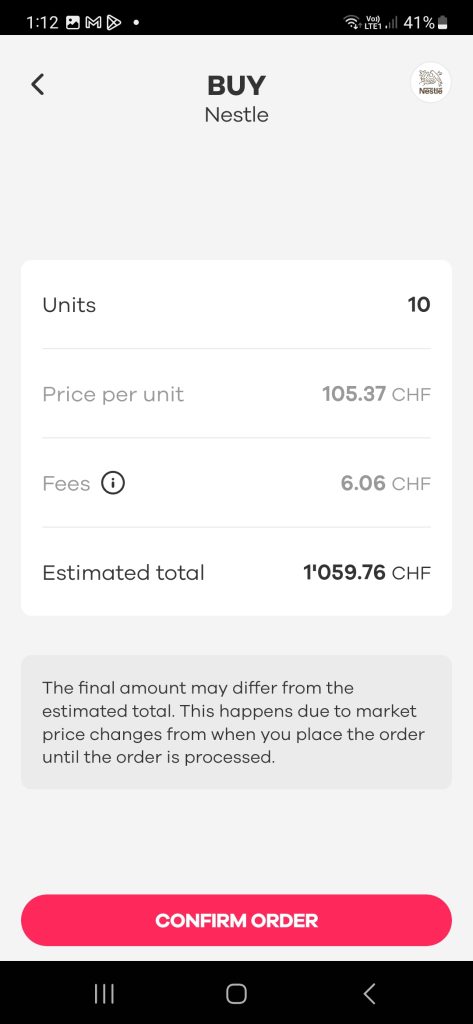 You can see here the estimated total and the amount of fees. It is really good that they are displaying the amount of fees on this screen. This is the 0.5% fee from Neon and the 0.075% stamp duty fee. Once you are done reviewing the order, you can confirm the order (or cancel it).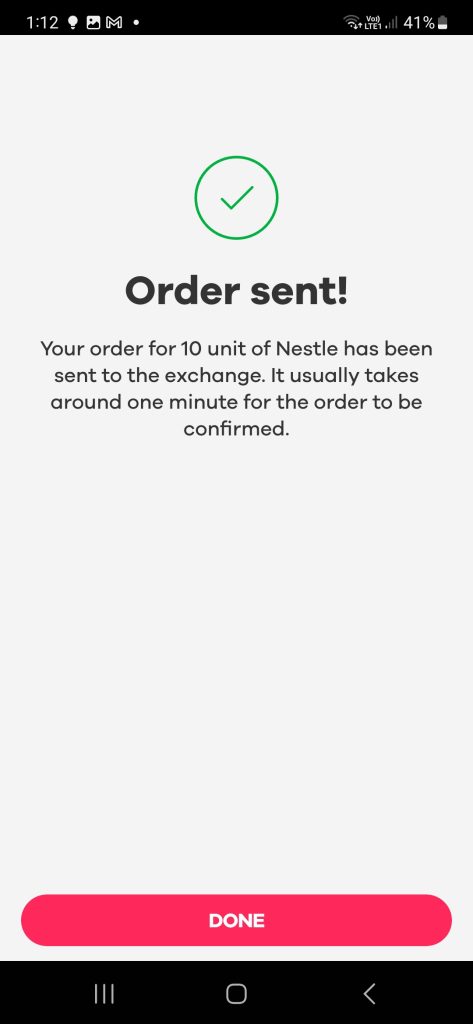 Once the order has been executed, you can see your shares in the portfolio view (the default view).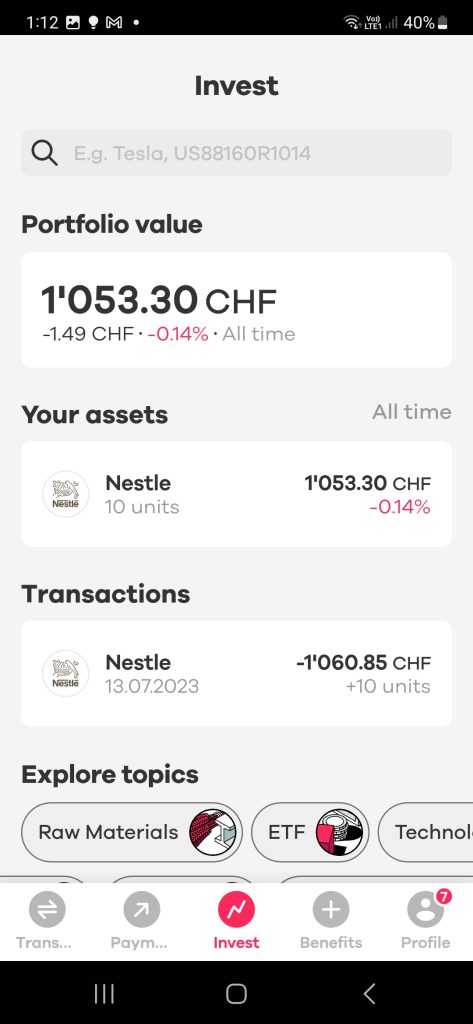 Overall, the process is extremely simple. Anybody can invest with Neon Invest.
Looking at an ETF, you can directly see the TER, which is great information. And they do not try to change the names misleadingly. You can also access the fact sheet, which is also good.
So, overall, investing with Neon Invest is very straightforward, efficient, and transparent.
Is investing with Neon safe?
When you are investing, you must consider the safety of your assets.
Neon itself is not a bank. As a bank account, they use Hypothekarbank Lenzburg (HBL) as a partner bank. And for trading, it is the same. Neon uses HBL as a custody bank for trading.
Your assets will be held in their custody bank in an account in your name. So, Neon could go bankrupt, and your assets would be safe since they are not on their balance sheet. On top of that, this custody bank has a good reputation.
Investing with Neon is as safe as investing with any other good Swiss broker.
Salary day issues
Something I should mention is that Neon often has issues on the 25th of the month. This day is the day most people get their salary. And when people get their salary, they pay their bills. It means this day is the most active of the month.
Today, we can often observe difficulty in connecting to the application and delays in the app.
Sometimes, it can be very frustrating to come into these issues.
Future features
It is worth mentioning a few future features that Neon Invest has planned.
Soon, Neon Invest plans to add more shares and ETFs to the list. They also plan to add more information in the app about these shares, such as sustainability ratings.
Neon also wants to support limit orders and pending orders. That means you can create an order during the weekend, which will be executed when the stock exchange opens. And you will also be able to set the price at which you want to buy or sell a stock.
Finally, they aim to allow users to register their shares in the share register. This is an excellent feature because very few modern brokers allow this. But this feature is likely to take a while to be implemented.
Alternatives
We should look at some alternatives and compare them with Neon Invest.
Neon Invest vs Yuh
Great to start investing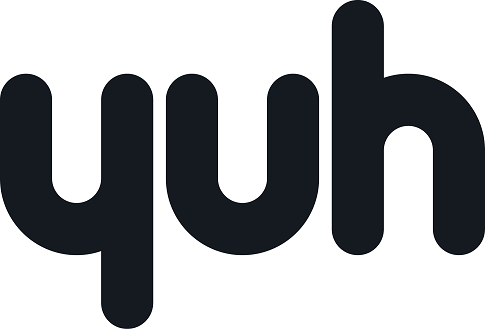 Yuh
No account management fees
Yuh is an easy and affordable way to invest in the stock market and spend money abroad.
Use my code YUHTHEPOORSWISS to get 25 CHF in trading credits!
Pros:
Low fees for small operations

Fractiona trading in stocks
Use the YUHTHEPOORSWISS code
Read our review
Code only for Swiss residents.
I have not yet compared Neon and Yuh in detail because Yuh offered some investment services while Neon did not (until now!). So, now that Neon offers investment services, we must compare these two digital banks. I will soon make a complete comparison because these two accounts are now fairly similar.
In terms of trading features, both services offer relatively similar features. They both only allow market orders. Yuh allows you to trade in foreign currencies. Also, Yuh allows fractional trading. So, Yuh has a slight advantage if you want to trade in fractions. Neither of them offers access to US ETFs.
In terms of fees, Yuh has a single fee of 0.5% fee for each trade on the stock market, with a minimum of 1 CHF. Neon Invest has a 0.5% fee for Swiss stocks and ETFs and a 1.0% fee for international stocks. However, a significant difference is that Neon has a 0% currency conversion fee while Yuh has a 0.95% fee.
So, both brokers have the same price for Swiss stocks and Swiss ETFs, but Neon is much cheaper for foreign ETFs (0.5% against 1.45%) and foreign stocks (1.0% against 1.45%).
Another significant advantage of Neon that I should mention is that it uses transparent names for the ETFs they offer. On the hand, Yuh uses misleading names for the ETFs. For instance, they use blue chips (implying safety) for several ETFs that are simply large indexes. So, we much appreciate transparency here.
Overall, I much prefer Neon's pricing over Yuh's. And I do not think the extra feature of fractional trading is enough to tilt the balance in favor of Yuh. So, Neon Invest is a better product than Yuh.
If you want more detail, I have a full comparison of Yuh vs Neon.
Neon Invest vs Interactive Brokers
The best broker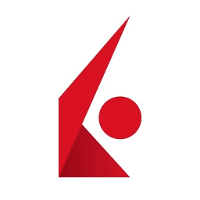 Neon and Interactive Brokers (IB) are very different services. Nevertheless, I think it is interesting to compare them both to see two extremes. Neon is a Swiss service, while IB is a US service (with a branch in the UK).
In terms of features, IB has all the features you can think of for the stock market. Neon Invest is much more limited but has all the features a beginner needs. An advantage of that is that Neon Invest is easier to start with since you are not confused by the number of features available.
That being said, several features of IB would also be interesting to beginners, such as limit orders and submitting orders outside of exchange hours. But these features should be coming to Neon soon.
In terms of fees, IB is almost always significantly cheaper. On medium to large trades, IB has the potential to be several times cheaper.
Finally, IB also has the advantage of offering access to US ETFs, the optimal ETFs for Swiss investors. If you have the goal of building a substantial portfolio, this can make a difference.
Overall, it is difficult to compare these two services since they are very different. Overall, IB is a better broker, and I still think IB is the best fit for people ready to use a foreign broker. But for beginners and people that want a Swiss broker, Neon Invest offers a terrific new alternative.
FAQ
On which stock exchange can you trade with Neon?
You can only trade on the BX Swiss stock exchange. But it contains both domestic and international shares.
Where do you get Neon Invest?
Neon Invest is simply a feature inside the Neon app. So you can access directly from within the app of your Neon account.
Is Neon Invest currency conversion fee really 0%?
Yes! Neon Invest only trades in CHF on BX Swiss. And BX Swiss itselfs converts foreign currencies to CHF without a markup.
Summary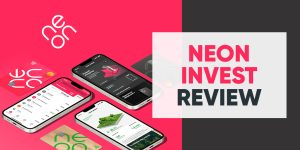 The great digital bank Neon, started an investment feature: Neon Invest! Is it any good? We find out in this in-depth analysis.
Product Brand: Neon
Neon Invest Pros
Let's summarize the main advantages of Neon Invest:
No currency exchange fee
Very fair prices
Access to many ETFs
Your assets are safe in the custody bank
Transparent
Very easy to use
Neon Invest Cons
Let's summarize the main disadvantages of Neon Invest:
No access to US ETFs
Expensive for large stock market operations
Only support market orders
Some issues accessing the app on the 25th of the month
Conclusion
Best App to Pay, Save and Invest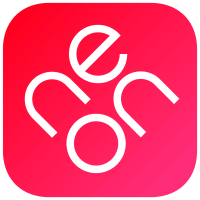 Neon
All the services you need to pay, save and invest, in a neat package, with extremely good prices!
Use the poorswiss code to receive 10CHF!
Pros:
Pay abroad for free

Invest with great fees
Use the poorswiss code
Read my review
Neon Invest is a very interesting product. It provides an excellent investment solution to customers that want to invest in the stock market easily.
Neon Invest managed to make very attractive fees. And it has all the essential features one needs to start investing in the stock market. When added on top of a great digital bank, I think this makes Neon even more interesting than it was before.
While it is a great product, I should mention that it is not perfect. For large operations, it can become expensive. And the lack of US ETFs makes any portfolio sub-optimal. That is why I am still using Interactive Brokers as my main broker. Nevertheless, Neon Invest is much easier to use than Interactive Brokers.
It is also worth mentioning that Neon offers 10 CHF for each new user using my code "poorswiss".
If you want to learn more about Neon, you can read my review of Neon bank.
What do you think about this new product?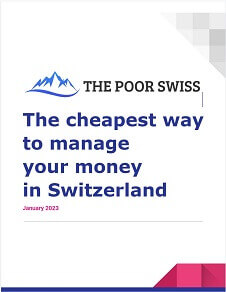 The best financial services for your money!
Download this e-book and optimize your finances and save money by using the best financial services available in Switzerland!
Download The FREE e-book