Yuh Review 2023: One app to pay, save and invest
|
Updated:
|
(Disclosure: Some of the links below may be affiliate links)
PostFinance and Swissquote just started a joint venture: The Yuh banking application. With Yuh, you can save money on your account, pay in Switzerland and abroad and invest in the stock market and cryptocurrencies.
Yuh is an entirely digital offer. They have no offices. You can manage all your money directly from your phone. So, you will pay your bills and invest your money in your smartphone.
So, should you use Yuh? What features does it have? And how much does Yuh cost? We will find out!
In this article, I will review Yuh's features, fees, advantages, and disadvantages.
About Yuh

| | |
| --- | --- |
| Custody Fees | 0 CHF |
| Inactivity Fees | 0 CHF |
| Buy Swiss ETF | 0.50% |
| Buy American Stock | 0.50% |
| Currency Exchange Fee | 0.95% |
| Languages | English, French, German, and Italian |
| Mobile Application | Yes |
| Web Application | No |
| Custodian Bank | Swissquote |
| Established | 2021 |
| Headquarters | Gland, Vaud |
Yuh
Great to start investing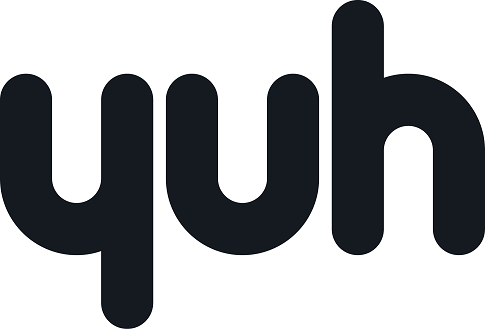 Yuh
No account management fees
Yuh is an easy and affordable way to invest in the stock market and spend money abroad.
Use my code YUHTHEPOORSWISS to get 25 CHF in trading credits!
Pros:
Low fees for small operations

Fractiona trading in stocks
Use the YUHTHEPOORSWISS code
Code only for Swiss residents.
In May 2021, PostFinance and Swissquote launched the Yuh service. They are trying to unify banking and trading services together. In addition, they want to unify paying, saving, and investing (both in the stock market and in cryptocurrencies) in a single app.
An interesting fact about Yuh is that they will share some of their profits with their cryptocurrency: the Swissqoins.
The main selling point of Yuh is to make it easy to do your everyday banking operations and invest in the stock market. Many people do not invest either because it is complicated or too expensive when starting with small amounts. Yuh tries to fight that situation.
It is important to note that Yuh is not a bank itself. However, for the customers, it does not make much difference. Indeed, your money will be held by Swissquote, which is a bank. It means your money will be insured for up to 100'000 CHF, the basic deposit protection as other Swiss banks.
So, overall, Yuh is trying to bring many new things! But does that make them any good? We should look at the details to find out.
Features
As mentioned before, Yuh acts as both a bank and an investment platform. So, we need to look at both banking and trading features.
Banking Features
For banking features, Yuh has all the basic features you can expect: you can pay your bills with the app and transfer money to and from your account. Currently, you can do wire transfers in many currencies.
You will get a Debit Mastercard to make payments and withdraw money in Switzerland and abroad. You can also pay online with a card with CHF, USD, and EUR (and a long list of other currencies).
The interesting thing about Yuh is that you have a multi-currency account. It means you can receive and keep other currencies in your account. So, for instance, you could receive EUR and keep them in your account. So, when you have to pay in EUR, it will directly use that balance instead of converting from CHF to EUR.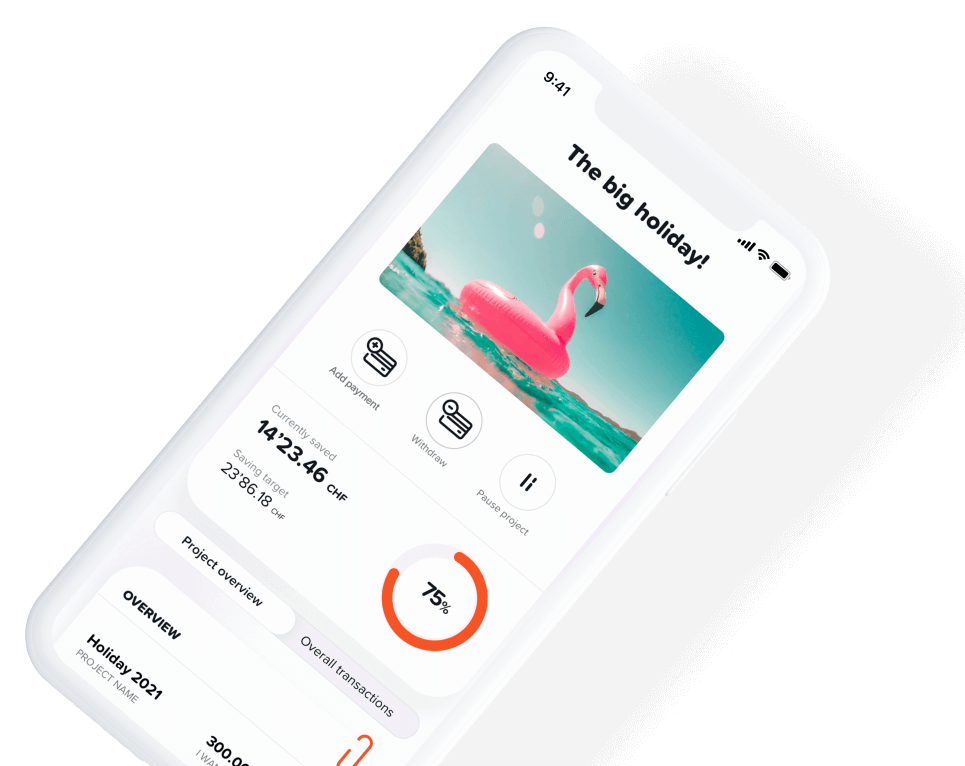 You can also do peer-to-peer transfers to other users of the application. This feature is good if you know other users of the app. They also have the usual features like savings goals I do not see any use for. These things are present in most digital banks.
They also have integrated ebills in their app.
Yuh supports Google Pay, Apple Pay, and Samsung Pay if you want to pay with your phone. Since May 2023, they also support TWINT with their Yuh TWINT app. So, Yuh has complete mobile payment support.
Several new features are planned, like virtual debit cards and teen accounts. You can consult their roadmap to follow their progress.
Overall, Yuh has all the banking features we need (and more) and is very transparent about future features.
Trading Features
Yuh is quite different from a standard broker. Indeed, they are trying to keep it simple. As such, they limit the list of stocks and ETFs we can trade. They try hard to make this list representative of what the users would need.
For an advanced investor, this is a disadvantage. But for a beginner investor, this is a good feature because it will help to choose. This makes Yuh easier for beginners.
Another limitation is that we can only use market orders at this time. Other orders, like limit orders, are planned in the feature. I think this makes sense because having multiple order types can confuse users.
It is also important to mention that the app is made to be easy to trade. It is really easy to get started with Yuh.
Unfortunately, Yuh does not offer any US ETFs. Since US ETFs are currently the best available to Swiss investors, not having them is a big disadvantage for Yuh.
Looking at the list of available ETFs, they are weirdly naming them. For instance, VWRD is called Global Blue Chips. And many other ETFs get the name blue chips.
I cannot understand why they would call them blue chips. VWRD contains all the stocks from the World stock market, not only blue chips. And even for the U.S., VUSD contains all the stocks from the U.S. stock market, not only blue chips.
It is poor miscommunication to imply that the stocks are blue chips which means safety for many people. If they wanted blue chips, they should have taken the Dow Jones Industrial Average, an actual index of so-called blue chips.
Finally, Yuh also gives you access to some cryptocurrencies, like Bitcoin and Ethereum. You can access 34 cryptocurrencies, which should be enough for most people. It is unclear whether you can have proper wallet security, but I expect not. And generally, if you cannot have your cryptos in your wallet, you should not use a platform. But since I am not a crypto expert, I will not detail their crypto features.
Overall, Yuh has great trading features for beginners. But it is not an app for advanced investors.
Yuh Fees
After looking at the features, we need to look at the fees offered by Yuh. Since yuh is a banking and investment package, we must cover both.
Banking fees
We start with the banking fees of Yuh.
The basic operations are all free:
Paying for your bills
Transfer money to and from your account in CHF
Paying in Switzerland with the Debit Mastercard

Paying abroad is fee-free, but you will pay high currency exchange fees

Free transfers in EUR in the EEA zone
Peer-to-peer payment in the application
For withdrawals, you will get one free withdrawal per week in Switzerland. Subsequent withdrawals will cost 1.90 CHF. If you withdraw money abroad, you will pay 4.90 CHF.
However, you will only be able to withdraw 1000 CHF per day and at most 10'000 CHF per month. This limit should be good per month, but this could be an issue daily.
There is no limit to wire transfers. But there is a limit for paying with the card that you can configure between 500 CHF and 25'000 CHF.
Yuh has positive interest rates, which is extremely rare. Indeed, you can get 0.50% on CHF, EUR, and USD. And this is paid for up to 100'00 CHF balances. It is still a great feature if you often hold cash. Some people would like to use this for their emergency fund.
Now comes the expensive part: currency exchange! Yuh is charging 0.95% per currency exchange. All your operations in a foreign currency will cost you 0.95%. This fee is funny because they claim transaction fees are free in 12 currencies, but you have to pay the currency exchange, so it is not free. And if you work with currencies not included in the app, you must pay 1.50%!
For me, the currency exchange fee makes Yuh highly unattractive. Currently, there are several interesting alternatives with free payments in foreign currencies and comparable features for the banking side.
Trading fees
We then look at the trading fees of Yuh.
First, there are no custody fees. So, you will not pay anything to keep your account open without doing anything. This is a good advantage!
Then, the transaction fees are straightforward:
0.5% fee for the stock market with a minimum fee of 1 CHF
1.0% fee for cryptocurrencies without a minimum
Compared with other Swiss brokers, these fees are relatively cheap for small operations on the stock market. But they are expensive for large operations. For instance:
A 1000 CHF investment will cost you 5 CHF, which is cheap
A 10'000 CHF investment will cost you 50 CHF, which is expensive
On top of that, you will also pay currency exchange fees of 0.95% for your operations with currencies you do not have. For instance, if you have only CHF and want to buy something in USD, you will pay a 0.95% fee. This fee is quite expensive.
Fortunately, the dividends will stay in their original currency. So you will not lose 0.95% of all your dividends in USD, for instance.
Of course, you will have to pay the management fees of the ETFs. This is logical, and it is the same for each broker.
Overall, these fees are good for beginners investing small amounts. But for advanced investors investing large amounts, they are quickly expensive. This shows once again that Yuh is great for beginners. But you have to be careful about currency conversion fees.
Swissqoins
A unique feature of Yuh is its Swissqoin (SWQ). Swissqoin is a new cryptocurrency token that only exists within Yuh.
There are several ways of earning SWQ:
By depositing 500 CHF in your account when you open it, you will get 250 SWQ
By referring another user, you will get 500 SWQ
By making a trade on Yuh, you will get 5 SWQ
By paying with your Mastercard, you will get 1 SWQ
You can either redeem them for cash, send them to other Yuh users or keep them in your account.
Currently, one SWQ is worth 0.01 CHF (1 cent). There are 200 million Swissqoins, backed by a 2 million CHF reserve account. But this reserve account is expected to grow with time. Indeed, Yuh will reinvest 10% of its revenues into Swissqoin every month. Now, they say it is only 10% of the subscription revenues. However, there are currently no subscriptions, and there will not be any until 2022. So, I am reading that they will not reinvest anything before 2022, at least.
In 2023, they have added 100 million Swissquoins, with another million CHF in reserve. This was made because the supply of Swissquoins was running out faster than they had expected.
I do not see any value in that cryptocurrency thing. I would rather have a hard cashback or fee reduction on the operations than this gimmick.
Alternatives
In both banking and investment services, there are many alternatives available. So, we should compare these services a little.
One of the selling points of Yuh is to be a multi-currency account that you should be able to use in many countries. If you want to pay abroad for free, we can compare it with Neon (my review).
Yuh has a 0.95% currency conversion fee against 0% for Neon (but about 0.4% for the MasterCard rate). So, Neon is already better than Yuh on this selling point. And if you want to hold multiple currencies, both Revolut and Wise will be cheaper.
We can also compare with Swissquote (my review of Swissquote), the company behind Yuh, and a broker. For small operations, Yuh would be significantly cheaper. On the other hand, it would become more expensive for large operations.
And Yuh has a very limited set of investments compared to the extensive set of instruments available with Swissquote. So, I would rather use Swissquote directly. For more information, you can read my article about Yuh vs Swissquote.
Finally, if we compare it with an international broker like Interactive Brokers, Yuh falls quickly behind. Most transactions (except tiny transactions on SIX) are cheaper (and sometimes very significantly) at IB. And IB has many more features than Yuh. You can read my review of Interactive Brokers for more information.
Since Neon introduced investing features in 2023, Yuh and Neon are now very similar services. You can read my comparison of Yuh and Neon for more information.
Overall, I would only recommend Yuh for trading for beginners. I would not recommend Yuh as the primary bank. There are better alternatives. And for advanced investors, there are better alternatives as well.
FAQ
How many ETFs can you trade with Yuh?
With Yuh, you can only trade more than 50 different ETFs.
How much does a currency exchange cost with Yuh?
Yuh is charging 0.95% per currency exchange.
Is money deposited with Yuh insured?
Yes, your money will be held by Swissquote, which is a bank. It means your money will be insured for up to 100'000 CHF, the basic deposit protection as other Swiss banks.
Can you use Limit orders with Yuh?
Not yet, but they plan adding this feature in the future. In the meantime, trading in market orders works perfectly well for most investments in reputable stocks.
Can you trade in fractions with Yuh?
Yes! Yuh is among the very few Swiss brokers that allow fractional trading!
Yuh Summary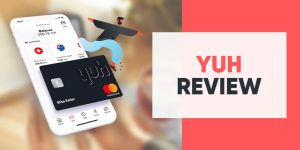 Yuh is an easy and affordable way to invest in the stock market and spend money abroad.
Product Brand: Yuh
Yuh Pros
Let's summarize the main advantages of Yuh:
Very easy to invest in the stock market
Fractional trading
Free EUR bank account
Multi-currency account
No custody fees
Cheap fees for small trading operations
The money is kept safe by Swissquote
Backed by two large institutions
Pay online for free in multiple currencies if you have the money already
Yuh Cons
Let's summarize the main disadvantages of Yuh:
Expensive currency exchange fees
No access to U.S. ETFs
Not great for advanced investors
Conclusion
Great to start investing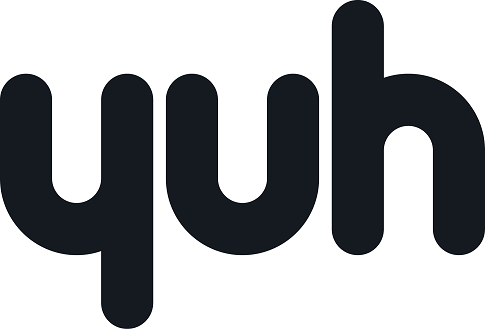 Yuh
No account management fees
Yuh is an easy and affordable way to invest in the stock market and spend money abroad.
Use my code YUHTHEPOORSWISS to get 25 CHF in trading credits!
Pros:
Low fees for small operations

Fractiona trading in stocks
Use the YUHTHEPOORSWISS code
Code only for Swiss residents.
Overall, Yuh is a great trading platform for beginners. The app is very easy to use, and the fees are low for small transactions. If you want to start to invest and want something simple, Yuh will be great for you.
As for the banking package, the main issue is the currency conversion fee. Their currency exchange rates are very high compared to other actors in the market. This is disappointing for a multi-currency app. So, if you want a digital bank to pay abroad, you should use another bank.
To conclude, Yuh is great for beginner investors to start investing without trouble. However, if you want an excellent digital bank, you can use Neon and save on fees abroad. And if you are an experienced investor, you can use Swissquote with many more features.
What about you? What do you think of Yuh?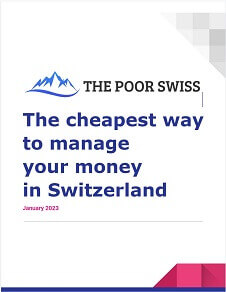 The best financial services for your money!
Download this e-book and optimize your finances and save money by using the best financial services available in Switzerland!
Download The FREE e-book