How to Open a DEGIRO account and start trading
|
Updated:
|
(Disclosure: Some of the links below may be affiliate links)
You will need a broker account to start investing in the stock market. DEGIRO is a good broker for European investors.
In this article, we see how to open an account with DEGIRO. Once these steps are done, you will be ready to trade Exchange Traded Funds (ETFs) on DEGIRO.
DEGIRO is a very affordable broker for European investors. It is well-priced and offers a great choice of investment products.
And remember: Investing involves the risk of loss. Always do your research before you invest and know why you invest and what you invest in.
Choosing a broker
The first thing you have to do is to choose a broker. Your broker will give you access to various stock exchanges. And from them, you will be able to buy and sell ETFs.
There are a lot of options for brokers. The choice will depend on your investing style, of course. You need to know in advance how often you will trade. You also need to know which stock exchanges you will invest in. Some stock exchanges are more expensive than others. Not all brokers offer the same price for each exchange.
The main points for comparing brokers should be:
The availability of your products. You want access to all the ETFs you need for your portfolio.
The price per year for your investing style. Check the fee for each order you will use and estimate per month and year. You want to spend as little money as possible on your broker.
The ease of use. You will use it regularly, so you want it to be simple. But since you will not use it daily, this is not a deal-breaker.
The security of the broker. You do not want issues because you are using an unsafe broker.
The reputation of the broker. If there is anything shady about a broker, you should avoid it.
These are the main points that most people should use to compare brokers. Based on your situation, you may have different points for comparing them.
Ultimately, do not forget that choosing a broker is a personal choice.
DEGIRO as a broker
Great broker for Europe

DEGIRO
Everything you need to start investing in the stock market! Trade U.S. securities for as little as 2 EUR!
Pros:
Low prices

Many investing instruments
Start investing today
Read my review
Get 100 CHF in fees reimbursed in your first month if you open an account before October 1st, 2023.
DEGIRO is a good European broker from the Netherlands. For European investors, it is an excellent choice.
If you want to learn more, you can read my review of DEGIRO.
With DEGIRO, a few of the ETFs are free of transaction costs. If you already know your portfolio, you can look at the DEGIRO list of Free ETFs.
This article will show you the different account types at DEGIRO and how to open an account with them. After that, the next step will be to start trading with DEGIRO.
DEGIRO Legacy Account Types
Currently, there is only one interesting account type left, the Basic account. DEGIRO stopped offering Custody accounts in late 2021 without communicating the rationale for that change.
Before, there were two main types of accounts: Basic and Custody. The default option was the Basic account. In the Basic account, DEGIRO can loan your securities to other users, which is how they can keep the fees low.
On the other hand, the Custody account means the securities are held separately, and they cannot lend to third parties. There were also a few disadvantages, such as dividend fees, but people liked this account to avoid securities lending.
It is a bit sad that DEGIRO stopped offering the Custody account. It was a good option for people who did not wish to see their shares lent to others.
On the other hand, I do not think the risk is high in lending your shares. When investors borrow shares, they provide collateral. So, this collateral will protect you. But there is an additional risk.
You just need to be aware that DEGIRO may lend your shares. If this is not acceptable to you, you should use another broker.
If you want leverage, you can also access three other account types: Active, Trader, and Day Trader. However, for simple passive investors, the Basic account is more interesting.
Open a DEGIRO account
It is now finally time to describe how to open a DEGIRO account. The process is straightforward.
First, you go to the DEGIRO website. And then, you use the big "Open An Account" green button on the top right. From there, you will have to fill in the standard information for an account:
Email, username, and password
Your address
Then, you need to activate your account from your mail. And then again, answer many questions about you and accept the conditions.
Finalize your DEGIRO account
Then, you need to make the first deposit to validate your account number. You can make it instant with SORFORT or make a regular bank transfer. I chose to deposit 100 CHF with an instant deposit (SOFORT).
Finally, your DEGIRO account is ready. Once you are there, I strongly recommend you turn on two-step verification. You can use a Google Authenticator or any other authentication service. It is essential to improve the security of your online broker account.
Conclusion
Opening a DEGIRO account is very simple. You can get your account ready in less than one hour with an instant deposit. You can then start trading directly. The procedure is straightforward, fast, and easily the most simple broker account I have ever opened.
If you want to transfer more money later, the funds will take longer to reach your account. DEGIRO is sometimes a bit slow in processing the money. Once the money reaches them, it can take more than one day to appear in your account. But wire transfers are still better than paying for instant deposits.
What do you think about DEGIRO? Which broker do you use?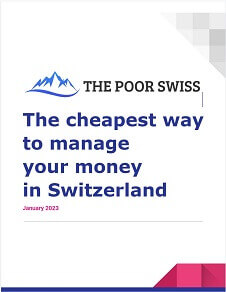 The best financial services for your money!
Download this e-book and optimize your finances and save money by using the best financial services available in Switzerland!
Download The FREE e-book