(Disclosure: Some of the links below may be affiliate links)
Frankly is a third pillar account offered by Zurcher Kantonal Bank (ZKB). It is an interesting third pillar because it allows you to invest heavily in stocks. And on top of that, the fees are pretty low.
It is good to see that there are more and more alternatives for good third pillar accounts in Switzerland.
So, let's see what exactly is Frankly and how good it is!
In this article, I look at many things about Frankly: its investment strategies, fees, and security. And I also compare it against other good third pillars.
Frankly 3a from ZKB
Frankly is a third pillar account offered by the Zurcher Kantonal Bank (ZKB).
ZKB is a large bank that was established a long time ago. They started Frankly as a mobile-only service to appeal to the younger generations. And they are also focusing on people investing in their pillars. As we will see, you can invest a large portion of your funds in stocks with this third pillar account.
Frankly is a very new service. ZKB officially launched Frankly in March 2020. But they already reached 100 million CHF of assets under management. One good thing about this service is that they promised that the fees would go down as more and more people use it. ZKB already reduced Frankly fees by 0.01% once they reached 100 million CHF. So hopefully, in the future, the fees will go down even lower.
So, let's see what Frankly has to offer.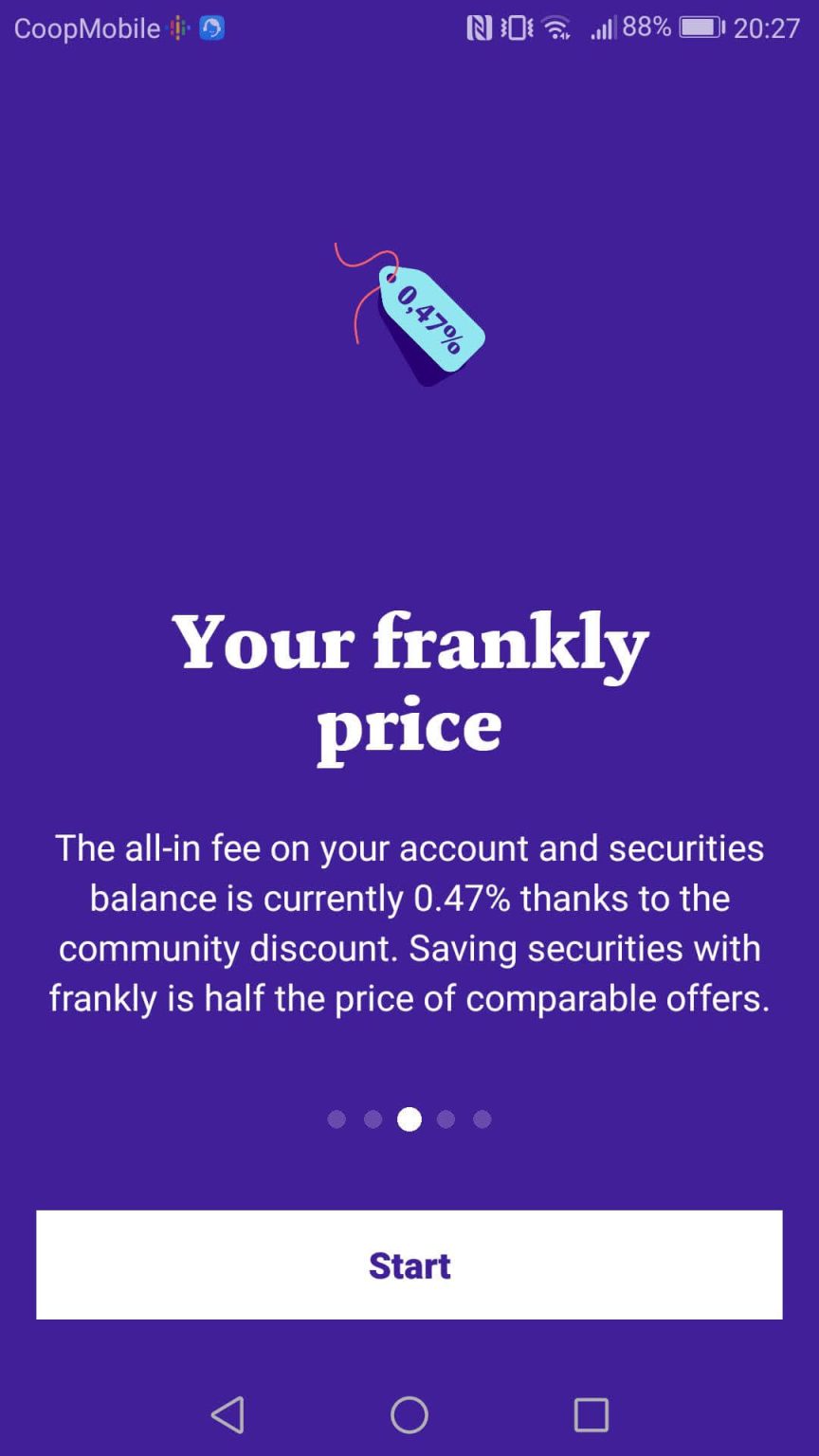 Investment Strategies
Frankly is highly focused on investing in the stock market. You can choose between eight different strategies in your Frankly account:
Light 10 Active
Gentle 25 Active and Gentle 20 Index
Moderate 45 Active and Moderate 45 Index
Strong 75 Active and Strong 75 Index
Extreme 95 Index
The number in each of these strategies is the allocation to stocks. So, the Extreme 95 Index strategy allocates 95% to stocks, while the Light 10 Active strategy only allocates 10% to stocks. The rest is invested in bonds, precious metals, and real estate.
Active denotes active investing while Index denotes passive investing. I am a firm believer in index investing. If I were to use Frankly, I would use one of the Index strategies.
It is excellent that you can invest up to 95% in stocks. And you can get 100% invested since the rest will be invested in real estate and precious metals. But there will always be a very small cash portion. As of this writing, there is 0.5% cash in the Extreme Index strategy.
Each of these strategies invests in a single fund from Swisscanto (a subsidiary of ZKB). So, if you want details, you will have to go to the Swisscanto website and look at the fact sheet of the funds. I wish that all this information was available transparently on the Frankly website. There is a considerable lack of information on the Frankly website.
The Extreme 95 Index strategy seems good. It uses Passive investing through indexes. However, they do not share which indexes are being used. It is another transparency issue with Frankly.
Let's take a look at the detailed allocation of the Extreme 95 Index strategy. This strategy uses the Swisscanto (CH) IPF III Vorsorge Fonds
95 Passiv NT CHF fund. Here are the most essential characteristics of this fund:
The TER is 0%
There is a 0.10% issuance fee
There is a 0.09% redemption fee
30% is invested in Swiss Stocks
65% is invested in foreign stocks
2.5% is invested in Swiss Real Estate
2.5% is invested in precious metals
At least 70% is held in CHF
This last information is essential but is often overlooked by investors. There are only 30% of Swiss shares in this fund. So, investments in foreign shares are being hedged against CHF. Currency Hedging means you get insurance against variations of the currency pair that would cost you money.
Currency Hedging is a good tool but not a long-term tool. It is great to hedge your investments if you are investing in the short term. But if you are investing for the long-term, currency hedging is too expensive.
The fact that a large percentage of foreign currencies are being hedged is a large disadvantage of Frankly in the long term.
Overall, the investment strategies of Frankly are good but could be better. It is terrific that they have passive investing options. And they let you invest a large portion in stocks. On the other hand, transparency could be much better, and the hedging will end up costing too much in the long term.
Fees
In the long term, fees are extremely important. Therefore, we need to look in detail at the fees of Frankly.
Regardless of your investment strategy, you will pay 0.47% in fees to Frankly. It means that every year, you will lose 0.47% of your invested money. Even if this fee seems high, it is pretty low for third pillars in Switzerland.
On top of that, you will have to pay some fees based on the funds you choose. These are mostly issuance and redemption fees. The issuance fee is removed when you buy new shares. And the redemption fee is due when you sell shares. For instance, with the Extreme 95 Index strategy, you will pay a 0.10% fee when you invest and a 0.09% fee when you sell.
Issuance and redemption are not as bad as management fees because they apply once (unless you change strategy often). But you need to keep them in mind. If you are investing in the short-term (if you are close to retirement, for instance), this may eat a lot of your profits.
There is a critical thing with these fees. The 0.47% all-in fees apply to each of the investing strategies. It means that even if you only invest 10% in stocks, you will pay 0.47%. So, you will pay a high fee for very little investment. It makes Frankly a bad third pillar for investing little in stocks. If you do not want to invest a lot of money in stocks, Frankly is not for you!
On top of that, there are the costs of hedging. It is difficult to put them in absolute since this will depend on the future. But on average, we can say that this will be at least a 0.20% extra fee per year. And it could be more.
Overall, the base fees of Frankly are really good. However, the hedging costs will weigh you down.
If you are not convinced by their importance, read about why investing fees are very important.
Open a Frankly account
You can directly open an account from the mobile application.
For this, you can download the application from your favorite app store and follow all the basic steps of creating an account. During the process, it will ask you for your ID, so make sure you have it ready. It is a straightforward process that is well done.
I am not going to go over all the steps. Anybody can follow these steps without any help!
Once you are done creating your account, you can directly fund. If you already have another third pillar account you want to transfer, Frankly will give you the necessary forms. You can fill the form and post the documents. They will then take care of everything.
ZKB did a good thing in creating a seamless onboarding process. It is well done and simple. The application itself is simple and practical.
Something good is that you can create up to five accounts for yourself. It is an excellent feature since it will allow you to save money on taxes. For more information on that, I invite you to read my detailed article on the third pillar.
Overall, there is nothing wrong with the onboarding and the usage of Frankly.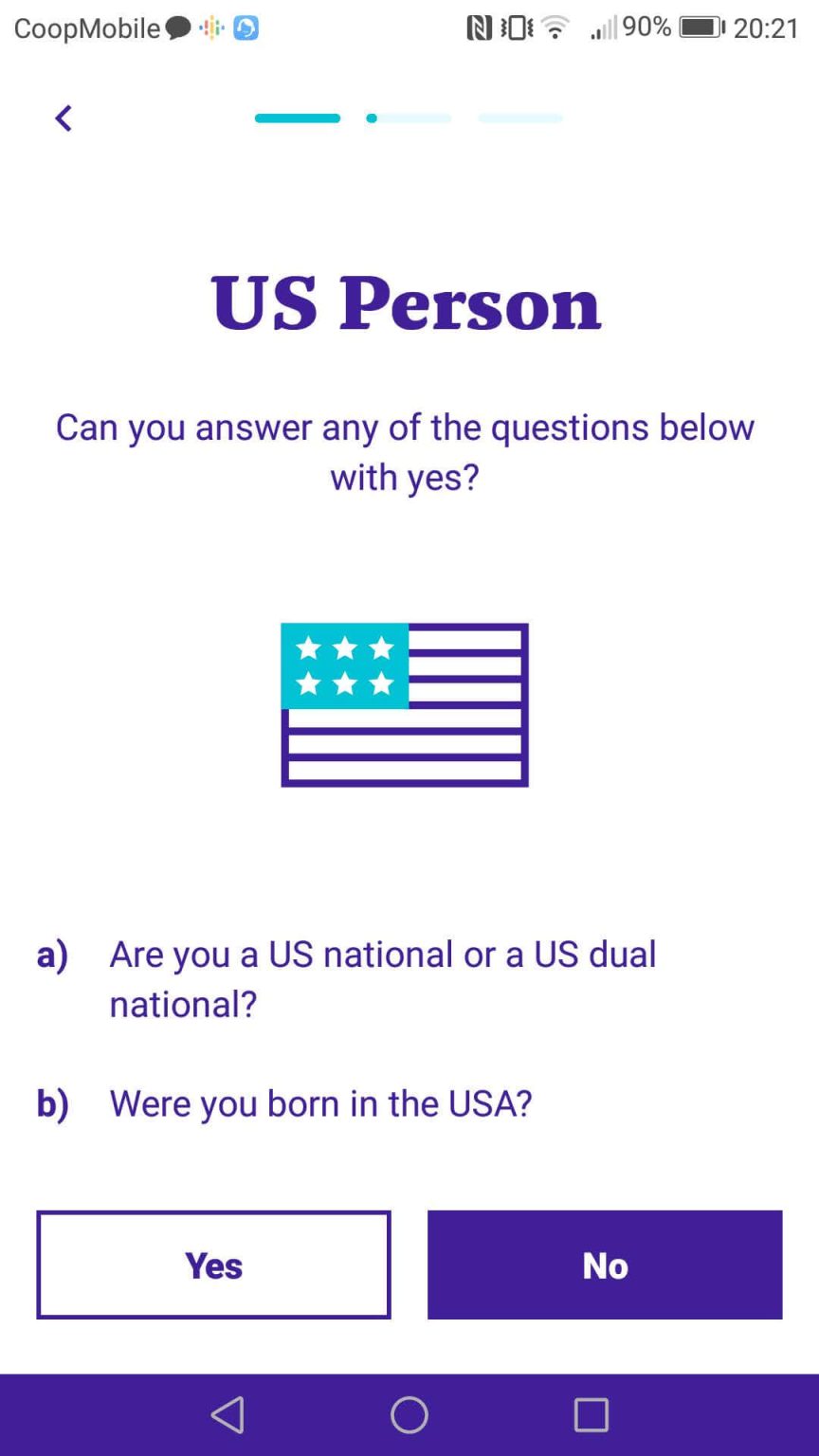 Security
If you want to invest money in financial services, you need to make sure the security is good.
From a technical point of view, Frankly has good security. The app is linked to your phone. It means that having your password will not be enough for anyone to access your account. It is the default way of securing mobile applications these days.
Your invested assets will be held in your name as shares of the various Swisscanto funds. If ZKB fails, the shares will still be yours. It may take some time to recover, but it is safe. And the cash will be held by ZKB.
Overall, there is nothing wrong with the security of Frankly. They are not doing anything special, but they are providing the same level of security as other similar apps.
Frankly vs Finpension 3a
Best Third Pillar!
Finpension 3a
Finpension 3a is the best third pillar in Switzerland.
Use the FEYKV5 code to get a chance to win 6883 CHF in your third pillar*!
*(if you deposit 1000 CHF in the first 12 months)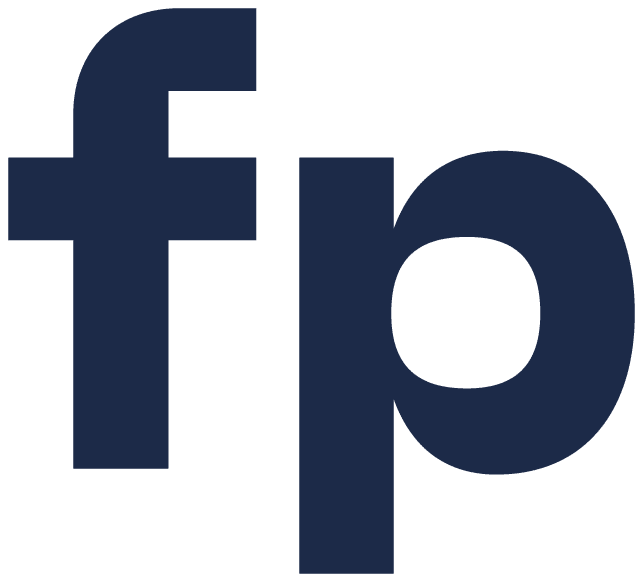 I use and recommend Finpension 3a as the best third pillar in Switzerland. So, let's see how Frankly compares with Finpension 3a.
First of all, if we look at the fees, Frankly is slightly more expensive than Finpension. Indeed, it has a TER of 0.47%, while Finpension's fee is 0.44%. This difference is not significant, but over the long term, it could make a difference.
With Finpension 3a, you can invest up to 99% in stocks but only 95% with Frankly. 4% more invested in stocks could make a significant difference in the long term.
From a usability point of view, Fnpension 3a has a slight advantage since they also offer a web application and not only a mobile app. It is good for people like me who are not fond of mobile phones.
One place where both services differ is in the information they share. With Finpension 3a, you can get the details of the indexes they are invested in. And you can get good information directly from the website and the app. On the other hand, Frankly is not transparent. They always refer you to PDFs of Swisscanto, and they do not share in which indexes they invest, only in which fund they invest in. So Finpesion 3ais much more transparent than Frankly.
For me, the most significant difference between these two third pillar accounts is in the currency hedging. Finpension 3a does not force you to hedge a large portion of your foreign assets. With Frankly, you will have a minimum of 70% of your portfolio in CHF, with currency hedging.
It will be costly in the long term since you are going to miss out on returns. If you are close to retirement, this may be an advantage. But for most people, this will be a significant disadvantage. And this difference will make Frankly more expensive than Finpension 3a.
On top of that, Finpension 3a is much more flexible in that you can have 99% in foreign currencies. For aggressive investors, this could make a very significant difference.
So, given the lack of transparency and the mandatory currency hedging, Finpension 3a is significantly better than Frankly and remains the best third pillar currently.
If you want more information, I have an entire Review of Finpension 3a. In the future, I may make a full comparison of both services. But for now, it seems that Finpension 3a is still the best third pillar.
In the future, I may make a full comparison of both services. Let me know if you would be interested.
Frankly Pros
Let's quickly summarize the advantages of Frankly:
The TER is very low, at 0.47% per year.
You can invest up to 95% in stocks.
The mobile app is fairly easy to use.
You can create up to five accounts.
Frankly Cons
Let's also summary the disadvantages of Frankly:
A large part of the foreign currency is hedged to CHF. It will lead to lower returns in the long term.
There is a strong lack of transparency on the website.
You cannot customize your portfolio yourself.
You can only use it on your phone.
Conclusion
Frankly is a good third pillar account. It is significantly better than most third pillar accounts out there. The fees are quite low, and it offers a large investment in stocks. The fact that it's mobile-only could also appeal to many people.
However, it is not the best third pillar. Currently, Finpension 3a remains the best third pillar available in Switzerland. Finpension has several advantages over Frankly:
Finpension 3a does not hedge to CHF by default
Finpension 3a lets you invest more in stocks
Finpension 3a lets you use a customized portfolio
Finpension 3a is much more transparent
Finpension 3a is cheaper
If Frankly were to offer non-hedged alternatives, it would become much more interesting! In the meantime, it is a good third pillar account, but Finpension is still the best option.
If you want more information on the best third pillar, I would recommend reading my review of Finpension 3a.
If you are using Frankly, I would love to get your feedback on this service.