VIAC 3a Review 2023 – Pros & Cons
|
Updated:
|
(Disclosure: Some of the links below may be affiliate links)
There are many third pillar providers in Switzerland. Some of them are good, but most of them are too expensive. You do not want to waste your retirement bank on fees. Therefore, you need to choose the best third pillar provider.
In 2018, VIAC started on the market of third pillars. VIAC is the first mobile third pillar. And they are really interesting! VIAC has very low fees and lets you invest up to 99% exposure in stocks. It is significantly better than what I have found before in other third-pillar providers.
In this article, I do an in-depth review of VIAC! Among other things, we will look at this service's investing strategies and fees.
About VIAC

| | |
| --- | --- |
| Total Fee | 0.41% per year |
| Maximum portfolios | 5 |
| Stock allocation | Up to 99% |
| Maximum foreign exposure | 60% |
| Maximum investment in cash | 100% |
| Investment Strategy | Index funds |
| Fund providers | Credit Suisse and Swisscanto |
| Languages | English, French, German, and Italian |
| Sustainable option | Yes |
| Mobile Application | Yes |
| Web Application | Yes |
| Custodian Bank | WIR |
| Established | 2018 |
| Foundation's domicile | Basel |
VIAC


VIAC is a recent actor in the third pillar area. It was launched in 2018. And it is becoming more and more popular.
It is pretty new compared to other big banks. It is essential to mention that VIAC is not a bank. The money you have with them is stored in the WIR bank. As such, you will have complete protection up to 100'000 CHF like the other banks. This protection is critical. Without that, I would not consider this provider at all. You want your money to have maximum protection.
VIAC is quite different from the other providers. You will only have access through a mobile application or web application. They do not have offices where you can do operations with them. This absence of bank offices is what makes them offer very low fees.
They started with only a mobile application. But since then, VIAC has added support for a web application. The web application is great for people like me who are not fond of mobile phones. And most people will probably like mobile applications since people are fond of phones.
To learn more about VIAC, you can read my Interview of Daniel Peter, CEO of VIAC.
So, we will see how good VIAC is as a third pillar in Switzerland.
Investing Strategies
4/5
For long-term investors, the investing strategy of a third pillar is essential.
VIAC offers three sets of strategies:
Global – Investing in the entire world.
Switzerland – Investing in Switzerland
Global Sustainable – Investing in the whole world but omits some stocks such as tobacco or weapons stocks. This is called sustainable investing.
Each strategy has five variants: 20, 40, 60, 80, and 100. These variants specify the allocation to stocks.
You can also define your strategy by composing it with their different underlying funds. This customization is an excellent way to choose exactly what you want to invest in. But then, you need to have a good idea of how to create a custom portfolio. I would not recommend this to a starter investor.
The fact that we can go up to 100% invested is great! For a long-term aggressive investor, this is ideal. It is investing only 99% since they keep 1% in cash in each portfolio. But 99% is already a great amount invested in stocks.
Interestingly, they allow you to invest in either cash or bonds if you do not fully invest in stocks. This is great for people that do not think bonds will overperform cash.
You can also have several portfolios, up to five. Having five accounts is great for optimizing taxes by making staggered withdrawals.
VIAC Global 100 Fund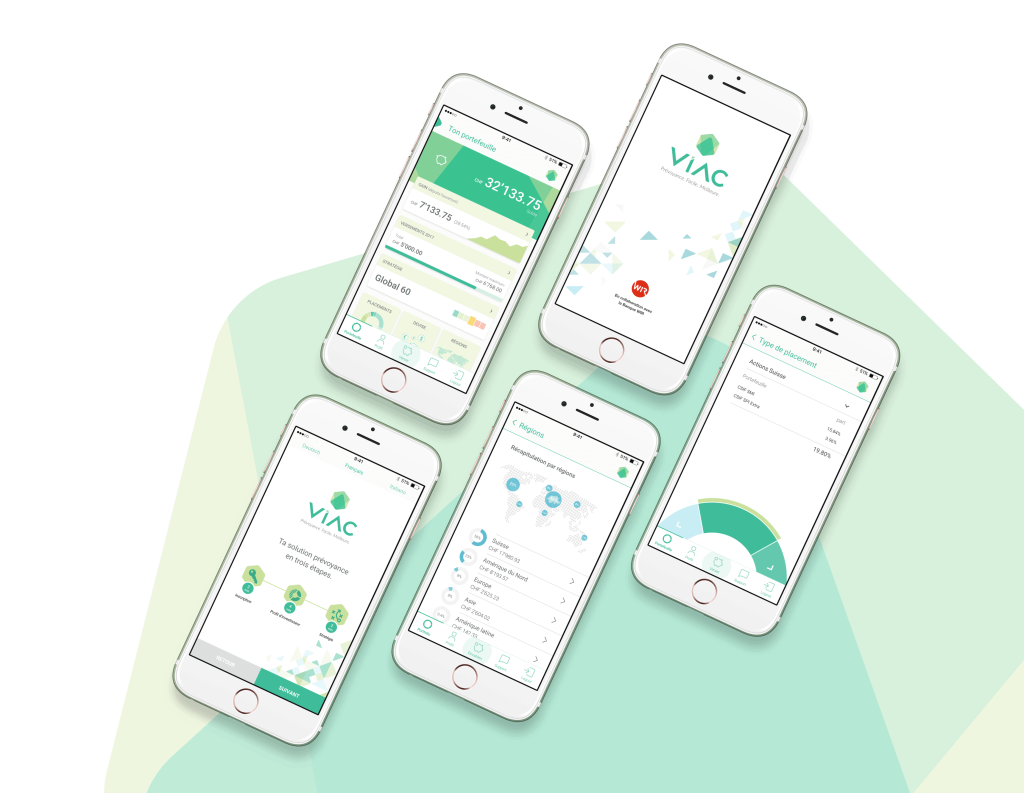 The most interesting strategy is the VIAC Global 100 strategy. This strategy is what I chose for my VIAC account when I was using it.
This fund invests 99% in stocks. Out of these stocks, 40% are Swiss stocks. Because of regulations, each portfolio is limited to 60% in foreign currency exposure. This is not a limitation on Swiss stocks since you could use CHF-hedged funds to get more foreign exposure while keeping under the limit. But the default portfolio uses Swiss Stocks for 40%. The rest is invested in the entire world based on market-cap weight. The remaining 1% is allocated to cash.
The TER of this strategy is 0.45%. And there are no other fees! This makes it a very cheap solution for Switzerland!
Here is the allocation by region of the Global 100 fund: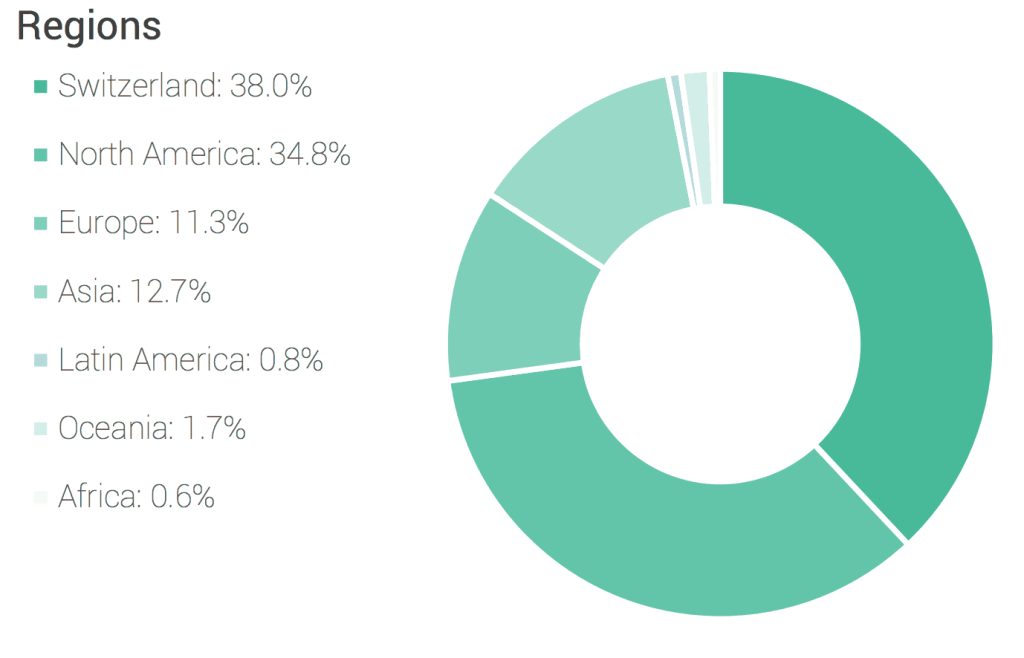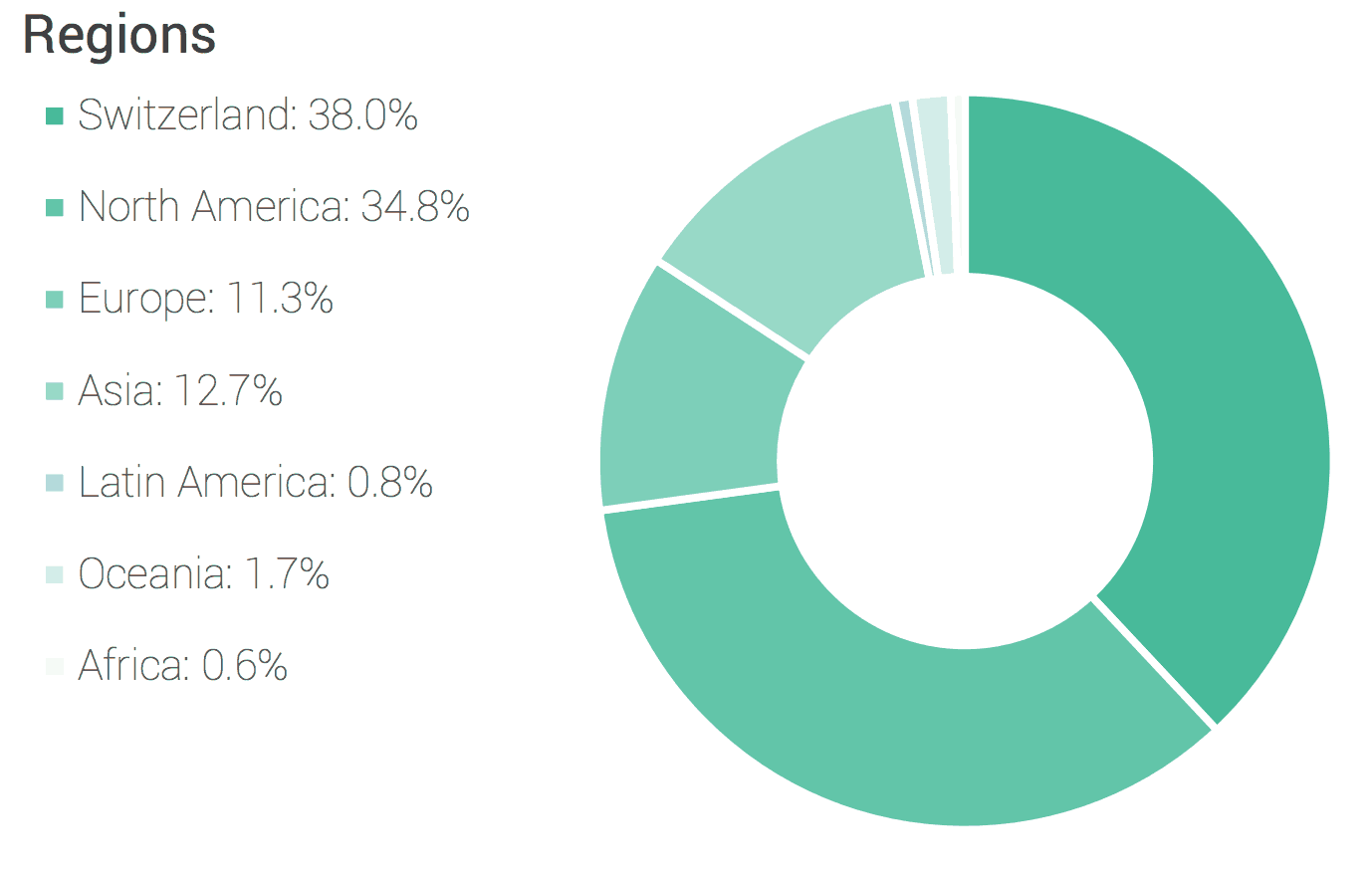 And there is the exact allocation of each sub-fund (as of September 2018):
SMI (Swiss): 27.75%
SPI Extra (Swiss): 9.25%
Europe ex-CH: 10.60%
S&P 500: 31.51%
Canada: 1.93%
Pacific ex-Japan: 2.54%
Japan: 4.46%
Emerging Markets: 8.96
Cash: 3.00%
This offer is great. It is better than most other candidates:
The allocation to stocks is high
The allocation to international stocks is the maximum permitted by their regulations.
In the long term, this nice allocation to stocks and the relatively low fees will result in significantly more returns.
VIAC Fees
4/5
When investing long-term, it is important to look at the fees.
The base fee of VIAC is 0.52% per year. But you only pay this fee on the invested part (the stocks). So, if you have more cash, you get fewer fees.
In 2021, VIAC introduced a fee cap on its administration fee. So, you cannot end up with more than a 0.40% administration fee. If your strategy has a higher fee, it is reduced to 0.40%.
Now, some of the strategies also have some product costs. And these products can make the strategy more expensive than 0.40%, only VIAC's administration fee is capped.
The fees at VIAC are different for each universe and strategy. For instance, here are the fees for the global strategies:
Global 20: 0.17% per year
Global 40: 0.28% per year
Global 60: 0.39% per year
Global 80: 0.41% per year
Global 100: 0.41% per year
Fees for Switzerland strategies are slightly higher:
Switzerland 20: 0.17% per year
Switzerland 40: 0.28% per year
Switzerland 60: 0.39% per year
Switzerland 80: 0.42% per year
Switzerland 100: 0.43% per year
And the sustainable strategies are the most expensive:
Global Sustainable 20: 0.16% per year
Global Sustainable 40: 0.28% per year
Global Sustainable 60: 0.39% per year
Global Sustainable 80: 0.43% per year
Global Sustainable 100: 0.44% per year
Overall, these are excellent fees! Compared to most offers in Switzerland, this is better!
Life and disability insurance
VIAC has something special that differentiates them from other third pillar providers.
Indeed, with VIAC, you can get life or disability insurance. With each 10'000 CHF invested in your account (only the invested part counts), you get 2'500 CHF insurance.
You have to choose in your account whether you want disability (in case of at least 70% disability) insurance or life insurance. In the case of life insurance, this will be paid to your beneficiaries with the money of your third pillar. And in case of disability, you will get the insurance payment directly yourself.
I think it is a nice bonus, but this is not life-changing. This will only be useful if you die or get disabled (and you have to choose) before your retirement age. And the amount is still quite limited, so for many people, this will not replace proper life or disability insurance. But this could still be very useful. And since it is free, it is not a bad deal for VIAC users.
Sustainability of VIAC
4/5
More and more people are interested in investing sustainably. They want their money to work for a better future and not invest in companies that are not sustainable for our world. But does VIAC offer a sustainable option?
When you choose the sustainable option, VIAC will invest in different funds. It will invest in two different types of funds:
Socially Responsible Investing (SRI) funds.
Environmental Social Governance (ESG) funds.
These two kinds of funds are very similar and select the companies based on some sustainable factors. For instance, they will not invest in companies that make weapons or in companies that exploit children.
While this sounds good in theory, there are many issues with these funds. For instance, it was shown that about 80% of sustainable funds had exposure to fossil fuel companies. These companies are the antithesis of sustainable investing.
Also, the criteria for selecting companies in these funds are not very transparent or even agreed upon between different funds.
Finally, these funds are not very selective. Indeed, it was shown that nearly 90% of the companies in the S&P500 are present in ESG funds. So, very few companies are excluded.
Regarding VIAC, these options are likely more sustainable than the default options. But this sustainable option is not very sustainable. I would not call this greenwashing, but this is level zero of sustainable investing. The only advantage is that this is simple and cheap.
So, I would not say sustainable investing is very sustainable, but it is better than nothing.
Security
5/5
We can also look at the security of the VIAC third pillar.
The applications' technical security (web and mobile) is pretty good. All communications are encrypted between the application and the server. And since you cannot do anything with your third pillar until you retire (or in a few other special cases), the apps are well protected.
The only thing I would like is a proper second factor of authentication on the web application. But again, since you cannot do much, it is unimportant.
If you hold cash, it will be held by WIR Bank, the custodian bank of VIAC. This cash will be privileged in case of bankruptcy up to 100'000 CHF. This protection is the same as the bankruptcy protection of other Swiss banks. If you are an aggressive investor, this should not matter much since you should have very little cash.
The securities themselves are invested in institutional funds. These funds are very stable and are held in your name. The funds are not on the balance sheet of VIAC directly but on the balance sheet of the foundation. So, if VIAC goes bankrupt, these funds are safe in the foundation. It will be up to the foundation to find a new manager for these funds and to get you access to this money again.
Finally, I have never heard of any data leak that would have occurred at VIAC. This is always a good sign, even for recent companies.
Overall, I think that the security of VIAC is quite good and well-regulated. The applications are well-made, and the foundation is organized, so your assets are well-protected.
Alternatives
In Switzerland, there are many alternatives.
Compared to third pillar accounts from banks, VIAC is a great third pillar, much better than anything a bank proposes.
Best Third Pillar!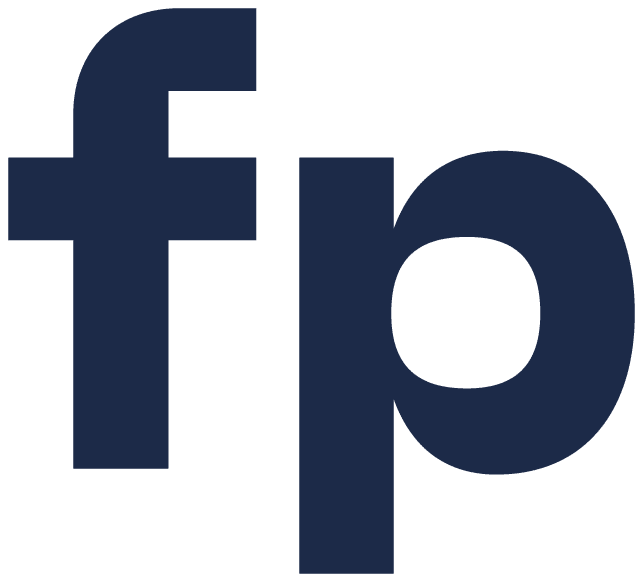 However, compared to other independent third pillar providers, VIAC is not the best available. Finpension 3a is currently the best third pillar available. Finpension 3a has several advantages over VIAC:
The fees are slightly lower.
You have more freedom in designing your portfolio.
You can avoid all currency hedging.
However, Finpension 3a has one slight disadvantage over VIAC. With VIAC, you could invest in stocks and cash and save a little on fees compared to investing in stocks and bonds.
To learn more, read my detailed comparison of VIAC and Finpension 3a.
VIAC FAQ
Is VIAC regulated?
Yes, VIAC is regulated in Switzerland as a third pillar foundation.
Is VIAC safe?
VIAC is well regulated and assets of the investors are fully segregated from the main entity. In case of bankruptcy, the foundation would have to find an alternative manager but investor funds would be safe.
How much fees will I pay with VIAC?
VIAC has an administration fee of 0.52% per year (currently capped at 0.44%). On top of that, you also currency exchange fees, at around 0.05%.
VIAC Summary
4/5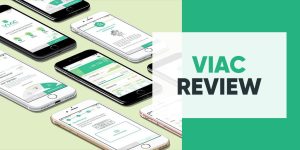 VIAC is a good third pillar, with good fees. It is a great third pillar for conservative investors.
Product Brand: VIAC
VIAC Pros
Let's summarize the main advantages of VIAC:
You can allocate up to 97% in Stocks
Very low fees
VIAC is very transparent
A small interest rate on the cash part
Strategies with low allocation to stocks are cheaper
Mobile and web applications
VIAC Cons
Let's summarize the main disadvantages of VIAC:
You need a minimum of 40% in Swiss Francs (CHF)
You need to keep 3% in cash
Not the cheapest third pillar
Conclusion
The conclusion is pretty simple! VIAC is an excellent third pillar provider in Switzerland. The fees are very low, and VIAC offers a high stock allocation. These facts are great for long-term investors. And since most third pillar investors are in for the long-term, this is excellent.
There is something else I like about VIAC. It is their transparency. They communicate well, and they share as much information as possible. VIAC is the best third pillar provider for the information they share. The information is also very clean and modern. They do not try to hide fees. And they have been quite helpful in answering my questions for this article.
When VIAC was introduced, they were the best third pillar available. Now, there are other competitors. If you want to keep up to date, I have an article about the best third pillars in Switzerland. I moved my third pillar from VIAC to Finpension 3a, but both are great options.
If you like VIAC, you may like VIAC's vested benefits.
Which third pillar do you use? What do you think of VIAC?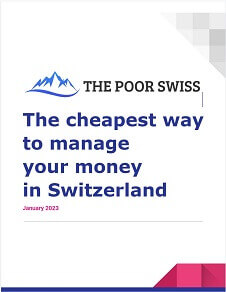 The best financial services for your money!
Download this e-book and optimize your finances and save money by using the best financial services available in Switzerland!
Download The FREE e-book