Frankly Vested Benefits Review 2023: Pros & Cons
|
Updated:
|
(Disclosure: Some of the links below may be affiliate links)
Frankly is a well-known provider of third pillars. It was among the first digital providers of third pillars. And now, Frankly also provides its own vested benefits accounts.
In this review, we review Frankly Vested Benefits in detail, its advantages, and disadvantages. By the end of the review, you will know whether you should use Frankly for your vested benefits account.
About Frankly Vested Benefits

| | |
| --- | --- |
| Total Fee | 0.45% per year |
| Maximum portfolios | 1 |
| Stock allocation | Up to 75% |
| Maximum foreign exposure | 30% |
| Maximum investment in cash | 0% |
| Investment Strategy | Index funds and active funds |
| Fund providers | Swisscanto |
| Languages | English, French, and German |
| Sustainable option | Yes |
| Mobile Application | Yes |
| Web Application | Yes |
| Custodian Bank | Zurcher Kantonal Bank |
| Established | 2023 |
| Foundation's domicile | Zurich |
Frankly Vested Benefits
Frankly started in 2020 as a new digital third pillar offered by the Zurcher Kantonal Bank (ZKB). As of June 2023, Frankly now provides its own vested benefits account.
The ZKB is a well-established bank. Their Frankly offer appeals to the younger, more-digital generations.
As of August 2023, Frankly manages almost 2 billion in CHF assets in its third pillar accounts. This is an excellent result for a relatively new third pillar.
If you want to learn more about their third pillar, you can read my review of Frankly 3a. In this article, we will review their vested benefits offer in detail.
It is interesting to mention that Frankly is also available as a web application on top of the mobile application. This is great because many digital accounts are only available on mobile.
Frankly uses the Zürcher Kantonalbank's Vested Benefits Foundation, with a domicile in Zurich. This is not optimal if you plan to withdraw your money while abroad since other cantons would be significantly cheaper. But for the immense majority of people, it makes no difference.
And if you are not familiar with vested benefits, I recommend learning about vested benefits accounts first.
Investing Strategy
First, we will examine what Frankly Vested Benefits does with the money in the vested benefits. If you keep a vested benefits account for a long time, it is essential to invest it.
Frankly Vested Benefits will invest your assets in funds from Swisscanto (a subsidiary of ZKB). It is good to use funds rather than ETFs since this is more tax-efficient when receiving dividends from the US and Japan.
You can choose between two classes of funds:
Active funds are actively managed by Swisscanto and are focused on sustainable investing.
Index funds are passively following an index.
I strongly recommend ignoring the active funds and focusing on the index funds. Historically, index funds have been able to outperform most (if not all) active funds.
In total, Frankly Vested Benefits offers seven different investment products:
Light 10 Active
Gentle 25 Active
Gentle 20 Index
Moderate 25 Active
Moderate 25 Index
Strong 75 Active
Strong 75 Index
The number in each of these strategies denotes the allocation to stocks. The longer term you have in front of you, the higher stocks you can generally use. I would use the Strong 75 Index fund. It is worth mentioning that these funds are the same available for their 3a.
Unfortunately, other than choosing between index and active funds and the allocation to stocks, there is nothing else we can customize. For instance, you cannot opt out of real estate investing.
It is disappointing that you can only invest up to 75% in stocks in your vested benefits account. Regulations generally allow up to 85% (possibly more per account). So, 75% is quite conservative in my opinion. That said, 75% is already significantly better than many other offers.
All the index funds are funds of funds from Swisscanto. This means they invest in funds instead of investing in stocks directly. There is nothing wrong with that. However, the problem here is that Frankly does not share the details of these funds. For me, this is a major transparency issue.
Another important detail, often overlooked by investors, is that these funds limit the foreign currency exposure to 30%. Frankly Vested Benefits uses currency hedging to make a diversified portfolio while keeping foreign currency exposure below 30%.
This limit of 30% is very conservative and unsuitable for many investors. I wish Frankly would offer an option to increase that limit or opt out of currency hedging.
It is also worth mentioning that you can only have a single vested benefits account with Frankly since they have a single foundation. In practice, it is more optimal to have two accounts since this allows staggered withdrawals, which will optimize your taxes.
Overall, the investing strategies of Frankly Vested Benefits are okay but could be significantly better. The limitation of 75% stocks and 30% foreign currency exposure can weigh on your long-term returns.
Investing Fees
The second important thing we must check out is how much this vested benefits account costs. Fees are very important when comparing similar vested benefits. You do not want to waste your hard-earned retirement in fees.
Frankly Vested Benefits has an all-in fee of 0.45%. This fee covers almost everything. Issuance and redemption fees of the funds are not covered by the all-in free. Most of the funds have high insurance and redemption fees. For instance, the Strong 75 Index fund has:
0.14% issuance fee
0.08% redemption fee
So, it means you will lose 0.14% of everything you invest with Frankly Vested Benefits and 0.08% of everything you have when you retire (since everything will be sold). It is also important to note that you will pay these fees every time you change strategy!
Another exception is that the real estate fund is using an exchange-traded fund. And this fund has a TER. So, if you opt for a strategy with a high real estate allocation, you will pay more in fees.
It is also expected that hedging will indirectly cost you some of your long-term returns. But it is tough to estimate that cost. And it is only essential when you compare with alternatives that do hedge.
Overall, Frankly Vested Benefits fees are quite good.
Is Frankly Vested Benefits safe?
You need sound security for your retirement assets. Fortunately, the Swiss system is well-regulated by the FINMA.
The Zurcher Kantonal Bank (ZKB) will hold your assets in your name. This is a well-established bank with a good reputation. The money will be invested in the funds of Swisscanto, another well-established company.
If Frankly bankrupts, your shares are safe at the ZKB, and the vested benefits foundation will find a new manager for your assets. If the ZKB goes bankrupt, your shares should be safe since they are in your name, and the bankruptcy proceedings should take care of finding a new custody for them. It may take time, but everything should return to you.
Finally, if Swisscanto goes bankrupt, these assets should not be on their balance sheets. So, the funds should find a new manager as part of the bankruptcy proceedings. Once again, it may take time, but I am confident in the result of the process.
Overall, your assets should be safe with Frankly Vested Benefits.
Alternatives
We also must look at how Frankly Vested Benefits compare with other vested benefits solutions. You should never use the first solution you found but should compare it with other alternatives first.
Frankly Vested Benefits vs Finpension
Best vested benefits account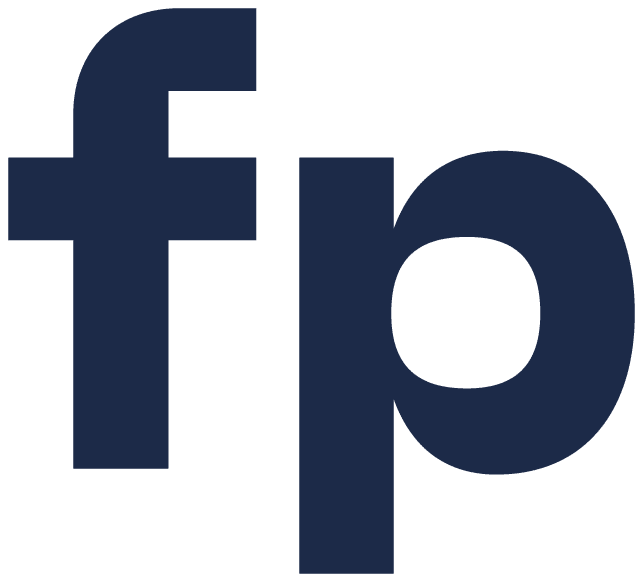 The best vested benefits account available in Switzerland is from Finpension Vested Benefits. So, we must compare Frankly and Finpension. Both companies offer a 3a, but this comparison will focus on only vested benefits.
Both services use index funds. However, Finpension gives you access to UBS, Credit Suisse, and Swisscanto funds, while Frankly only gives you access to Swisscanto.
Finpension Vested Benefits is much more flexible than Frankly Vested Benefits:
At Finpension, you can have 99% foreign currency exposure, but only 30% at Frankly
At Finpension, you can invest up to 85% in stocks (even 99% in some cases), but only 75% at Frankly.
At Finpension, you can opt in or out of sustainable investing.
At Finpension, you can create your portfolio with a high degree of customization.
Finpension has two foundations, so you can create two vested benefits accounts.
These are great advantages for Finpension.
On the other hand, Finpension is slightly more expensive than Frankly Vested Benefits. Indeed, Frankly costs 0.45% while Finpension costs 0.49%. But I think the flexibility, especially about currency hedging, far outweighs the price difference.
Overall, Finpension Vested Benefits has many advantages over Frankly Vested Benefits.
Frankly Vested Benefits vs VIAC
Another good vested benefits account is VIAC. So, we can also compare Frankly and VIAC. Again, like Frankly, VIAC also has a 3a, but we compare only their vested benefits account here.
Again, both services use index funds. Frankly offers Swisscanto, while VIAC offers UBS and Swisscanto funds.
VIAC lets you invest 80% in stocks in the mandatory part of your second pillar and 99% in the extra mandatory part. In both cases, this is better than Frankly with its limit of 75%.
With Frankly, you only have a 30% foreign currency exposure limit, but VIAC lets you go to 60%. This is a significant advantage for VIAC, allowing you to avoid currency hedging.
VIAC also gives you a lot of customization for your portfolio, while Frankly gives you none.
On top of that, VIAC is cheaper than Frankly, at about 0.41% (for the standard portfolio) against 0.45%.
Overall, VIAC Vested Benefits only have advantages over Frankly Vested Benefits.
To learn more, read my review of VIAC Vested Benefits.
FAQ
How much can you invest in stocks?
You can invest at most 75% in stocks.
Can you opt-out of currency hedging?
No, Frankly does not offer any customization.
Summary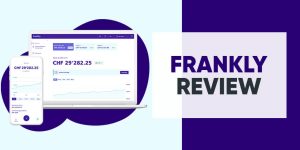 Frankly Vested Benefits is a new vested benefits account, by Frankly. We review its advantages and disadvantages in depth.
Frankly Vested Benefits Pros
Let's summarize the main advantages of Frankly Vested Benefits:
Relatively low all-in-fee
Mobile and web application
Frankly Vested Benefits Cons
Let's summarize the main disadvantages of Frankly Vested Benefits:
No customization
Limited foreign currency exposure
Too much currency hedging
Not enough transparency
Only 75% in stocks at most
Conclusion
Overall, the Frankly Vested Benefits account is an okay account. It is very much what we would expect from Frankly, with a product similar to their Frankly 3a offer.
Unfortunately, Frankly Vested Benefits has the same limitations as Frankly 3a. Namely, it locks you into currency hedging, which is not adapted for everybody. It also gives you no ability to customize your portfolio, and the allocation to stocks is sub-optimal.
Overall, there are better alternatives, and Frankly Vested Benefits offers no significant advantage.
What about you? What do you think about Frankly Vested Benefits?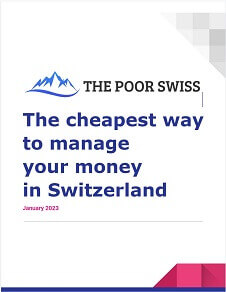 The best financial services for your money!
Download this e-book and optimize your finances and save money by using the best financial services available in Switzerland!
Download The FREE e-book