(Disclosure: Some of the links below may be affiliate links)
Are you looking for a low-cost and reliable Robo-advisor?
True Wealth is a leading Swiss Robo-Advisor. They are the first  Robo-Advisor, started already eight years ago. And they are also the cheapest Robo-Advisor available in Switzerland.
In this in-depth review of True Wealth, I look in detail at their investment models, their fees, and their security.
True Wealth
Cheapest Swiss Robo-Advisor
TrueWealth Robo-Advisor
TrueWealth is an excellent Swiss Robo-advisor with very affordable prices, making it the best Robo-advisor for serious investors.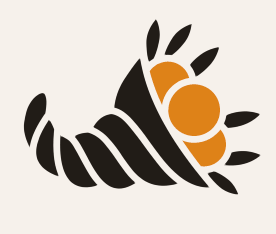 By using this link, you will pay only 0.25% fees for a year!
True Wealth is a Robo-advisor founded in 2013 by Oliver Herren (the founder of Galaxus!) and Felix Niederer. And the service became available to the public in 2014. As such, it is the most mature Robo-Advisor in Switzerland. They now have more than 9000 clients in Switzerland. And they are managing more than 600 million CHF of assets for their clients. These are quite impressive numbers!
True Wealth has two main selling points:
Low fees
Simple investing
These are important advantages for people choosing Robo-advisors. Another cool thing is that they have a virtual account. It means you can open an account and test many things. And only later can you decide whether you want to transfer money. At any time, you can convert your virtual demo account into a real account.
You can use their investment services from your browser. If you prefer, you can also use their mobile apps, on iPhone and Android. The mobile application has all the features of the web application.
True Wealth is available in English, French, and German! This is great since most Robo-advisors are only available in one language.
So, let's analyze True Wealth in detail!
Investment Models
Let's see how does True Wealth invest your money.
True Wealth follows a passive investing strategy. True Wealth is only investing in index funds. To be specific, they are investing in Exchange Traded Funds (ETFs).
Using passive index funds is great news! This is the best way to invest for most people.
You cannot choose the ETFs directly you invest in. Instead, the Robo-Advisor will decide on a portfolio for you. Based on several questions that the tool will ask you, a portfolio will be designed based on your own needs. But do not worry, you will have your say in it!
They will ask many questions to evaluate your risk tolerance. For instance:
How long and how much do you plan to invest?
How long and how much do you plan to divest?
What would you do if your assets lost 10% of their value?
And so on.
Once you answer these questions (it will take you two or three minutes), you will get your portfolio. For instance, here is mine after answering them: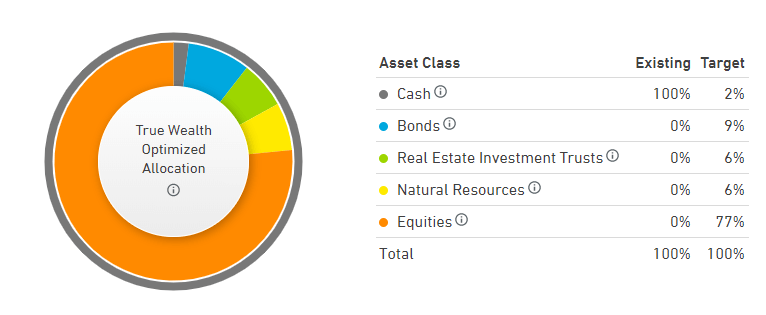 It is an interesting portfolio. It makes quite a lot of sense for the general public. Based on the answers I give, I can understand why they would choose this portfolio. However, for me, it is not aggressive enough.
However, the default portfolio is not an issue because you can customize the portfolio! Customization is a great thing about True Wealth! You have great freedom in customizing your investment portfolio!
First, you can configure each of the asset classes. You can remove all the bonds, real estate, and natural resources, for instance. Or you can increase the allocation of bonds or have more cash.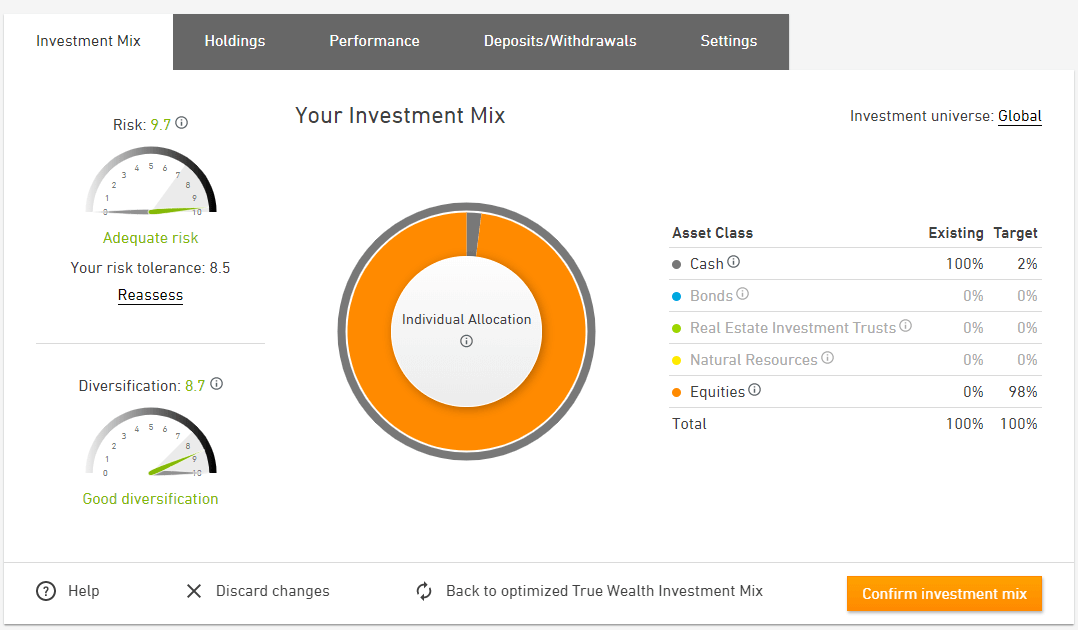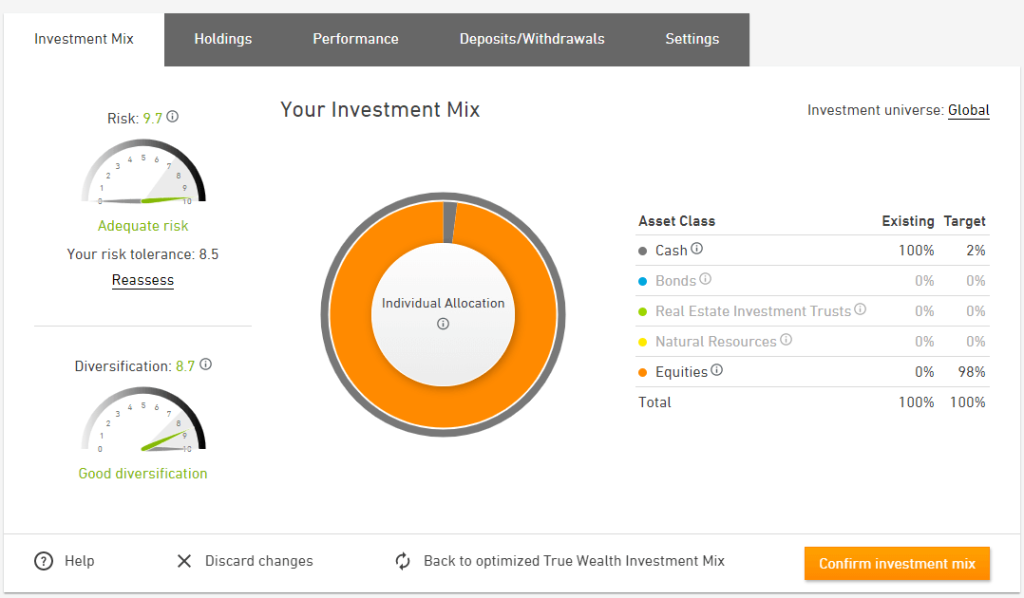 In my case, I set the portfolio to the maximum amount of stocks (98%). You can choose the portfolio that suits your needs the most. They always keep 2% cash at a minimum to help to rebalance and pay for fees.
The optimization can go even further. You can customize the composition of each of the asset classes per region. For natural resources, you can choose between metals and diversified natural resources.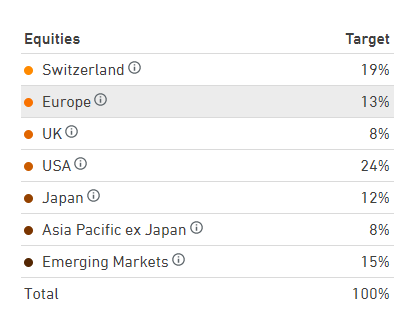 For me, this is an excellent level of customization. Some people would like to go one step further by choosing ETFs directly. But, I would argue that if you want to select your own ETFs, you should not invest with a Robo-Advisor in the first place. You should invest by yourself with a broker account.
Overall, I think that the investment system of True Wealth is excellent. You will invest only in low-cost ETFs. And you can customize your portfolio up to the details.
Deposit and Withdrawals
We can also take a look at how funding and withdrawing works.
First, I need to mention a downside: True Wealth has a minimum of 8500 CHF to invest with them. 8500 CHF is too much of an entry point for many people who want to get started. And many people would probably like to try the service without investing that much money. On the other hand, you can test the service by creating a virtual account.
To fund your account, you can deposit money on your account by transferring money to a personal IBAN. Your cash is held in your name at the custodian bank account, so you get a personal IBAN.
It is interesting to note that you can deposit CHF, EUR, USD, and GBP! This is an excellent feature.
If you want to withdraw your money, you can also do so from the interface. You can only do the transfer to an account in your name. If you want to go lower than 8500 CHF, you will have to close your account.
Overall, this is a standard way of withdrawing and depositing money into your account. There are no surprises here.
Fees
Now, let's look at the fees. If you are investing for the long term, investing fees are extremely important.
With True Wealth, you pay two fees:
The fees of the ETFs, depending on your portfolio.
The management fees, depending on the size of your account.
Together, these two fees are what you are going to lose to fees every year.
The fees of the ETFs will depend on your portfolio. From what I have seen, it will vary from 0.13% to 0.2%. The expensive ETF is the Real Estate ETF. If you do not invest much in Real Estate, you are unlikely to go higher than 0.2%. My very aggressive portfolio has only 0.13% fees!
Together, it means that the TER of True Wealth will be between 0.63% and 0.70%, on average. This TER is excellent.
The default management is 0.50% per year. If you have a large portfolio, it can go down even lower. From a 500'000 CHF portfolio to an 8'000'000 CHF portfolio, the fees will decrease from 0.50% to 0.25%! For instance, a 1'000'000 CHF portfolio will only cost 0.39%. These low fees are a great result. You can find the details on their website. If you plan to retire early and invest with a Robo-Advisor, it is terrific for your future.
Now, there is an extra fee on top of this: the stamp duty tax. If you want details about this, I have an article about the Swiss Stamp Tax. This fee is paid one each purchase and sale of ETFs. It will cost you 0.15% for a foreign ETF and 0.075% for a Swiss ETF.
It is difficult to say how much this will cost in the percentage of your portfolio since it is also based on the purchase price and sale price. Also, it is not due each year. Overall, it should add up to less than 0.05% per year on average. It is a pity that True Wealth does not include this in their total fees! It would make things simpler.
Finally, you will also pay a 0.10% fee for each currency conversion done by True Wealth. This is the best currency conversion fee of all Swiss Robo-advisors.
Overall, the fees of True Wealth are excellent! When you compare with other Swiss Robo-Advisors, they have significantly lower fees! In total, you can invest for a minimum of 0.63% TER!
Robo-Advisors are a tradeoff of simplicity versus cost. If you do not mind the hassle of investing by yourself, you can save on fees. Of course, the fees are higher than for DIY investing. But if DIY investing is not for you, Robo-Advisors are the next best thing.
If you are not convinced that fees are important, I urge you to look at what investing fees do to your retirement money.
Is it safe to invest with True Wealth?
If you are going to invest any significant amount of money with an online service, you need to look at its safety.
First, let's look at how assets are stored. Your assets are not held by True Wealth itself. Instead, a custodian bank holds your assets. True Wealth is using two custodian banks:
Basellandschaftliche Kantonalbank (BLKB)
Saxo Bank Switzerland
You can choose which one you prefer. In both cases, your shares are protected from the bankruptcy of True Wealth since they are held in your name. With BLKB, you have unlimited protection for your cash. With Saxo Bank, your cash is protected up to 100'000 CHF. In most cases, your cash will be safe since you should not hold that much cash.
In the case of both custodian banks, they cannot lend your securities to other investors. Not allowing securities lending improves the safety of your assets. And this is a nice guarantee provided by True Wealth.
So, you are very well protected against bankruptcy or takeover of True Wealth.
Is True Wealth Secure?
Now, we can also take a look at technical security. We do not want a hacker to steal all our assets!
For that, all communication with True Wealth will be encrypted. And you can use Second Factor Authentication (2FA) to add an extra layer of security. I highly recommend that you do so for each online service you use. They are offering support for the most used 2FA platforms. So this is great!
On top of that, you can only transfer your assets to an account in your name. This limitation is very good for security! If a hacker took hold of your account, they would also have to hack your bank account to get your funds. This security makes it unlikely to lose your assets!
Overall, I think that the technical security of True Wealth is as good as it can be. It seems that True Wealth is very security-aware. And this is excellent news for its investors.
Now, do not forget that the most significant security problem is usually the human factor. So, you need to take online security seriously.
Sustainable Investing with True Wealth
Sustainable investing is very popular these days.
And fortunately for investors that are motivated by this, True Wealth also lets you invest sustainably.
When you design your portfolio from True Wealth, you can choose between two investment universes:
Global: All stocks for each asset class
Sustainable: Only stocks from sustainable companies for each asset class
So, you only have to change a single thing, and your entire portfolio becomes focused on sustainable investing.
When you choose the sustainable universe, True Wealth will use Socially Responsible Investing (SRI) ETFs from MSCI. So, all the ETFs will be replaced by their SRI equivalents.
These ETFs are more expensive than the base ones. So, the TER of your portfolio will be higher if you choose sustainable investing. For instance, the portfolio I selected for me had a TER of 0.63% went up to 0.80% with the sustainable universe.
I think that the True Wealth system for Sustainable Investing is quite good. I wish that the ETFs were cheaper. But that is not something that True Wealth has much control over. Their approach to sustainable investing is similar to what most other Robo-Advisors are doing.
If you are not clear about that, read what is Sustainable Investing, ESG, and SRI.
True Wealth Advantages
Let's summarize the main advantages of True Wealth
Fees are significantly lower than other Swiss Robo-Advisors.
Great investing strategy with passive investing.
Can deposit money in several currencies.
Excellent customization of your portfolio.
You can invest sustainably with True Wealth.
True Wealth has good security.
Your assets are well protected in case of bankruptcy.
Very transparent information.
Relatively simple to use.
Free demo account that you can use directly.
Fully featured mobile application.
True Wealth Disadvantages
Let's summarize the main disadvantages of True Wealth:
You need at least 8500 CHF to invest with True Wealth
Stamp Duty is not included in the management fees.
FAQ
What is the minimum you can invest with True Wealth?
You need at least 8500 CHF to start investing with True Wealth.
How much will you pay in fees for True Wealth?
You will pay a management fee of 0.5%. On top of that, you will have to pay the fees of the funds. The total should amount to about 0.65% to 0.70% per year. If you have more than 500'000 CHF, you will pay lower fees, all the way to a  minimum of 0.25%.
Who can invest with True Wealth?
All legal residents of Switzerland that are at least 18 years old can invest with True Wealth. True Wealth is planning to have children's portfolios in the future, to invest for your children.
What happens if True Wealth bankrupts?
If they go bankrupt, your assets are safely stored in a custodian bank. Your cash will be protected by up to 100'000 CHF in case of bankruptcy of the custodian bank.
Conclusion
Cheapest Swiss Robo-Advisor
TrueWealth Robo-Advisor
TrueWealth is an excellent Swiss Robo-advisor with very affordable prices, making it the best Robo-advisor for serious investors.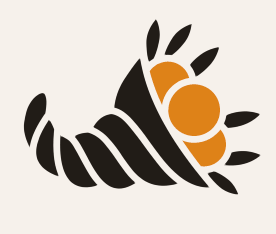 By using this link, you will pay only 0.25% fees for a year!
Overall, I am impressed by True Wealth. They are proposing a great investment system with very low-cost. And on top of that, the freedom to choose your portfolio is high! You can decide on your exact portfolio. In the long term, True Wealth is a great service for a serious investor.
If I had to choose a Robo-Advisor, I would invest with True Wealth. They are the cheapest Robo-Advisor in Switzerland. And these low fees will make a significant difference in your returns for the long term. Also, the fact that you can tune the portfolio to your needs will make it good for most people.
However, I would prefer if they had a lower minimum. The minimum of 8500 CHF for investing is a bit steep for many people who want to get started.
Other than that, it is an excellent service!
Keep in mind that I do not use a Robo-Advisor myself. I invest in stocks by myself in a broker account. DIY investing is more complicated. But I pay much lower fees than with a Robo-Advisor. In the end, it is a tradeoff, whether paying an advisor or doing it yourself.
If you want to know how it compares with other alternatives, you can read my comparison of True Wealth and Selma. Or, if you want more information about True Wealth, read my interview with Felix Niederer, the CEO.
What about you? What do you think about True Wealth?
True Wealth Review [year] - Cheapest Robo-Advisor
True Wealth is the earliest of the Swiss Robo-Advisor and also the cheapest! They provide a great service and give you great freedom in the customization of your portfolio.
Price Currency: CHF
Operating System: Web
Application Category: Robo-Advisor