(Disclosure: Some of the links below may be affiliate links)
A credit card is a powerful personal finance tool. But it is only a good tool if used correctly. And unfortunately, many people are not using credit cards correctly.
The first important thing is to choose a card with no annual fee. Contrary to what credit card companies want you to believe, it is often better to get a credit card with no fee and smaller cashback than an expensive card with a lot of cashback. The important thing is to do your research and compare it with your actual credit card spending.
But there are many options, making it difficult to find the best credit card in Switzerland. So, this article will explore the different credit card options that are available in Switzerland.
I assume that you carry no credit card debt and always pay your balance in full. Otherwise, it is an entirely different issue!
What do I use my credit card for?
To choose the best credit card for your situation, you need to know how you are using it. For this, we are going to use my case as an example. So, what do I purchase with my credit card?
I use my credit cards for all my shopping in Switzerland. As long as the shop accepts credit cards, I tend to use one. Except for tiny amounts when I have the cash on me. Why? The reason is simple, I am trying to maximize my cashback bonus.
I also use them for all my online shopping. It means online shops and travel mainly. If there is no fee for using a credit card, I use it. Again this is to get some money back. The only case I am a bit more careful is when I cannot pay in CHF. In these cases, you pay a penalty fee for foreign currency transactions. We will discuss this in detail later in the article.
Never use your credit card to withdraw money! They all have terrible fees for withdrawal. Your debit card is here to withdraw money. And there is no bonus on the money you withdraw. Therefore, there are only disadvantages.
I have checked my credit card statements for the last 12 months and summed my expenses. I have spent around 15'000 CHF on my credit card. Of those, I spent around 5000 CHF in foreign currencies. I will use this as the base to compare different credit cards.
Keep in mind that I am not a big spender. We do not spend that much overall, and only a small portion of our expenses can be paid with credit cards.
And since we talk about credit cards, it is probably important to mention: Never carry a credit card debt! You will pay huge interest rates on any credit card debt. Always pay your balance in full at the end of the month. There is no such thing as a credit score in Switzerland. Do not try to optimize your credit.
PostFinance MasterCard as an example
Let's analyze the credit card I had before I realized it was bad. We will take this card as an example (not a great one!).
I had a MasterCard Standard card from PostFinance. I was paying 50 CHF per year for it. The cashback bonus was 0.3%. That means that for every 1000 CHF I spend, I get 3 CHF back. And I have to pay 1.2% for transactions in foreign currencies (USD and EUR for me). I was with PostFinance for a long time. And I used the credit card they offered me without really comparing. This is a mistake that many people are making.
Let's see how much was costing me for one year:
Bonus: 15'000 x 0.3% = +45 CHF
Annual fees: 50 CHF = -50 CHF
Foreign fees: 5'000 x 1.2% = -60 CHF
Total: 45 – 50 – 60 = -65 CHF
I know I should compute the bonus before the transaction fees. But it makes a 50 cents difference. So it is better to keep it simple ;)
So each year, my credit card was costing me 65 CHF. I would have been better off using a free card with no cashback. All my cashback money was paying my fees. Let's see if we can do better with other credit cards.
To break even with this card, you will need to spend 16'666 CHF per year and not use it for foreign fees.
Other PostFinance credit cards
PostFinance offers other cards as well. All their Visa offers are the same as their MasterCard offers, so let's focus on the MasterCard offers:
MasterCard Gold: For 90 CHF a year and with 0.5% cashback. This would cost me 75 CHF  a year.
MasterCard Platinum: For 250 CHF a year and with 0.5% cashback. This would cost 235 CHF a year.
Unfortunately, I cannot have better fees by changing for another offer from PostFinance. So, we need to look at other banks and their credit card offers.
Other bank credit cards
Since I already had the best fit at PostFinance, let's see how it compares with other banks. I am only going to consider real cashback. This is cash you are sure you can spend. Most of the other bonus systems are too dependent on your shopping style.
Let's see the cheapest cards we can find:
UBS Basic MasterCard: No fees (for 24 transactions per year), no bonus, and 2% foreign fees: cost 100 CHF per year
UBS MasterCard Standard: 100 CHF per year, no bonus, and 1.75% foreign fees: cost 187.50 CHF per year
Credit Suisse MasterCard Standard: No fees (for more than 10000 CHF per year), no bonus, and 2.5% foreign fees: cost 125 CHF per year
Viseca MasterCard Silver: 100 CHF per year, no bonus, 1.75% fees: cost 187.50 CHF per year
Valiant MasterCard Silver: 100 CHF per year, no bonus, 1.75% fees: cost 187.50 CHF per year
All these cards are more expensive than the PostFinance card! And these are only the cheapest ones. There are some much more expensive cards out there. For instance, the UBS MasterCard Platinum would cost me 587.50 CHF per year.
Again, no better choice for me here. If you do not want to do the math yourself, you can also use the comparator from moneyland. But I believe it is almost always better to do the research yourself. You will avoid finding biased data.
Now that we have considered banks, we can look at alternatives. And we will see that the best credit cards is not with banks.
Best credit card – Migros Cumulus
Migros and Coop are the biggest retailers in Switzerland. Together, they own around 70% of the retail market in Switzerland. And, unsurprisingly, they offer a very similar points system. Migros offers Cumulus points while Coop offerSuperpoints.  For both, 100 points are worth 1 CHF.
Migros will give you cash coupons for the values of your points as soon as they reach 500 points. You can use these as cash without limitations in all the shops operated by Migros. For Coop, it is a bit less practical since you need to use the points for some of the services.  But, sometimes you can have a bit more value for your points.
Because I prefer Migros and their cashback system is more practical, I will focus on them. Their cards have the same properties. So the results will be the same regardless of the retailer. If you prefer Coop, feel free to get their credit cards.
Let's see how much a Migros Cumulus MasterCard will cost me for one year:
Bonus: 15'000 x 1/3% = 50 CHF
Annual fees: 0 CHF = -0 CHF
Foreign fees: 5'000 x 1.5% = -75 CHF
Total: 50 – 0 – 75 = -25 CHF
My card would only cost 25 CHF a year. Compared to the 65 CHF I pay now, this is 40 CHF saved each year! This is not a lot, but I'd rather keep the money for myself!
Highest cashback – Swisscard American Express
If you want more cash back, you have another option: The Swisscard American Express Mastercard. This card is also entirely free and will offer you a 1% cashback. And they even have a 5% cashback for the first three months.
For a free card, this is definitely the highest cashback you can get in Switzerland. Even non-free cards do not have higher cashback. And this cashback will be counted towards your bills at the end of the year.
But there is a catch! In Switzerland, American Express is not as well supported as MasterCard and Visa. However, I found out that you can still use it in some major places:
All gas stations
Aligro, Migros and Coop shops
Most large shops but not Aldi and Lidl
You can use it on few online shopping websites
If you want to optimize your credit card usage to the maximum, the Swisscard Amex is the best credit card for cashback! But this would mean having two credit cards and not one.
For more information, I have an entire article about the Swisscard cards.
Neon for Foreign Currencies
When you travel, you will have to pay in foreign currencies with your credit card. With most credit cards, this is very expensive. But fortunately, there are some ways to do that for free.
Neon started offering free purchases abroad with their Mastercard. It could be awesome to save on all the currency transaction fees. You could use this credit card only for foreign currencies. In my case, this saves me about 100 CHF per year.
Another idea is to use a prepaid credit card such as Revolut. They offer a prepaid credit card. It has free foreign currency transactions for online payment. You can even withdraw small amounts anywhere in the world for free. And you can also have a physical credit card for a small fee. It is a great service.
However, there are problems with Revolut. First, topping up the card is not instant. It is a normal bank transfer. It takes at least one working day. I do not want to go to the trouble of topping up the card every time I need it. I could consider moving a large amount to cover small regular fees in foreign currencies.
Another problem with Revolut is that it is expensive during the weekend. You need to read the small prints because not everything is free with a Revolut card. Finally, there were many issues with Revolut, where accounts have been closed. So, use Revolut at your own risk. For me, Neon is now the best credit card for foreign currencies.
To help you choose, I have an article about Neon vs Revolut.
In both cases, you may still have to get another card in some cases. Indeed, both Neon and Revolut are prepaid cards. And some services are not allowing prepaid cards.
Why no travel hacking credit card?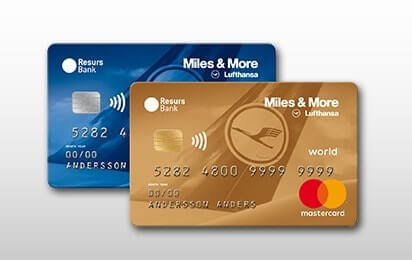 Finally, the last option for a credit card is to use it for travel. You can read so many stories on how people are traveling for free using their credit card bonuses. These are mainly stories in the United States. In Switzerland, the best travel points credit card is the Swiss Miles & More MasterCard. This credit card will give you one award mile for every 2 CHF spent. And you will also get 1000 award miles every year. All this for 120 CHF per year. If we run the computation once again:
Bonus: 15'000 x 50% = 750 + 1000 = 8500 miles
Annual fees: 120 CHF = -120 CHF
Foreign fees: 5'000 x 2.5% = -125 CHF
Total: -120 – 125 = -245 CHF
The credit card would cost me 245 CHF per year and give me 8500 miles. The most expensive flight I take is to go to Hong Kong for around 800 CHF. I need 70'000 miles to get it for free. Then, I would get it free after 8.23 years. At which point, I would have spent 2000 CHF in fees. Not a very good deal! Even including the 20'000 welcome miles, it would not be interesting. I do not spend enough on my credit card for this to be interesting. And the foreign fees are way too high.
Note: You can earn more points with the Swiss Miles & More American Express. But it is not well supported in Switzerland.
Do I really need cashback?
No, not really. Getting cashback on your credit card is just a small optimization. If you are a reasonable spender, like me, it will not make a huge difference in the long-term.
On the other hand, you need a free credit card and a way to cut foreign exchange fees! It is important to cut your expenses!
With my level of spending, I make between 50CHF and 100CHF per year on cashback. So, it is more important to cut my credit card spending than to optimize my cash back. Now, if you can spend more on your credit card (with cashback, so no foreign currencies), it could be interesting for you.
So, if you really want to keep it simple, use one free credit card! It is perfectly fine. I am currently using three credit cards, but I am strongly considering getting rid of my Amex. The benefits are minimal overall, and it means one more card in my wallet, and it means having to choose between cards.
For me, the best single card would be either using Neon directly or the Cumulus Mastercard. But Neon would have the advantage of allowing you a single card for every purchase (domestic and foreign). The Cumulus Mastercard would have the advantage of being a real credit card (emergency money, and sometimes prepaid cards are refused).
So, it is up to you to decide how far you want to optimize!
Conclusion
Currently, the best credit card in Switzerland is the Migros Cumulus MasterCard. This card saves me 40 CHF each year compared to my previous credit card from PostFinance. Of course, this is only the best credit card for me! If you spend more (or less), it may be different.
If you want higher cashback, you can use the Swisscard American Express. However, you will need two cards because many shops do not take American Express.
As you can see from this article, there is not much you can do with Switzerland's credit cards. The best you can do is minimize your fees. Take a credit card without an annual fee. And also minimize spending in foreign currencies.
If you can use a credit card in a shop, use it! If you can use a credit card online without extra fees, use it! Do not think of traveling for free using your credit card unless you spend enormous amounts of money on it. In which case, you are probably not on the correct blog.
One other thing you can do is to change your credit card often. A lot of services are waiving the fees for the first year. And a lot of services are also increasing cashback in the first year. Or giving you a welcome package. If you do the math and be careful, it is possible that you can save a bit more money with this.
However, be very careful! And do not forget to cancel the card before the second year. And there could be some minimum time for the contract. Personally, I do not think it is worth the trouble.
If you want to keep it simple, I recommend using a Neon Mastercard or a Cumulus Mastercard (but not for foreign currencies). For more information, read my Review of Neon.
If you want to go all-in like me, you should read about my credit card strategy! This will minimize your fees (the most important) and also maximize your cashback. But this will require you to have several cards!
What about you? What credit card do you use? Do you have any tips to maximize cashback?