TCS Travel Mastercard Gold Credit Card with 1% cashback!
|
Updated:
|
(Disclosure: Some of the links below may be affiliate links)
In the past, I already compared the credit cards in Switzerland. At this point, the best credit card is the Certo One Mastercard. I compared several credit cards to arrive at that conclusion. However, even though I have found a good credit card for my situation, it is a bad idea not to consider new options.
However, there is a card I have not considered in my first comparison. The Touring Club Suisse (TCS) is offering two new credit cards for its members.
What is very interesting is the TCS Travel MasterCard Gold. This card will cost you 100 CHF annually, although it is free in its first year. But they will give you 1% cashback. This cashback makes it an exciting card for Switzerland.
The second one is the TCS Member MasterCard. This card is not particularly interesting since it does not have any cashback. But at least it is a free credit card.
In this article, I look at this card in detail.
How to compare credit cards
Now, when you compare credit cards, you need to compare two things: the price of the credit card and the cash back you get when you make a purchase.
First and foremost, you want to consider only free credit cards. Even a 100 CHF annual fee will remove most cashback from the card. Credit card companies are always trying to make people buy more expensive cards with the promise of bigger cashback. However, you need to spend a ton of money each month with a credit card to make the higher fee interesting.
Once you have eliminated the credit cards that are too expensive, you need to consider the advantages you have with these cards. You want to get the credit card with the highest cashback. Ideally, you want real cash back, not points or coupons. But if you know you will spend all the coupons or points, it may also be worth considering it.
TCS Travel Mastercard Gold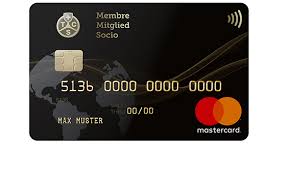 TCS is offering its member the TCS Travel Mastercard Gold for 100 CHF per year. This point is essential: You need to be a member of TCS to get this card.
If you are not a member of the TCS, it is not worth it to become one to get the card. Of course, it is only my opinion. But you should only get this card if you are already a member of the TCS. Otherwise, you must pay the extra fee to be a member. This fee is not a lot of money. It is only 32 CHF per year. But it still adds up.
It is not worth it just to get this credit card. The credit card is already expensive. If you add the membership to that, it will become too expensive.
In the first year, you will not have to pay the fee. But you will pay 100 CHF each year starting the second year. The most significant advantage of this card is the 1% cashback bonus plan. There are a few other advantages. For instance, you can get a reduction in a few gas stations in Switzerland. And it is interesting to note that you can withdraw money for free outside Switzerland. If you pay abroad in other than CHF, you will pay 1.5% of fees.
Is the TCS MasterCard Gold Good For Me?
Now, every credit card user is different. There cannot be an answer for everybody. However, the process of comparing credit cards is relatively simple.
We start again with my credit card user profile. I am spending 15'000 CHF every year. Of those, I spend 10'000 CHF Swiss francs. And 5'000 CHF is spent in foreign currencies. As said in my article about credit cards in Switzerland, it is vital to consider foreign exchange fees. It is something I was not taking into account before.
You can get the same numbers for you and do the same computation! If you do not know these numbers, go through the last twelve months of credit card statements and get the total in CHF and foreign currencies. It should not take a long time and will probably show you a thing or two about your spending.
Here is how much the TCS Travel Mastercard Gold would cost me each year:
Bonus: 15'000 x 1% = 150 CHF
Annual fees: 100 CHF = -100 CHF
Foreign fees: 5'000 x 1.5% = -75 CHF
Total: 150 – 100 – 25 = -25 CHF
With this card, I would pay 25 CHF each year. This fee is not so bad. But it is also not so great. With the Certo One Mastercard, I would get the same bonus without any annual fees, saving 100 CHF per year.
I do not spend enough in Switzerland for this card to make sense. And I spend too much outside Switzerland.
The only advantage of the TCS credit card would be to withdraw money for free in foreign countries.
Your mileage may vary with your spending profile. If you spend much more than me with your credit card in Switzerland, this new credit card could interest you!
Conclusion
In summary, TCS offers good credit cards for its members. The TCS Travel Mastercard Gold is a good credit card if you are already a member of the TCS.
The 1% cashback bonus is excellent. But you need to spend more than me on your credit card to make it worthwhile. If you spend only Swiss francs, you must spend at least 10'000 CHF with this card. And if you spend in foreign currencies, you will pay 1.5% fees, which you also need to consider.
For me, it is not worth it to take this card. The Certo One Mastercard allows you to get 1% cash back in three shops without an annual fee. And a Revolut card will enable you to save more on foreign currency exchange fees.
What about you? What credit card do you use? Do you use the TCS Travel Mastercard Gold?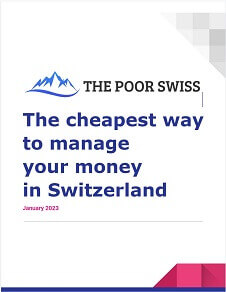 The best financial services for your money!
Download this e-book and optimize your finances and save money by using the best financial services available in Switzerland!
Download The FREE e-book