Raiffeisen Rio Review 2023: Pros & Cons
|
Updated:
|
(Disclosure: Some of the links below may be affiliate links)
Recently, I reviewed Raiffeisen as a bank account, and several people asked me what I thought about their Robo-advisor service. So, I researched this product.
Raiffeisen Rio is a new Robo-advisor proposed by Raiffeisen. They are pretty different in the way they invest your money.
In this review, I go into detail about the Raiffeisen Rio service. By the end of the review, you will know whether you should invest with Raiffeisen Rio.
About Raiffeisen Rio

| | |
| --- | --- |
| Management fee | 0.65% |
| Product Costs | 0.50% |
| Investing strategy | Active and passive |
| Investing products | Funds and structured products |
| Minimum investment | 5000 CHF |
| Currency conversion | Unknown |
| Customization | Limited |
| Sustainable | Not by default |
| Languages | French and German |
| Custody bank | Raiffeisen |
| Users | Unknown |
| Established | 2020 |
| Headquarters | St. Gallen, Switzerland |
Raiffeisen Rio

Raiffeisen Rio is a digital Robo-advisor service by Raiffeisen. Raiffeisen launched this new service in August 2020, a relatively recent addition to the Swiss Robo-advisor world.
It is essential to note that Rio is only available to customers of Raiffeisen. You need to have a Raiffeisen e-banking account to try Rio. I think this is a significant limitation. It also means that you need to pay the fees on the bank account on top of the Rio fees if you want to use it while not having a Raiffeisen bank account.
Rio is accessible through a mobile application. It is essential to mention that it is only accessible in the Rio application, not the web e-banking application.
To start investing with Rio, you must invest at least 5000 CHF. This amount is a standard minimum in Switzerland but is not the lowest available. So, it is not great to test the product.
Investment strategy
2/5
We take a look at how Rio is investing your money. It differs from the other Robo-advisors I have covered on the blog.
First, you will have to choose your strategy. There are four different strategies available:
Income with 25% stocks
Balanced with 45% stocks
Growth with 65% stocks
Stocks with 95% stocks
It is slightly disappointing that they do not go higher than 95% since several other Robo-advisors allow you to go as high as 99%. Nevertheless, 95% is already a significant investment in stocks if you want to be aggressive.
The part not invested in stocks is partly in cash and partly in bonds. You cannot choose the allocations directly. Only these four strategies are available, no custom ones.
To choose between these strategies, Rio will ask you the usual questions to guess your risk tolerance and propose an adequate strategy. You can either accept the proposed strategy or choose another one.
Then, you must decide the priority for your core investments. There are three different priorities:
Swissness to invest only in Swiss stocks and bonds
Global to invest in the entire world
Futura to invest only in sustainable companies in the world.
These are very standard priorities we can generally find with each Robo-advisor in Switzerland.
On top of that, you can also choose some themes on which to focus more:
Robotics
Futura Green Energy
eSports
Digitalization
Entrepreneurs
Dividends
Swiss stocks
Each theme that you add will take 5% of your total portfolio. So, if you add four themes to your portfolio, you will have 80% in the core components and 20% in the themes (5% each).
I believe it is good to give users some choice, but having only 5% in a theme will not make enough of a significant difference to matter in the long term. I would prefer having to choose fewer themes but being able to allocate more to each of them.
Finally, we look into how they invest your money. The core components use semi-passive funds. I say semi-passive because they say they have an active component, but it is unclear what they mean exactly. On the other hand, the themes are all using structured products.
I do not think this is great. Semi-passive funds are just strictly worse than fully passive funds. But they would not be that bad. On the other hand, I would recommend against investing in structured products. These products are extremely complicated and offer no advantages over index funds. They also introduce more risks than simple funds.
Just for this reason, I would not invest with Raiffeisen Rio.
On top of that, they do not directly share with which funds they are investing in precisely. It took me a long time to find the products they use for Raiffeisen Rio.
This lack of transparency is another reason I would not want to invest with them.
So, overall, you have a good choice of strategies and themes, but how they invest your money is not the best. I do not recommend this investing approach.
The fees
3.5/5
We must look at the fees of Raiffeisen Rio. Investing fees are more important than people think.
You will pay a management fee of 0.65% on your invested assets annually. This fee is not too bad in Switzerland. On top of that, you will have to pay for the stamp duty.
The other thing not included in the management fee is the product costs. Each fund they will use to invest your money also has an annual fee.
Raiffeisen Rio claims the product costs are about 0.3% for core components and 0.6% for the themes. Again, they are not transparent with the funds they use. However, structured products are easily found. For instance, the eSports structured product has a 1.25% management fee, which is very expensive. The Futura Food product seems to have a 0.65% fee, which is also expensive but at least closer to the claims of Rio.
I could not find any core fund with 0.30%. They seem to be around 0.5%. But I have probably not found the proper ones.
Overall, these fees are not great. The core components, if around 0.3%, are reasonably priced. And the management fee is okay for Switzerland. On the other hand, the themes are too expensive.
But I think the main issue is the lack of transparency from Raiffeisen on the products they use for Rio.
Is it safe to invest with Raiffeisen Rio?
3.5/5
To invest significant money in an online service, you must look at its safety.
With Raiffeisen Rio, it is hard to know since they share very little information. Since Raiffeisen is a bank, we can assume they are using themselves as the custodian bank. Raiffeisen itself has a relatively good reputation. Your cash will be protected by the deposit protection scheme of Switzerland.
As for your shares, we can also assume that Raiffeisen Rio will deposit them in your name in the Raiffeisen bank. This segregation is pretty safe. In case of bankruptcy, your shares will still be yours and should be transferred to another custodian bank. It may take a while, but as long as Raiffeisen Bank did not fraud you, your share should be safe.
On the other hand, you generally do not have such a guarantee with structured products. These are directly tied to the emitter. And with a structured product, you are not the owner of any underlying share. If the emitter bankrupts, you will likely lose your entire investment.
Overall, it is relatively safe to invest with Raiffeisen Rio if you do not invest in themes. If you do, you increase the risk because these products are significantly riskier than shares.
Is Raiffeisen Rio secure?
4/5
Then, we look at whether it is technically secure.
Usually, I would start by looking at what they share about technical security. Unfortunately, Raiffeisen shares nothing about that.
I have found some extra links pointing out that you can only use Raiffeisen Rio with two-factor authentication, which is excellent.
And I have not found any news of a data leak at Raiffeisen or with Rio.
Overall, the service looks secure, but I wish they would share more about security on their website.
User Reviews
4/5
Finally, we look at user reviews of Raiffeisen Rio.
First, I have looked at reviews on the Apple Store. There, reviews are primarily positive. People like that they can invest very easily and choose their focus. On the other hand, people criticize that Rio does not share the exact products they are investing in. And users also do not like the fees.
On the Play Store, reviews are more mixed between negative and positive. On the plus side, people say the app is easy to use, even for beginner investors. On the negative side, many people have technical difficulties and cannot log in. Other reviews also mention the lack of transparency with the fees and the products.
Overall, users are relatively satisfied with Raiffeisen Rio, but they agree that the app should be much more transparent.
Alternatives to Raiffeisen Rio
We must look at the alternative to Raiffeisen Rio.
There are some much better Robo-advisors available in Switzerland, like True Wealth and Selma. These Robo-advisors are easier to use, have lower fees, and allow you to invest more aggressively.
Overall I cannot find a significant advantage of Raiffeisen Rio compared to its alternatives. There are significantly better services in Switzerland, with better prices, higher transparency, and better investment strategies.
If you want more alternatives, I have an article about Swiss Robo-advisors.
FAQ
How does Raiffeisen Rio invest your money?
Raiffeisen Rio uses a mix of funds and structured products to invest money for their customers.
Raiffeisen Rio Summary
2.5/5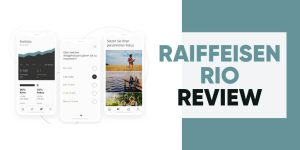 Raiffeisen Rio is a robo-advisor service proposed by the Raiffeisen Bank. It is only available to customers of Raiffeisen bank. Contrary to most Robo-advisors, Raiffeisen Rio is using structured products.
Product Brand: Raiffeisen
Raiffeisen Rio Pros
Let's summarize the main advantages of Raiffeisen Rio:
You can invest up to 95% in stocks
You can invest sustainably
Raiffeisen Rio Cons
Let's summarize the main disadvantages of Raiffeisen Rio:
Raiffeisen Rio is using structured products and active funds
Limited to 5% allocation for each theme
The information is not transparent on which fund they are using
The themes are too expensive
You need a Raiffeisen bank account to invest with Rio
Riskier due to the use of structured products
Conclusion
Overall, Raiffeisen Rio is not a good solution to invest your money. They are not transparent about the products they are using. And the fact that they use structured products for their theme investments is a red flag for me.
On top of that, this service is only available to customers of Raiffeisen Bank. I would not recommend anybody open a Raiffeisen bank account to invest with Rio, and I would not even recommend existing Raiffeisen customers to invest with Rio either.
If you want a similar service, I have talked about several Swiss Robo-advisors.
What about you? What do you think about Raiffeisen Rio?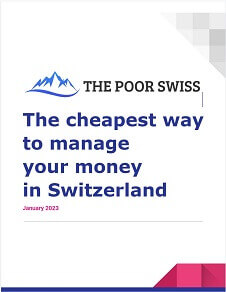 The best financial services for your money!
Download this e-book and optimize your finances and save money by using the best financial services available in Switzerland!
Download The FREE e-book