Can you retire early with Swiss Stocks and Bonds?
|
Updated:
|
(Disclosure: Some of the links below may be affiliate links)
In the past, I ran simulations to see if we could retire early using Swiss stocks. At that time, I discovered that the returns on Swiss stocks were not great.
Unfortunately (or fortunately), there was an issue with my original data, where many years were missing dividend returns. I now have better data, including total returns every month.
I also have data for Swiss bonds for the same period so that we can run more interesting simulations now.
This article will see whether we can use the 4% rule in Switzerland with Swiss stocks.
The new data
As mentioned in the introduction, the data mentioned in the previous Swiss Stocks article was incomplete. Many years did not include dividend returns, an essential part of the total returns. This was making Swiss Stocks worse than they were. Fortunately, this was pointed out by one of my readers.
This reader also pointed me to one source of monthly returns for the Swiss Stock market. The Swiss Federal Institute of Zurich wrote an article: Disaggregation of Financial Market Data. This article compiled monthly returns for Swiss stocks and bonds (among others) from 1926 to 2010.
This is the only source I know that has monthly returns for Swiss Stocks and Bonds for an extended period.
I completed the data from 2010 to 2023 using the historical daily data provided by SIX, which manages several Swiss Stocks and Bonds indexes.
So, the data is now complete. Therefore, I can run some simulations. If you are interested in the details of the simulations, you can read my article about the updated results of the Trinity Study. I use the same tool and procedure.
All simulations use Swiss inflation and rebalance the portfolio yearly. The fees are assumed to be 0.10% per year.
So far, I have not been able to obtain monthly returns before 1926. But if I do, I will run more simulations with more historical data. Nevertheless, almost 100 years of historical data is good enough.
Swiss stocks only
First, we will do simulations using only Swiss stocks. This is mainly to see how Swiss stocks performed historically. And this allows us to compare with the old data that I had.
So, here are the results for ten years.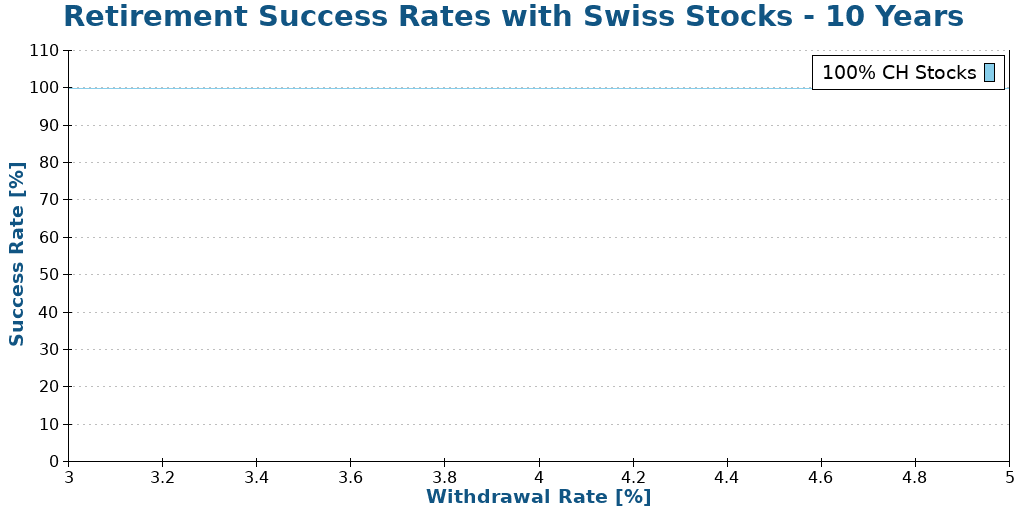 Ten years is an extremely short retirement period. This simulation acts as a simple validation for the data. As we can see, any withdrawal rate between 3% and 5% would be fine for ten years.
So, we must go to 20 years to see what happens.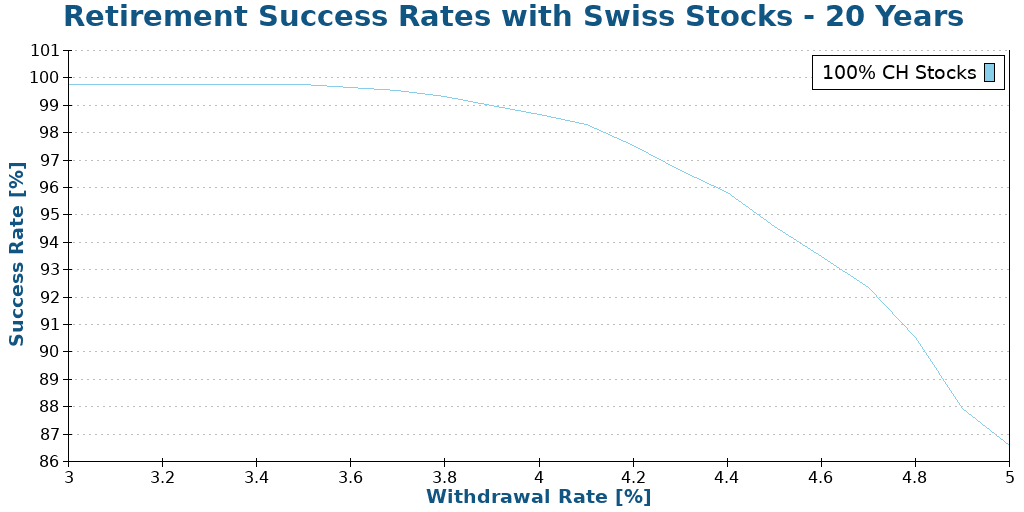 Here, the results start to be interesting. We can see that the success rates are excellent, up to 4.50%, and then begin to fall quickly. That still shows that for 20 years, we could use the 4% rule for Swiss stocks.
In practice, 30 years of retirement is when retirement simulations are interesting.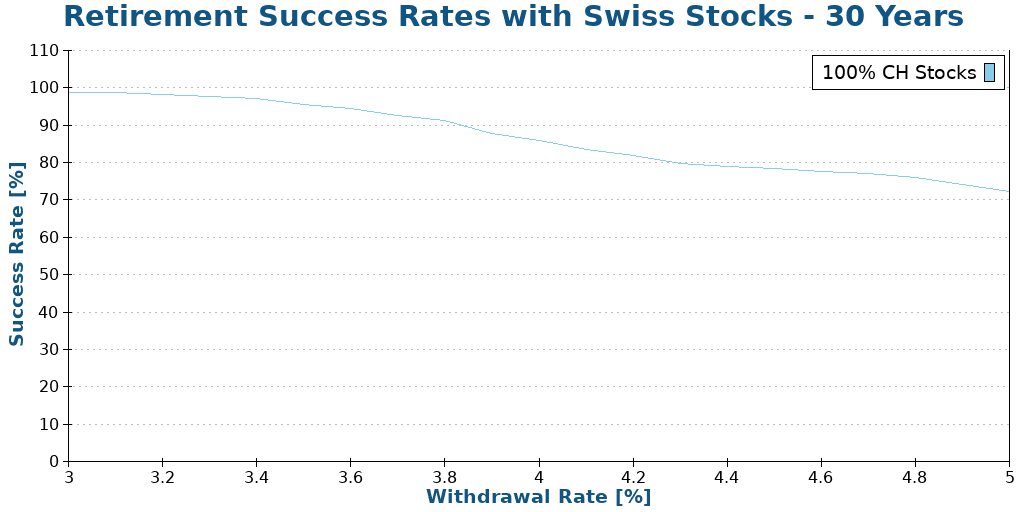 And indeed, we can see some interesting things. First, the 4% withdrawal rate would not have worked for this period, with less than a 90% chance of success. On the other hand, a more conservative withdrawal rate of 3.80% would still yield interesting results.
We will see what happens when do a longer retirement of 40 years: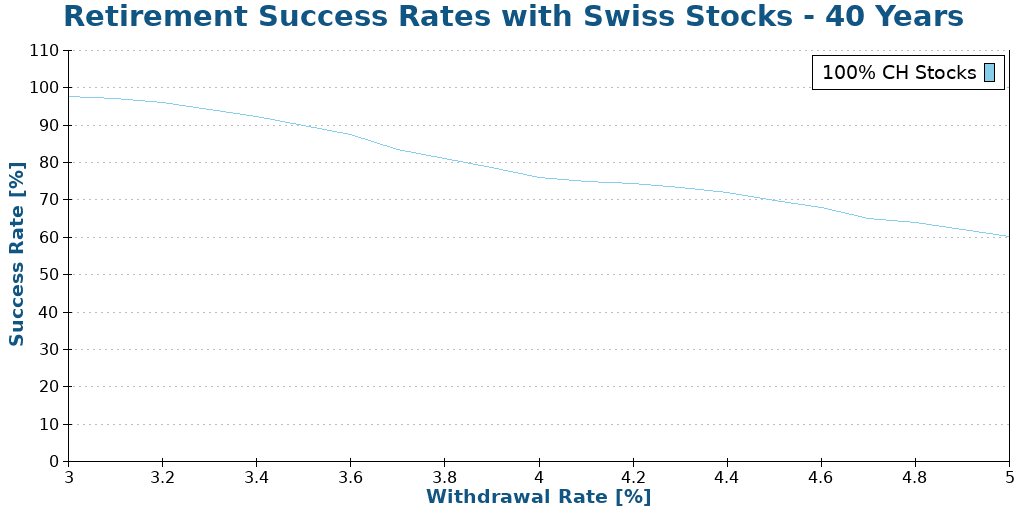 We can see that we are reaching the limits of Swiss stocks. Indeed, we would need a withdrawal rate below 3.60% to have more than 90% success rate. Swiss stocks did not have enough returns to sustain very long periods.
Finally, we can also see what happens at 50 years.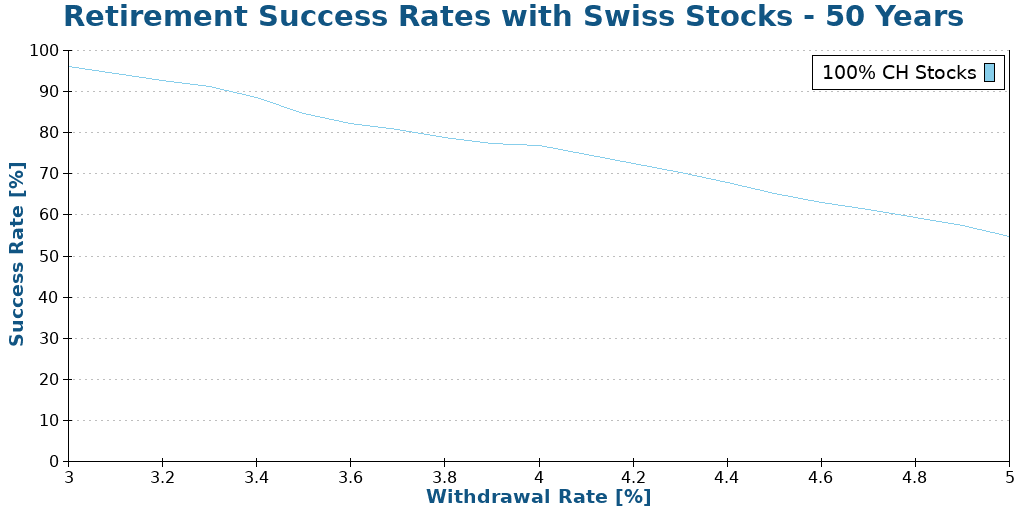 While the results are not great, they are also not horrible. We would still get more than a 90% chance of success with a 3.40% withdrawal rate. This withdrawal rate is very conservative, but some people use low withdrawal rates.
Finally, let's compare the results for 50 years for the two datasets. The new dataset has total returns, while the old dataset has been missing dividends for about 60 years.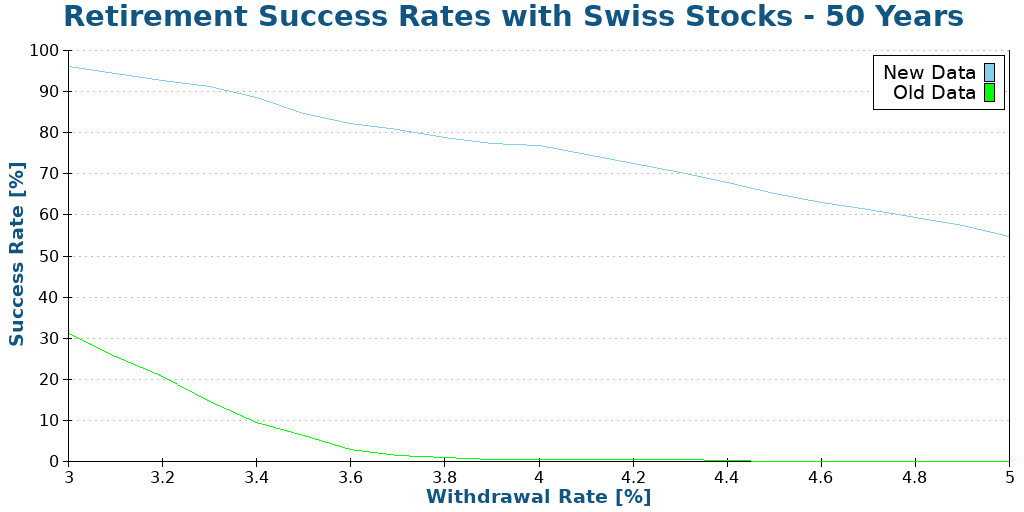 This shows the importance of dividends in total returns. Without dividends, the chances of success would be minimal for 50 years.
Swiss Stocks and Bonds
Now that we have studied the historical data of Swiss stocks, we can see what happens if we add Swiss bonds to our portfolio.
We will start directly with 20 years of retirement.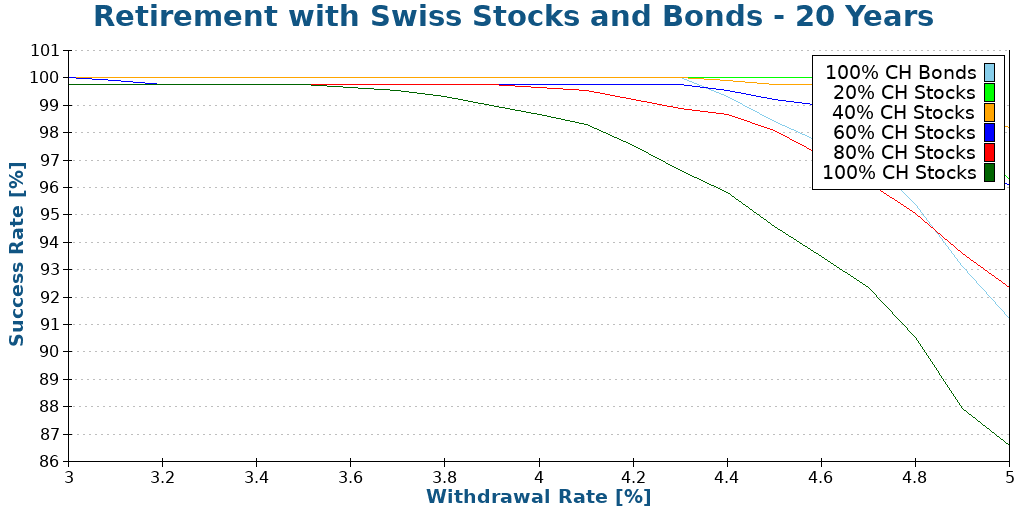 It is very interesting to note that the worst portfolio is the portfolio with 100% stocks. Over short periods, we do not need high returns but low volatility. Therefore, bonds are quite good here. Bonds usually start to be insufficient when we raise the retirement period.
So, we continue with 30 years of retirement, a more interesting period.
As we expected, bonds are now providing low results in these scenarios. The bond returns are too low to sustain long periods. To see better, we can remove the two worst portfolios.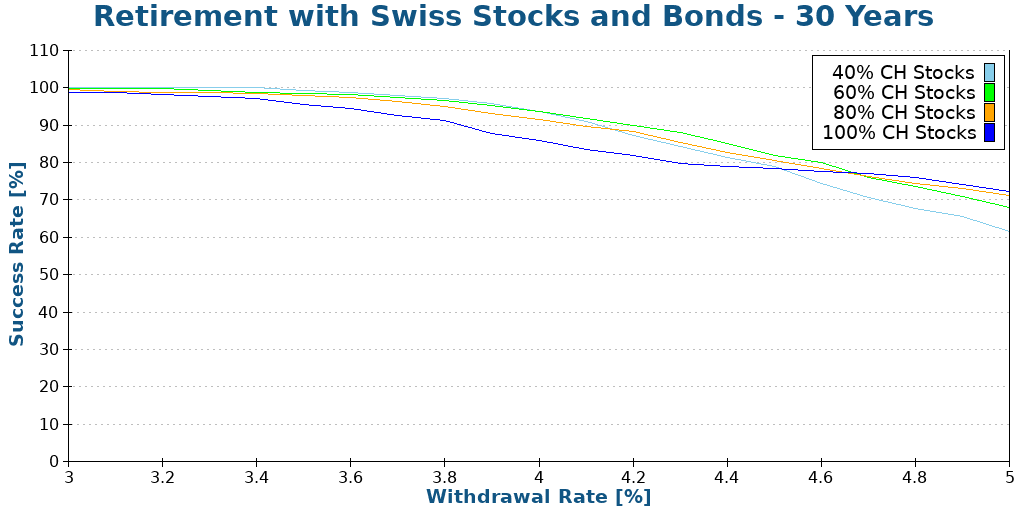 The results are really interesting. We can see that adding bonds helps the success rates significantly. Using 100% stocks is only better when using very aggressive withdrawal rates. The 4% rule would still work for 30 years using Swiss stocks and bonds!
We can see if we can handle 40 years.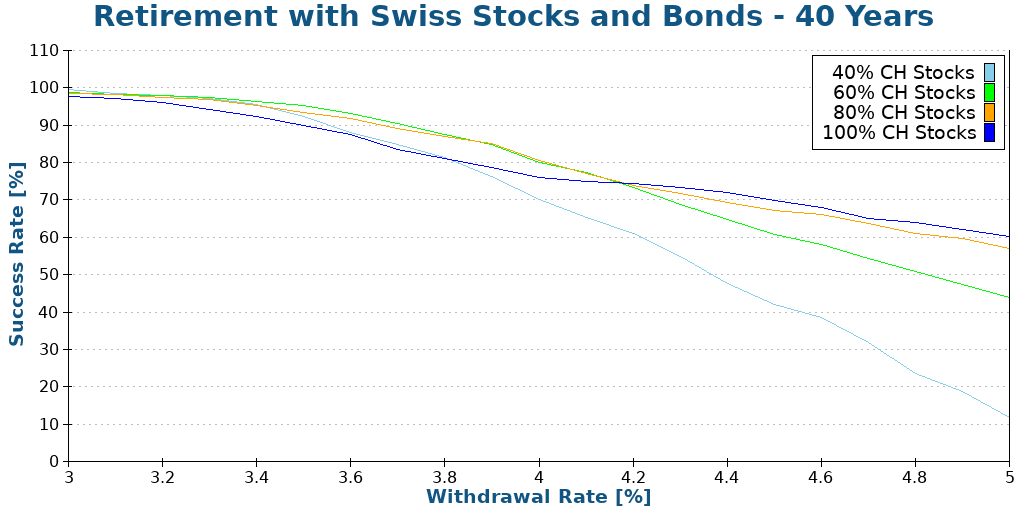 Unfortunately, Swiss stocks do not provide enough returns for a 4% withdrawal rate over 40 years. It is still producing great results at a 3.50% withdrawal rate. Starting from a 3.80% withdrawal rate, the portfolio with 40% stocks is beginning not to be enough. Nevertheless, in most cases, bonds still provide a reasonable improvement for conservative withdrawal rates.
Finally, let's complete our simulations with 50 years of retirement.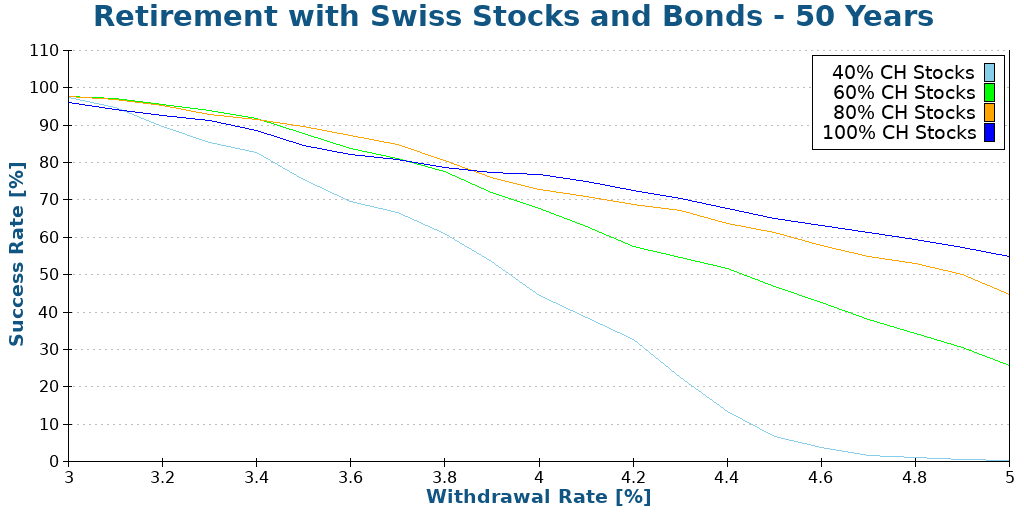 This simulation is quite difficult with Swiss stocks and bonds. We would need a very conservative withdrawal rate to reach a decent success rate. The portfolio with 60% bonds is failing, so we should remove it.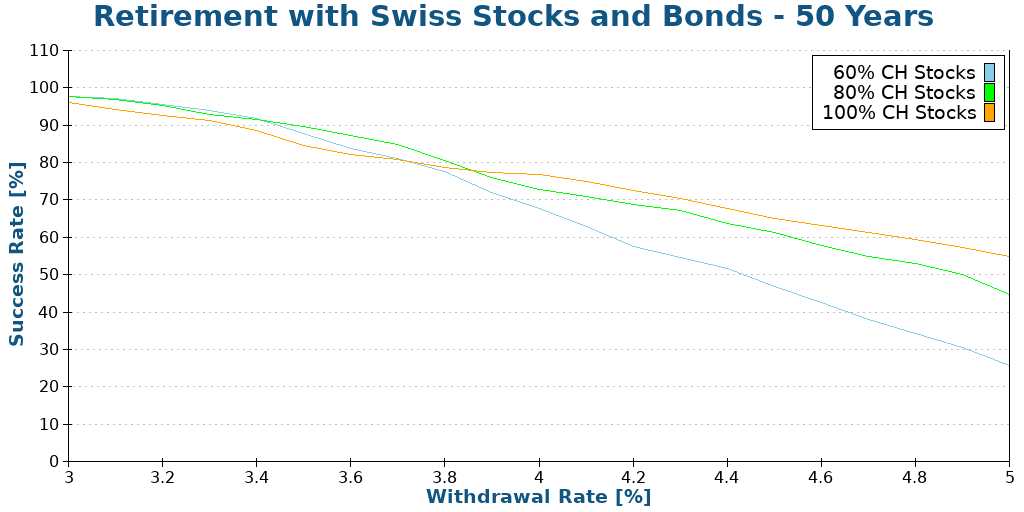 While these results are not great, they are also not horrible. Indeed, we could sustain 50 years of retirement with 3.50% withdrawal with either 60% or 80% Swiss stocks. I think this is an interesting result.
If you are willing to be conservative, you could retire early in Switzerland with only Swiss stocks and bonds!
Worst duration
The success rate is an interesting metric, but it is also not the only metric. In many cases, stocks do better than bonds on success rates, but they can fail early in the simulation. Therefore, another interesting metric is the worst duration of a retirement simulation.
The worst duration is the earliest a given simulation can fail. We usually measure the worst duration in months.
Here is the worst duration for our portfolios over 50 years.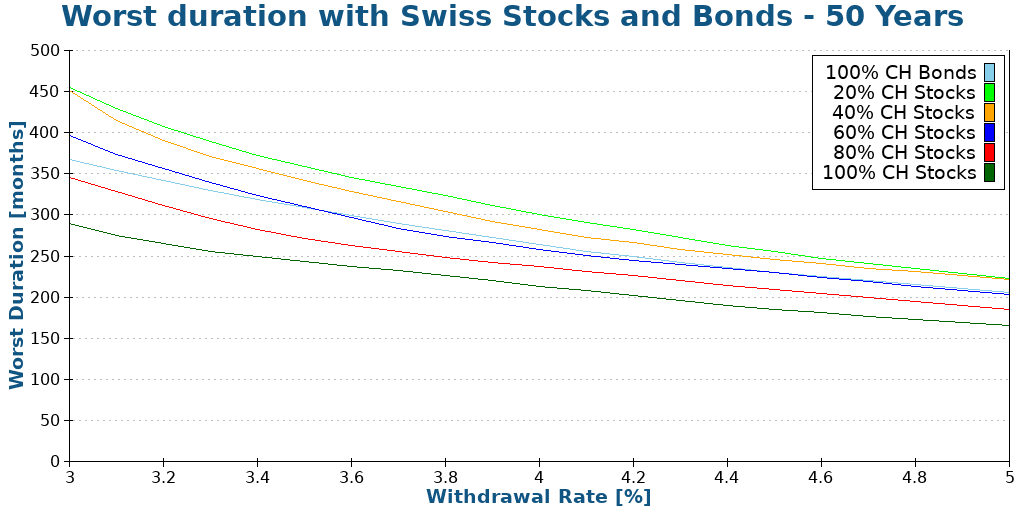 As expected, adding bonds to the portfolio significantly increases the worst duration. This makes sense since it is the main value of bonds to reduce volatility, which will increase the worst duration.
In the longer term, bonds are less interesting because they do not have high enough returns.
Terminal values
Finally, we can also look at the terminal values in our simulations. The terminal value is how much we are left at the end of the simulation. We can look at the average, median, and maximum terminal values. We do not show the minimum since it is almost always zero.
So, we can look at the terminal values for 40 years of retirement and a portfolio with 100% Swiss stocks. The initial value of the portfolio is 1000 CHF.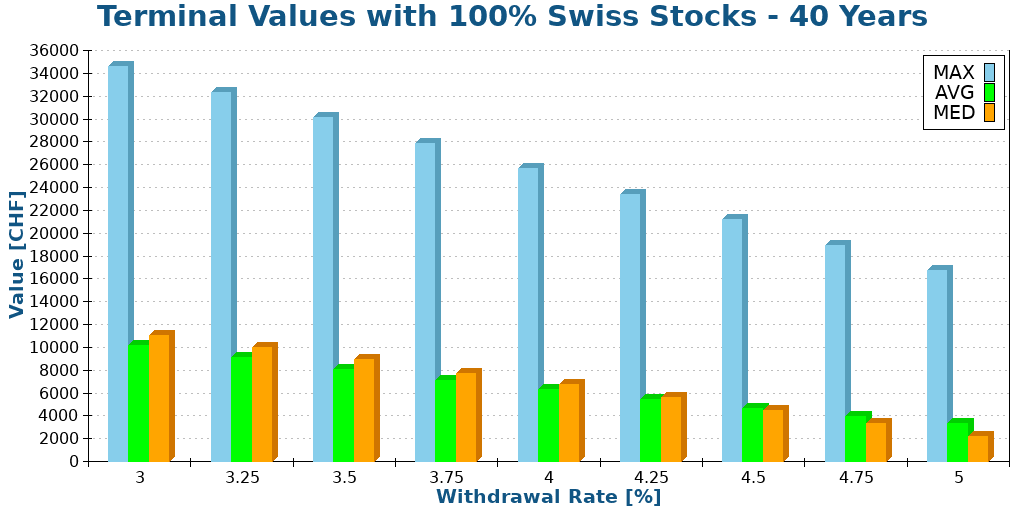 We can see that even with Swiss stocks, the maximum terminal values are high. With a 4% withdrawal rate, we can end up with 28 times what we started with. The average and median values are more interesting.
On average, we would end up with about eight times what we started with. This shows that we have a high margin. Some starting times make it challenging to achieve success. But on average, Swiss stocks have performed well for retiring early.
We can also look at the terminal values with 80% Swiss Stocks for the same period.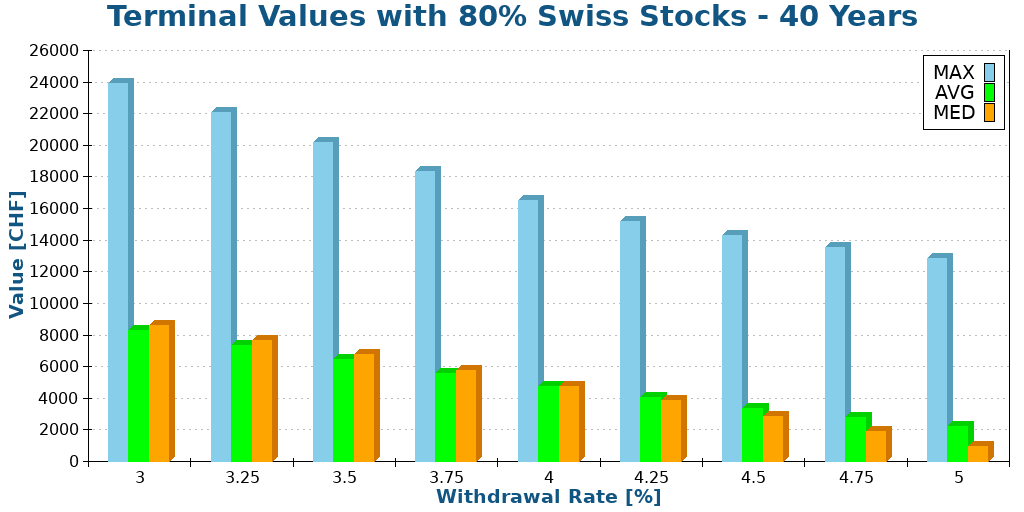 As expected, all the terminal values are lower. This makes sense since we are sacrificing some returns to reduce the volatility. Nevertheless, with a 4% withdrawal rate, we would still end up with about six times more than we started, which is a great result. Interestingly, the average and median values are almost the same in this result.
What about diversification?
In this article, we have only considered Swiss stocks and bonds. But should a Swiss investor only use Swiss equities? No!
Diversification is essential. We should diversify our assets since Switzerland is a tiny stock market (about 3% of the world). For that, a global world ETF is generally a good idea for most investors. So, the Swiss stocks in your portfolio should act as a home bias rather than the main part.
That being said, investors tend to be heavily biased towards their country. So, many Swiss investors will only have Swiss stocks and bonds, making this simulation quite interesting. This is also an excellent way to compare Switzerland with other countries.
If we want to run simulations with a diversified portfolio, we need to consider currency exchange. In the previous article, I ran some simulations using the CHF/USD exchange rate.
However, USD/CHF over the long has been quite hectic. Indeed, it was flat for many years because of the gold standard and the Bretton Woods system. But after Nixon killed both, the value of the USD was divided by two in about ten years.
These huge swings make it difficult to use these historical data. I think they are unlikely to repeat. I have used a forecasted exchange rate in the past, but this is not satisfying. So, for this article, I will not use it.
Conclusion
Overall, I am pretty happy with these results. It shows that retiring early with only Swiss stocks and bonds is possible. This requires conservative withdrawal rates and is more risky than US stocks.
The bad results from the previous simulation were greatly influenced by the data missing dividends in half the years. The results are better than I expected now that I have good data.
Again, I want to emphasize that I do not recommend having only Swiss stocks. Some level of international diversification is essential.
Now that I have this data, I will likely run more experiments in the next few months. I am thinking of trying to apply reverse glidepaths to these portfolios. I also think about including social security into the mix. If you have ideas, let me know in the comments below.
And if somebody knows where I could find monthly returns for Swiss stocks and bonds before 1926, let me know!
You probably have seen that the graphs have changed to a new format in this article. I have developed a simple system to generate graphs quickly from my tool into WordPress. While they are not as nice as before, these graphs save me a lot of time and are easy to translate. I would be glad to know what you think.
What do you think about these results?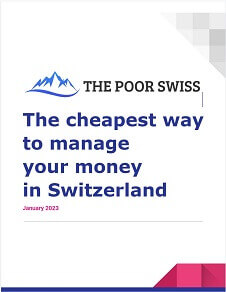 The best financial services for your money!
Download this e-book and optimize your finances and save money by using the best financial services available in Switzerland!
Download The FREE e-book