PostFinance E-Trading Review 2023 – Pros and Cons
|
Updated:
|
(Disclosure: Some of the links below may be affiliate links)
PostFinance is a well-known Swiss bank and broker. They are generally considered to be very affordable and very easy to use.
If you want a Swiss broker, should you use PostFinance as a Swiss investor, especially a passive investor? We will find out in this in-depth review.
This article shows what PostFinance offers as a broker, how much it costs, and more. By the end of the review, you will know whether PostFinance is a good investment broker.
I only talk about PostFinance as a broker, not as a bank.
About PostFinance e-trading

| | |
| --- | --- |
| Custody Fees | 90 CHF per year |
| Inactivity Fees | 0 CHF |
| Buy Swiss ETF | 15 – 350 CHF |
| Buy American Stock | 25 – 350 USD |
| Currency Exchange Fee | 1.2% |
| Languages | French, German and Italian |
| Mobile Application | Yes |
| Web Application | Yes |
| Custodian Bank | PostFinance – Swissquote |
| Established | 1906 |
| Headquarters | Bern, Switzerland |
PostFinance E-Trading

PostFinance is the bank of the Swiss Post. It was founded in 1906 already. They got a banking license in 2013. They are now one of the largest retail financial institutions in Switzerland.
We focus only on the e-trading part of PostFinance. They have been offering bank accounts for a long time, but I have already covered PostFinance as a bank. If you are looking for good bank accounts, read my article about the best banks in Switzerland.
With PostFinance E-Trading, you will have access to many financial instruments:
Equities and Bonds
Derivatives
ETFs
Mutual Funds
Structured products
These instruments should be more than enough for the immense majority of investors. In addition, for stock and ETFs, you will have access to many stock exchanges:
Swiss Stock Exchange (SWX)
Euronext
Frankfurt
Xetra
London Stock Exchange (LSE)
NYSE
NASDAQ
…
So, again, we should have more than enough stock exchanges for investing.
On the other hand, you cannot short stocks or get Lombard loans on your account. So, you should not use PostFinance if you plan to use any leverage for your investing.
There are a few conditions to open a trading account at PostFinance:
First, you need to be a customer of PostFinance, so you will need to have a bank account.
You need to be a Swiss resident of at least 18 years old.
You can only invest for yourself.
You cannot be a US citizen.
It is quite limiting to be forced to use a PostFinance bank account to use a PostFinance E-Trading account.
It is important to note that the PostFinance e-trading platform is based on the Swissquote platform.
Overall, you will have all the instruments to invest in the stock market with PostFinance Etrading. However, they are forcing you into their bank accounts as well. But most Swiss banks do the same. So, if you want to trade with a Swiss bank, you must use their accounts.
It is important to note that PostFinance has several platforms to invest in. The E-Trading platform is to invest by yourself. But they also have consulting services: E-Asset management, Fund Consulting, Investment Consulting, and Fund Self-Service. These services are very costly. I will not review them in detail, but I would not recommend them.
PostFinance Fees
In the long term, you need to reduce your fees. Investing fees are extremely important. Therefore, we must look at the fees of PostFinance. You should not neglect this.
First, we can take a look at the custody fees. With PostFinance, you will pay 90 CHF in custody fees per year. However, these are given back to you as fee credits. So, if you spend more than 90 CHF in trading fees in one year, you would not have paid any custody fee. Getting the fee back is a good thing since, for most brokers, you cannot get back the custody fees.
We also need to remember that PostFinance base accounts are not free. So unless you have a lot of money in your account, you can expect to pay at least 5 CHF per month for your PostFinance account, on top of the custody fees.
For each of the stock exchanges it supports, PostFinance has a different fee based on the order size. For instance, here are the fees for the main stock exchanges you may need:
| | | | | |
| --- | --- | --- | --- | --- |
| Order size | SIX Swiss Stock Exchange | Frankfurt, Xetra, Euronext | London Stock Exchange | NYSE, NASDAQ |
| 0 – 1000 | CHF 15 |  EUR 25 | GBP 25 | USD 25 |
| 1001 – 5000 | CHF 25 |  EUR 35 |  GBP 35 | USD 35 |
| 5001 – 10000 | CHF 35 |  EUR 40 | GBP 40 | USD 40 |
| 10001 – 15000 | CHF 50 |  EUR 50 | GBP 50 | USD 50 |
| 15001 – 20000 | CHF 70 |  EUR 70 | GBP 70 | USD 70 |
| 20001 – 30000 | CHF 95 |  EUR 95 | GBP 95 | USD 95 |
| 30001 – 50000 | CHF 130 |  EUR 130 | GBP 130 | USD 130 |
| 50000 – 100000 | CHF 180 |  EUR 180 | GBP 180 | USD 180 |
| 100000 – 150000 | CHF 270 |  EUR 270 | GBP 270 | USD 270 |
| From 150'001 | CHF 350 |  EUR 350 | GBP 350 | USD 350 |
For small operations, the fees are relatively small. However, when we consider the relative value, they are pretty large. We can take the Swiss Stock Exchange as an example. For an order of 1000 CHF, you will pay 1.5% in fees! On the other hand, an order of 10'000 CHF will only cost you 0.35% in fees. And an order of 100'000 will cost you 0.27% in fees. These fees are not great, but this is not too bad for large operations.
If you want the details for more stock exchanges, you can check out the brokerage fees from PostFinance.
You must pay a 1.2% currency conversion fee to purchase stocks in other currencies. This conversion fee is very high. PostFinance e-trading is a lousy option to trade anything but CHF.
Since PostFinance is a Swiss broker, you must pay the Swiss Stamp Tax Duty. You will pay 0.075% on each transaction of Swiss securities and 0.15% on each transaction for foreign securities. The only way to waive this fee is to use a foreign broker.
On top of that, if you do a lot of operations, you can get back some money from fees:
From the 10th trade to the 19th trade, you can get back 10% of the fees
From the 20th trade to the 29th trade, you can get back 20% of the fees
But given the high operation price, you should not do more than one monthly operation on your PostFinance E-trading account. So, I do not think this bonus program makes sense to most investors.
Compared with other Swiss brokers, PostFinance is average, not great, nor too bad.
Overall, PostFinance e-trading has high fees. It is not the worst option available in Switzerland, but there are also some significantly better options.
Opening an account at PostFinance
If you want to trade with PostFinance, you must open a complete account with e-finance access. So, opening an account for trading with PostFinance means opening a bank account with means and getting e-finance access. Only after this will you be able to request an e-trading account.
Having to open a bank account makes the account opening process for a broker account at PostFinance highly impractical.
Trading with PostFinance
You can trade with PostFinance in one of three ways:
From the e-trading online website
From the PostFinance mobile app
From the PosFinance desktop app
So, there should be enough options to satisfy everybody.
Unfortunately, I have not found a video of the app in practice. PostFinance only has advertisement videos that do not show anything about the app. From what I have read from some users, it is straightforward to use. But you should not expect to do anything advanced from it.
Is it safe?
If you plan to invest money with a broker, ensure it is safe before you start.
PostFinance has a banking license in Switzerland. So, they are an official Swiss bank. As such, they are regulated by the FINMA. And PostFinance will directly hold your assets.
PostFinance has a relatively good reputation for its bank services. They have many users (about 2.5 million in 2023). Therefore, they are unlikely to go bankrupt. Furthermore, since they are a licensed bank, your assets would be protected by up to 100'000 CHF if they went bankrupt. And your securities are segregated from the main balance sheets. As such, they should be safe in case of bankruptcy.
On the other hand, it is important to note that PostFinance has been losing customers these last few years. Indeed, they had 2.6 million customers in 2016.
As for technical security, they have good standards. For example, they have been enforcing second-factor authentication for years now. I have not heard of any security issues with PostFinance e-trading. However, there was a small issue with PostFinance e-banking in 2015, where at least one user could access data from another user. It was fixed since and was not related to e-trading, but it is still interesting to look at these.
Overall, investing with PostFinance should be as safe as investing with other Swiss brokers.
PostFinance reputation
Looking at a broker's reputation before using its services is good.
I am using TrustPilot as a source of trust for user reviews. PostFinance on TrustPilot has a 1.3-star average with 661 reviews. This score is the worst result I have ever seen. The user ratings are abysmally bad.
85% of the reviews give 1 star to PostFinance (and often ask to give zero stars).  Among the negative reviews, we can find the following points:
Fees are too high and increasing while service is not improving.
Customer service is poor.
Execution times of bank transactions are slow.
The new version of the applications is worse than the previous versions.
The number of features is reduced with new applications.
The main issues are with the new application. Most users liked the previous application but did not like the new one. The new app does not have enough features and does not work. These reviews show they did not concert with users when developing the new application.
There are a few reviews with five stars. However, four reviews are from the same user, so we should ignore them. The rest of the reviews are incredibly vague. They say they have no problem, but they do not say anything specifically good about the services.
Unfortunately, it is impossible to distinguish between PostFinance as a bank or as a broker regarding reviews. But if PostFinance Bank has a bad reputation, it is already a good indication that PostFinance e-trading would also have a bad reputation.
Overall, I conclude that PostFinance has a bad reputation among its users. As such, I would be careful about using it.
Alternatives
We should compare PostFinance with some alternatives. There are many brokers available in Switzerland.
Since PostFinance trading is based on Swissquote, we should compare directly with Swissquote, which also offers brokerage services.  Swissquote will be slightly cheaper, although not by a considerable margin.
But Swissquote has a better reputation. And you will get access to a better set of features if you use Swissquote directly. So, I recommend Swissquote over PostFinance trading if you want a Swiss broker. You can read my Swissquote review if you want more information.
And if you do not mind a foreign broker, we can compare with Interactive Brokers. IB is a great broker from the US with an entity in the UK. Prices are much cheaper than PostFinance trading. For instance, IB will be 100 times cheaper on US ETFs than PostFinance.
And you will get many more features, better execution, and a better reputation. So, I recommend using IB over PF. Again, if you need more information, I covered you with my Interactive Brokers review.
FAQ
Can you use PostFinance E-Trading without a bank account?
No, PostFinance E-Trading is only available to PostFinance bank customers.
PostFinance E-Trading Summary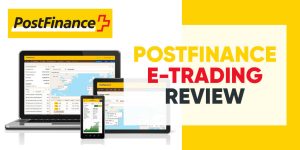 PostFinance E-Trading is the brokerage service of the PostFinance bank. This service gives access to many financial instruments such as stocks, ETFs and bonds.
Product Brand: PostFinance
PostFinance E-Trading Pros
Let's summarize the main advantages of PostFinance E-Trading:
Trading is easy
Mobile and desktop applications
Custody fees are counted towards trading fees
Relatively low fees for large orders
Well-established bank and broker
PostFinance E-Trading Cons
Let's summarize the main disadvantages of PostFinance E-Trading:
Very high trading fees for small operations
Very high currency conversion fee
You need to have a PostFinance bank account to use PostFinance E-Trading
Poor reputation
Conclusion
Overall, PostFinance is not a very good broker account for Swiss investors. The main issue is linked to their primary bank account offering. So, the only users that may want to use PostFinance e-trading are those of PostFinance banking packages.
However, PostFinance banking packages are not the best in Switzerland. And PostFinance e-trading itself is not the best broker offer in Switzerland either. Therefore, I would not recommend using PoStFinance for brokerage services.
If you want the best broker for Swiss investors, I recommend using Interactive Brokers. You can read my review of Interactive Brokers if you want more details.
If you want a Swiss broker, I recommend using Swissquote. For more information, you can read my review of Swissquote. Since the PostFinance platform is based on Swissquote and Swissquote is cheaper and better than PostFinance e-trading, it is better to use Swissquote directly.
What about you? What do you think about PostFinance as a broker?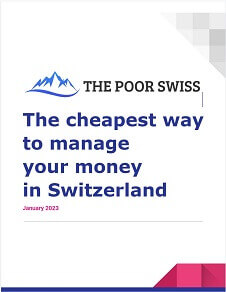 The best financial services for your money!
Download this e-book and optimize your finances and save money by using the best financial services available in Switzerland!
Download The FREE e-book