(Disclosure: Some of the links below may be affiliate links)
FlowBank is a new Swiss digital bank that launched publicly late in 2020. Interestingly, they are not only a bank but also a full-fledged broker. This means you can have your money and your stocks at the same place.
FlowBank presents itself as an innovative digital bank platform that would bring cheaper trading to Switzerland. On paper, it sounds exciting.
So, let's see how good it is in this in-depth review.
FlowBank

FlowBank was started in 2020 by Charles-Henri Sabet. They officially started their public service in November 2020. FlowBank is an officially licensed bank from Switzerland. This is a great thing since it means that we get Swiss banking protection. And it is interesting to note that they are the first bank to be licensed since 2009. They are already employing 90 people in Geneva.
FlowBank is trying to make online banking and online trading simpler and more accessible to everybody. They are offering a multi-currency bank account and a broker account.
Their vision is to be seriously simple, seriously banking, and seriously Swiss. I am not sure exactly what it means, but it is interesting, nonetheless.
FlowBank offers customer service 24 hours a day and 5 days a week. It is great to note that this service is based in Switzerland. I have contacted their support several times to get information and they have been very responsive.
Unfortunately, they do not have much information on their bank account on the website. You can hold several currencies and pay online with a virtual card. But the fees are very unclear about banking fees. My interpretation of the fees is such:
Transferring money to your account is free
Transferring money out of the account is not free

Transferring CHF or EUR in Switzerland or Lichtenstein cost 2 CHF
Transferring CHF outside of Switzerland cost at least 10 CHF
Transferring EUR outside of Switzerland cost at least 10 CHF
These are very expensive fees for a bank. If you cannot get money out of the account for free, it is not an acceptable bank account. This makes it only valid as a trading account since you do not want to get money out of it very often.
Currently, they have no physical card. But one physical is planned in the first quarter of 2021. And they have no details either as to the fees of the physical card when it will come. I guess we will have to wait and see for that part.
However, the website contains a lot of information about their trading system. So, I will mostly focus on this aspect in this review.
Trading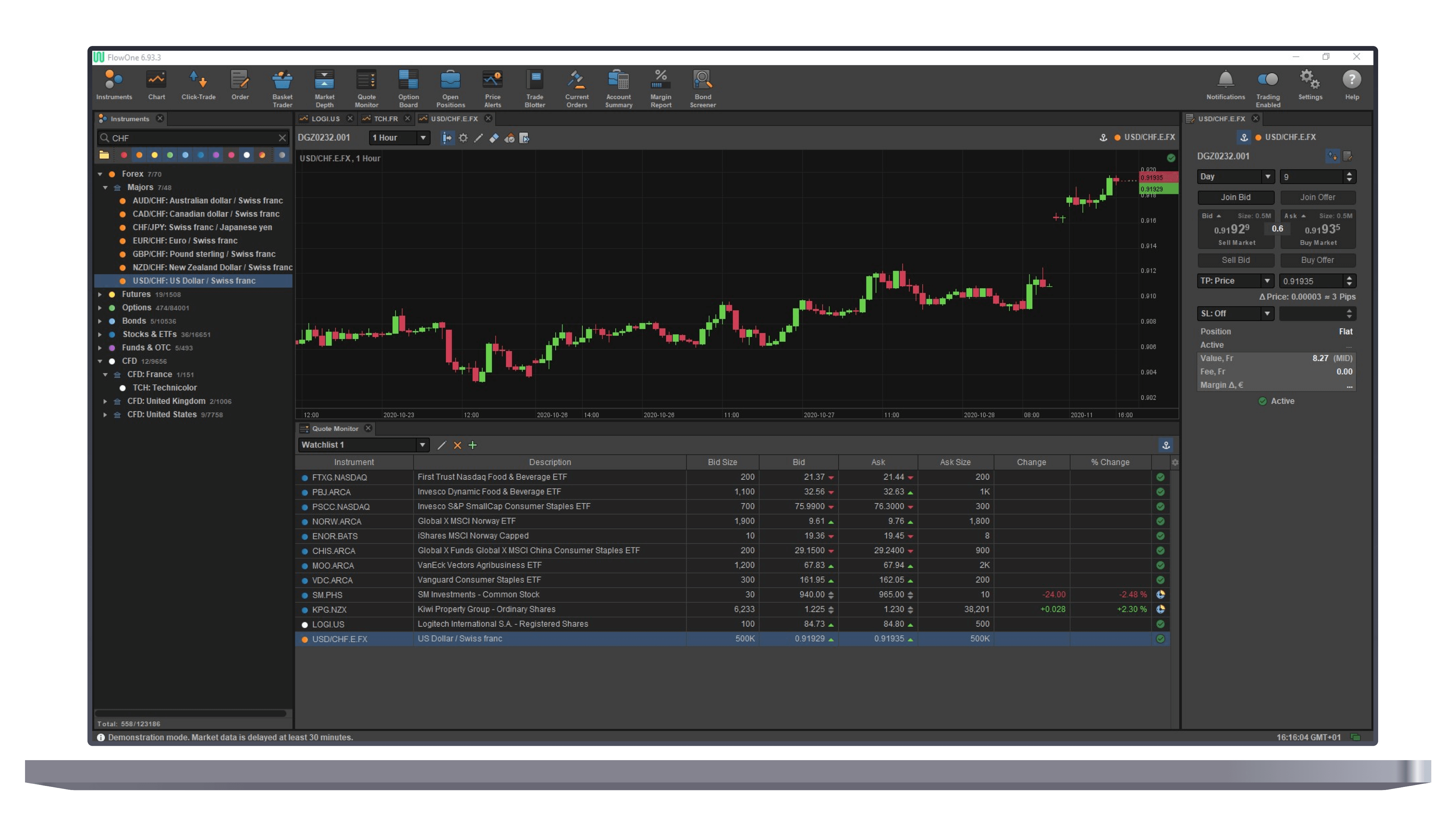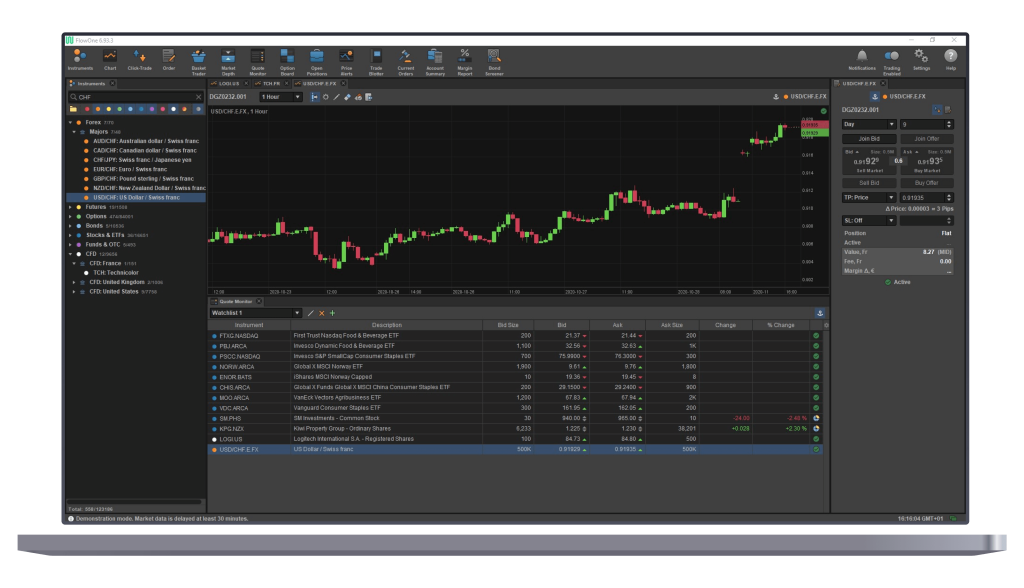 As mentioned before, FlowBank offers many trading features.
All the trading is made with their custom application, FlowOne. FlowOne is available in many flavors:
Desktop application for Windows, Mac, and Linux
Mobile application for Android and iOS
Web application
It is really great that we can trade from so many platforms with a single application.
You can trade in many instruments:
Stocks, bonds, and Exchange Traded Funds (ETFs)
Options and futures
Forex
Commodities
Contracts for Differences (CFDs)
That is a lot of instruments, but any good passive investors will ignore everything that is not Stocks, Bonds, or ETFs. I would especially advise against using CFDs.
You can buy and sell shares with the standard market, limit, and loss orders for the basic instruments. This is all we need to trade!
One interesting feature is the ability to trade in fractional shares. Most Swiss brokers do not allow this. It could be interesting if you want to buy shares of costly stocks. But this is not common for ETFs.
The application has many advanced features:
Price alerts
Advanced reporting
Screeners for bonds
Margin monitors
Overall, FlowBank has more than enough features for trading. A lot of the features are tuned towards active investors. But, most brokers are tuned towards them since they make more money out of them. However, I do not see anything that would really differentiate them from other brokers.
FlowBank Fees
For passive investors, investing fees are very important. Therefore, we need to look at their fees.
There are is no account management fee. However, there is a custody fee of 0.10%, with a minimum of 40 CHF per year. The big issue is that there is no maximum for the custody fee. So, this means you are adding a 0.1% fee to all your investments. This is actually worse than most Swiss brokers. The minimum makes it expensive for a small portfolio, while the lack of a maximum makes it expensive for a large portfolio. Their custody fee will eat into your returns.
This single custody fee without a maximum makes it of very little interest.
The fees for stocks and ETFs are the same. These fees are different for each stock exchanges, for instance:
SIX (Switzerland): 0.10% with a minimum of 20 CHF
Euronext (Europe): 0.15 with a minimum of 25 EUR
NYSE (USA): 0.15% with a minimum of 25 USD
Once again, there are no maximums. This is less of a big deal than the custody fees. But the minimums are pretty high. This would make any small investment way too costly with FlowBank. Other Swiss brokers would be better. But for large investments, FlowBank can be cheaper than other Swiss brokers. However, 20 CHF for Swiss ETFs is not that great. Something like Swissquote would be twice cheaper.
FlowBank supports many more stock exchanges with similar prices. You can read more on their pricing page.
For bonds, the commission will be 0.20% with a minimum of 50 CHF. It is quite bad. But most people do not buy bonds directly anyway.
I will not go into detail about other instruments since I do not recommend you use them anyway. But we are also interested in Forex conversions.
Forex is pretty expensive as well, with a 0.5% conversion fee. If you want to buy an ETF in USD, you will have to pay 0.5% for the conversion and then pay the commission fee on top of this fee. This makes these transactions very expensive, almost on the level of a Robo-advisor.
Overall, I am not sold on these fees. The percent fee is quite high, and the minimums are high. On small fees, they do not even compare with other Swiss brokers. They would only be interesting for substantial transactions. On top of that, the custody fee without a maximum is pretty bad as well on the long-term.
And when we compare them with something DEGIRO and IB, they cannot compete. But that is true for every Swiss broker so far.
Security
We can take a look at the security of FlowBank.
First, FlowBank is a licensed bank from FINMA, and they are a member of esisuisse (the Swiss deposit protection scheme). So, in case of bankruptcy, your cash is safe up to 100'000 CHF.
For your stocks, your investments should be segregated from FlowBank's main entity. Every broker does this segregation. But I have not found any mention of it, not the website. While I am confident they are doing it, it would be better to document this on their website.
The web application of FlowBank seems technically secure. Creating an account requires uploading some official documents to verify your identity.
I have not found any information about leaks of data or security breaches with FlowBank. But given that they are very new, this does not weigh much in the balance.
Overall, the security of FlowBank seems alright. I wish they would talk more about it on the website.
FlowBank Advantages
FlowBank has a few advantages:
They are a licensed bank, so your money is secure up to 100'000 CHF
Allow trading in fractional shares
Can trade on many platforms
They have a demo account to test the system

But I have not been able to create an account without validating documents

Very responsive customer support
FlowBank Disadvantages
FlowBank has quite a few disadvantages:
High custody fees of 0.1% with no maximum
They are very new to the market
The information on the website is minimal
The account currently has no physical card (coming in Q1 normally)
Trading fees are very expensive for small transactions
Expensive currency conversion
Getting money out of the account is not free
Conclusion
It is good to see new digital banks and new products aiming to make the Swiss market cheaper. But, so far, I am not convinced by FlowBank. They are aiming to be a cheap digital bank and trading platform. But even compared to other Swiss alternatives for trading, they are not very cheap.
As a standalone bank, they are not a great option since they have custody fees, and getting money out of the account is expensive. So, if you are looking for a cheap bank account, it is not FlowBank. Neon and Zak have many more bank features, are cheaper, and both offer free currency conversion for payments.
As a multi-currency account, they are not that great either. Each currency conversion is subject to a 0.5% fee. This is more expensive than Revolut and often more expensive than TransferWise. But they have the advantage of being a Swiss licensed bank, so your money is much more protected.
Finally, as a trader, they are even more expensive than other Swiss brokers. For small trades, their minimums are quickly expensive. And for a large portfolio, their custody fees without maximum could also weigh in. There are some better Swiss brokers and some much better foreign brokers.
I hope that they will improve their fees and conditions in the future. Currently, I see no reason to use FlowBank rather than other alternatives. FlowBank is an expensive bank and broker.
In the meantime, I would still recommend using Interactive Brokers, as I do.
If you have tried FlowBank, I would be glad to hear your thoughts about them.