Simplewealth Review 2023 – Pros & Cons
|
Updated:
|
(Disclosure: Some of the links below may be affiliate links)
It is time for yet another Robo-advisor review. Simplewealth is a Swiss Robo-advisor that aims to be affordable, transparent, and easy to use.
This review will analyze Simplewealth in detail: its pros and cons, fees, and strategies. By the end of the article, you will know whether you should use Simplewealth for your investing.
About Simplewealth

| | |
| --- | --- |
| Management fee | 0.50% |
| Product Costs | 0.20% |
| Investing strategy | Passive |
| Investing products | ETFs |
| Minimum investment | 5000 CHF |
| Currency conversion | Unknown |
| Customization | None |
| Sustainable | No |
| Languages | German and English |
| Custody bank | Interactive Brokers |
| Users | Unknown |
| Established | 2017 |
| Headquarters | Zürich, Switzerland |
Simplewealth

Simplewealth was born in 2015 from the minds of Jeremy Cohen and Adrien Wegschiede. They then obtained authorization to manage client funds in 2017 under Swiss regulations.
In 2020, the company was bought by private investors and taken private. These investors significantly boosted the service with new algorithms, new features, and better fees.
One interesting point is that Simplewealth is using Interactive Brokers as a broker. So, your portfolio will be in an account in your name, and Simplewealth will execute trade operations for this account. But only trade operations can be done by Simplewealth. Transfer operations can only be done by you.
Interestingly, they are not only open to Swiss residents. If you are a European citizen, you can also open an account. And if you are an American living in Switzerland, you can also open an account, which is excellent because most services refuse Americans because of complex regulations.
It is important to note that Simplewealth will not store your money in Switzerland because they use IB. So, although they are a Swiss Robo-advisor, you do not have the advantage of your money staying in Switzerland.
So, we now delve into detail about Simplewealth.
Investing strategy
3/5
We take a look at how Simplewealth will invest your money.
Like most Robo-advisors, Simplewealth invests using Exchange Traded Funds (ETFs). It means they will devise an investment portfolio of several ETFs, each with a different allocation. And then, they will keep this portfolio balanced if it goes too much out of balance.
Unfortunately, they are not very transparent about the ETFs they are using. I could not find this information on the website. This lack of information is funny (and sad) because they say that transparency is one of the central values on their About page.
I have started the registration process to get more information. The process asks the usual questions about your savings goal and investing capacity. From this, they will then derive your risk capacity and portfolio.
In my case, they recommend the most aggressive investment strategy, which makes sense. This strategy invests in the following:
90% stocks
5% high-yield bonds
5% cash
I would have preferred getting rid of the bonds and going higher in stocks, but this is not a bad portfolio. I wish this could be found easily on the website without entering an email address.
Unfortunately, I did not get the details as to the content of this portfolio.
You need to have 5000 CHF on your account to get started with Simplewealth. 5000 CHF is a standard minimum in Switzerland to avoid having too few shares of ETFs.
Overall, the investing strategy seems to make sense. But there is not enough information available without sharing personal information. I would not recommend investing in any service without knowing more about what it will invest in. On top of that, an allocation of 90% to stocks is too little for aggressive investors.
Investing Fees
4/5
Investing fees are very important when you are considering any financial service. Investing fees are often the only control point on your future returns. So, here is how much Simplewealth is charging.
The fee system of Simplewealth is straightforward. They have a 0.50% annual custody fee, charged monthly. They also have a Corporate account with a 0.40% custody fee, but it is unclear what conditions are needed to obtain this account, so I will focus on the Individual account.
On top of that, you will have to pay the fees of the ETFs. Once again, they lack transparency because they do not mention this fee on their website. This fee will depend on the ETFs that are used in your portfolio. It could range from 0.10% to 0.30%.
Unlike most Swiss Robo-advisors, Simplewealth will not charge you Swiss stamp duty fees. The reason is simple: since they are using Interactive Brokers, they do not pay this fee.
Overall, the fees of Simplewealth are reasonable. A 0.50% custody fee is a good fee for Swiss Robo-advisors.
Security
4.5/5
Finally, we look at the security of using Simplewealth.
I did not find much about the technical security of Simplewealth. They are sharing that they follow Swiss standards for data protection. I have not found any record of a security issue with them. But they are relatively new and do not seem very well-known, so this does not tell us much.
Interactive Brokers LLC will hold all your money and securities. By creating an account with Simplewealth, you create an account with IB. This IB account is where your money will be held. Each Simplewealth customer has a different IB account, which is good!
Since they use IB, your assets have the same protection as if you had an account at IB UK. In case of bankruptcy, your cash should be protected by the FSCS for up to 85K GBP.
On top of that, we also get American protection through SIPC. Currently, this gives up to 500'000 USD protection, with maximum protection of 250'000 USD for stocks.
As for regulations, Simplewealth is regulated by VQF and registered with FINMA. They should be under regular audit by VQF. These regulations are standard for asset managers.
Overall, the security at Simplewealth looks adequate. The protection in case of bankruptcy is good. I wish they were more transparent on their websites to trust them more.
Alternatives to Simplewealth
There are many good alternatives to Simplewealth.
Since they both use Interactive Brokers, Investart is an excellent alternative to Simplewealth. Investart has the same features and security, but the fees are lower. I also feel like they are significantly more transparent. You can read my review of Investart to get started.
If you want a Swiss Robo-advisor that stores your assets in Switzerland, I recommend True Wealth or Selma. Both are keeping your assets in Switzerland and are more transparent. True Wealth is the same price as Simplewealth, while Selma is straightforward to use for anybody. I have a review of Selma and a review of True Wealth.
Overall, I cannot find a significant advantage to Simplewealth compared to its alternatives.
FAQ
What is the minimum deposit for Simplewealth?
You need at least 5000 CHF for Simplewealth.
Where is your money at Simplewealth stored?
The money is in the hands of Interactive Brokers, a US broker.
Simplewealth Summary
3/5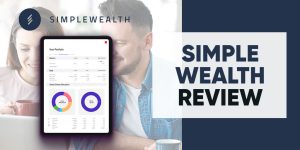 Simplewealth is a Swiss Robo-advisor using Interactive Brokers to trade for its clients.
Simplewealth Pros
Let's summarize the main advantages of Simplewealth:
Low custody fees
You can open an account with only 5000 CHF
Adequate security
Can be used by Europeans and Americans
Simplewealth Cons
Let's summarize the main disadvantages of Simplewealth:
Lack of transparency on the website
We do not know which ETFs they are using
The money is not stored in Switzerland
You need to keep 5% in cash
You can only invest up to 90% in stocks
Conclusion
While it is not a bad service, I would not recommend Simplewealth.
First, they should share more information on their websites without going through the account creation process. We cannot even find the composition of the portfolios they offer. The portfolios themselves are not visible on the website.
Second, while they are a Swiss Robo-advisor, your assets are not stored in Switzerland. Indeed, they use Interactive Brokers for the accounts. It is not bad, but we need to compare apples to apples. There are some better alternatives available.
If you want to learn more about Robo-advisors, I have an article about Robo-advisors.
What do you think about Simplewealth?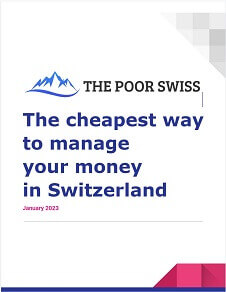 The best financial services for your money!
Download this e-book and optimize your finances and save money by using the best financial services available in Switzerland!
Download The FREE e-book