(Disclosure: Some of the links below may be affiliate links)
From a personal point of view, August 2018 was a great month. We had our wedding ceremony with friends and family. Also, we went on honeymoon in Egypt. We really had a great time. We rested, swam, snorkeled and had a lot of fun. This was an awesome honeymoon :)
However, from a finance point of view, August 2018 was not a very good month. We spent a lot for our wedding and I had to take days off without pay. This means a very small savings rate. Fortunately, there was some extra income from the wedding and from the Swiss army. This helped us not being in negative this month. But at least, there was some savings ;)
August 2018
Let's start with the bad news: our savings rate. This month, we saved only 15.6% of our income. This is the first month since February (it was even worse) that we are not increasing our 12 months average. As you can see on this graph (you may need to zoom):


We can see that we are still on a very good savings rate curve. Our 12 months average is still going up, but very slightly. We need to do something about this in the coming months! Once we are going to stabilize our expenses and income, I am hoping that we increase our average savings rate even more.
Since last month, Mrs The Poor Swiss has started to learn driving. She has not driven since she passed her license in China a few years ago. And she needs to pass a driving test to convert her Chinese driving license to Swiss driving license. This is going well. We have help from a driving instructor friend. Unfortunately, she hit another car this month. There was no injuries in either side during the accident. This is the most important part. But we have to fix the car. I already have an appointment with the car mechanic. And we will have to pay the deductible next month. This should cost me 800 CHF in September.
Fortunately, there was also some earnings as well this month to help. We received some gifts from guests at our wedding. Since I finished my days in the army last month, they reimbursed some taxes I had to pay for moving some army days. This is 960 CHF that I am glad to see back :) I was also able to sell one more item this month. And I received the first money from my survey website. I am using ampuls now. This is only 30 CHF, but it is a good side hustle :)
Wedding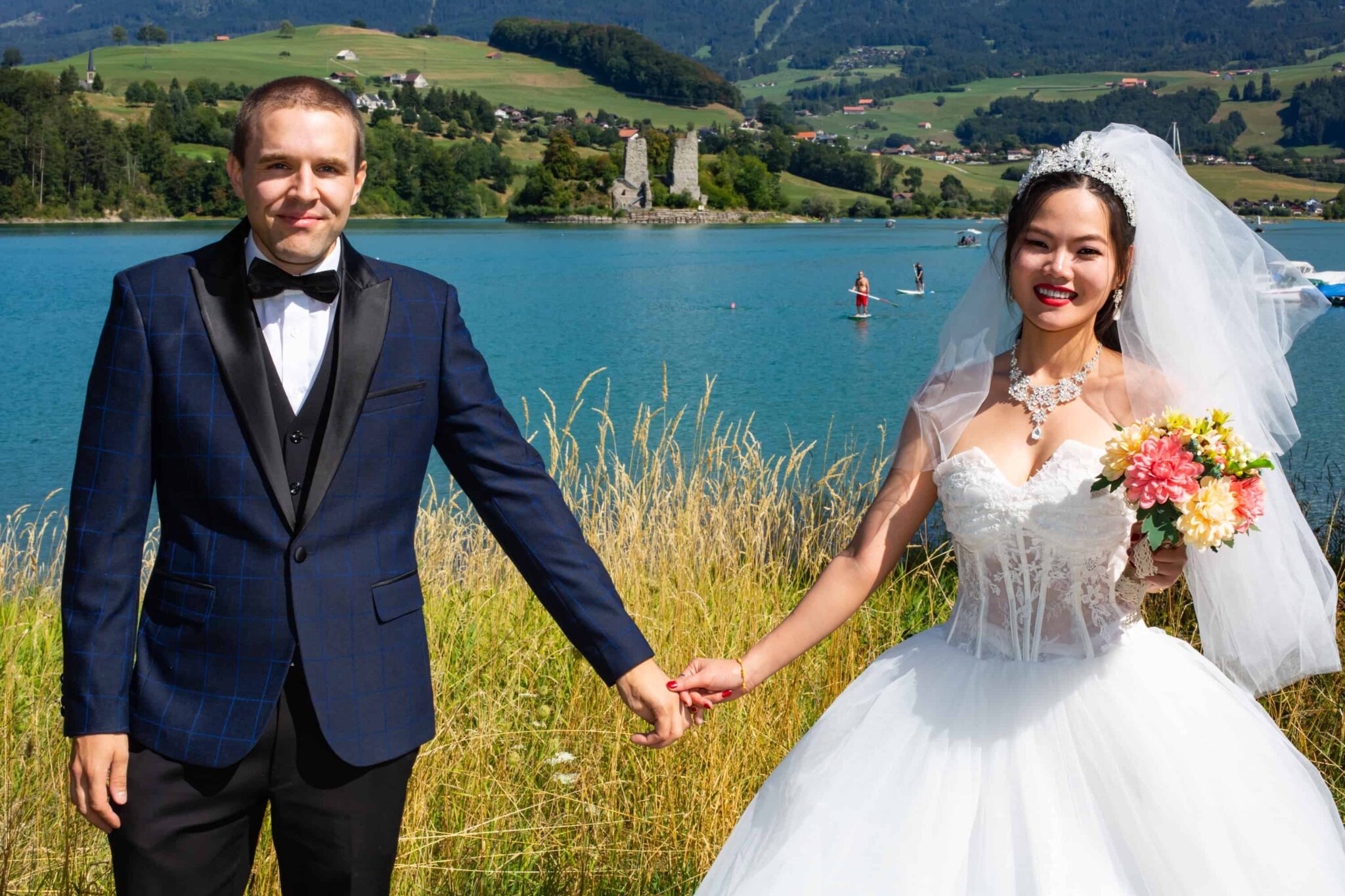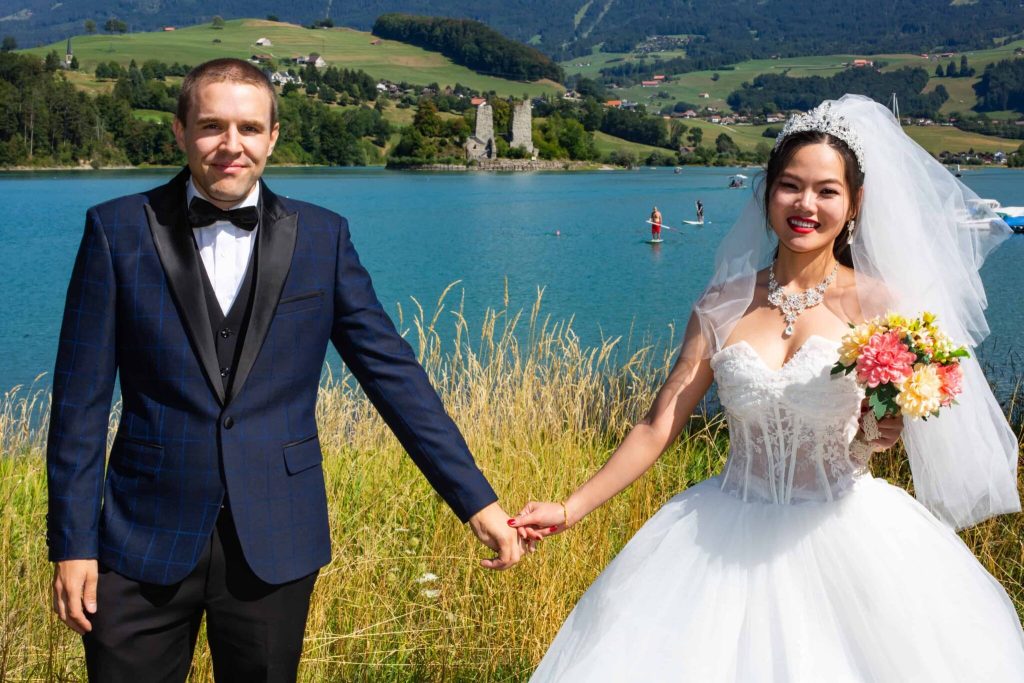 We got married, again! You may remember that we did the civil wedding ceremony three months ago. This month, we did a standard ceremony with most of my family and friends. It was a great day for us. And guests seemed to be like too. We managed to keep our wedding on a budget of 5500 CHF. The most expensive being the restaurant bill.
We did our best to have a relatively frugal wedding. You can read a few tips on how we kept our wedding on budget. We did not rent a venue but did our wedding in a restaurant. For the rest of the expenses, the most important was that we did most of the things ourselves with the help of our friends and family!
Honeymoon in Egypt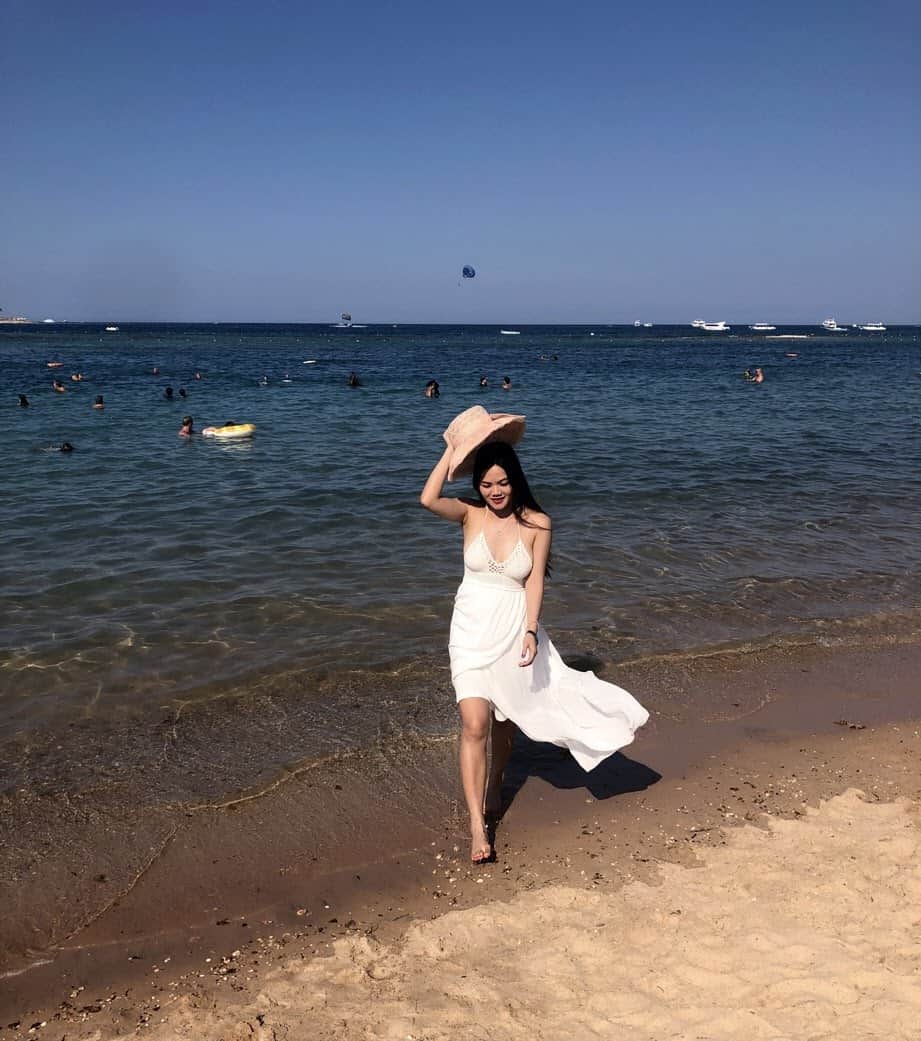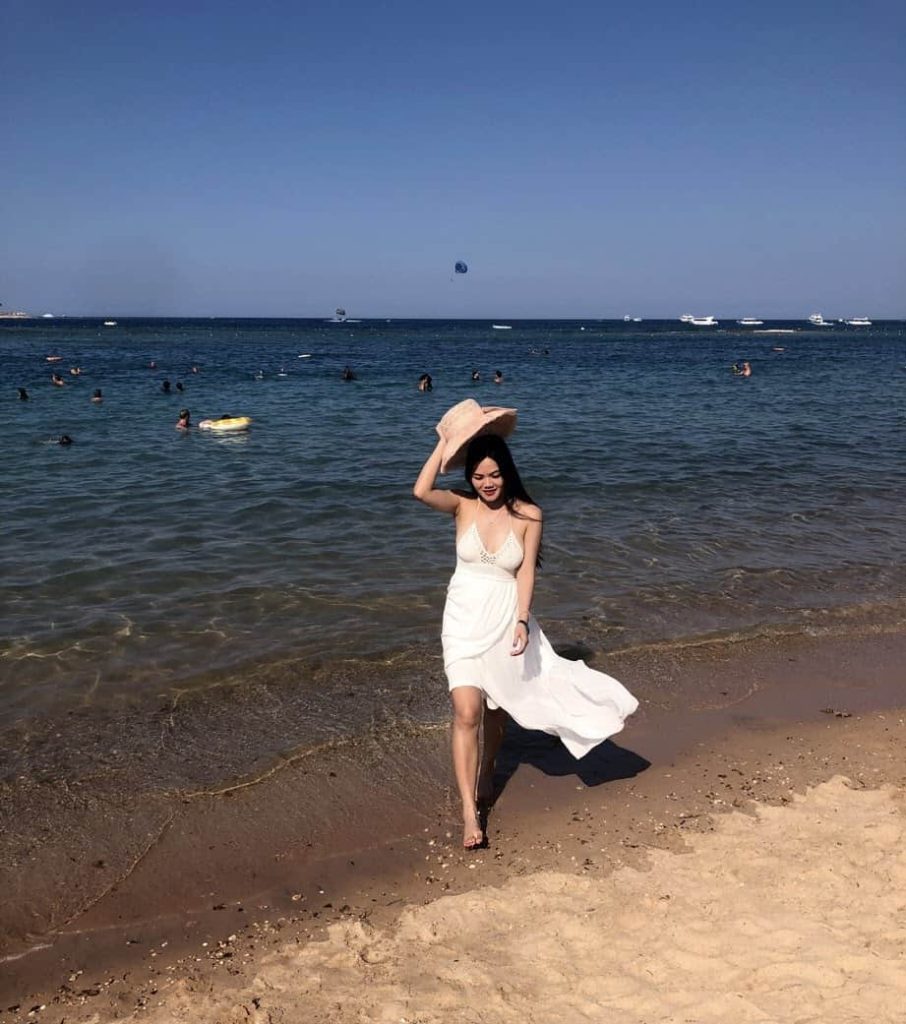 As I mentioned, we went on honeymoon in Hurghada, in Egypt! It was a great trip, but too hot. We probably should not have gone to Egypt in August if we did not want so much heat ;) The red sea is just beautiful. We went snorkeling and it was amazing. We managed to keep our honeymoon in a budget of less than 2000 CHF. Overall, we had a really nice quality for the price!
Unfortunately, the honeymoon ended up costing us much more than we thought. Indeed, my new company did not let me go into negative days off. I was forced to take leave without pay. At my current level of salary, even four days off is a lot of money (about 1815 CHF). Moreover, I had to work the day before even though we left at 3am for the airport. And I had to work the day after even though we arrived back home around 2am. It is not great for sleep. Since this vacation was already taken before I was hired, I really think the company could have been more flexible here :S At least, this taught me something important: Never take leave without pay.
Expenses
August 2018 was one of the months with the highest expense I have ever seen. It is the most expensive month in the last two years. I really hope we will not reach this level again for many years. In total we spent almost 11'000 CHF this month. This is easily explained for the wedding. And I do not regret spending that much. But from a financial point of view, it still does not feel great ;)
Let's see the breakdown of the month:
Insurances: 508.60 CHF: Average
Transportation:367.21 CHF: Above Average: Parking in the airport and more fuel than usual.
Communications: 116.30 CHF: Average
Personal: 7752.65 CHF: Highly above average: Wedding and honeymoon
Food: 215.14: Below average :) Many vegetables from the garden, one week all-inclusive and using food from freezer
Apartment: 1247 CHF : Average
Taxes: 755.80 CHF: Average
2018 Goals
Here is the new state of my goals: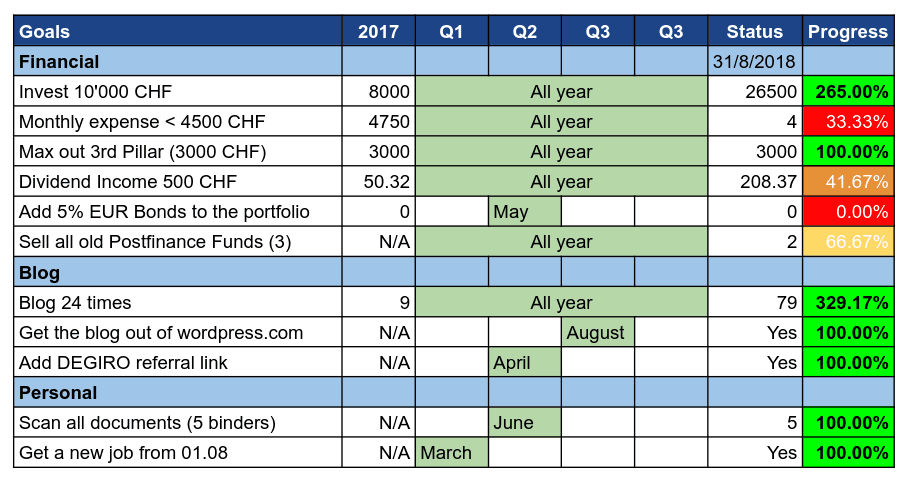 I published a mid-year review of my goals one week ago, if you want full details. I was able to invest 3000 CHF this month. The other goals did not really move or were already complete. I did not receive any dividend this month. But I should receive some dividends by the end of next month. I think this goal will be fulfilled.
Since my Employee Share Purchase Plan (ESPP) will start to be deducted from my payroll every month, I will have less to invest each month until the end of the year. I am going to count unvested shares in my net worth. This is not a problem since I will be able to invest even more when the shares are vesting in six months.
DEGIRO finally introduced a referral system for Switzerland users. I have introduced it in some of my posts. If you use one of my links to create a DEGIRO account, you will get 20 CHF of credit. As soon as you use your credit, I will get 20 CHF as well. This is a small way for me to get even with this blog. I do not expect a lot from this. But even one referral per year would be nice :)
Net Worth
Now, let's look at the net worth update. We did not have a lot of savings this month, but still some. On the other hand, the market has not been great in August 2018. Almost all our market gains from last month have been removed this month :(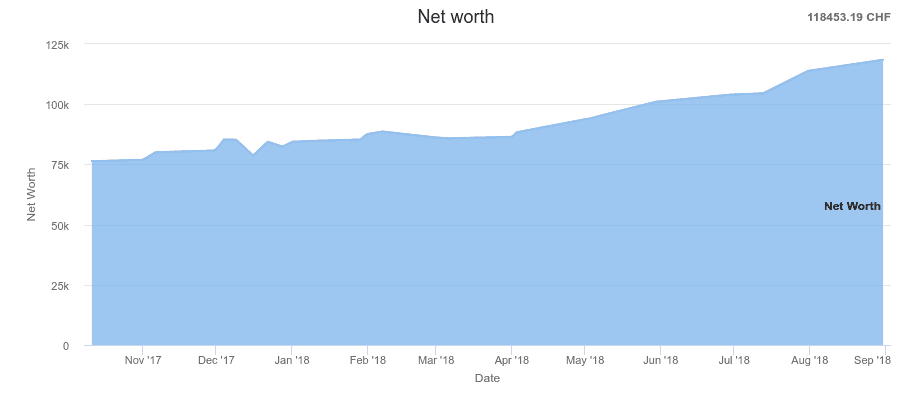 Our net worth went up to 118'453.19 CHF. This still represents a nice increase over last month. And a very nice 39.99% increase over last year. This is really great considering that we had some very expensive month this year. This is faring quite well for next month.
After having spent some time reconsidering my emergency fund, I will reduce my emergency fund from 15'000 CHF to 10'000 CHF. I am not quite sure of what I will do with this extra money. I am considering whether I should contribute some extra money into my second pillar. For now, my second pillar still represents a very large part of my net worth (about 35%). But there are some tax advantages to do it. I will have to run some calculations. But I think I will wait until next year to do a second pillar buy-in.
My new second pillar fund is better for information than the previous one. I can now get the total online each month. This is much more precise than extrapolating the data as I was doing before. I will correctly update the value each month.
The blog
Nothing really special happened with the blog in August 2018. I think it is going well. The number of users is increasing again. I am a bit more positive about the results of the blog now :) There was about 4500 page views this month. There only was 3300 last month. This is a great increase. I need to continue to post many quality articles on the blog. I also want to check the SEO of the blog again. There may also be some old articles that are not as good as the new ones. I may improve or refresh some of them. I will dedicate some time next month for this.
Also, I managed to write a lot of posts this month again :) I wrote a new series about Cryptocurrencies. I hope this was interesting to some of you at least! Even though we had a wedding and a honeymoon, I was still able to keep to my schedule of three posts per week. I do not know how long I can keep it up, but for now, it is fine :)
Excluding the index of the blog, here are the three posts that had the most views in August 2018:
Do you agree with this list? Which post did you prefer?
Next month
Next month should be a normal month for finance. I am going to be 10 days in the U.S. for work. But everything will be paid by my employer. Since this month has been so bad, we will be extra careful next month. I want our finance to go back to something before we spend any more. That means we are delaying once again some of the planned expenses. We are starting to plan our trip to China for the Chinese new year. But it is not sure we are going to pay for the plane next month unless we find some good flights. And we are going to need to pay for the car repair.
What about you? How was August 2018 for you? Do you have any advice for us?