(Disclosure: Some of the links below may be affiliate links)
May 2019 was not a very special month. Which is good as long as I am concerned. But after the previous months that were a bit too expensive to my taste, May was finally a cheaper month!
We managed to save more than 50% of our income during the month. This is really great! We managed to keep our expenses below 4000 CHF which is awesome for us. Generally, our expenses are much higher than that!
On the other hand, the stock market went down this month. Our net worth still increased a bit, but as much as such a good month would normally increase it.
In this post, I am going to share all the details about May 2019. The goal of our monthly incomes is to be as transparent as possible. I feel like we owe that to our readers. Moreover, it also makes us more accountable for our personal finances.
May 2019
Overall, this month has been quite uneventful. We had several events with our friends and families but nothing big. There were two holidays this month which is awesome!
We managed to save about 58% of our income this month! I am really happy about this result! This is higher than my current goal of consistently saving 50% of our income. Overall, we managed to spend very little and this is great.
We finally did the first thing in our Health Plan for 2019. We both did a medical checkup. Fortunately, we are both in good Health. However, we both need to make more sport, especially me. I am going to start the Gym again in June. And we both have a small Iron Deficiency. Which is weird since we eat a lot of meat. But we are going to add more iron-rich greens into our diet and it should be fine.
We also planted vegetables in our garden. We wanted to plant earlier, but finally, we had to wait until May 21st to plan our garden. The weather has been pretty bad this month!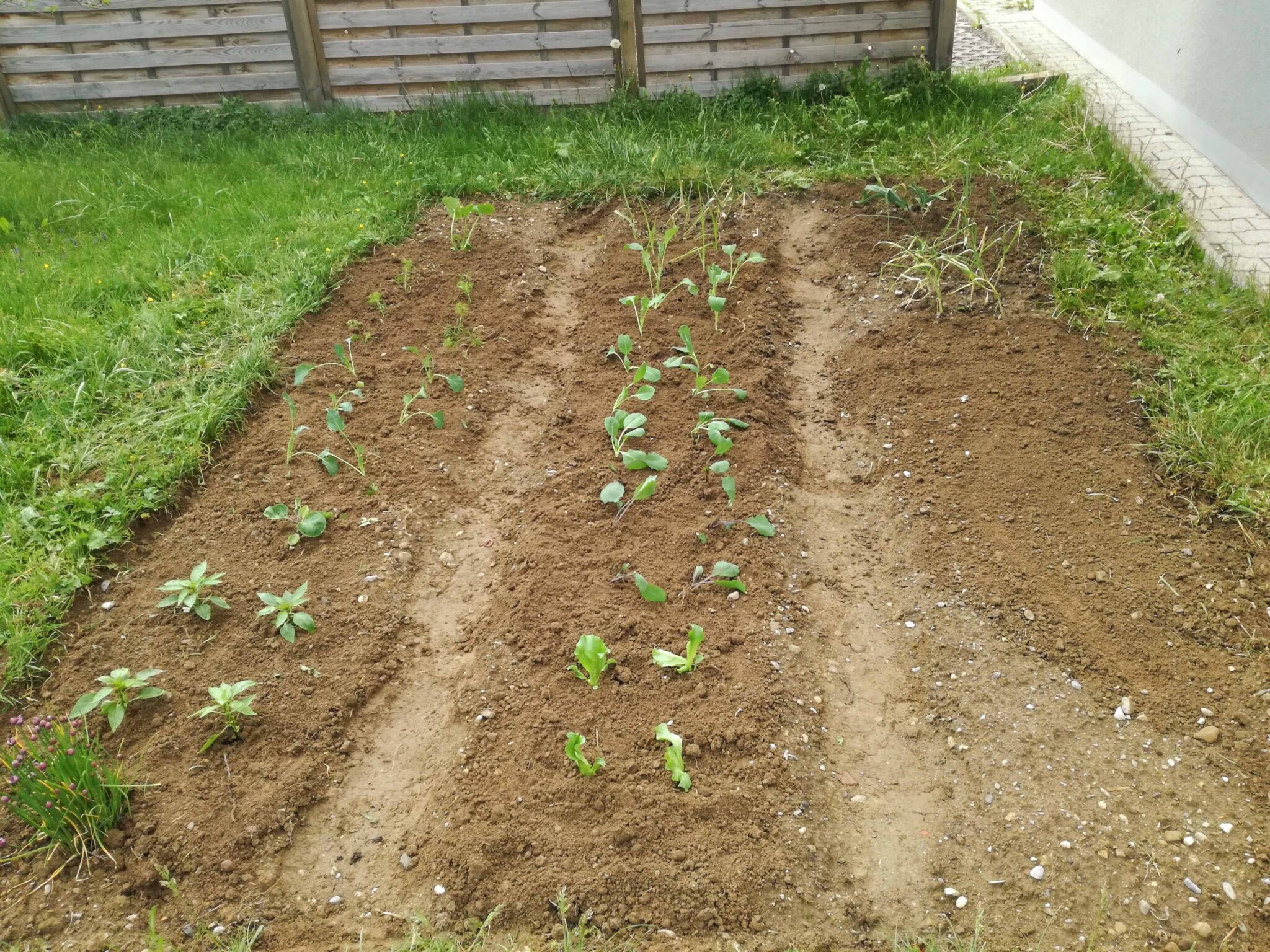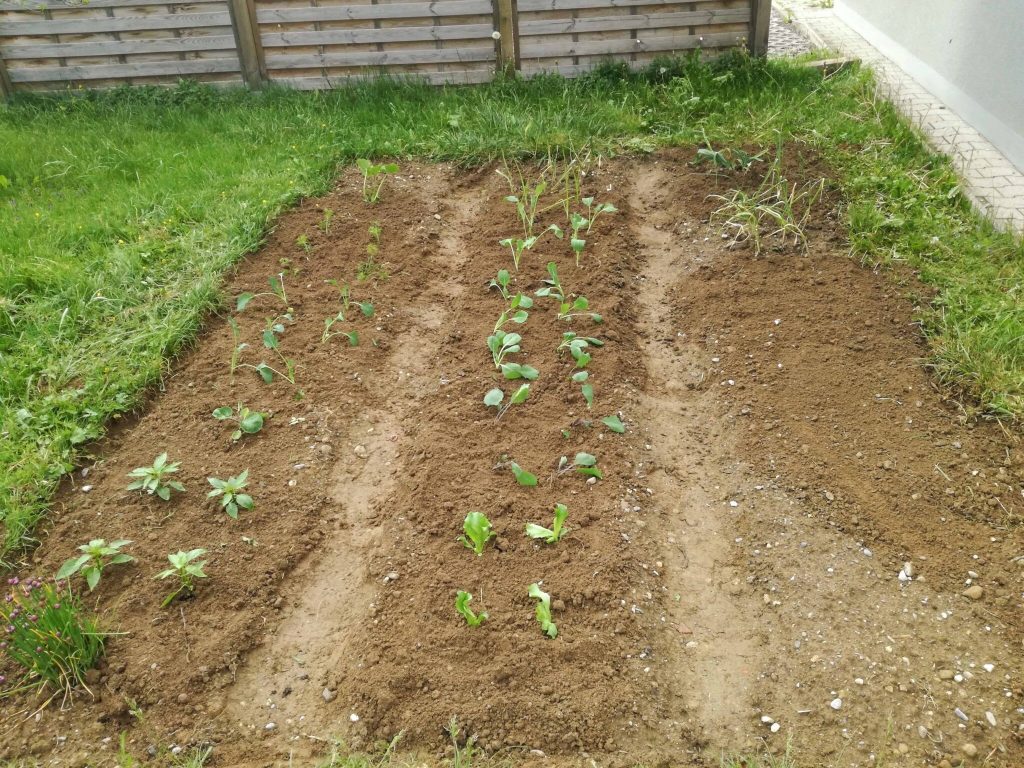 Expenses
As usual, here are our detailed expenses for May 2019:
Insurances:790 CHF. Average. This is the basic health insurance for both of us.
Transportation: 239 CHF. Above average. We had to go twice to Lausanne this month which means more gas and some parking fees.
Communications: 89 CHF. Average. We paid for our internet and mobile.
Personal: 595 CHF. Average. We had a few going out. I had to pay for the blog hosting. And also some basic shopping from both Mrs. The Poor Swiss and me.
Food: 591 CHF. Well Above Average. This is quite bad. We spent about 200 CHF for restaurants which is too high. And we had to restock a few things, meaning more groceries this month.
Apartment: 1247 CHF. Average. Nothing else than the rent.
Taxes: 314 CHF. Below average. Only state taxes this month. Next month will be back to average.
Overall, we spent 3867.89 CHF in May 2019. This is a very good result for us. I wish we could have kept the Food budget under more control this month. But seeing the overall result, I am really happy with how the month turned out.
2019 Goals
Here is the state of our 2019 Goals at the end of May 2019: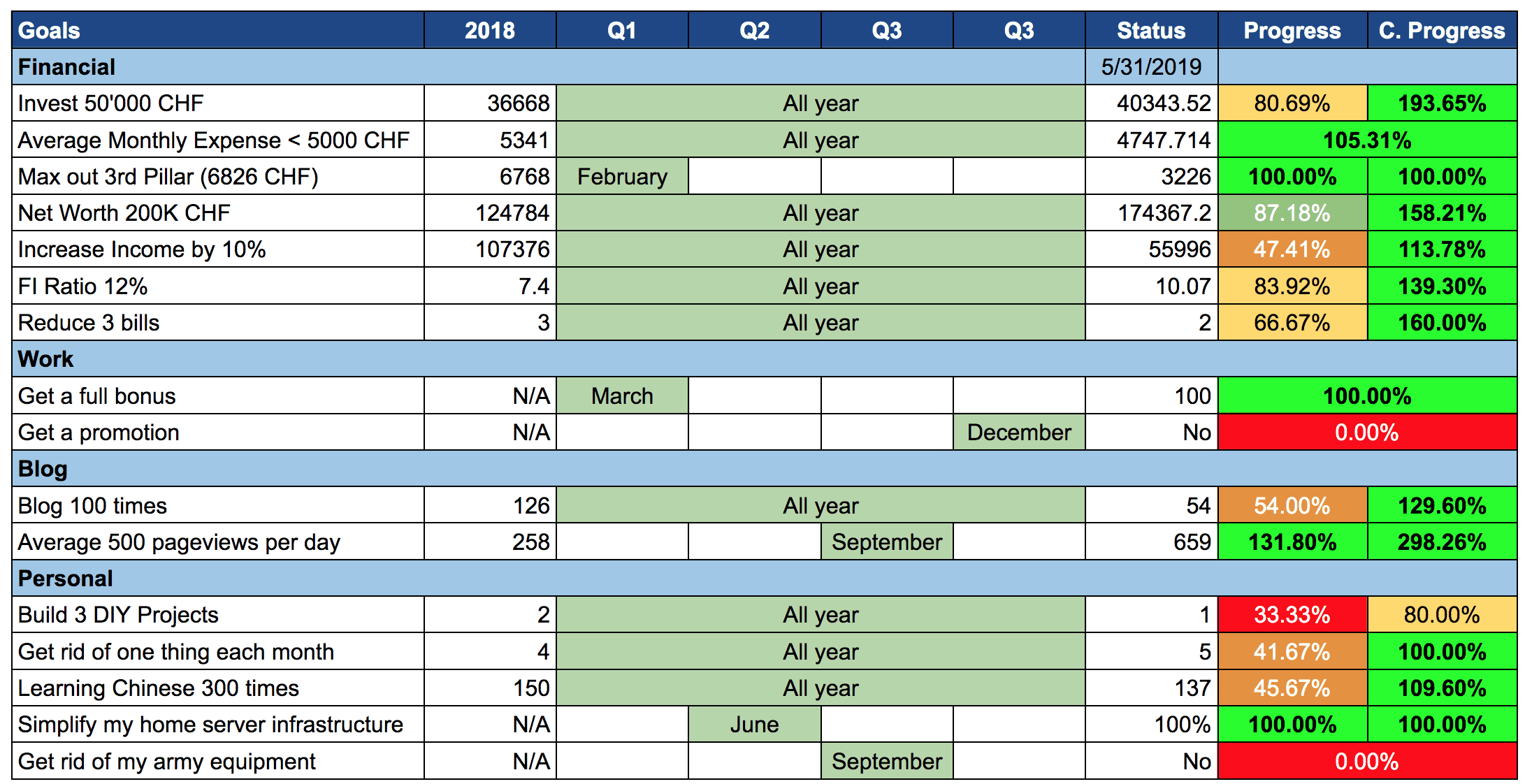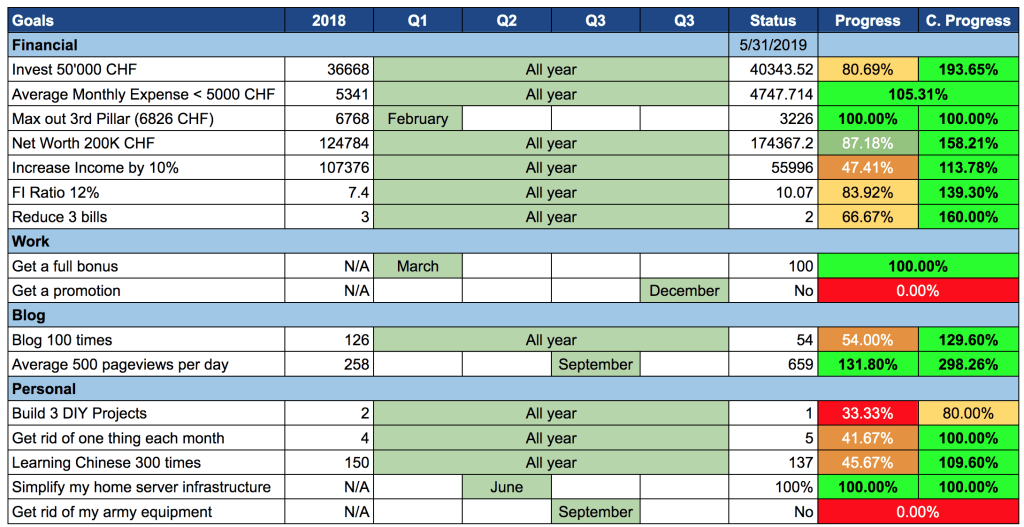 Overall, our goals are going well. We are on track for almost every one of our goals! Next month will already be the middle of the year. I am not sure I will do a half year review of my goals seeing that they are going great. I am quite satisfied with the new 2019 Goals. However, they may have been a bit too simple again. Some of the goals have been reached in advance. And some of the all-year goals are getting close to 100%.
I finally went around in doing my first DIY project of the year. It is a very small project. I fixed our big media shelf. I added new layers and fixed the edges of the shelf and reorganized it a bit. And I have planned the next project that is going to be a bit bigger. I plan a small cabinet for our kitchen to save some more space. I have been watching many DIY videos to improve my skills. My biggest problem is that I do not have a workshop. I can only do big projects once the weather is fine outside and on a weekend.
This month, I sorted our medicine cabinet. There were many old medicine bottles that were out of date. And there also were some leftovers from prescriptions from doctors. I took all of this to the pharmacy for them to eliminate. It is a good practice to always get rid of out of date medicine. And in Switzerland, pharmacies have to take them back.
The only goal that I am not sure how to complete is the goal of reducing three bills. I have already done two. But I do not know which one to reduce for the last one. I have a few ideas but they would be tiny savings and I would rather find a bigger bill to cut. But I still have several months to figure it out.
Net Worth
Let's see how our net worth evolved during May 2019:


Our net worth only slightly increased this month. Even though we had very good savings, the stock market was down for most of the month. This cut back a lot of our savings. Nevertheless, it is still rising. And since we are still investing, this is cutting down our cost basis for our portfolio. So, the situation is not so bad.
Most of this market downturn is because of the resurgence of the trade war between the U.S. and China. It seemed to have stopped last month. But it started again very strong and people are afraid it will escalate even further. Personally, I think that the market will continue to go down for a while. But this prediction is worth nothing of course!
The Blog
I had to go back to a schedule of two posts a week instead of three as before. This made a hit on the traffic. But this was not as much as I thought. The blog lost about 1% of its traffic. I was really thinking I would lose many users this month.
If you have any advice on what I should improve on the blog, I would love to hear it!
I also did a lot to improve some old posts. Some of them were really not as good as I would have wanted. I think my new blog posts are much better than they used to be. I even deleted some old blog posts that did not make sense in the long-term. However, I still have a lot of work planned for old posts. But it is slowly getting there.
I was finally able to lazy load images on the blog. For a while, I had a hard time making it work with the webp images. I tried several plugins but none of them did work. Since I did not find any plugins doing that so I simply added a script and configured it to that on top of the existing plugin. This works great and significantly improves the speed on the blog. I hope this will improve the experience on the blog.
For next month, I plan to go back to my previous schedule of three posts a week. I have many posts planned already and I think I should be able to sustain this for at least two months. I also need to focus on getting some more backlinks because my domain authority is still very low and my website is not very visible.
Here are the three blog posts with the most page views in May 2019:
Which was your favorite post this month? For me, it was my May the Fourth special Star Wars post: 11 Awesome Money Lessons from Jedi Masters. It did not get a lot of views. But it was a lot of fun to write.
Next Month – June 2019
June 2019 will be a bad month financially. I have to pay some extra taxes next month because I did not pay enough last year. I also have to pay half of my car insurance next month. And we are going for one week on vacation. It should not cost us a lot since we got into a house from my family. But we will do more activities than usual. I am expecting about 10% savings rate In June 2019.
What about you? How was May 2019 for you? What do you have planned for June 2019?