(Disclosure: Some of the links below may be affiliate links)
Now that the year is over, it is time for me to set new goals for the year 2019. Last year, I started setting goals for myself. I really liked this experience. So, I am going to do the same once again with my 2019 Goals. In 2018, I have been able to reach most of my goals.
Earlier, I have reviewed the goals for 2018. I have seen that several of the goals were not really interesting. And most of the goals were not ambitious enough. For 2019, I am going to try to set better and more ambitious goals. Of course, these goals still need to be attainable. There is no point in setting myself the goal of earning one million in a single year.
In this post, I am going to go over all my 2019 Goals. It is going to be a big piece of words!
2019 Goals
I am still using more or less the same spreadsheets as I was using for the goals of last year, 2018. I just added a new column for showing the expected current progress (C. Progress). The Progress column shows the progress for the goal for the entire year. But it is sometimes better to know the current progress up to the current month. For a goal that spans the entire year, I should be able to do 8.25% of it every month. It is better to look at the current progress at the beginning of the year. Otherwise, it can feel discouraging to see very small percentages early in the year.
So here is my goal spreadsheet for 2019: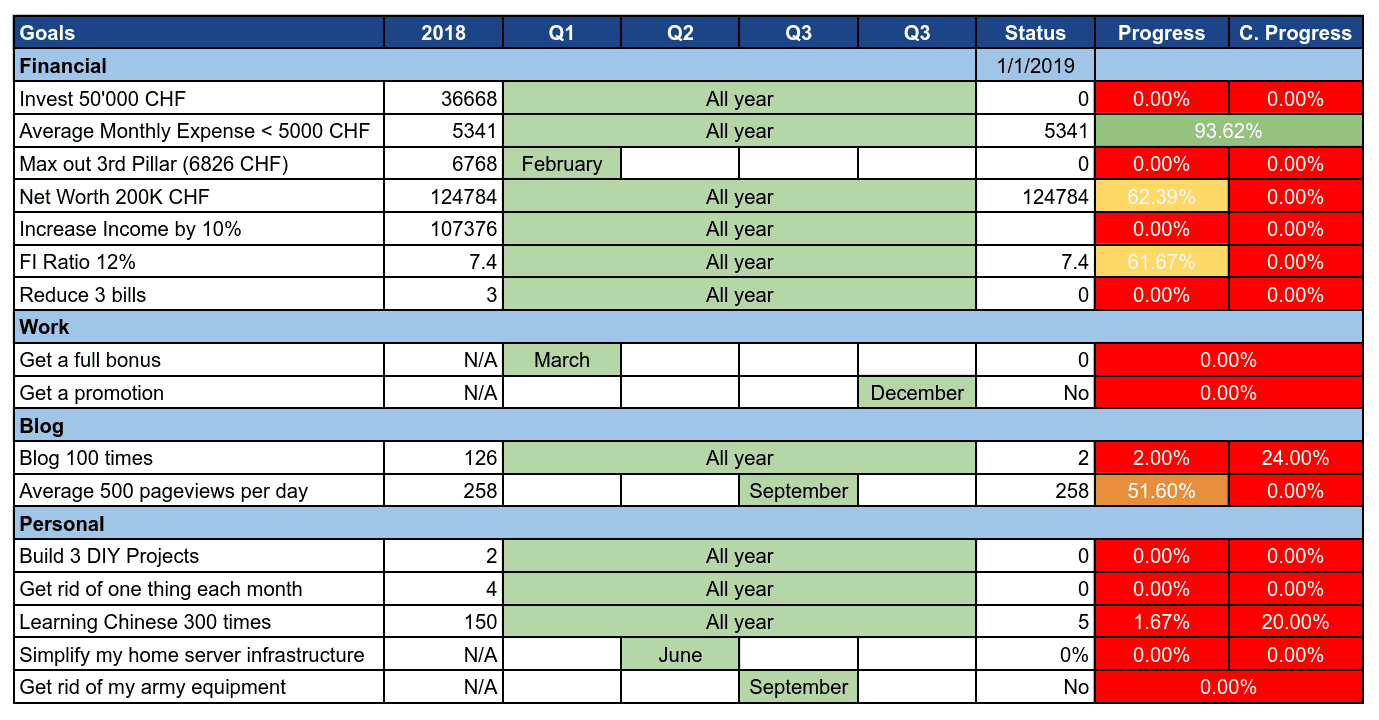 As you can see, there are already a few things in status. But all the goals are far from being done! For now, the current progress column seems pointless. But when I will be at the end of the month, it should make more sense. I will see this year if this improves my goal managing or not.
Financial Goals
Once again, this year, my main 2019 goals are financial! This is a blog about my personal finance after all.
1. Invest 50'000 CHF
Last year, my goal was to invest 10'000 CHF. Now, this year, my goal is to invest 50'000 CHF by the end of the year! This can be in my broker account or in my retirement accounts.
Last year, the goal was really too easily met. I was able to invest 36'000 CHF, almost four times my goal. So I have to put a much more difficult for 2019! This is ambitious since it is more than 4000 CHF each month. This is more than what was left at the end of the month this year. So will see how that goes!
Therefore, in 2019, I have to invest at least 50'000 by the end of the year.
2. Average Monthly Expenses < 5000 CHF
Last year, my goal was that each month expenses were below 4500 CHF. This was a bad goal for several reasons. First of all, I did not account for Mrs. The Poor Swiss joining me in Switzerland. And I did not account that some months are naturally more expensive than other.
So for 2019, the goal will be on the average, not on the absolute value of each month. And I have put back that goal all the way to 5000 CHF. Since our monthly expenses have been around 5300 CHF on average this year, I think 5000 CHF is a reasonable goal. It will be difficult to meet and yet I believe it is possible. We will see how that goes!
In 2019, our average monthly expenses for the entire year should be below 5000 CHF.
3. Max out my third pillar
This goal is still the same as last year. Maxing out the third pillar is something very important in Switzerland. You can deduct the amount of money you contribute to your third pillar from your taxes. This makes a very important difference.
In 2019, the maximum amount that can be deducted from your taxes is 6826 CHF. Some part of that will be done through my life insurance. I am paying 300 CHF per month for that. The rest will be invested in my VIAC third pillar account.
So, I need to invest 3226 CHF in my third pillar account by the end of February.
4. Net Worth 200K CHF
We finished 2018 with a net worth of about 125'000 CHF. This is good considering we increased our net worth by 50% in one year. This year, I would like to be able to increase it even more. I would like to finish the year with 200'000 CHF net worth.
This is probably the most ambitious of my goals. It will be quite difficult to reach that amount of net worth. This will especially be difficult if the market continues to get down like it did these last few months. If the market recovers, it may well be possible. And this year, we will have more income. For instance, I will get a bonus this year and my ESPP plan will be used for the first time. We will see how that goes.
I need to finish 2019 with a net worth of 200'000 CHF.
5. Increase my income by 10%
If I want to reach all my goals, I will need an increased income. In 2018, I earned about 107'000 CHF. This is net income, before taxes but after all deductions from my salary. This is included everything: my salary, gifts, things I sold, a few earnings from the blog.
In 2019, I would like to earn 10% more. This is about 118'000 CHF. Once again, I will count everything inside. To go there, I will have to work on improving my main career income and try to sell a few things. There will not be some big gifts this year.
In 2019, I need to have 110% of the income of 2018.
6. Financial Independence (FI) Ratio 12%
Since my final financial goal is to become Financially Independent, I thought it would be a good idea to have a Financial Independence (FI) goal. I am currently standing at 7.4 percent of my FI number. I would like to be at around 12% by the end of the year.
There are two ways to increase my FI ratio. First, I need to increase my net worth. This will be done anyway since I also have a net worth goal. But I can also work on reducing my expenses. My current FI number is based on our current amount of expenses. Therefore, if we manage to keep our expenses lower for this year, our FI number will go down. And consequently, our FI ratio will go up! We will see how to goes!
In 2019, I want to reach 12% of my Financial Independence Number.
7. Reduce three bills
This is a new kind of goal that I want to try for this year! I want to reduce the price of at least three bills this year. This is an ambitious goal I think because I have already reduced many bills last year. However, I think it is a very good goal to get motivated to spend less money this year.
For now, I only have one idea on a bill to cut. I can reduce my internet by about 20 CHF per month if I reduce the internet speed. I will have to reduce for one more month and see if I can tell the difference or not. Soon, I will analyze all the expenses for the entire 2018 year. So maybe I will find some expenses that are bigger than I thought.
In 2019, I need to lower the cost of three bills by the end of the year.
Work Goals
The second set of my 2019 goals is for my work. In the medium-term, I want to increase my main income. I do not want to focus on side hustles. I think it is more efficient to focus on my main career. We will how that goes.
1. Get a full bonus
This is my first time working for a company that offers a bonus. This is not really standard in Switzerland. Most companies offer a thirteenth salary instead. One part of the bonus is based on my company's performance. I cannot do anything to increase that part. The other part is based on my performance. I will do my best to get a full bonus this year.
This goal is a bit awkward because we are going to receive our bonus around March. And the bonus is mostly based on my performance from last year. So there is not a lot of things I can still do to increase it. Nevertheless, I worked hard last year. This goal is also here to remind me to do my best this year to get a full bonus next year.
In 2019, I want to get a full bonus from my company.
2. Get a promotion
I plan to stay at my company for several years. I want to try to max out my salary at this company. And I think this an excellent company for this. The fact that I really like my job will, of course, help a lot. I would like to get a promotion by the end of 2019. For this, I will have to clearly exceed my manager's expectations. I will do my best all year long for this. I do not think this is a very difficult goal since I have been hired relatively low on the scale. Nevertheless, my company is not the best for promotions. So we will see how that goes.
Once again, this goal is a bit awkward. I will only know if I actually got my promotion in early 2020. However, I will know during the year if I exceeded my expectations or not. I will base this goal on that.
In 2019, I want to earn a promotion for 2020.
Blog Goals
I have also set a few goals for the blog for 2019. I do not plan to scale this blog to a full-time job. Or even to a very profitable side hustle either for that matter. But I would like to increase my readership.
1. Blog 100 times
In 2018, I have blogged a lot. At the beginning of the year, I did not post much. But then, I started on a schedule of three posts per week, on Monday, Wednesday and Friday.
For 2019, I want to blog 100 times. This seems not a lot compared to what I did in 2018. But I want to get back to a schedule of twice a week. I do not think I can sustain three times a week anymore if I want to continue posting quality posts. If I continue with three posts a week, I feel I will burn out soon. So the schedule for next week will Tuesday and Thursday. If I see that I have a lot of posts in my queue, I may start again to a schedule of three posts per week. But we will see about that. In the end, only the quality of the posts matter, not the quantity.
In 2019, I need to blog at least 100 times by the end of the year.
2. Average 500 page views per day
In December 2018, I have got an average of 258 pageviews per day on my blog. Considering that I do not work full time at all on this blog, this is not so bad.
In 2019, I would like to double this amount of page views, to 500 per day. For this, I will, of course, continue to write new posts on my blog. However, since I plan to write less in 2019, this may not be enough to double the traffic on the blog. I plan to try to improve old posts to try to get a bit more traffic on them. And I also want to try to improve my social media presence on Facebook. There are quite a few things I want to improve on my blog to make it better for all my readers. Once again, I do not wish to make a fortune with this blog. I just want to reach more people with the Financial Independence message.
Therefore, my blog needs to have an average of 500 pageviews per day by the end of September 2019.
Personal Goals
Finally, my last 2019 goals are not related to money, they are personal goals for the year. Some of these are related to subject I already discussed on the blog. But some of them have nothing to do with this blog.
1. Build 3 DIY Projects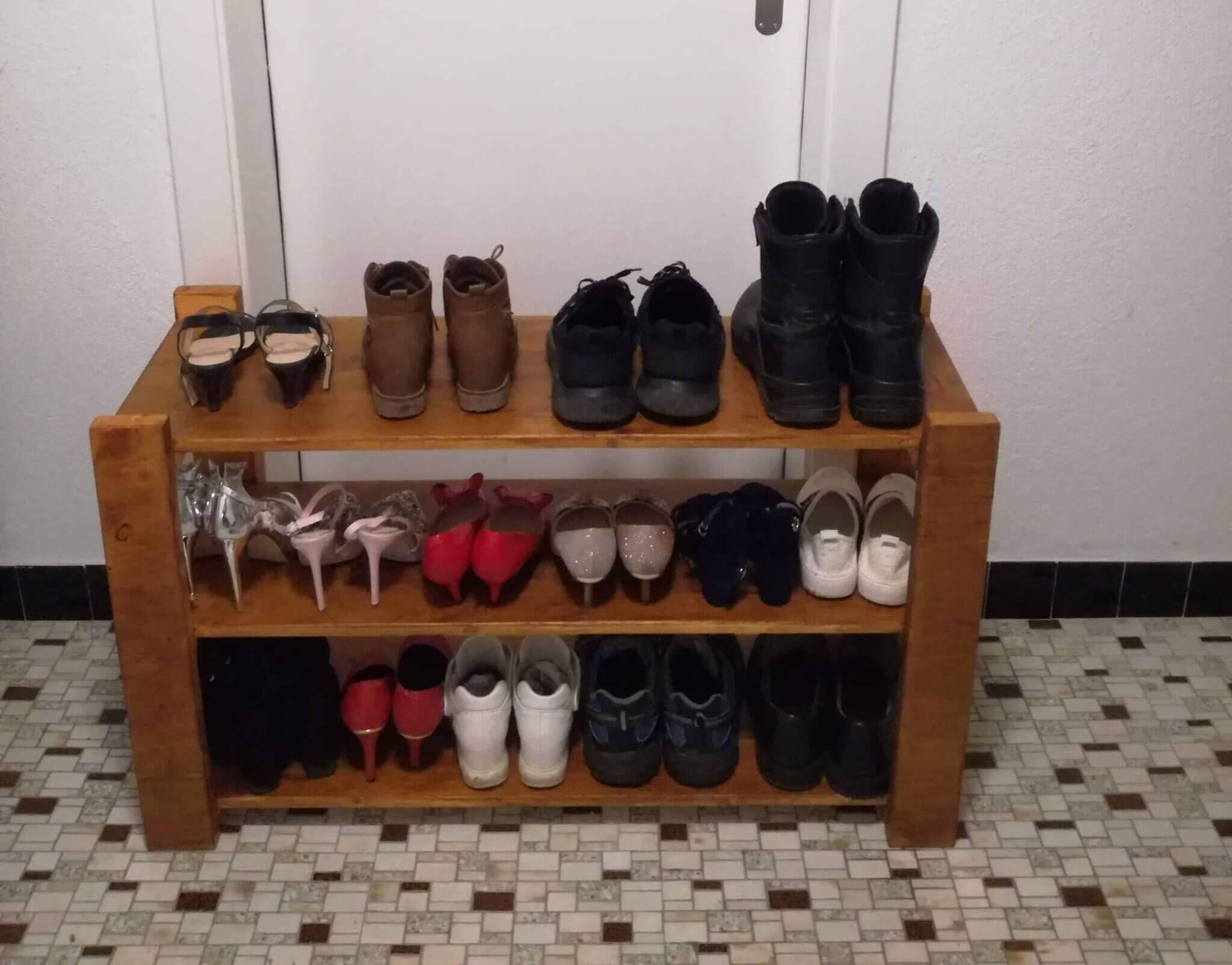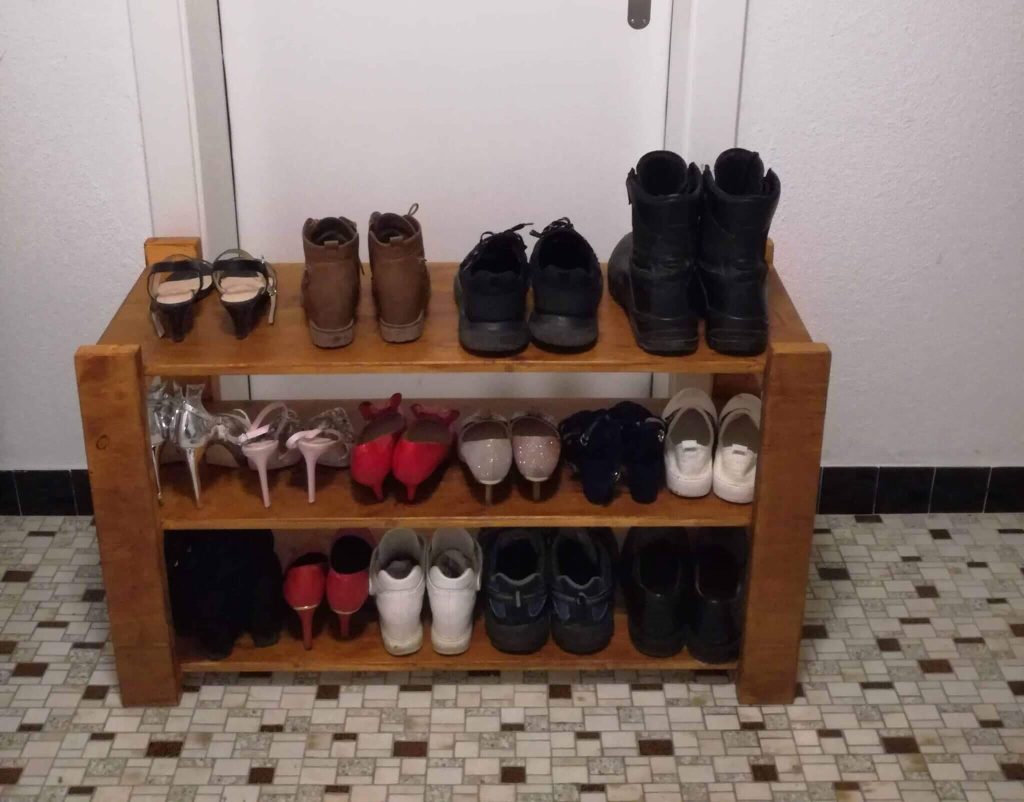 In 2018, I built my first two Do-It-Yourself (DIY) projects in wood. I built a bookshelf for about 65$ and I built a small shoe rack for about 35$. I really had a lot of fun building these two pieces of furniture.
In 2019, I want to build at least three DIY projects. For instance, I want to build two wood benches for outside. I also probably want to build a second bookshelf maybe. I have quite a few other ideas. But I do not yet know which of these projects I will end up building in 2019. I especially want to improve my skills at woodworking for the year.
In 2019, I will have to build at least 3 DIY projects.
2. Get rid of one thing each month
I am starting to realize that I have way too many things at home. Last year, I have gotten rid of a few things. I have given away some books and old DVDs. I have also gotten rid of quite a few clothes that I did not wear anymore last year. This year, I need to make more effort for this. Therefore, I will try to get rid of something each month.
I already have a few ideas of things that I need to sort in my apartment. There are some things that I know I can get rid of. But there are also some things that I am not sure about. I will have to think about them. I could go the easy way and get rid of one book each month. But I will not do that. I prefer to fail this goal than to have to use the easy way out. So, I will really have to focus on what I can get rid of each month. I think this is an excellent exercise. This may not be very difficult for some people that do this every day. But for me, I think once a month is enough for 2019.
In 2019, I will have to get rid of at least one thing each month.
3. Learning Chinese 300 times
Last year, I have started to learn Chinese online. I am also helped by Mrs. The Poor Swiss, who is Chinese. I am learning online through FluentU. I think it is working well. However, last year I was not really astute enough I think. Sometimes, I did not do anything in one week. This is not good. If I really want to be able to speak Chinese in the long term, I need to learn a bit every day.
Therefore, next year, I want to learn Chinese online at least 300 days. On FluentU, I have daily goals. So it is easy to know when to stop. Therefore, I will have to reach these daily goals for at least 300 days. I will also try to speak more in China for Chinese New Year.
In 2019, I will have to reach my daily goals on FluentU at least 300 times.
4. Simplify Home Server Infrastructure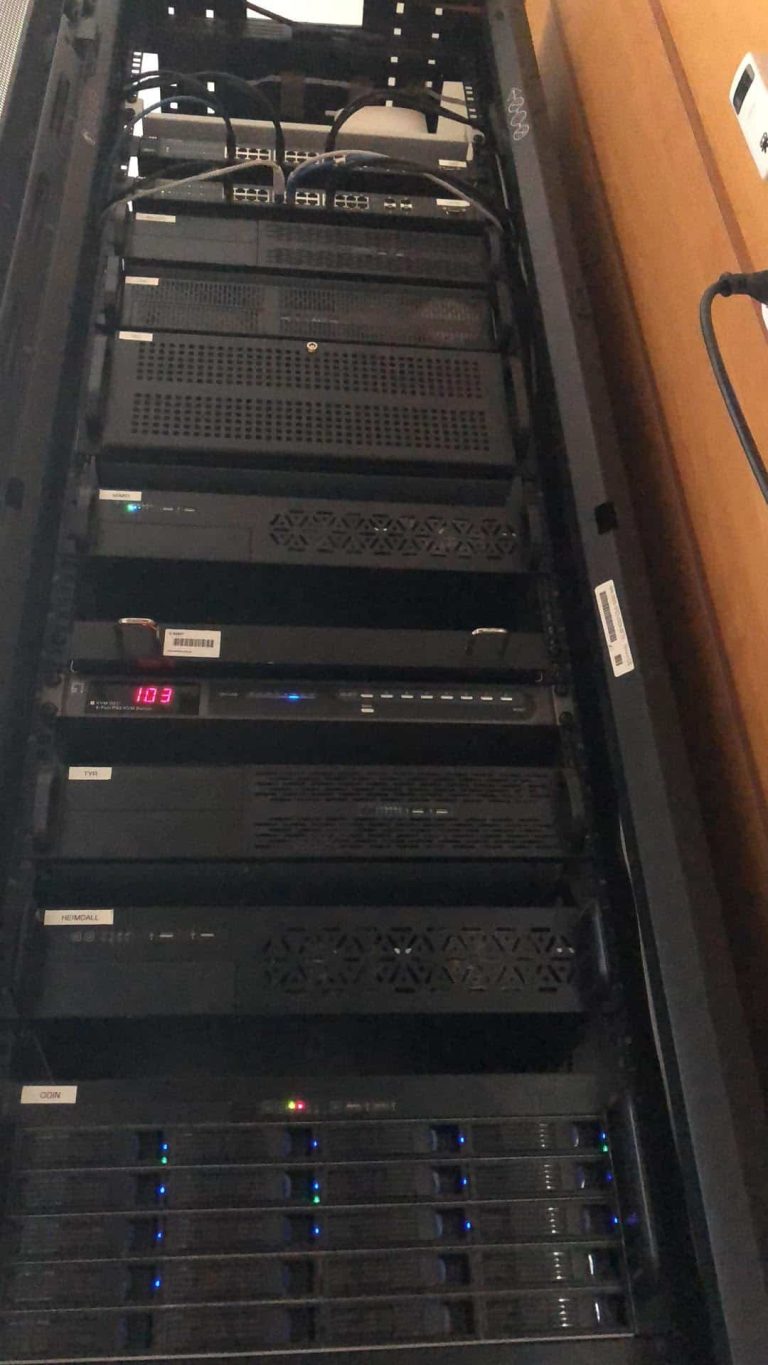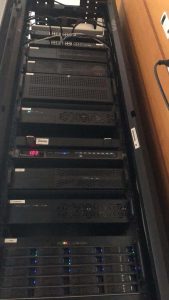 As you may have read over some of my blog posts, I am a big geek. And I have a tendency to go nuts with my computers and servers at home. And this has gotten out of control these last years. It is now time to downsize. I already started this process last year. I have been able to get rid of two servers and sell the pieces.
Not only does this cost too much but it does also take me too much time. I do not have the time to manage so many servers. By reducing the number of servers, I will be able to save some time for myself! And it should also reduce our power bill significantly for next year.
I have some services that I do not really use anymore. For instance, I was hosting my own Teamspeak3 server and my own IRC server. But we do not use these two servers a lot these days. I am going to retire them. And there are plenty of other services that I will be able to get rid of in my opinion.
Once I will have removed the software I do not need and consolidated on fewer servers, I will be able to sell some more hardware. To not let me cheat, this will not count towards the "Get rid of one thing each month" goal. The idea is to get rid of two more servers this year. I will also simplify our home automation system that is almost entirely custom made now. I will buy a simple hub to manage it all to save me a lot of time.
So, I have set myself the goal of simplifying my home infrastructure by the end of June 2019.
5. Get rid of my army equipment
In 2018, I finished my mandatory military service. I had to do 245 days in the military in total over several years. It was not the best time of my life. But at least it is now over! On the other hand, I still have all my military equipment at home. And there is a lot of it. Normally, I can get rid of it this year.
My goal is to get rid of my army equipment by the end of September 2019.
Conclusion
That is it for my 2019 Goals! I already like my goals for 2019 better than I did my goals for 2018. I think I was able to improve them for this year. They are probably not perfect at all. This is only my second year doing this. I am bound to make mistakes on them again this year. I am just going to improve my goals year after year.
For 2019, I have chosen goals that are more interesting and also more ambitious. I will have to work hard on some goals to be able to reach them. But it is better than to have goals that are too easy. Goals should improve your life. They should not simply be easily completed month after month.
I think goals are really important if you have a serious objective in the future. Your main goal could be to reach Financial Independence. Setting smaller goals, year after year, could help you reach FI faster! Some people even go one step further and set goals, month after month. But I do not think this is really helpful. I would encourage everybody to have at least some yearly goals in their financial planning.
What do you think of my 2019 Goals? What about you? Did you set yourself any goal for 2019?