(Disclosure: Some of the links below may be affiliate links)
October is now over. It is time for another monthly update. This month has been very different from the months we were used to. We have to adapt to life with our baby. And every day is different.
We are still not sleeping well and have very little free time at this point. So, we are in survival mode, and we only do the things we deem necessary.
Fortunately, the baby grows well. The only issue is that he still has strong problems with digestion during the nights.
Financially, it has been a good month with reasonable expenses and a good income. So, let's see in detail what happened.
October 2021
October was a weird month for us, the first entire month with our baby.
Our son is growing quickly and already changing. We have seen the first smiles, and he has started cooing, which is extremely cute. And he also started reacting to our voice a little more.
Unfortunately, the nights have not gone better. We still rarely sleep more than 2 hours in a row. And his digestion issues during the nights have not been getting better. Some mornings are tough. It has been tough getting concentrated at works, and the interruptions do not help. But we are looking forward to better sleep in the next six months or so.
Because babies have fragile immune systems, we have started thinking about COVID again. We had to refuse some invitations this month because of that. Many people we know are not vaccinated, and we do not feel comfortable spending many hours with the baby.
I am not criticizing the fact that they are not vaccinated since we are not either. If it were only us, we would not care that much. But we are careful now that we can bring COVID home to the baby. But it sucks to miss family events again because of that damn virus.
Because of the sleep issues, we get tired very early in the night, generally around 8 pm. It also means that we do not have much time for ourselves (not a surprise!). We have seriously limited what we do to the strict minimum. For now, I consider the blog in the strict minimum to do. But I am thinking of going back to some hobbies.
But overall, I would say it was a good yet tiring month. Financially, it was a good month. We did not do anything, so expenses are relatively low even though we are a little on some things. But we managed to save 54% of our income this month.
Expenses
Let's see the details of our expenses in October 2021:
| Category | Total | Status | Details |
| --- | --- | --- | --- |
| Insurances | 1255 | Above average | Health insurance and house insurance |
| Transportation | 38 | Average | One time gas and some parking |
| Communications | 70 | Average | Internet and one server |
| Personal | 1324 | Above average | Several health bills, some medicine, some blog bills, some small house fees |
| Food | 480 | Above average | Some unusual groceries and some restocking |
| Housing | 505 | Average | Heating and mortgage |
| Taxes | 3832 | Average | County, Canton, and Federal taxes |
In total, we spent 7504 CHF during this month. Without taxes, we spent 3672 CHF, an excellent result. We try to spend less than 4500 CHF per month without taxes.
We have reached a good level of expenses. We cannot spend that little every month, but we now have a good average. There is not much we could optimize. Next year, we will improve all our complimentary insurances by moving them to Assura (and removing some of them).
We want to optimize our taxes, but we live in a bad canton for taxes (Fribourg), and our county is relatively expensive. The only thing I could do was put money in my second pillar. Unfortunately, this does not work since I first have to put back the 50'000 CHF I took out for my house. So, I am out of options for reducing our taxes.
Some of our expenses were above average this month. We had some health bills for my wife and son, some of which will be reimbursed by our insurance. And we also ordered a fruit tree for our garden and had to fix some electric blinds in our house.
But overall, we can not complain much about this level of expenses. I want to bring our food budget back somewhere in the low 400s, but we take some shortcuts with our food these days.
2021 Goals
Let's take a look at our goals by the end of October 2021: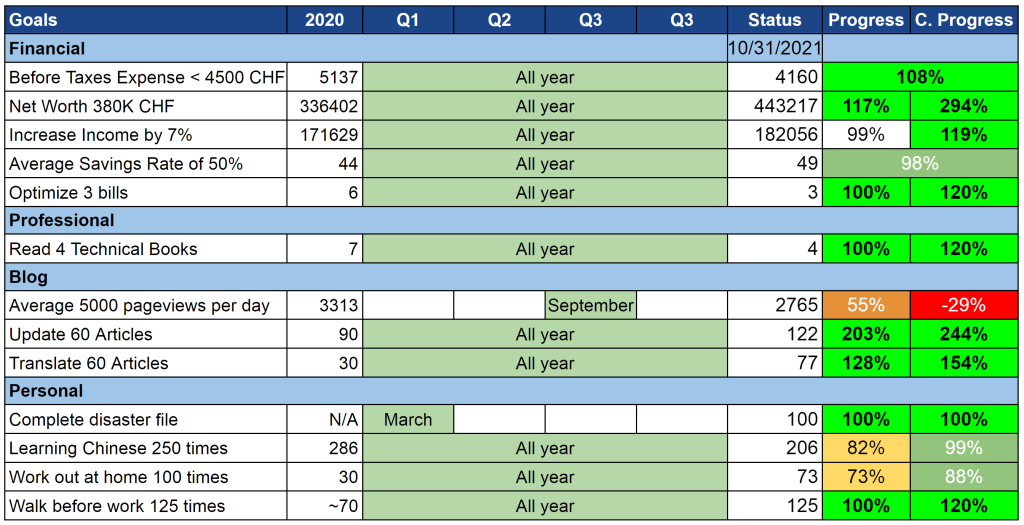 Our financial goals are doing exceptionally well. Unless we have significant unplanned expenses next two months, we should be able to meet all our financial goals with flying colors.
For the blog goals, the page views goal already failed in September. And the updating and translating goals are doing very well.
The personal goals are not moving much. I have started my morning walks before work again, but I have done only a few of them. And I have not done my workout at all. I do not have the energy (an excuse, I know).
Overall, given the current situation, I feel like our goals are in a good place.
FI Ratio
Instead of looking at our net worth, we are going to look at our FI Ratio. The number of our net worth itself is irrelevant because it is only one factor towards early retirement. On the other hand, our FI Ratio is more relevant because we based it on our FI Net worth and expenses.
Since it is the first time I share this graph, I am going to share the full-time chart directly instead of the YTD graph:


I think this graph deserves some explanation. Until May 2020, our FI ratio has been climbing up regularly. However, after this, it has been dropping significantly.
The considerable drop just before January 2021 is because we purchased our house. It means we transferred money from cash (part of our FI Net worth) to real estate (not part of our FI net worth). This transfer made no difference in our net worth but significantly reduced our FI Net worth.
The other drops are all happening at the end of the month. These drops are due to our expenses increasing. Indeed, I use our 12-months running expenses for this graph. And our 12-months expenses have been growing significantly because of taxes. Next year, it will stabilize a little, and we hope that our savings will compensate for the further increase in expenses.
So, overall, our FI ratio is pretty bad at this stage, barely over 10%. However, the growth during the month has been pretty good. Last month, the stocks declined a little. But they have mostly recovered this month. On top of that, we had good savings that contributed to more than half of our net worth increase.
Normally, our average expenses should not increase like this anymore, so our growth should increase in the coming months.
What do you think of our FI Ratio? Do you prefer to see our net worth or our FI Ratio? Or you don't care?
The Blog
Best platform to start a blog
SiteGround
SiteGround is a great hosting provider, with very low fees. It has one of the best user ratings of all hosting providers.
Not much happened on the blog this month. I am managing to keep it going with the same posting schedule. And I am also able to continue translating articles. At least I can write on my wife's laptop from the living room and still be able to help when necessary.
As for traffic, I have no idea how it is going. I have switched to Google Analytics 4, so I no longer have a point of comparison with previous months. I think it is still going down, but at this point, I do not mind it.
My first book
Retire Early: The Simple Guide
A simple guide you through all the basics to your own Financial Independence and if you want it, your own early retirement.
Start your journey to financial freedom now!
Our book is now available for order in e-book format! I would love to get your feedback if you read it (either by email or on Amazon).
Except for that, nothing special happened. I have accelerated my translation effort this month, and I plan to finish translation next year to translate new articles as they come.
Funny enough, I forgot that this month was the fourth anniversary of the blog! I usually write a retrospective article in October. But this year, this will have to wait until November.
Next Month – November 2021
Overall, October 2021 was a good month but very tiring for us. We are looking forward to sleeping more again and being able to see more people.
Next month, we do not expect much difference. Financially, it should be a standard month, with lower income than this month (no birth allocation), but standard expenses (hopefully). I hope that the COVID cases will not go back up again (but not very optimistic).
What about you? How was October 2021 for you?