(Disclosure: Some of the links below may be affiliate links)
Edit: I changed the way I am accounting for my life insurance, this gives me a savings rate of 33.7% now.
It is time for another monthly update! After a good December 2017, the new year is up to a great start in January 2018 with yet another very good month :) I am really starting to get a hold of my finances.
January 2018
Financially, January 2018 was a really good month. I managed to save 31.28% of my income! That is a great way to start the year!
My salary increased by around 100 CHF this month and I received quite a few gifts (650 CHF) for my Ph.D., so this helped improve my savings rate. On the other hand, some expenses could have been avoided.
I did not invest a lot this month, only 500 CHF in my 3rd pillar (retirement) because I will need a lot of money next month for travel to China and wedding fees. So I kept most of this month money in my checking account. I will see at the end of next month to put more money into my broker account. This feels a bit bad but should be fine by the end of February or March.
As for my expenses, with 3916.27, this is a below average month, so that is quite good I think. Here is the detailed view:
Insurances: 550 CHF: Really above average, I had to pay my legal insurance
Transportation: 257.42: Slightly above average, I had to change the lights of my car, pay the yearly highway fee and I had to purchase train tickets for next month.
Communications: 120.75 CHF: Below average, my internet rate is now significantly lower than before and next month my mobile rate will also be lower!
Personal: 640 CHF: Average, but I went a bit overboard with about 100 CHF spent in my current game.
Food: 342.55 CHF: Average. My groceries were well below average, but I allowed myself to buy good Nespresso coffee, making it average.
Apartment: 1300 CHF: Average
Taxes: 705.45 CHF: Average
As for my net worth, it is currently at 56319.90.
2018 Goals
Here is the current status of my goals for this year: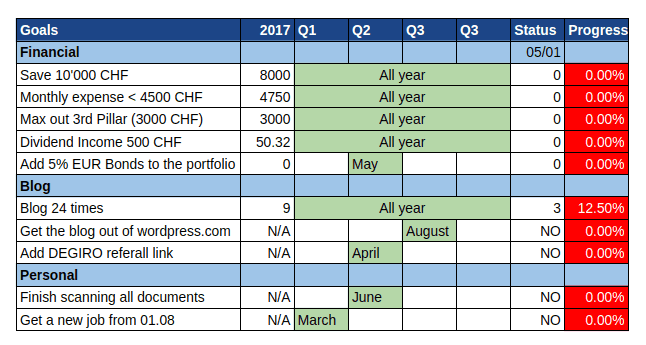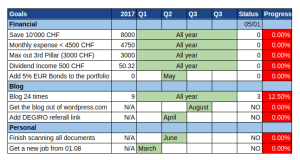 I managed to stay under 4500 CHF expenses this month. The other goals did not move a lot. I invested 500 CHF in my 3rd pillar which 16% of my yearly goal, but this is an easy goal in a year, I am only at 5% of my investment goal which is below the monthly goal. I may invest the 5% of bonds in March if everything goes well. On the bright side, I only have one PostFinance fund left to sell and this is the smallest one (less than 200 CHF), so I am almost done with this and I have greatly reduced my overall fees of investment. I am also around 60% done with my document scanning task, only two binders left. Finally, for the blog, I already blogged 7 times (including this post) so this is really higher than I thought, but not every month will be like that. I'll probably move the blog out of wordpress.com in March after my vacations. As for my next job, it's almost done, just need to pass the final background check.
Next Month – February 2018
As I stated, February will not be a good month at all for savings. I am traveling to China and I will have to pay a lot in marriage fees (and dowry). On the other hand, since my salary will increase again next month, I hope I will not spend more than my income, but nothing is sure.
What about you? How was your January? Do you have any advice for me?