(Disclosure: Some of the links below may be affiliate links)
It is now time to review of 2020 Goals. At the beginning of each year, we set ourselves some goals. And during the entire year, we track them month after month. Then, at the end of the year, we review how well (or how poorly) we did!
2020 was definitely a weird year, but it is not a reason to give up on our goals or review. COVID-19 definitely had an impact on some of our goals. But not enough to make us change them.
So, let's see our review for 2020!
Our 2020 Goals
As a reference, here are our goals for 2020, as of December 2020.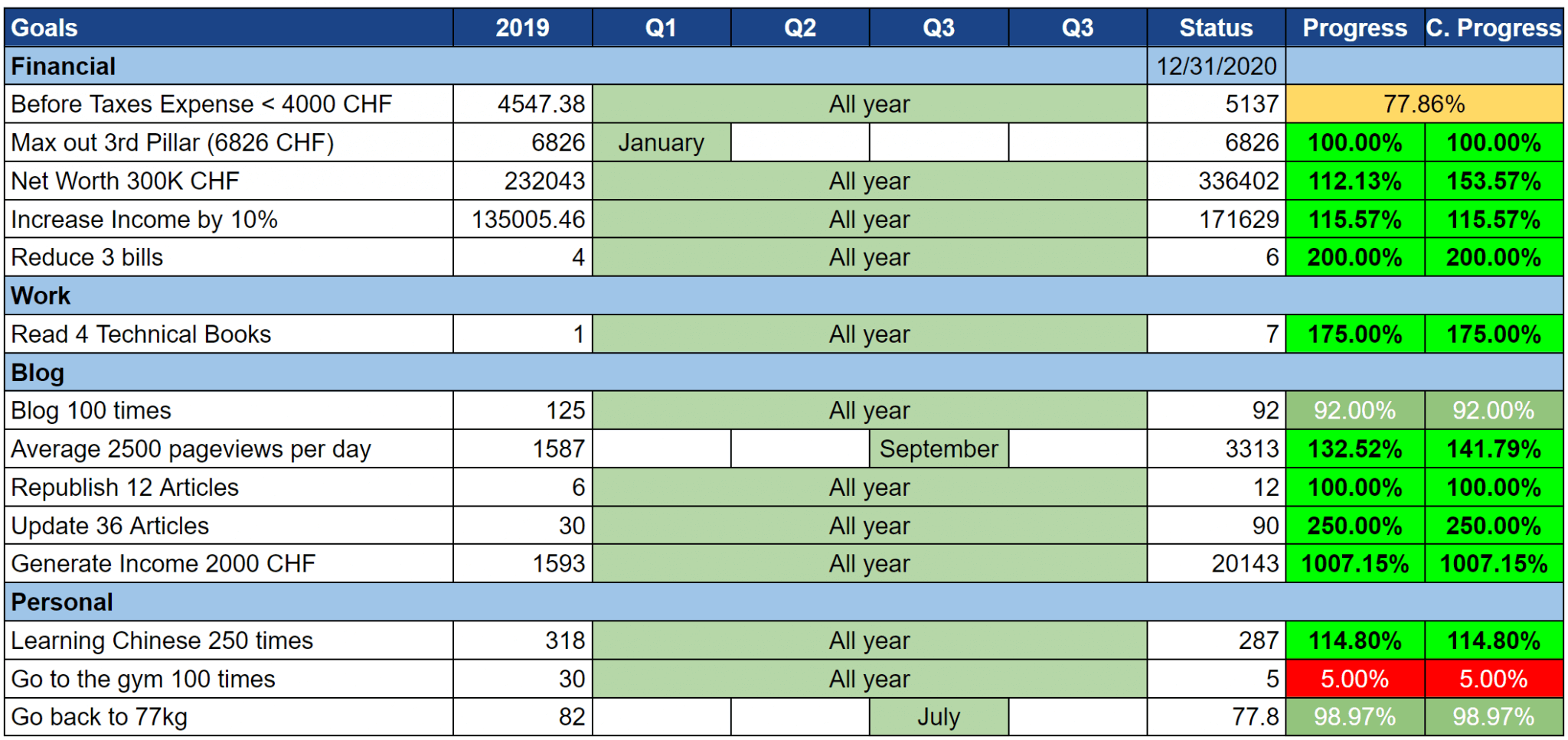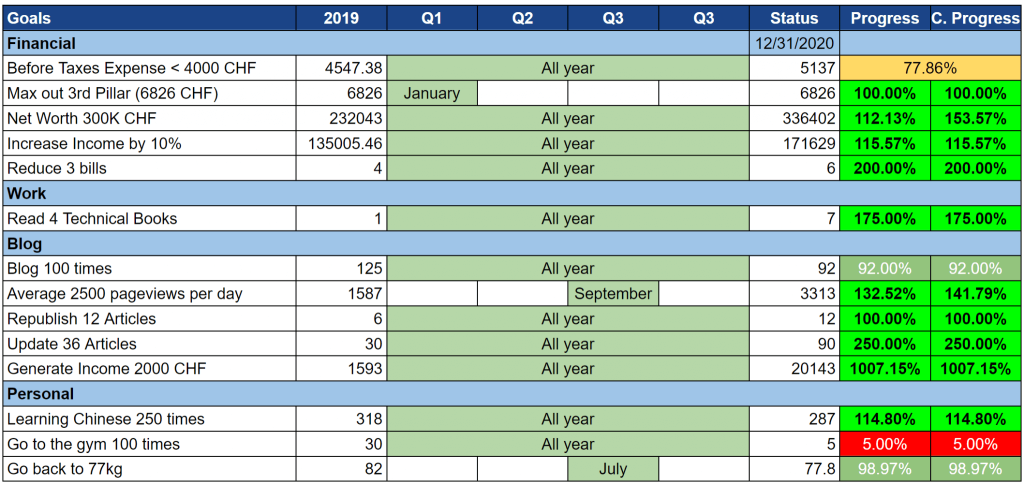 I am going to review how did we do with these goals. And I am also going to review how were the goals. Some goals are good, and some are not. Each year, we also try to improve our goals for the next year.
Before Tax Expenses < 4000 CHF – FAIL
In 2020, I wanted to keep our monthly before tax expenses below 4000 CHF.
We strongly failed at this goal. Indeed, in 2020, we spent an average of 5137 CHF per month, before tax.
However, there is one good thing about this goal. From February to July, we managed to spend less than 4000 CHF per month. After this, we started to buy furniture for the new house. And this destroyed our goal.
I still think that we managed to keep our expenses at a reasonable level for this year. Short of not buying furniture for the new house, there is not much we could have done better.
In 2021, I am definitely going to keep such a goal. But I am probably going to exclude big house bills not to skew the average. Also, I may make it 4500 CHF per month.
Max Out Third Pillar – PASS
In 2020, I wanted to max out my third pillar by the end of January.
I passed this goal but a month late. I maxed out my third pillar in February only.
Maxing out the third pillar is very important for our finances. However, it is not a good goal for our household. For us, it is just too easy to do. And there are no opportunities to do better than the baseline here. So, I will not keep this goal in 2021. I want my goals to push me. If I can achieve a goal every year easily, there is no point in having this goal.
Net Worth 300K – PASS
In 2020, I wanted to increase our net worth to 300K by the end of the year.
I passed this goal well since we reached a net worth of 335K by the end of 2020.
Since we want to reach financial independence, our net worth is a critical metric. And we need to work on increasing it over time. So, this is an important goal for us to keep. We will keep this goal next year and continue working hard on it.
If you do not do it yet, I would recommend you to compute your net worth.
Increase income by 10% – PASS
In 2020, I wanted to increase our income by 10%.
We passed this goal since we increased our income by almost 27%!
I thought that this would be a more difficult goal. But we were able to increase our income way past what I would have thought. The new income on the blog helped us a lot on this goal.
I like this goal, and it makes a lot of sense for us. I do not think we will aim for a 10% increase next year. But we should aim for at least a 5% increase in our income.
If you want to get started on this goal, you can check out several different ways to increase your income.
Reduce Three Bills – PASS
In 2020, I wanted to lower three of our bills.
I passed this goal and lowered seven of our bills. Some differences are tiny, but some are more significant.
For reference, here are the 7 bills I reduced:
I switched from Migros Mobile to Coop Mobile to save about 10 CHF per month.
I stopped an online downloading service for about 10 CHF per year.
I switched to a 3-year hosting plan for the blog, for 5 CHF per month in saving.
I reduced our rent price by 11 CHF per month.
I removed some complimentary insurances to save 30 CHF per month.
I changed our base insurance to save 50 CHF per month.
I switched to the annual price for my Chinese learning website to save 100 CHF per year.
In total, I will save 1382 CHF next year. And none of these reductions lowered any quality of service for us. We are just paying less for the same thing.
This is definitely a goal I like, and I will keep. At the beginning of the year, I had a few ideas to reduce. But when I was thinking about this goal, I found new ideas and saved more money than I thought.
If your expenses are not well optimized, I strongly encourage you to have such a goal.
Read four technical books – PASS
I only had one work goal on my public goals. I wanted to read four technical books.
In 2020, I managed to read seven technical books. I am pleased about that. This goal forced me to research recent technical books, and I learned great things. I also took the opportunity to read some personal improvement books. I need to widen my reading.
I think this was an excellent goal. I plan to keep such a goal next year.
Blog 100 times – FAIL
In 2020, I wanted to blog 100 times on this blog.
I failed this goal because I only published 92 new articles.
Actually, this goal is the perfect example of a bad goal. I am following a schedule of 2 posts a week. And I am republishing one article every month as well. So, in total, I actually published 104 articles, but only 92 new ones.
My goal should have been to stick to my schedule and not a fixed number of articles. I do not think I will have a goal for my posting schedule.
Average 2500 page views – PASS
In 2020, I wanted to reach 2500 page views per day.
I managed to go up to 3300 page views per day on average in December 2020. I am quite happy about this number since this is twice higher than what I did in 2019. I did not expect it to reach so high.
A large part of this increase is due to the increase of articles on the blog. But I also updated many articles that bring the quality of the blog up. I also believe that the quality of the blog itself went up.
I also started to translate the blog into French. For me, this is a tiny portion of the traffic. But the traffic on the French version is growing. I am hopeful this will go even higher in 2021.
In 2021, I will keep such a goal.
Republish 12 articles – PASS
In 2020, I wanted to republish 12 articles on the blog.
I passed this goal by republishing one article a month in 2020. It is good to give back some visibility to some older articles that are unknown to the new readers. Many of my readers have not been on the blog since the beginning. And it is the occasion to refresh in-depth these articles.
I do not know if I will keep this goal in 2021 since this should be part of my posting schedule, not necessarily part of my goals. But I think I will keep republishing some content in 2021, maybe not as regularly. We will see how it goes.
Update 30 articles – PASS
In 2020, I wanted to update 30 articles of the blog.
I was able to pass this goal with a large margin. Indeed, I have updated 90 articles. Some of the articles were only slightly updated, but many of the articles needed important updates. I even deleted some articles that made no sense for the blog. And some of the articles were consolidated together.
Now, I am not sure this made a big effect on the traffic of the blog. But this definitely increases the quality of my older articles. Since these articles are still linked to my blog, my readers must find the best quality.
In 2021, I will continue updating older articles. But I may not update as many articles as I did in 2020.
Generate 2000 CHF income – PASS
In 2020, I wanted to generate 2000 CHF in income from the blog.
I was able to easily pass this goal, generating 20'000 CHF from the blog. I am quite amazed at the money generated from this blog. I had zero experience making money online, so I am completely improvising. And I made several mistakes. I now realized there is a definite potential on this blog.
I think this was a good goal, but it was not ambitious enough. I never thought I would be able to generate so much. But I should have aimed for at least 5000 CHF.
Nevertheless, I will probably not keep such a goal in 2021. I want to keep the main goal of this blog to help people. And hopefully, the income will follow from this goal.
Learning Chinese 250 times – PASS
I am learning Chinese online. I am trying to do that every day. I do not do a lot, but about 20 to 30 minutes every day should be good to progress over the long-term. For now, I do not want to invest more time in this learning.
I passed this goal since I did my lessons 287 days in 2020. It is a good result. Now, my Chinese is progressing, but not as much as I would have thought. I hit a plateau in my learning now. And it is difficult to pass it. Once Mrs. The Poor Swiss gets an excellent French level, we will try to switch some of our discussions to Chinese.
Go to the gym 100 times – FAIL
This goal is a big fail. I wanted to go to the gym 100 times in 2020. I went 5 times.
I started the goal okay, but then we went to China, and when we came back, we put ourselves into quarantine. After this, the virus started to hit Switzerland, and we were soon in lockdown with all the gym closed.
After the lockdown, I could have gone back, but I did not feel like mingling with other people with COVID-19 not far away.
This goal is the one that was the most impacted by COVID-19. But I could have pushed stronger on that. I was happy about not going to the gym. I started walking before working at home. So I compensated a little, but not as much as I should.
In 2021, I am thinking of starting to work out at home. We now have a ton of place at home. The problem will be my motivation to stick to it. We will see how it goes.
Go back to 77 kg – FAIL
I wanted to lose back some weight by the end of July. I had put on a little too much weight and wanted to lose about four kilograms. I almost passed this goal since I was at 77.7 kilos by the end of July.
I do think this is a big deal since I then went down to 74 kg. I am now almost too low. I think it is one of the consequences of not going to the gym. I am losing some muscles.
For next year, I will try to keep my weight at around 75 kg.
Conclusion
Overall, we have done pretty well with our goal in 2020. We were able to pass most of our goals and with some margin in general. Of course, we did not pass all of our goals, and some were a little late.
Our goals were good this year, definitely better than the previous year. But I feel we can do even better in 2021. Several of the goals were not ambitious enough. And our goals still lack originality, but I still do not know exactly what to do about that part! If you have ideas for better goals, please let me know in the comments below.
I am still working on our 2021 goals, but they will be published soon on the blog. I will still keep yearly goals for 2021, but I wonder whether I should switch to quarterly goals in the future.
If you do not review your goals, I encourage you to do so every year.
What about you? How did you do with your 2020 goals?