(Disclosure: Some of the links below may be affiliate links)
January 2022 did not start as well as we would have liked. We went back in quarantine after contact with somebody that turned out COVID positive, and Mrs. The Poor Swiss and Baby Poor Swiss had dome symptoms. But everybody is fine now!
We had to cancel plenty of things and refuse help when we would have needed it. This month was definitely not good for morale.
From a financial point of view, it was a great month with standard expenses and high income.
January 2022
Very early in the month, we got in contact with someone positive. We took precautions. The person did several auto-tests the days before and was three times vaccinated. But a few days later, we received a call telling us she was positive.
So, even though we were not obligated, we quarantined ourselves to avoid spreading to people. It meant canceling several gatherings we had planned and were looking forward to.
A week later, Mrs. The Poor Swiss started showing some symptoms. And our son was definitely much more agitated than usual. But the test of my wife was negative. So, either the test was wrong, or the symptoms came from sleep deprivation. We have not tested our son. Everybody is now fine.
So, we spent more than three-fourths of the month without seeing anything. And our son's nights have become even more hectic. He now often wakes up more than ten times during the night. You can imagine what this does to our sleep and morale.
So, definitely not a great start to the year for us. As for our finances, they have been pretty good. We had a good income, with some extra income from yearly payments. And our spending is still reasonable. In total, we managed to save about 69% of our income.
Expenses
Let's see the details of our expenses in January 2022:
| Category | Total | Status | Details |
| --- | --- | --- | --- |
| Insurances | 843 | Average | Health insurance for everybody |
| Transportation | 70 | Average | One gas refill, the highway pass, and some bus tickets |
| Communications | 142 | Above Average | Internet, mobile, and two online services |
| Blog | 234 | Above average | Few yearly online services |
| Personal | 1503 | Above Average | Holidays Airbnb and many various small bills |
| Food | 779 | Well Above Average | One extra groceries trip and one Aligro trip |
| Housing | 739 | Above Average | Mortgage, heating, and water |
| Taxes | 3782 | Average | Taxes at three different levels |
Overall, we spent 8076 CHF during January 2022. Without taxes, we only spent 4294 CHF. It is a good result for us. This is slightly higher than I expected, but I did not plan for one-time bills properly. And our goal is to spend less than 4500 CHF per month. So, we are within that goal!
We reserved an apartment for a holiday with our family this summer. On top of that, we had a few unexpected expenses, but overall, it was a very standard month. For instance, we bought a Karcher window cleaner because we have large windows and want to save time cleaning them. I also bought some books to complete a manga collection.
Our food budget is also very high this month. We made one extra groceries trip compared to usual. And we also went to aligro for almost 300 CHF, which adds up. But this will go down next month.
So, overall, I am happy with our expenses this month!
2022 Goals
Let's take a look at our goals by the end of January 2022: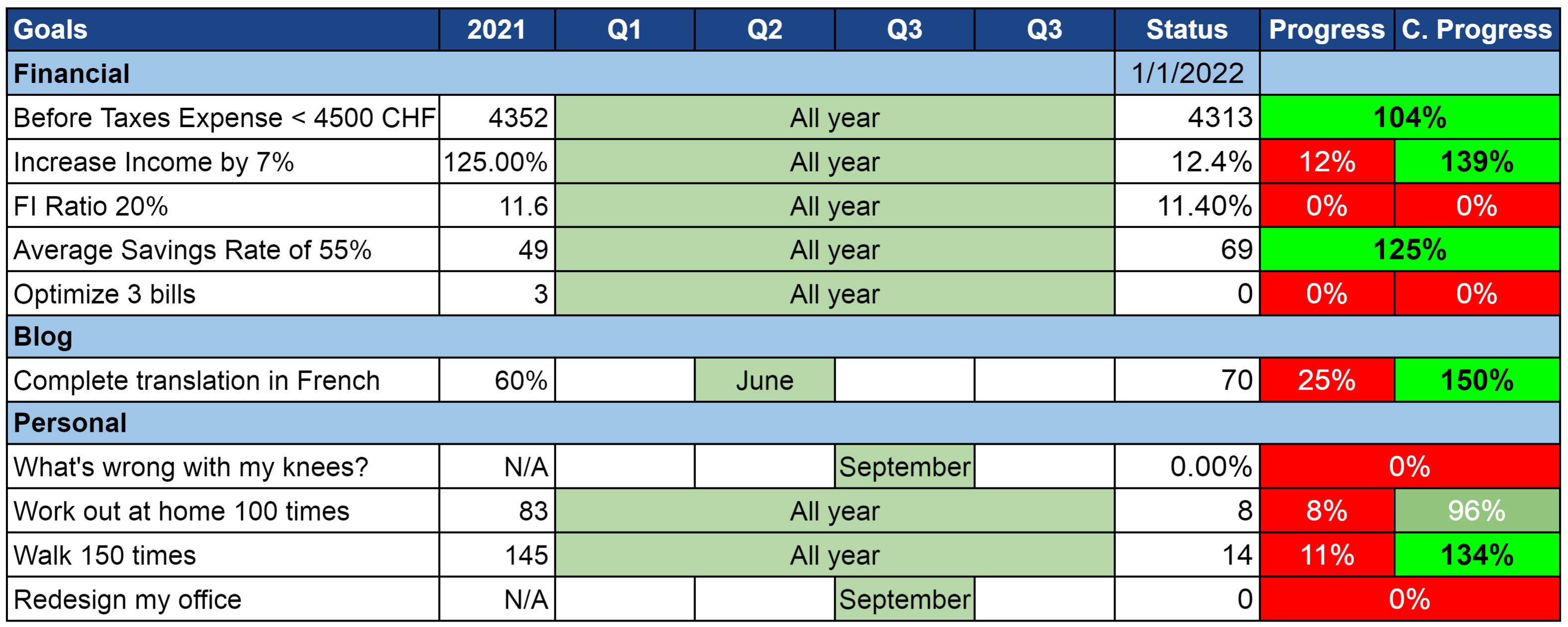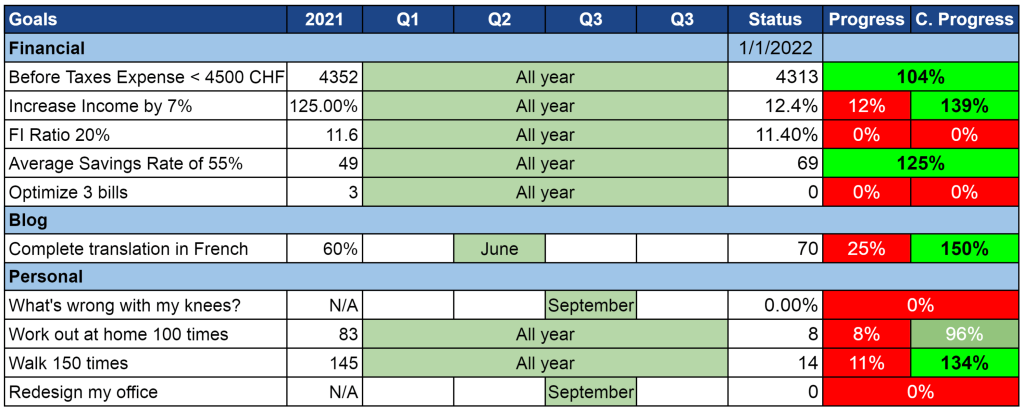 Progress towards our goals is very mixed. Our financial goals are doing great, but other goals are worse. Our FI ratio is not great, but our income and expenses were good this month.
I did not do as many workouts as I should have. Between work, the baby, my wife being sick, and the baby being sick, there were some days without a pause. I compensated a little by doing more the last week of the month. But I should have done more early one.
On the other hand, I have been doing enough walks. I did few in the mornings, but more in the afternoon as a stroll with my son.
I did exactly zero towards redesigning my office. At this point, I still do not imagine how I will have the energy and time to do anything for this goal. And I definitely do not want to go to the doctor when cases in Switzerland are so high.
The translation in French is actually doing well. This is something I can do when I have a little time in the living room on the laptop, so it progresses well. When I have no computers at my disposal, it is more difficult!
So, I would say that overall, January 2022 was not a good month for our progress on the goals.
FI Ratio
Let's take a look at our progress towards Financial Independence:


First, I have added something to the graph. The black line is with fixed yearly expenses of 100'000 CHF. And the blue line is with current running expenses. I am expecting to spend about 100K CHF per year in retirement. But it is so far that I want to see with my running expenses as well.
Our FI Net Worth did not move much this month. We ended up with 200 CHF more than last month. The stock market lost a lot at the beginning of the month. But our savings compensated with a large income.
Given the state of the stock market, this is a good result for the first month of the year. We will see how it goes during the year. If we end up in a strong bear market, it will take a while to recover. But I do not expect to retire any time soon.
Our running expenses are still going up slightly, so this added to no net worth growth means our FI Ratio is slightly lower. But I am not worried about that yet.
The Blog
I do not have much to say on the blog. For once, the traffic was relatively stable. It even increased slightly.
I did not do anything special on the blog this month. I made some progress on the translation, including some articles with figures that take a very long time to translate. Most of the articles that remain to be translated will take a while. I will try to get more done in that area in February.
At this point, I am already satisfied with just keeping up with the blogging schedule.
Late in the month, there was a kind of attack on the blog. There was a lot of sudden traffic, and even though Cloudflare blocked 90% of it, it was still enough to go over-capacity on my Siteground capacity. I am disappointed since this was only about five times more traffic than normal. I was not expecting the server limits to be that bad, especially since I upgraded last month.
I am currently not really thinking of moving since the traffic on the blog is going down. But I will see if I can save some capacity by checking my plugins.
Next Month – February 2022
At this point, I have no idea what will happen next month. I hope it is better than January.
Financially, it should be a good month again since I have some extra RSUs vesting next month, and my ESPP should vest as well. Depending on the state of the stock market, it should add some significant income. And we do not have especially high expenses planned.