How Much We Spent in 2020 – Full Expense Report
|
Updated:
|
(Disclosure: Some of the links below may be affiliate links)
I keep track of all my expenses. And monthly, I publish my expenses on this blog. But once a year, I also a full analysis of my expenses for the past year. It helps me put things in perspective. And it also gives me an idea of where my expenses are going for an entire year.
For me, it is an essential part of the way I am managing my money. I do not really budget, but I track all our expenses. And seeing expenses summed for an entire year help us realize how much we spend in some categories.
So, let's see the expenses of The Poor Swiss family for 2020.
Expenses 2020
In 2020, we spent 93735 CHF. This is 28932 CHF more than in 2019, a 44% increase in one year! Since we are trying to reduce our expenses over time, this does not look very good. What happened? Let's find out!
For tracking our expenses, we are using seven categories. So, here are the totals of each category for 2020 (sorted by amount):
| Category | Total CHF | Difference | What is it? |
| --- | --- | --- | --- |
| Taxes | 35801 | +26257 | All taxes |
| Personal | 20919 | +4235 | Everything for us, not mandatory |
| Housing | 16307 | +167 | Our rent and power bill |
| Insurances | 11042 | +1047 | All our insurances, mostly health insurance |
| Food | 5329 | -143 | Groceries and eating out |
| Transportation | 3185 | -2120 | Car and public transportation |
| Communication | 1149 | -460 | Phone and internet bills |
We can see that the category that really increases in 2020 is the Taxes category. This is actually logical since, in 2019, I was paying taxes on my doctorate salary. In 2020, I started paying taxes on my software engineer salary. I had to pay back some unpaid taxes for 2019 on top of the 2020 taxes.
After this, the rest of the budget is not that bad. Several categories went down even significantly, like communications and transportation. The first one I was able to optimize, and the second, I saved a lot on fuel by working at home.
As for the Personal category, I am slightly disappointed. I thought we would do better here. The biggest difference is that we spent about 6000 CHF on furnishing the new house (furniture, appliances, and lights). So, this accounts for the entire difference. Without that, we would have spent less in 2020 than in 2019. So, we will see what we can do in 2021 regarding spending less.
If we consider the after-tax expenses, we spent 57934 CHF in 2020. This is only a 2.25% increase over 2019. I wanted to reduce it, but it is not catastrophic either. So, I will take 2.25% as our personal inflation rate for 2020. The personal inflation rate is a personal finance metric I like!
Here is a more visual breakdown of the expenses for 2020: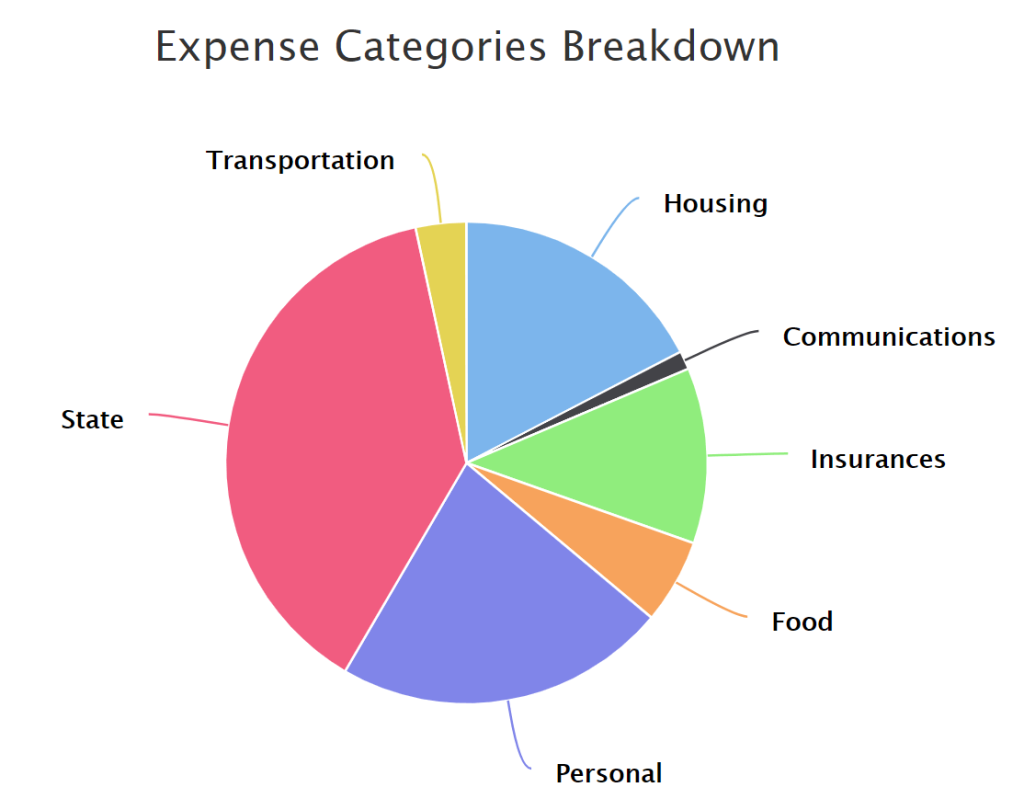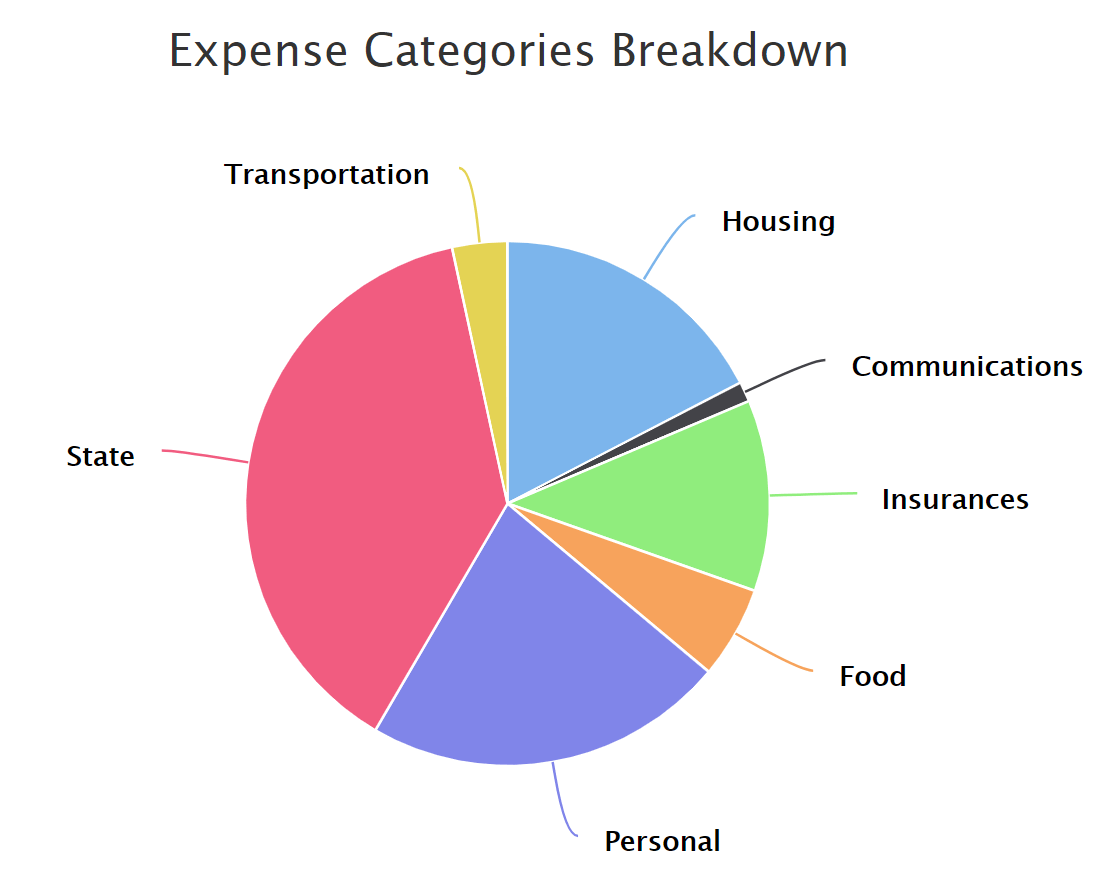 As you can see, taxes are really the bulk of our expenses for 2020.
If you want to compare with us, here are a few important facts. We are a married couple without children, had no house in 2020, and have a single income. But generally, I do not recommend comparing too much with other people. You should try to do better than yourself!
Now, I will detail some of the larger expenses and what changed with them in 2020.
Biggest 2020 Mandatory Expenses
We can start quickly with the big mandatory expenses:
Taxes: 35801 CHF (+26257)
Rent: 14920 (-44)
Health Insuranc:9494 CHF (+9)
Groceries:4781 CHF (+340)
While we can optimize these expenses to a certain level, we cannot get rid of them. We have to live somewhere, pay taxes and health insurance, and eat.
I am expecting our taxes to stay at the same level for 2021. Our taxes will still go up, but not as much as they did between 2019 and 2020. I do not plan on doing anything special for our taxes in 2021.
Our rent will change significantly. We are now paying interest for our mortgage every month. For now, we still have to pay for the apartment until the end of March 2021. After this, our housing category will go down significantly since our interest payments are much lower than our rent.
Our health insurance bills should also go down in 2021 since we have switched to cheaper base insurance and reduced our supplemental insurances. I did this in 2020, but it will only take effect in 2021. I will continue to reconsider our coverage in 2021 to see if we should lower it even further.
Now, I will go over some interesting expenses for 2020.
Furniture 5999 CHF (+1049%)
A ten-fold increase is not a great thing for our finances! We bought many new pieces of furniture, appliances, and lights for the house:
A new bed and mattresses
A new sofa
Washing machine and dryer
A new TV stand
And other small pieces of furniture
We could have bought used furniture for the new house. But we really wanted some nicer furniture to get started into the new house. We went a little over budget compared to what we thought. But we like the furnished house.
Normally, we should not have much to add to the new house in 2021. And if we do, we will try to keep it significantly cheaper than we did until now.
Groceries 4781 CHF (+8.3%)
One of our goals for our expenses in 2020 was to reduce our grocery bill. Unfortunately, we managed to increase it. I do not know what happened. We had some costly months for groceries. We did not do anything particular, no fancy dinners at home. With COVID, we invited fewer people than usual. My only explanation is that we have been less careful than before.
We will need to work on that before that gets out of hand. I will be more careful about our grocery bills to see what gets expensive.
On the other hand, many of my readers are surprised that we spend so little on food, so maybe I am too hard on ourselves. But we eat what we want and do not deprive ourselves of anything.
Health 3760 CHF (+190%)
In 2020, this is the category that pisses me off the most. We are paying hugely expensive health insurance, and on top of that, we have to pay a ton of money for health costs. This system sucks.
I had to pay more than 1000 CHF for treatment for my knees. And all that is for nothing since my knees are the same as before. And we had to pay large dentist bills for Mrs. The Poor Swiss (again).
I know there is not much we could have done to save money. But regarding the knee treatment, I will have to be more critical of doctors in the future. For the dentist, we are planning to find a new one. This one is just horrendously expensive.
Gifts
1762 CHF (+130%)
In 2020, we spent significantly more on gifts than in the previous year.
I am not worried about that. It is a good thing. We just had more occasions to give to friends and families. There were many round-number-birthdays this year than last year.
Except for one wedding, we do not expect any large gifts next year. But of course, this could change!
Holidays
817 CHF (-76%)
In 2020, we spent almost nothing on holidays. We went on a vacation to Davos in August.
Without COVID-19, we would have gone on at least one more vacation. And we would have spent much more money in China. Even though it was boring, it was a good thing for our finances, at least one benefit of COVID-19.
We have not planned anything for 2021. With the virus still there and not going anywhere, we will probably delay further vacations. We may do a short vacation in Switzerland, but probably nothing big. But it will mostly depend on COVID-19.
Internet 780 CHF (-3%)
In 2020, we did not change our internet bill.
For me, having good internet is very important. And I am pleased with Swisscom even though it is definitely not the cheapest. I am considering switching to Wingo, which is Swisscom without customer service. But I am afraid of having issues. So, I may delay that even further. Paying 65 CHF per month for excellent internet does not really bother me in the ned.
Gas 576 CHF (-52%)
In 2020, We spent a lot less on gas than usual.
The reason is fairly simple: COVID-19. I have been working at home for most of the year. This means we are only taking the car out a few times a week. On top of that, many things being canceled means even fewer reasons to use our car.
I will be working from home for at least half of 2021. On top of that, we are now living slightly closer to many places. This means even less driving around! I expect this category to go up in 2021, but not as much as it was in 2019.
Eating Out 362 CHF (-47%)
One more COVID-19 victim is our eating out budget.
We are not big on eating out, but this year was really extreme on that. We went a few times to restaurants with Mrs. The Poor Swiss, but we rarely went with other people. And during COVID, we really avoided restaurants.
If COVID stays the same in 2021, we will probably keep low eating-out budget.
Phone Bill 174 CHF (-29%)
In 2020, I optimized my phone bill. I switched from MBudget mobile to Coop Mobile Prepaid.
This makes a small difference in what I pay for my phone. This should go slightly lower in 2021 since I did the change in the middle of 2020. I am quite happy about this expense. I do not see the point to optimize it further.
Things we improved in 2020
Even though we are spending more than before, we have been able to improve a few things.
Several of our recurring bills have gone down significantly. Except for some of our insurances, these bills are now in a good place, I believe.
Another good thing we did is not spend on so many small things. I entirely cut my spending on home automation devices, for instance. And I was able to cut down my computer's budget as well. This makes a significant difference in our budget.
While working at home, we were able to save money on transportation. Our transportation budget really improved significantly with that.
Things to improve in 2021
There are a few things we need to do in 2021 to improve our budget.
The biggest thing is that we have to be careful about the projects we have for the house. Mrs. The Poor Swiss has a ton of projects that she wants to do. I also have some projects but more long-term. I am trying to delay most works until at least one to let them sink in.
We need to recheck our food budget. Two years ago, we spent about 300 CHF per month on food, and now we are at 400 CHF per month. I think it is a bit high, and I do not really know what changed. So, we will have to be careful about that.
Obviously, we have to be careful about spending on furniture next year. It should be fine since most of our rooms are fully furnished to our liking. This will make a significant difference.
Another thing I want to be careful about is our health bill. Now, this is something we cannot control much. But we ended up paying a lot for my knees with zero results in returns. We may want to be more careful about researching alternative treatments.
If I can still work at home for most of the year, I will reduce my car insurance coverage again. The car is getting old anyway, and driving it only a few times a week helps keep the costs low.
Conclusion
Overall, we spent a lot more in 2020 than we did in 2019. However, most of this increase comes from higher taxes. Considering our after-tax expenses, we increased our expenses by 2.25%! It is an increase, while we wanted a decrease, but it is not that bad.
If we did not purchase new furniture for the new house, we would have spent less money than last year. However, we want good furniture for the new house, and we do not count. We still did not spend lavishly, but we could have been slightly more frugal. But we do not regret anything, the house looks great, and we like our new furniture.
It is tough to predict our expenses for next year. Indeed, it will highly depend on the pandemic. This will define whether I have to go back to the office or not. And this will also decide how many people we invite to our house. So I will not try to predict. What we will do is try to keep our expenses optimized while keeping our quality of life.
If you are not yet tracking your expenses, I strongly encourage you to do so, you may be surprised at what you will find. Tracking your expenses is a great personal finance habit.
What about you? How much did you spend in 2020?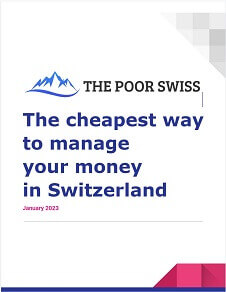 The best financial services for your money!
Download this e-book and optimize your finances and save money by using the best financial services available in Switzerland!
Download The FREE e-book