(Disclosure: Some of the links below may be affiliate links)
Now that the year is over, it is time for our 2019 Goals Review! At the beginning of 2019, I have set myself several goals for the year. 2019 was the second year I did set goals for myself.
In 2018, my goals were too easy and not original. For 2019, I have tried to make them more ambitious and more interesting. I think I have succeeded in that matter. The goals were more ambitious. But several of my goals could be improved. And I think I can try to challenge myself a bit more next year.
Overall, I have met most of my goals for the year. You are going to see which goal I did, and I did not succeed in reaching it.
In this post, I am going to review how I did with each of my goals. And I am also going to discuss the goals themselves. I plan to improve them for my 2020 Goals.
2019 Goals
If you follow my blog, you will have seen that I update my goals every month. I set myself a set of goals at the beginning of 2019, and I have been tracking them every month ever since.
So, here is the status of my goals at the end of December 2019: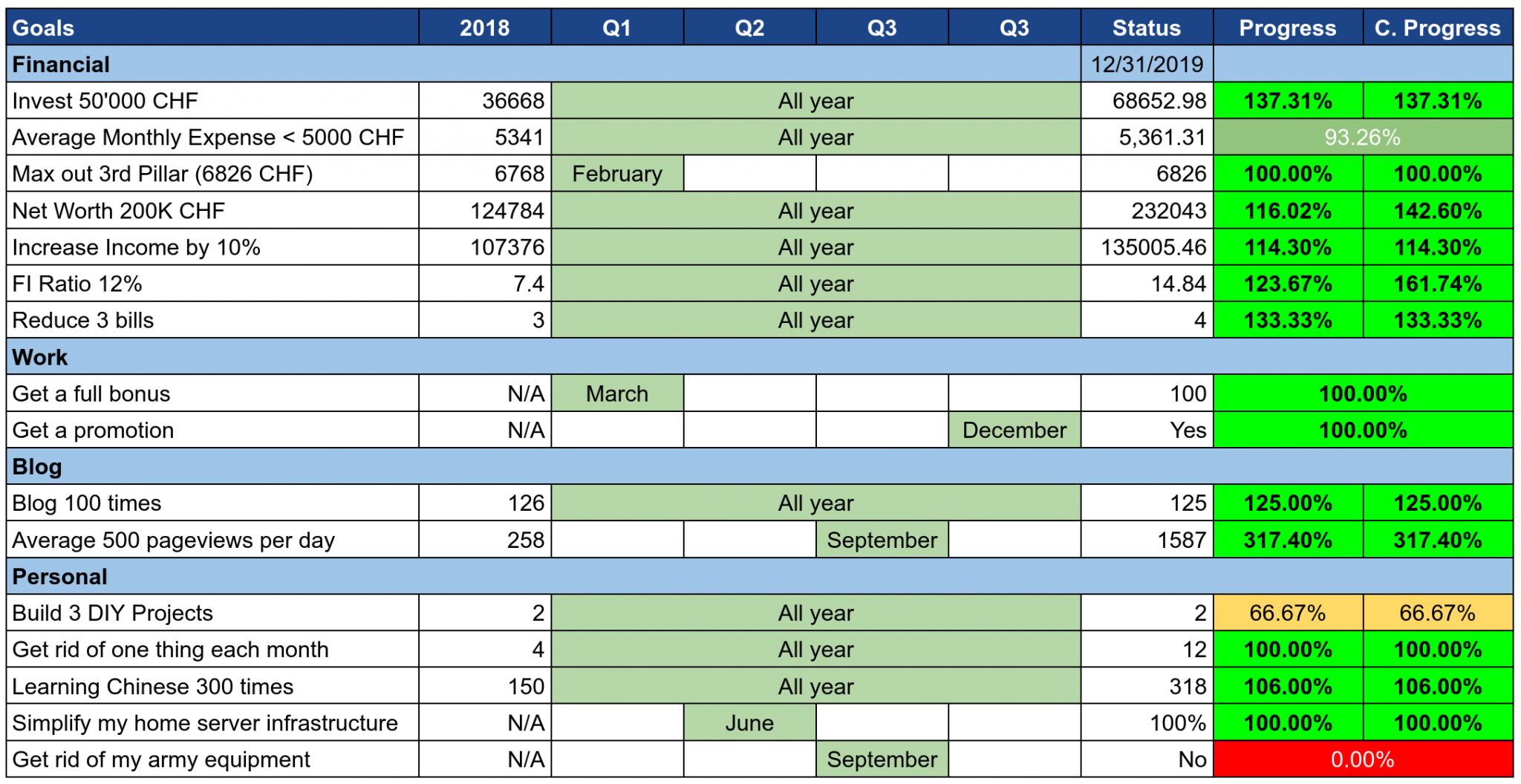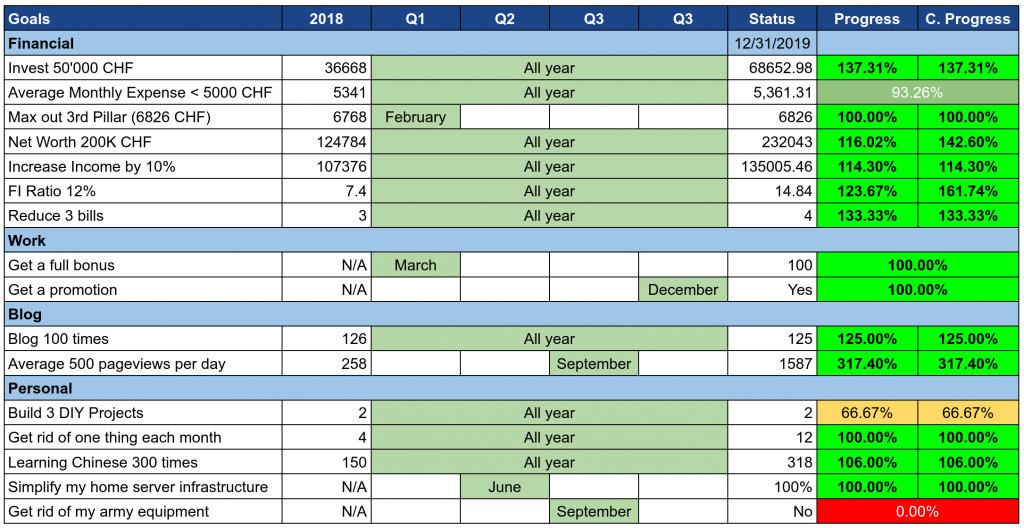 You can see that there is almost only green on our goals tracking. It is good. But you can also see a big bright red goal that we fail. One orange goal that we also failed. And an ugly green that we did not pass.
Most of these goals were good, and we were good at reaching them. However, some of the goals were not good. And we did not do enough to achieve some other goals.
Financial 2019 Goals
Our most important for the year were Financial Goals. These are the most important for us for the current time.
1. Invest 50'000 CHF – PASSED
In 2019, we wanted to invest much more money than the previous year.
I passed this goal and was a bit ahead. In total, we were able to invest 68652 CHF during the year. It is an excellent result for us. We mostly invested in our account at Interactive Brokers. But I also invested some money in P2P Lending.
I do not think we will have this goal for 2020. We are currently considering buying a house. So it does not make sense to invest in the short term. We are going to reconsider our investments after the house.
2. Average Monthly Expense < 5000 CHF – FAILED
In 2019, I wanted to keep our expenses to a lower level. In 2018, we spent about 5341 CHF per month. I wanted to keep our monthly expenses below 5000 CHF for 2019.
Unfortunately, we failed this goal. We were not even close to reaching this goal. In 2019, we spent an average of 5361 CHF per month. I was motivated to achieve this goal. But I did not do enough to ensure we could reach it.
We had a few exceptional bills that did not help. For instance, I had to change my entire computer. But I also did not plan very well some of our bills, such as the French courses for Mrs. The Poor Swiss.
We still did cut some of our bills. We have been frugal on several of our budget categories. For instance, our food expenses have been quite okay.
Here are our expenses for the year month after month:

But I am sure we can do better the next year. Some of our costs will increase significantly (taxes, for instance). But overall, I think we can lower some of our bills. And we can avoid some expenses as well. I will probably have a monthly expenses goal for next year.
3. Max out 3rd Pillar (6826 CHF) – PASSED
In 2019, I wanted to max out our third pillar. It means I had to invest 6826 CHF into it. And I wanted to be done with it by February.
It was quite easy to pass that goal. I already sent enough money in January to complete this goal. Now, even though it is an easy goal, it remains an important goal. I want to make sure that I invest this amount of money every year. Since I cannot invest more so, I cannot make this goal more challenging.
Given its importance, I will probably keep that goal in 2020.
4. Net Worth 200K CHF – PASSED
During 2019, we wanted our net worth to reach the 200K bar. It was an important milestone for us.
We were able to pass the bar of 200K quite easily this year. By the end of the year, our net worth reached 232K CHF. It is an excellent result for us. Our net worth increased by more than 100K during the year. We almost doubled our wealth this year!
Here you can see the evolution during the year of our net worth:


Next year, we are probably going to try to pass the 300K CHF milestone.
5. Increase Income by 10% – PASSED
During the year, I wanted our income to increase by at least 10%. Income is important because it allows us to save money faster. And it has a higher limit than expenses.
We passed this goal! Our income increased by 25% compared to 2018. I am pretty happy with this result. It comes mainly from the promotion and the fact that I only worked six months last year at my new company. The small returns from the blog also helped a little but not much.
Here is the evolution of our income during the year:


I am going to try to achieve the same thing next year. We will see how that goes.
6. FI Ratio 12% – PASSED
In 2019, we want to increase our Financial Independence Ratio to 12%. For this, we could increase our net worth and reduce our expenses.
I was also able to reach this goal. We were not able to reduce our FI Number by reducing our expense, but our net worth grew enough to increase our FI ratio past 12%. We ended up the year with slightly more than a 14% FI Ratio. It is a great result.


This goal is good, but it highly correlates to the net worth one. Since our expenses did not move much, this goal is directly related to the net worth goals. It is not a big deal. But it is better not to have goals too correlated.
Reduce three bills – PASSED
In 2019, we have been trying to reduce our expenses. For this, we decided to cut down at least three bills during the year. I wanted to focus on recurring bills to save for the long-term.
I was able to reach this goal and even overperform. I was able to reduce four bills during this year:
I cut the coverage of my car insurance to save 300 CHF per year.
I switched to a slower internet to save 15 CHF per month
I left the Catholic Church to save about 400 CHF per year
Pay my Chinese course once a year instead of monthly to save 120 CHF per year.
With these reduced bills, we are going to save 1000 CHF more next year. It is the kind of goals I want to focus on. I have no idea what to reduce further. But we are going to try to do it again next year!
Work 2019 Goals
I have set myself two Work Goals for 2019.
1. Get a full bonus – PASSED
A small goal for my work in 2019 was to get a full bonus. For this, I would have to get a high score on my work goals.
I was able to pass this goal. I work quite hard during my first months in the company. And even though I only worked for six months, I got a larger bonus than half a bonus compensation! It is an excellent result! I am pleased with this goal.
For next year, it will be my goal again to get a full bonus. And I will continue to work as hard as possible to improve my value! I have not decided if this will be written in my goals or merely implicit.
2. Get a promotion – PASSED
My main goal for my work was to get a promotion by the end of the year.
I was able to pass this goal before the end of the year. My promotion was effective in September. I am very pleased with this result. I worked hard and demonstrated results, and I was able to get a promotion, 15 months after starting in the company.
For the time being, I do not plan on getting another promotion soon. However, I will continue to work hard. If the opportunity happens, I will do my best!
Blog 2019 Goals
For 2019, I also had a few goals. I also had a ton of other items I wanted to do during the year. But I did not want to track everything.
1. Blog 100 times – PASSED
My first blog goal for 2019 was to blog 100 times. It is a frequency of about twice a week. And this is the current schedule I am sticking with.
I was able to pass this goal quite well. I posted 125 articles this year. The main reason is that I switched back to three posts a week for a few months. And then I went back to my original schedule.
It is not an incredibly exciting goal. But for my blog goals, this is an important one.
2. Average of 500 page views per day – PASSED
For 2019, I wanted to double the daily page views on the blog. For this, I wanted to reach 500 page views per day in a month.
I was able to pass this goal, and the blog averaged much more than 500 page views. The average daily page views for December 2019 was 1587. I am surprised by this result. It is much more than I was expecting.
I did not do anything special to reach this amount. I was able to achieve this by producing quality content. I also did quite a few updates on older posts to keep the quality up.
I do not know how much I will aim for in 2020. But I want to increase my readership.
Personal 2019 Goals
For 2019, I had a few personal goals of things I wanted to achieve for myself. These are not related to money.
1. Build 3 DIY Projects – FAILED
In 2019, I wanted to build three new DIY projects. I started this hobby in 2018, and I found it was a lot of fun to create pieces of furniture. So, I wanted to do more.
Unfortunately, I failed to reach this goal. I built only two projects this year. First, I did a few repairs and improvements to our big closet in the living room. And I made a new kitchen cabinet.
But, I did not get the motivation to build new DIY projects. The problem is that I do not have any room for that. I have to do everything outside. First, I have to move all my tools from the cellar to our backyard. And I have to do it again after I finish. And of course, I can only do it in beautiful weather. I am wasting so much time I do not want to do it again. Once I have a good room for that, I will start my projects again. I have plenty of ideas for projects.
2. Get rid of one thing each month – PASSED
I think that we own too much stuff. And there are some that we do not use. Therefore, one of my goals was to get rid of one thing each month.
I was able to reach this goal. Here are some of the things we got rid of this year:
A juice machine I never used
Many CDs I did not need any more
Some books I did not want to keep anymore
Some DVDs
Some cameras that served no purposes
Some old medicine
I think it is great that we got rid of all this stuff. However, getting rid of one thing each month is not really a great goal. You should get rid of the things you do not need regularly. Some months, I simply waited to get rid of something until the next month to achieve my goal. A better goal would be to get rid of 10 things in a year.
3. Learning Chinese 300 times – PASSED
This goal was quite ambitious for me. I needed to work on my Chinese online lessons at FluentU 300 times during the year.
I passed this goal with about ten extra times. I think I did a reasonably good job at learning Chinese this year. Ideally, I should have continued to do that while I was in the U.S. for work. Long pauses in training is not a great thing for learning. On the other hand, I think it is good to stop for a week for the holidays.
Next year, I plan to keep a similar goal. But I will bump the amount of time I spend on the tool every day.
4. Simplify my home server infrastructure – PASSED
I used to have a 240 centimeters high (48U) computer rack in my office at home. In this rack, I had seven servers running various services. I decided it was time to downsize. I wanted to reduce that to 3 servers in the rack. I also wanted to reduce the number of services I was running. And I needed to simplify my home automation system. Once I had done this, I could change to a smaller rack.
It took a lot of work, but I passed this goal, two months in advance. It was finished in April while I wanted to finish by June. I was able to unmount and sell four servers. I also removed most of the services I was running on these servers. And I replaced my home automation system with a straightforward system that does not take so much of my time. I bought a new computer rack that is half the size of the previous one. And I was able to sell the old one.
Overall, I am quite happy with this goal. I sold many things I did not use. And I freed some room in my office. And I also saved some energy by not having so many computers.
5. Get rid of my army equipment – FAILED
The idea of this goal was to get rid of all my army equipment this year. I have plenty of equipment, most of it in my father's attic. I have failed to reach this goal since I did not get rid of this equipment.
This goal is probably the worst goal I have had. It the case for several reasons:
It does not depend on me but the military administration.
If I had done more research, I would have known that this would not happen in 2019 but 2020.
There is strictly nothing I could do for this goal. I could not even fail this goal if the army goal. I would have had to go.
I need to avoid this kind of goal for 2020.
Conclusion
This is it for our goals review. Overall, we did great with our 2019 Goals. We managed to finish all but three of them. I am delighted with our progress!
The only goal I am not satisfied with is our expenses goal. I think like we could have done more to reduce our costs this year. I think we need to work on that goal again next year.
Also, I feel like our goals were much better than the ones from the previous year. This year we had some more ambitious and more exciting goals than previously.
The goals were not perfect. But we are going to keep improving and working on our goals. Hopefully, our 2020 Goals will be even better. And we are going to work even harder on achieving them. But we will not know until we do our 2020 Goals Review!
If you do not set goals for yourself, you may want to read my guide for setting great goals.
What about you? How did your 2019 goals go? Do you have special goals for 2020?