(Disclosure: Some of the links below may be affiliate links)
You probably have heard of P2P Lending! It is the new trend of investing these days. A lot of people are investing and some people are even using it as their sole investing instrument.
When I created my Investor Policy Statement, I stated that I could consider investing between 5% and 10% of my net worth outside of stocks. Therefore, I decided to start researching P2P Lending. And after a while, I decided to start to invest some money.
I have not invested a lot of money into it yet. And I do not plan to invest a lot of money at all. This is just some small diversification. I believe this could not replace stock investing. And I believe this is riskier.
In this post, we are going to see the basics of P2P Lending. And I am going to detail my current investments.
P2P Lending
If you do not yet know what P2P Lending, it is actually quite simple. The idea is to lend money to borrowers at a certain interest rate. While you could directly lend money to some people you know, there are platforms that are easing this.
Most P2P lending platforms are acting as intermediaries between lenders and borrowers. A borrower can ask for a loan on the platform. And lenders can participate in that loan. A great thing is that several lenders can participate in the same loan. This allows for small loans from lenders and high diversification. This simple model is called a three-party business model.
In the biggest platforms, the loans are not coming directly from borrowers. They are coming from loan originators. These are companies that are issuing loans. They are then filling these loans into the P2P Lending platform. And the platform is then matching lenders and borrowers. This more complex model is called a four-party business model.
Advantages of P2P Lending
We should discuss the advantages of P2P lending. Why would we invest in it instead of stocks?
First of all, the returns can be quite high. It is not uncommon to find loans with more than 10% interest. In general, yearly returns of P2P Lending are higher than those of the stock market.
Another advantage is the added diversification. There is not a big correlation between stocks and P2P lending. Therefore, diversifying into a new uncorrelated asset could help your overall portfolio.
Also, fees are generally reasonably low for investors. And you can often invest with as little as 10 CHF. It is very easy to start investing in P2P Lending. It is much easier than investing in stocks.
Risks of P2P Lending
As with every other investment, there are risks when investing in P2p Loans. There are several risks related to P2P lending.
The first risk is that the borrower defaults. This means that the borrower cannot repay its loan. If you were lending the money directly to the borrower, you would lose your money. However, in most platforms, there is something called the Buyback Guarantee. It means that the loan originator will repay what you lent and will cover the loss. If your loan has a buyback guarantee, you are safe from this risk.
The second risk is that the loan originator defaults. This means that the loan originator cannot pay back the buyback guarantee to you if too many of its borrowers are defaulting. In my opinion, this is the biggest risk in P2P lending. However, it is more frequent for a borrower to default than for a loan originator. In this case, there is almost nothing you can do. You may get back some of your money after a long legal procedure. But it is going to be difficult.
The last risk is that the platform itself goes bust. Normally, you should not lose money on this case. However, it may be complicated to get your money back. And it will also depend on how the platform is protecting you against this. In good platforms, the loans are directly related to you and hence you are still entitled to the principal and the interests if the platform goes bust. Nevertheless, I am expecting it may take a very long time to get the money back.
As you can see, there are quite some risks when investing in P2P Lending. It can be compared to investing in single stocks. For me, it is much riskier than investing in low-cost index ETFs.
Tips to invest
All the risks from the previous sections can be mitigated by diversifying your loans.
First, you should always diversify across borrowers. You should avoid lending a very large sum of money to a few borrowers. You should try to lend very little money to many borrowers. And if you can, you should try to invest in loans with buyback guarantee. This will protect you from a borrower defaulting.
Then, you should also try to diversify across loan originators. This is only possible if you invest in a four-party platform. If you only invest 10% of your money in each loan originator, you would only lose 10% in case one loan originator goes bankrupt.
Finally, I also believe you should diversify across platforms. There are many possible P2P platforms available. There are several in each country actually.
P2P lending in Switzerland
At first, I wanted to invest in Switzerland. So, I checked the main platforms available here. Even though Switzerland is quite small, there are still more than 15 platforms available. I have not checked them all out. I have only focused on the one that seems the most popular.
cashare.ch is the oldest platform available in Switzerland. You can start to invest with 100 CHF. This is the minimum per loan. You will pay 0.75% fees on your loans. It has about 30'000 members. They have loans from 3.9% to 9.9%. They are managing more than 880 millions CHF of loans.
creditgate24.ch is another younger alternative. You will pay a 1% fee on your loans. It has about 15'000 members. They are managing about 200 millions CHF of loans. The minimum to invest per project is 500 CHF. Their loans are between 4% and 7.5%. The minimum is too high for me. It would be too difficult to diversify.
crowd4cash.ch is another alternative. You will pay 0.85% of fees. The minimum per loan is also 500 CHF. They offer loans with interest rates between 3.5% and 8.5%. They have less than 2000 users and are managing about 27 millions CHF of loans. For me, this is simply too small.
Lend.ch is a serious alternative, backed by big banks such as PostFinance. They offer loans from 3.88% to 7.39%. They have fees of  1% per year you lend money. This is pretty bad for long-term loans. They already have 20'000 users and are managing more than 200 million CHF. Finally, the minimum investment is 1000 CHF. Which is a big deal breaker!
Overall, Swiss options are not great. For me, the only correct platform is cashare.ch. It is the only allowing investments of 100 CHF for diversification. But the fees of 0.75% are pretty bad on top of loans that do not have high-interest rates. And none of them have any buyback guarantee. However, this really beats Swiss bank interest rates. However, they have a much higher risk.
If you know of any other better option in Switzerland, let me know!
However, there are also many options in Europe. I cannot list all of them because there are way too many. However, I am going to talk about the two I started investing in.
Fast Invest
Fast Invest
Fast Invest is a great European P2P Lending Platform, offering loans with up to 16% interest rates!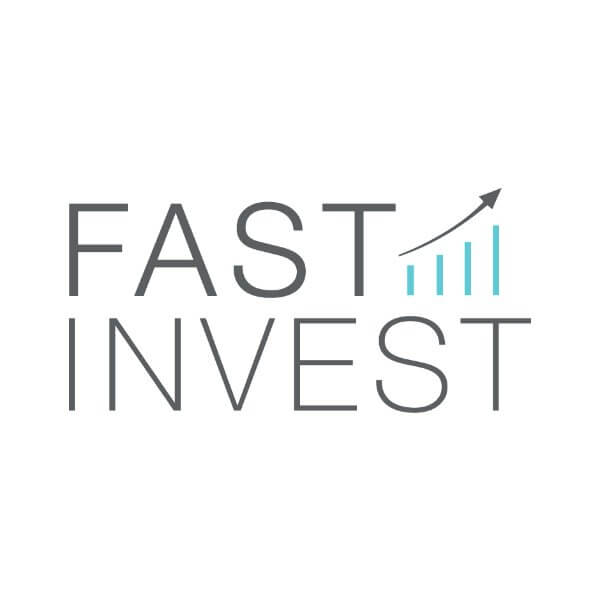 FastInvest is the first platform I started investing in. In fact, this is the first platform I have heard of. However, I just started investing in it without proper research. This is not great on my part.
FastInvest is a P2P Lending platform with a four-party business model. This means you will be connected to loan originators and not directly to borrowers.
It is a Lithuanian company, registered in the United Kingdom. They have about 30'000 users and manage about 15 million euros. You can invest without any fee.
You have access to rates between 9% and 16% interest. But I have not seen a loan with more than 13% in a long time. All the loans have a buyback guarantee. After 3 days late only, you will be repaid for your loan. And you can sell your loans at any time. But in that case, you will lose your interest.
I have only invested 700 EUR since October 2018. So far, it returned 36 EUR. This about 5.2% return, or an annualized return of 8.93%. It is not bad but not that great either. However, the low returns are also due to the fact that I stopped investing for a while.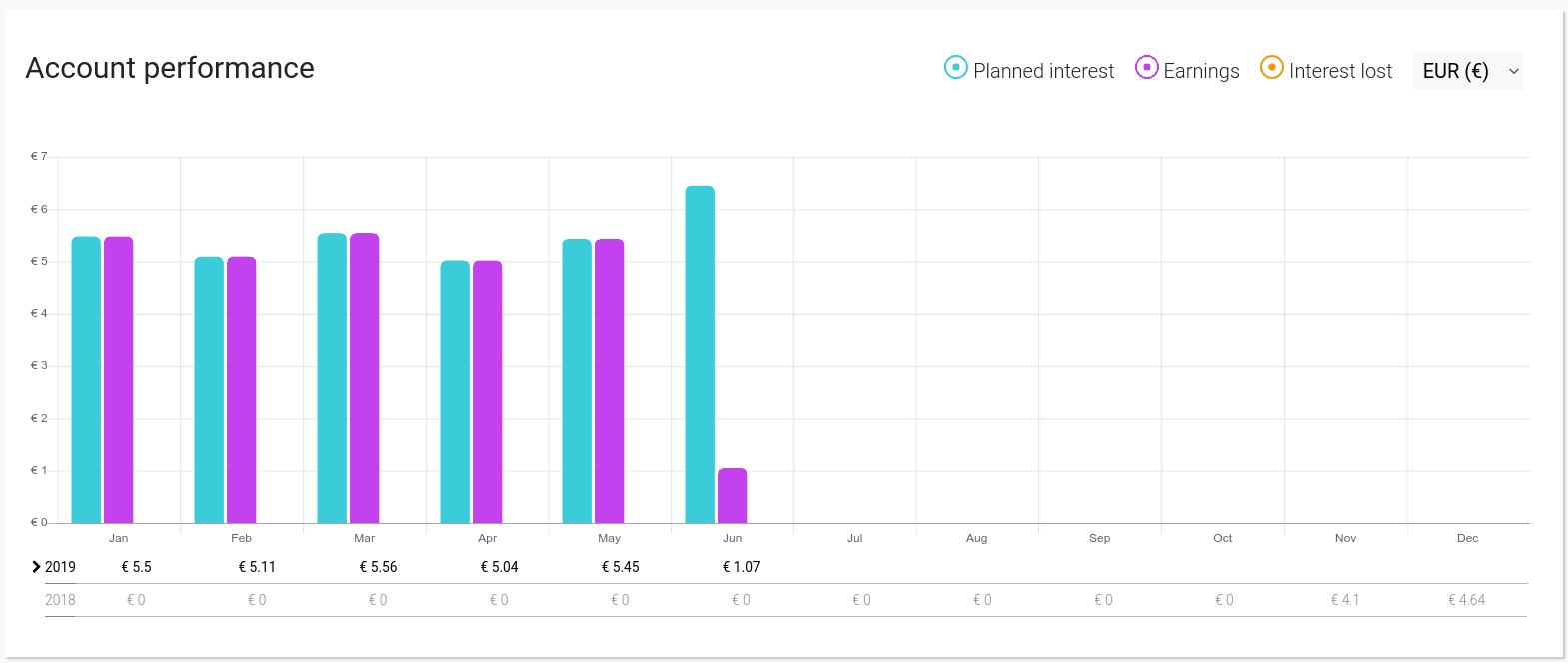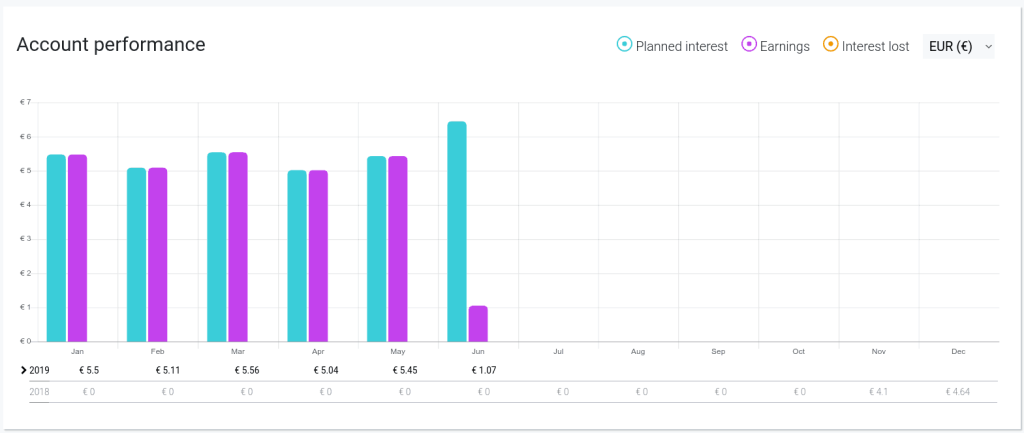 I have some doubts about FastInvest. The big problem I have with them is that they do not disclose the identity of their loan originators. This means you do not know to which you are lending money at all. This is the reason I started investing in another platform for more diversification.
Now, I do not think FastInvest is a bad option. You should just be careful about it. And you should diversify over other platforms as well.
Mintos
Mintos
Invest in thousands of P2P loans with Mintos, at no cost! The largest P2P Lending platform in Europe.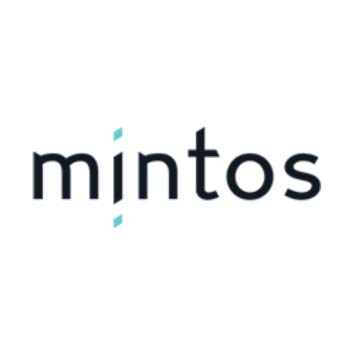 After I started having some doubts with FastInvest, I started investing in Mintos.
Mintos is also using the same model as FastInvest, with four-party. However, Mintos has many loan originators and is disclosing information about all of them.
Mintos is a Latvian company. It is currently the largest P2P Lending platform in Europe. It has more than 140'000 users and manages more than two billions EUR.
There are many different rates. The overall rate is about 12%. It is currently slightly higher than FastInvest but not by a long shot. You can choose in which loan originators you invest. Some of the originators have a buyback guarantee. You can choose to only invest in originators with buyback guarantee. This is what I did. When a loan is late for more than 60 days, you will be refunded your investment.
I have started in mid-April 2018 and I have invested 700 EUR to match my investments at FastInvest. So far, it returned 6.13 EUR. I am not sure of how the 12.9% Net Annual Return from Mintos is calculated. I think I am more in the 10%.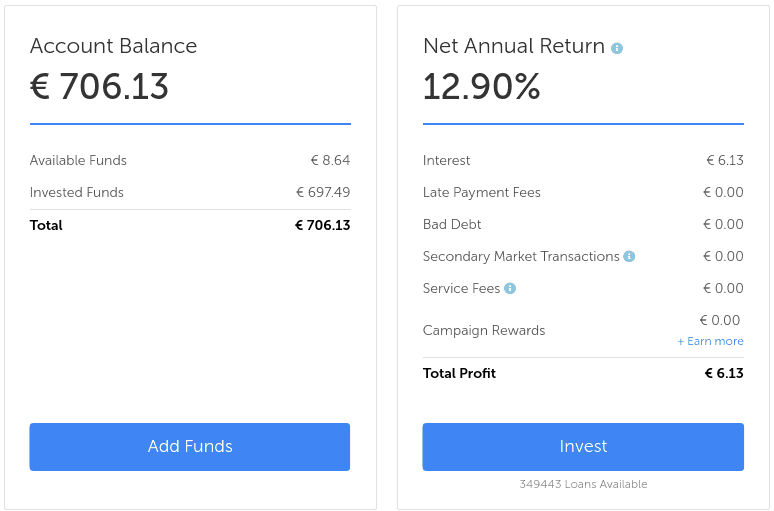 Overall, I am pretty satisfied with Mintos. I think it is superior to FastInvest. I am not sure this is the best option. But this is the best I could come up with the little research I did.
My P2P Lending Strategy
I do not have a very well designed P2P Lending strategy honestly. I plan to invest no more than 2.5% of our net worth into it.
What I am trying to do is to diversify as much as possible. I am only investing 10 EUR in each loan. And I am only investing in loans with buyback guarantee. I am also diversifying over various loan originators.
I do not know yet if I will keep both platforms. For now, I plan to invest 200 EUR each month into Mintos. If I find a better platform, I will either replace FastInvest or add a third platform to my portfolio.
In any case, do not forget to secure your account! You want a long password and you want to use Two-Factor Authentication (2FA), available for both services I mentioned.
Conclusion
I think that P2P Lending is interesting. However, it lacks some regulations and the risks are higher than passive investing in stocks. So I would not recommend investing a large part of your portfolio into it.
I know there are some people who invest everything into P2P lending. But I do not think it is a very good idea even if they diversify over several platforms. And there are also some people who are strongly against P2P Lending. I am probably in the middle.
But it is still interesting and it offers some diversification over investing in the stock market. This is a great thing. It is good to own uncorrelated assets.
If you do not know where to start, I would recommend investing a small amount of money in Mintos to try it. Remember that there are risks even with a buyback guarantee. Be careful not to invest too much.
What about you? What do you think about P2P Lending?