6 Good Reasons to Invest in Real Estate
|
Updated:
|
(Disclosure: Some of the links below may be affiliate links)
We have already discussed in this blog how to invest in real estate. But I have not covered the reasons to invest in Real Estate in the first place. These reasons may make you want (or not) to invest in Real Estate. This is something I am still wondering whether I should invest in it or not. I know there are several reasons that make Real Estate interesting as an investment. But I have never gotten to the point of starting to invest in it.
Today, I am focusing on investing in real estate for income. This is not about owning your own house. If you live inside the house, you will not get income from it.
In this article, we will see six reasons to invest in Real Estate. Many reasons make Real Estate an interesting investment. But that does not mean it is necessary for everyone to invest in it. On the other hand, I believe it is important to know what the investment offers.
If you have other reasons to invest in Real Estate, please let me know!
1. Diversification
The first reason to invest in real estate is to diversify your investments. You want your investments to be diversified. The reason is simple: diversification strengthens your portfolio, given some events. If there is a stock market crash, your other investments may still hold. This is why you should not invest in stocks of a single country. I believe it is important to invest in many countries.
For the same reason, it is not a good idea to invest only in Real Estate. If the Real Estate market crashes, the stock market may not crash. Generally, there is no correlation between both markets. However, they are still both tied to the economy. If the economy does not do well, they are likely to both drops.
I said the markets might not crash for both events. This is because, sometimes, both markets are crashing together. In that case, the diversification in your portfolio will not help much.
2. Extra realized income
One of the reasons to invest in real estate is that it will bring you some realized income.
When you invest in stocks, you get very little income from it. You are mainly hoping for some capital gains in the future. Not until you sell will you get the money. You may get some dividends, of course. But unless you invest in dividends, you will not get something very large. On the other hand, the real estate market is generating more income than the stock market.
For instance, if you buy a property and rent it to someone, you will get some income month after month. This is the form of real estate that will generate the most income. If you invest in a Real Estate Investment Trust (REIT), you will get more income than investing in dividends stocks.
Having this extra income will greatly speed up your journey to Financial Independence. We have seen that growing the income could be very beneficial. If you have some income in retirement, it will help you reduce the number you need to retire. You can cover some of your expenses using this (mostly) passive income.
There is something that you need to be aware of. Extra income generally means more taxes. Sometimes, capital gains are more efficient than real estate income. This is the case in Switzerland, where capital gains are not taxed. But here, dividends are taxed.
3. Increase earnings
Another advantage of investing in real estate is that you can potentially increase your earnings. Some real estate projects have more than 10% yearly returns. And buying the property yourself and renting it can have even more returns. However, do not forget that there are some work and some costs involved in managing a house.
Some people also count on the house gaining value. Some houses can indeed gain a lot in value in a few years. However, there is nothing guaranteed about a house gaining in value. You should be very careful about expecting some increase in value. It could happen, but it could as well go down. In some cities, the price of real estate crashed. The rent price can also crash as well. Most people consider that their income is fixed and will not go down. But this is not true. The area in which the property is could lose value.
4. Reduce volatility
Another reason to invest in real estate is reduced volatility. Generally, the real estate market is less volatile than the stock market. Of course, there have been some events in real estate with sudden swings in price. But the stock market is much more volatile. There can be days with more than 10% price swings. While days like this are also possible in the stock market, they are not as common.
If you invest some of your money in real estate, you may reduce the volatility of your entire portfolio. If you are far from retirement, you may not care much about volatility. But if you are closer or retired, volatility is more dangerous. And if you are more risk-averse, you may also like the security of the reduced volatility.
5. Use Leverage
One of the reasons to invest in real estate is that you can easily use leverage.
Investing with leverage is when you borrow money to invest it. You can do that with stocks. This is called investing with margin. You could buy ten shares and pay only for half, your broker lending you the money for the other half. Once you sell, you pay back the broker, plus interests.
Real Estate investing is almost always done with leverage. You pay the down payment, and the banks pay the rest. If you get a rental income higher than the interest you pay to the bank and the opportunity costs of the money you invest, you are making a profit.
Real Estate is one of the cheapest forms of leverage you can use. These days, the interest rates are very low, at least in Europe and the USA. That means you can get a lot of extra income for a little down payment. Effectively, the leverage acts as a multiplier on the income you can get. Many very rich people have used leverage to get where they are now. For instance, even Warren Buffet, the famous investor, used leverage to make more money.
Now, do not forget that leverage is still a debt. If the value of the real estate you invest in plummets, you will get in trouble. In that case, the bank will ask for more money to cover the loss of value. In some cases, this could lead to the loss of property. This is the same with stocks. You need to be extra careful about using leverage.
6. Tangible asset
Finally, the last reason to invest in real estate is if you invest in physical real estate, you have a tangible asset. When you have shares in a company, you only have a small contract giving you some rights to the company. However, a real estate asset is real. You can see it and easily know what it is made of.
This does not matter to everyone. But it matters for some people. If you want to have some tangible assets, then real estate is a very good investment. However, this is only true if you own some assets yourselves. If you invest in a REIT or even crowd-investing, you do not directly own the asset. You only own some pieces of a lot of assets. This makes it much less tangible, in my opinion.
Conclusion
As you can see, there are many reasons to invest in real estate. But you do not have to invest in real estate. I feel it is more a personal preference. I think a small allocation of your investments into Real Estate is a good thing for diversification. And the cheap leverage can make it a really nice income generator.
However, I am not a big believer in Real Estate. Some people like it a lot and invest almost only in it. I do not see myself owning Real Estate properties. I may invest in Real Estate. But that probably will not be in physical assets. In 2019, I plan to try to invest in crowd real estate investing. But I have not given that much thought.
But I think it is still a good investment. If you are a serious investor, you need to understand the differences between the real estate market and the stock market.
To learn more about Real Estate Investing, read about The Different Ways to Invest in Real Estate.
What do you think? Do you invest in Real Estate? How? Do you have any more reasons to invest in Real Estate?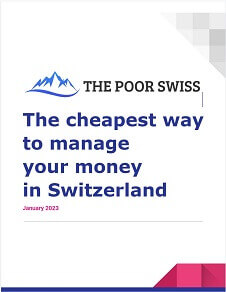 The best financial services for your money!
Download this e-book and optimize your finances and save money by using the best financial services available in Switzerland!
Download The FREE e-book