5 Simple Ways to Invest in Real Estate in 2023
|
Updated:
|
(Disclosure: Some of the links below may be affiliate links)
These days, more and more people are investing in Real Estate. Many people believe that the returns on real estate are higher than on the stock market. We will not discuss whether it is true or not. But Real Estate offers some nice diversification to your portfolio.
You may not know it. But there are many ways to invest in real estate. Each of these ways has advantages and disadvantages. If you want to invest in real estate, it is essential to know about these ways before making a choice and investing in one of them or investing in several of them.
I am not invested in the real estate market. I have a small position through my World ETF with some real estate funds. But I may invest more in the future. For now, I need more stocks in my portfolio, but once I have got enough, I may shift a bit of my portfolio into real estate.
Let's now see the different ways to invest in real estate. There are quite diverse. Each person wanting to invest in real estate should find a way that is adapted.
1. Physical Real Estate
The most obvious way to invest in real estate is by buying a tangible property. You then rent it and hope to make some extra income compared to the mortgage you are paying. And if you are lucky, you may also be able to sell the house later for a profit depending on the local real estate market.
The idea is simple. You buy a house or an apartment or even some land. You take a mortgage to finance the buy. Then, you find some tenants and cash in the checks every month. And you make a profit over your mortgage payments. Over the years, you can pay back your mortgage and lower your interest payments.
However, not everything may go as well as you think. Being a landlord is not for everybody. Here are some of the issues that can happen to landlords:
You may not find a renter.
You may have a renter that does not pay you or one that trashes the apartment.
You may have to do some work to maintain the property.
You need to be ready for these issues.
If you are smart about it, I think that physical real estate is the one that can return you the most money. But it is also the method that will need the most work from you. If you look online, many bloggers retired from the income from real estate investing. They live only on the rent from their various properties.
I did not talk about owning your own house here. I do not think that owning a house is a real estate investment. It may save you some money in the long term. But it will not generate a lot of money since you are living inside. And if you sell it, you will need to buy a new one. So you will not make a lot of profit.
2. Managed Physical Real Estate
If you want to own your real estate properties but have fewer things to do, you can also hire a property manager to do most of the work for you. It will be up to the manager to find tenants for your properties. It will also be up to him to collect the rent. And also, he will have to maintain the house.
Of course, this kind of service is not free. It is even expensive. From what I know, you will pay around 10% of your rental income to the property manager. It could be less if you are lucky. But it could be even more. And also, if the property manager cannot find tenants, you will still have to pay it.
Another advantage is that you can remotely manage your property like this. Imagine if you live several hours away from your rental property. In that case, it is much more practical to rely on a property manager to do the work for you. Even if it costs you some money, you should still be able to profit with fewer worries than if you were doing everything yourself.
If I were to buy physical real estate property, I would hire a property manager to manage for me. I do not want to go to the trouble of all these tasks.
If you are interested, you should read the story of Iain who invested in foreign properties from Switzerland.
3. REIT
But buying physical real estate is not the only way to invest in real estate.
You can also use a Real Estate Investment Trust (REIT). A REIT is a fund of real estate. This fund owns many real estate properties. And some of the rental income (or capital gains from selling) are distributed to the shareholders as dividends. In the United States, a REIT must distribute at least 90% of the income to shareholders. There are quite well-regulated. You can buy REIT shares on the stock market.
REITs are a great way to invest in real estate. They will be invested in many properties unless of a few. And you can choose REIT based on what you are investing in. For instance, there are REITs for retail, business, houses, or for a specific city…
They offer more diversification than owning your physical property. And you can buy a few shares, no need to invest 50'000 CHF of cash. They generally have a very nice dividend yield, higher than stocks. Another advantage is that if you already investing in stocks, you can invest in REIT using the same broker.
Of course, they have more fees than having a property. You will not get as much income as you could get from your physical real estate property. And as same as your property, the prices of your shares can go up and down. And the dividend you get from the REIT can easily vary. You may invest when the yield is 6%. But it can fall to 2% within a short amount of time.
There are a lot of these REITs in each local stock market. If you want to invest through them, you should do your research to pick the one that is the most adapted to your investor profile. It is a lot of work, and it needs to be done carefully.
4. REIT ETF
Such as there are Exchange Traded Funds (ETFs) for stocks, there are also ETFs for Real Estate. These ETFs will invest in many REITs. It will offer more diversification than owning a single REIT.
And as there are some passive ETFs, there are also passive REIT ETFs that invest following an index and have very low fees. It is excellent if you want to minimize the investing fees. The most significant advantage is, once again, the yield of these stocks. It is generally much higher than stocks. But the yield of REIT ETF is not as high as you could get by picking your REITs. That makes some nice passive income. However, you may also want to invest for the appreciation in the value of the fund.
With a REIT ETF, you will be more diversified, and there should be less risk than when using a single REIT. It is much less work to choose the REIT you want to invest in. That is not to say that there is no risk. The real estate market can be quite volatile. And again, the yield can vary a lot.
Of course, there are also some real estate mutual funds. It is the same as a REIT ETF, except you cannot get it on the stock market.
5. Real Estate Crowdfunding
Finally, the last way to invest in real estate is through crowdfunding or crowd-investing. This is a fairly recent way of investing. This is quite similar to the P2P Lending platforms.
Many online platforms propose collaborative investing in real estate. They are offering several real estate projects, and people will back them. If everything goes well, you will get some profit back.
The way you get your money will highly depend on the platform you choose. Some platforms will pay a yield on the money. On some platforms, it will directly depend on the rent or the sale of the property you backed.
There are many platforms like this in all the countries. Some allow you to invest with as little as 100 dollars. But some platforms need large entry points such as 10'000 CHF. It is too much for many people who want to enter the real estate market.
In the United States, the most popular platforms are Realtyshares and Fundrise. Unfortunately, you cannot invest in any of these if you are not from the U.S. Therefore, it is a no-go for the Swiss investor.
In Switzerland, there are many smaller actors in this market. I never tried any of them. The one I have heard the most about is Crowdhouse. I do not know how good they are. But I have only heard good things about them. Of course, if you want to invest through them, do your research first.
Try to find some reviews and compare different possibilities before choosing. And do not forget that there are risks on these platforms as well. They are not as regulated as they should be.
Conclusion
As you can see, there are many ways to invest in real estate.
You can buy a property and manage it yourself or hire a property manager to do some of the jobs.
You could also invest in a REIT or an ETF of REIT.
There are starting to be a lot of options for online crowd investing in real estate. They all have advantages and disadvantages.
You have to choose the way that suits the most to your investor profile.
I do not want to get a physical property for renting. I would like to invest through a REIT or a REIT ETF. The problem is that the choice for Switzerland is somewhat limited. And the current state of the Swiss real estate market is not great, in my opinion, for investing. The vacancy is quite high, and prices are not moving much, which is great for most people, but probably not for investors. However, mortgage rates are low, so real estate can still be a good investment.
I do not exclude investing through a crowdfunding real estate company in the coming years. I will probably already research my options next year. However, I will only invest once my net worth has grown more.
Before you invest in Real Estate, you will want to know the Reasons to Invest in Real Estate.
What about you? How do you invest in real estate?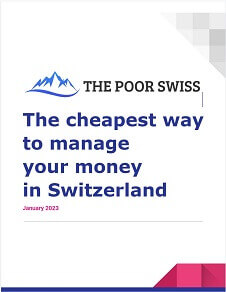 The best financial services for your money!
Download this e-book and optimize your finances and save money by using the best financial services available in Switzerland!
Download The FREE e-book