Is indirect amortization really better for you?
|
Updated:
|
(Disclosure: Some of the links below may be affiliate links)
When you take a mortgage in Switzerland, you must amortize some of the debt in the following years. For amortization, you have the choice between direct and indirect amortization.
Financial institutions will generally heavily recommend indirect amortization. But do they have your interest at heart?
How can you choose between these two? Both amortization methods have pros and cons, as seen in this article. By the end of the article, you should know whether you should use direct or indirect amortization for your situation.
Swiss mortgages and amortization
We should start with something that is not obvious to many people. In Switzerland, you do not have to repay the entire principal. Indeed, you are legally bound to have at least 35% repaid in the next 15 years after you take the mortgage (or before you are 50). But you do not need to repay the loan any further.
As a result, many people keep their mortgages forever in Switzerland. This fact is hard to believe for most expatriates coming to Switzerland.
Usually, people take a loan with 20% money down and repay the next 15% over the next 15 years. It means you have to amortize 1% per year.
You could also put more money down at the beginning to avoid amortization. Or you could amortize quicker or even more than necessary. Whether this is interesting or not depends on the interest rate of your debt. But this is a discussion for another article.
Banks give you two choices for this 1% amortization:
Direct amortization
Indirect amortization
We will see both of these options in detail.
Direct amortization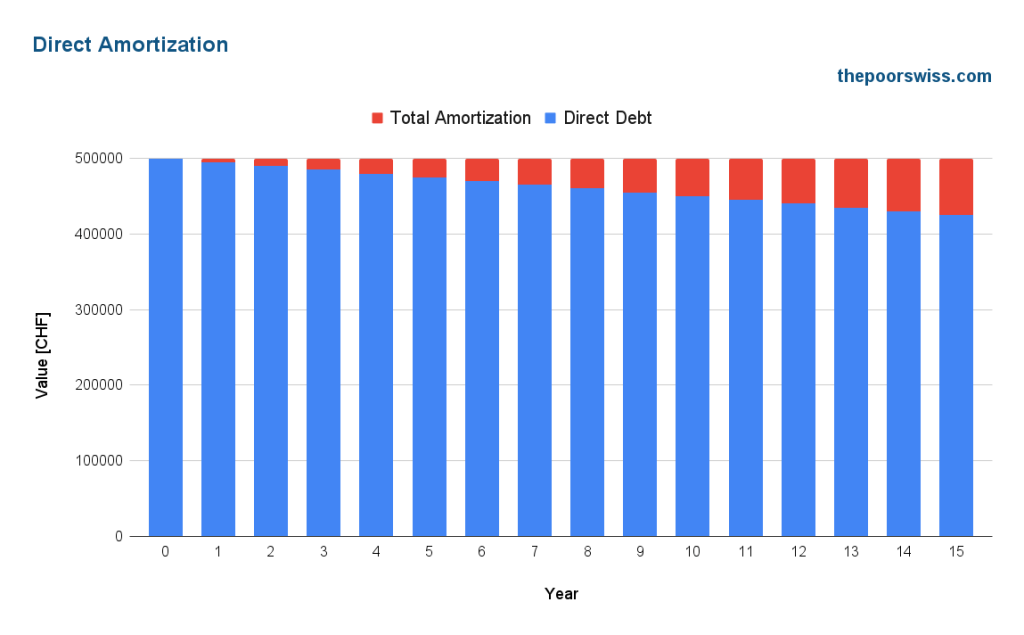 Direct amortization is very simple. If you are amortizing directly, you are directly paying money to the bank, which is deducted from the principal you own.
If you have a loan of 1'000'000 CHF and amortize 10'000 CHF, your loan is now 990'000 CHF. Direct amortization is straightforward.
Since your loan is getting lower, you will also pay lower interest after you have amortized.
You can see direct amortization as an investment that returns the interest rate of your debt. If your debt is a 1% mortgage, amortizing this debt has a 1% return.
However, since you can deduct your interest payments from your taxes, by amortizing, you will increase your taxes (lower deductions = more taxes). So, your marginal tax rate impacts the returns of direct amortization.
For instance, if you amortize 10'000 CHF out of a 1% loan, you will save 100 CHF annually. If your marginal tax rate is 30%, your taxes will increase by about 30 CHF per year. So, you have only saved 70 CHF per year.
And direct amortization has a second effect on your taxes: it will increase your net worth. Since we pay wealth tax in Switzerland, it is better to have a lower taxable wealth. Since you can deduct your loan from your net worth, reducing your debt will increase your wealth. And increasing your wealth will increase your wealth tax.
In general, the wealth tax effect is minimal for most people. Indeed, wealth tax is relatively low and very progressive. So, unless you are very wealthy, you will not pay a significant tax rate on your wealth. As such, the difference in the wealth tax is much smaller than in the income tax.
Indirect amortization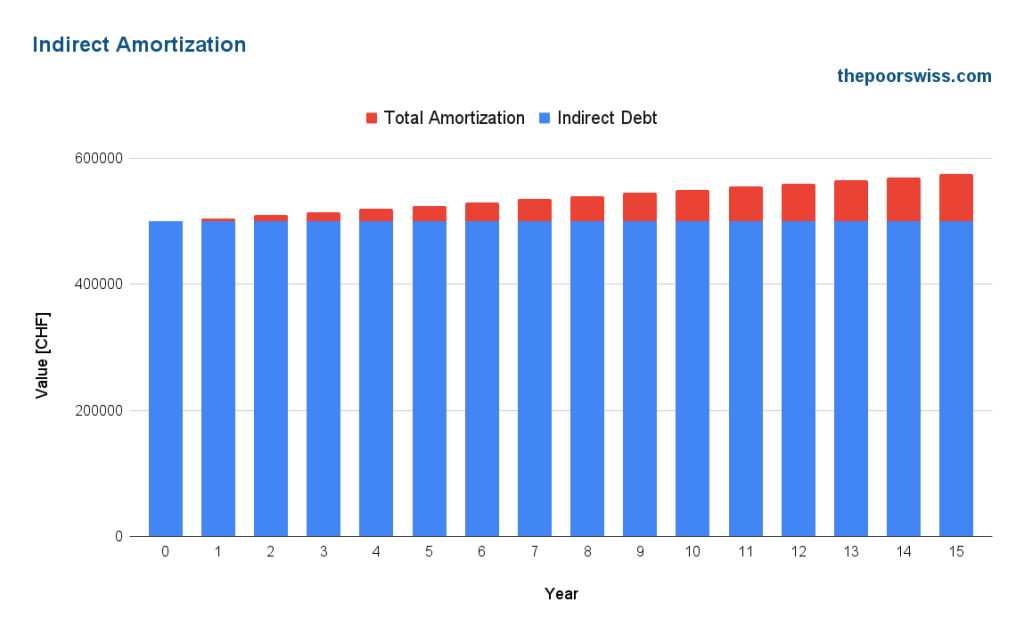 Indirect amortization is slightly more complex. When amortizing indirectly, you are not putting money in the debt directly but inside a retirement account. When you retire, the bank will use some of this money to amortize as if you had contributed all these years.
Banks allow indirect amortization through their third pillar accounts or life insurance 3a. In the case of life insurance 3a, you will pledge the life insurance policy to the bank.
Why would we do such a thing? Indirect amortization lets you save taxes. Since you are not reducing your interest payments, you are not increasing your income taxes. And since you are not reducing your debt, you are not growing your wealth tax. Money in a 3a is not taxable. Therefore, you are also not increasing your wealth tax.
During the years until your retirement, your debt and, therefore, your taxes will not change. Lower taxes is the advantage of indirect amortization.
Contributions to the third pillar are tax deductible. At retirement, you will pay some withdrawal taxes, which will be lower than what you saved during contributions. However, we can mostly ignore that since you should contribute to your third pillar regardless of your mortgage.
Direct or indirect amortization
We can now compare the two methods.
The first important difference is that indirect amortization will reduce your taxes. You will pay lower income taxes and wealth taxes when amortizing indirectly.
Most people will stop there and tell you that indirect amortization is better for everybody. But it has some significant issues as well.
First, when amortizing indirectly, you are tying a large amount of your retirement money into your mortgage. Once you retire, you will owe the bank a lot of money to amortize. If you had amortized directly and filled up your third pillar, you would have more money at retirement.
This point is important because many people are in financial trouble in Switzerland when they retire. And if you cannot amortize and fill up your third pillar, I would argue that you cannot afford that mortgage.
Second, when amortizing indirectly, you are often investing in sub-par products. Indeed, many banks will insist that you take on a life insurance 3a for indirect amortization.
If you have been reading my blog, you will know that life insurance 3a products are terrible investment products. You should avoid them at all costs. I would say that any indirect amortization with a life insurance 3a is worse than direct amortization.
Banks will also generally give you the choice of investing in their third pillar accounts. Unfortunately, the best third pillar accounts are not from banks. Indeed, banks have a relatively poor selection of third pillars, with high fees and conservative investing.
Finally, there is a significant conflict of interest with indirect amortization. Banks will advertise heavily for indirect amortization because there are two advantages for them:
You will pay more interest (since your debt will not go down)
You will invest in their products, which will return them money
So, they have a double interest in selling you indirect amortization. Banks recommend you what is best for them and not what is best for you.
As with everything, not everything is evident when choosing between direct and indirect amortization.
Comparison in numbers
Until now, we have seen the pros and cons of each option. But in the end, how much money will you save or lose with these options? We will run some small simulations to see how both options fare.
In all scenarios, we will use a house with 625'000 CHF value and a 500'000 mortgage. To simplify, we will fix the maximum 3a contribution to 5000 CHF. All available first goes to pay the interest, then to fund the 3a, and finally to the free assets. We will test different returns.
I will also ignore the wealth tax. The wealth tax will not matter for most people since it is tiny. The wealth tax will not represent a significant expense unless you have a large estate.
1% interest rate
We start with a scenario with a 1% interest rate. Until 2021, a 1% interest rate was prevalent.
We imagine a scenario with a person having 15'000 CHF available per year and a 30% marginal tax rate. In the direct case, this person will pay the amortization, the interest, and finally, the 3a. As his debt goes down, he will contribute a little to its free assets. His taxes will increase each year.
In the indirect case, this person will pay the interest first, then the 3a for amortization, and the rest into the free assets. Taxes will not change throughout the scenario.
First, we will see what happens when no money is invested. Returns are zero on each asset class.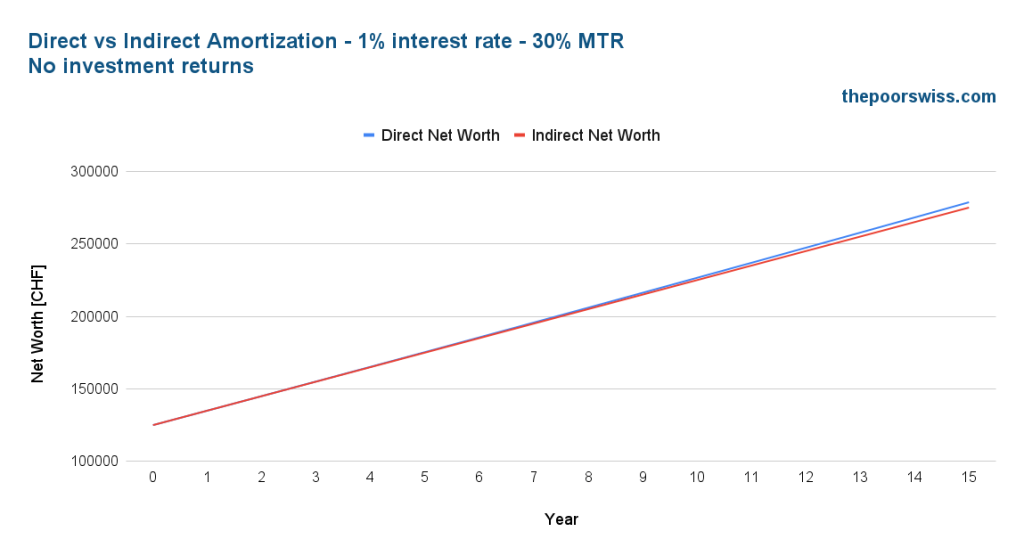 We can see that the difference is very small, but direct amortization would win. The person with direct amortization would end up with 3675 CHF more than the person with indirect amortization.
Even though direct amortization means more taxes, it also means saving on interest payments. Direct amortization is the same as a 0.7% return in this case.
So, if you are not investing, you should opt for direct amortization.
Then, we will see what happens when the money is invested. We will assume 5% returns per year on the free assets, 4.5% on the direct 3a, and 1% on the indirect 3a. If you are wondering why the indirect 3a returns are worse, it is because the investment options are much worse. Banks are very conservative in the stock allocation they will allow.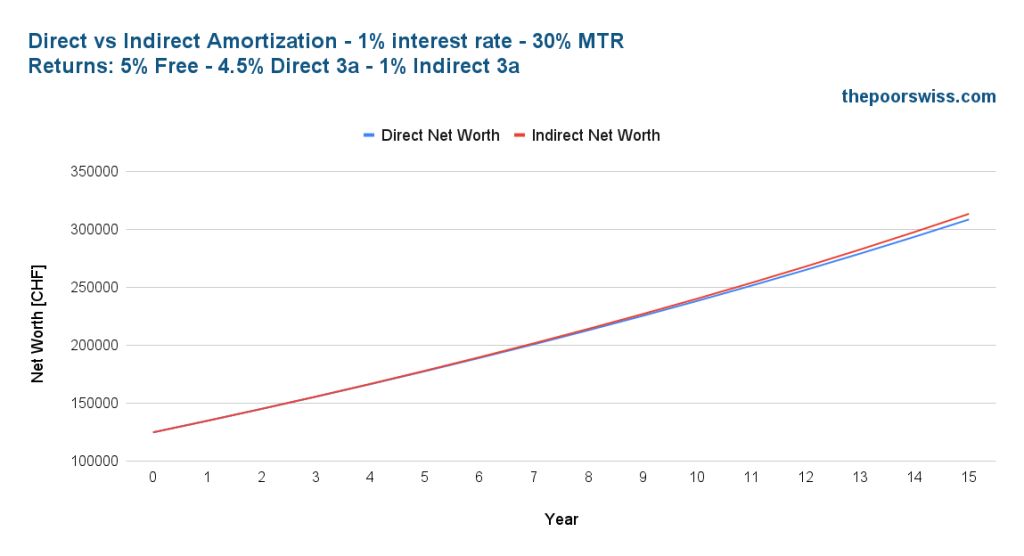 Interestingly, indirect amortization wins this time, but not by a long shot. In that case, the person with indirect amortization has built more money into his free assets that return more than paying into the debt. But the difference is not huge because the direct 3a returned significantly more than the indirect 3a.
2% interest rate
In the next scenario, we use a slightly higher interest rate of 2%. In 2022, such an interest rate is very common. Our investor now has 20'000 CHF available per year to simplify things.
We start without investing again.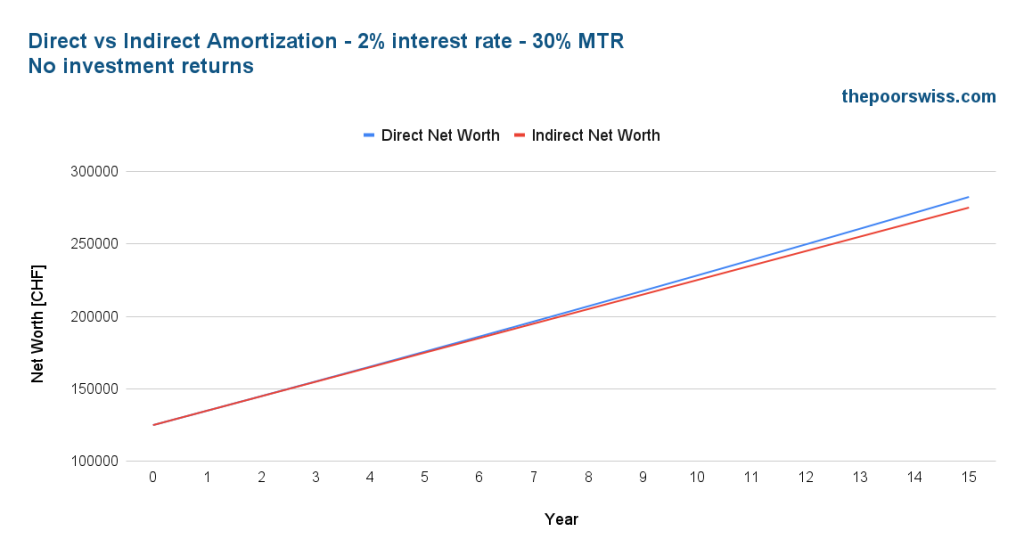 We can see that the difference is now higher than before. Direct amortization now has 7350 CHF more than indirect amortization. This increased difference makes sense since the returns of amortizing are higher than the returns of not investing.
Here is what happens to an investor that invests his money.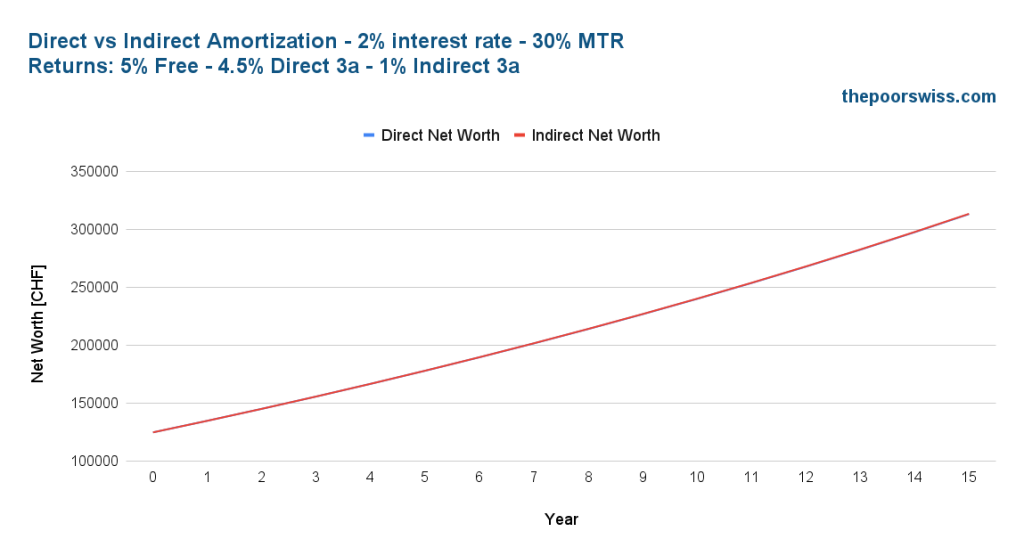 This time, both methods are almost on the same level. The difference is negligible, only 247 CHF more for indirect amortization. This increasing difference makes sense once again. Indeed the returns of amortization are higher than the returns on the bad third pillar.
3% interest rate
The last scenario uses a higher interest rate of 3%. Our investor now has 25'000 CHF available per year to simplify things. We can imagine having such an interest rate shortly.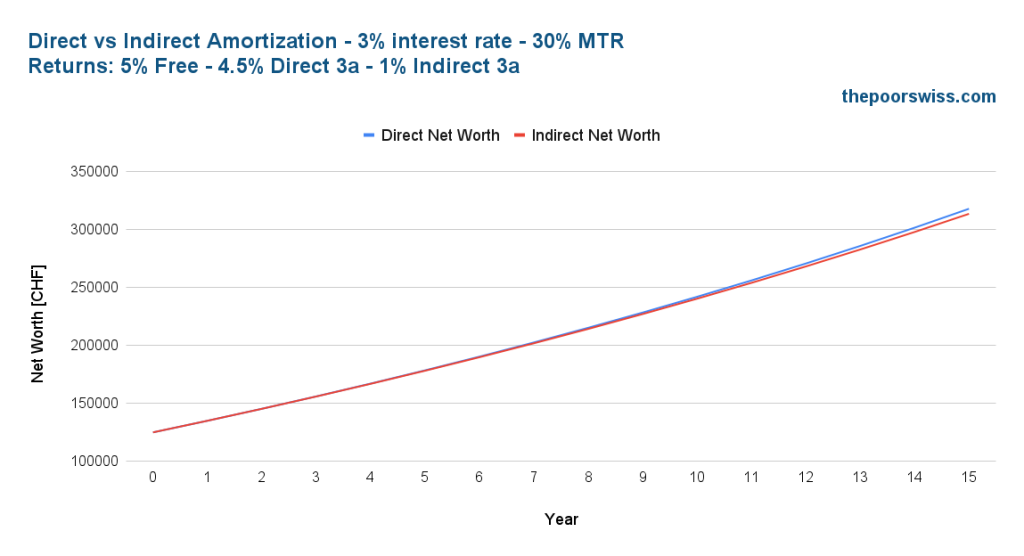 In this scenario, indirect amortization is now worse than direct amortization. The investor would lose 4357 CHF by using indirect amortization.
We can conclude that the higher the interest, the best direct amortization gets. Of course, taxes will increase significantly, but the returns will still be higher than what a bad third pillar (or worse, a life insurance 3a) will get you.
We can also conclude that indirect amortization worsens with a high difference between free asset returns and the indirect 3a options.
So, you should only use indirect amortization if you get access to an excellent third pillar, with yearly returns higher than your debt interest rate.
Why is indirect amortization so recommended?
In these scenarios, we have seen that indirect is not much better than direct amortization, and in some cases, it can be significantly worse.
However, in most places, you will read that indirect amortization is much better than direct amortization. Why?
The reason is simple: banks are financially interested in recommending indirect amortization! They recommend it because you will invest in their retirement products or their partner's life insurance 3a. This limitation results in a massive conflict of interest.
This conflict is very similar to the conflict of interest of financial advisors. Indeed, both banks and financial advisors are interested in recommending products that are good for them but not for you.
I am not saying that indirect amortization is bad. It is not. In some cases, as we have seen, indirect amortization can be better than direct amortization. But in many cases, it can also be worse, and banks will not tell you that.
Conclusion
The pros and cons of direct and indirect amortization should be appropriately considered when choosing how to amortize. Contrary to what banks will tell you, indirect amortization can be significantly worse than direct amortization.
The main problem with indirect amortization is investing in a bad third pillar. If the returns of this bad third pillar are significantly lower than the returns of free assets and your interest rate, indirect amortization is not interesting.
A few recommendations:
You should never use life insurance 3a for indirect amortization (more information about these bad products).
You should not use indirect amortization if you get a third pillar in which you cannot invest.
You should always get information about the investment options for indirect amortization. And if the banks do not disclose that well, you should look for a new bank.
Again, I am not saying that indirect amortization is necessarily bad. I am just saying that it is not always better than direct amortization. And you should not take what bankers and financial advisors say at face value.
That being said, the only way I would use indirect amortization in the future is if a bank lets me amortize indirectly in a third pillar as good as finpension 3a.
What about you? Do you prefer direct or indirect amortization?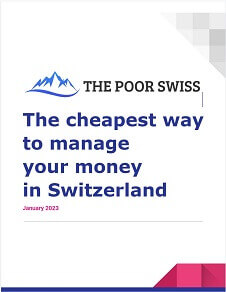 The best financial services for your money!
Download this e-book and optimize your finances and save money by using the best financial services available in Switzerland!
Download The FREE e-book