(Disclosure: Some of the links below may be affiliate links)
Now that 2018 is finished, it is time to review my 2018 goals. At the beginning of 2018, I set myself several goals in several different categories that I wanted to achieve during the year.
All over the year, I have tracked my goals in each of my monthly updates. Some of the goals went very well and some did not do as well. But overall, my goals were probably too simple. And some of my goals were not really well chosen. But this is all fine since it was the first year I set myself yearly goals. I need to learn from my mistakes. And next year, I am going to try to set myself better goals.
In this post, I am going to go over all my goals from last year and see how it went. I am also going to examine whether the goal was a good one to starts with or not.
2018 Goals
I track my goals my goals on spreadsheets that I update at least monthly. For reference, here is the status of my goals at the end of December 2018: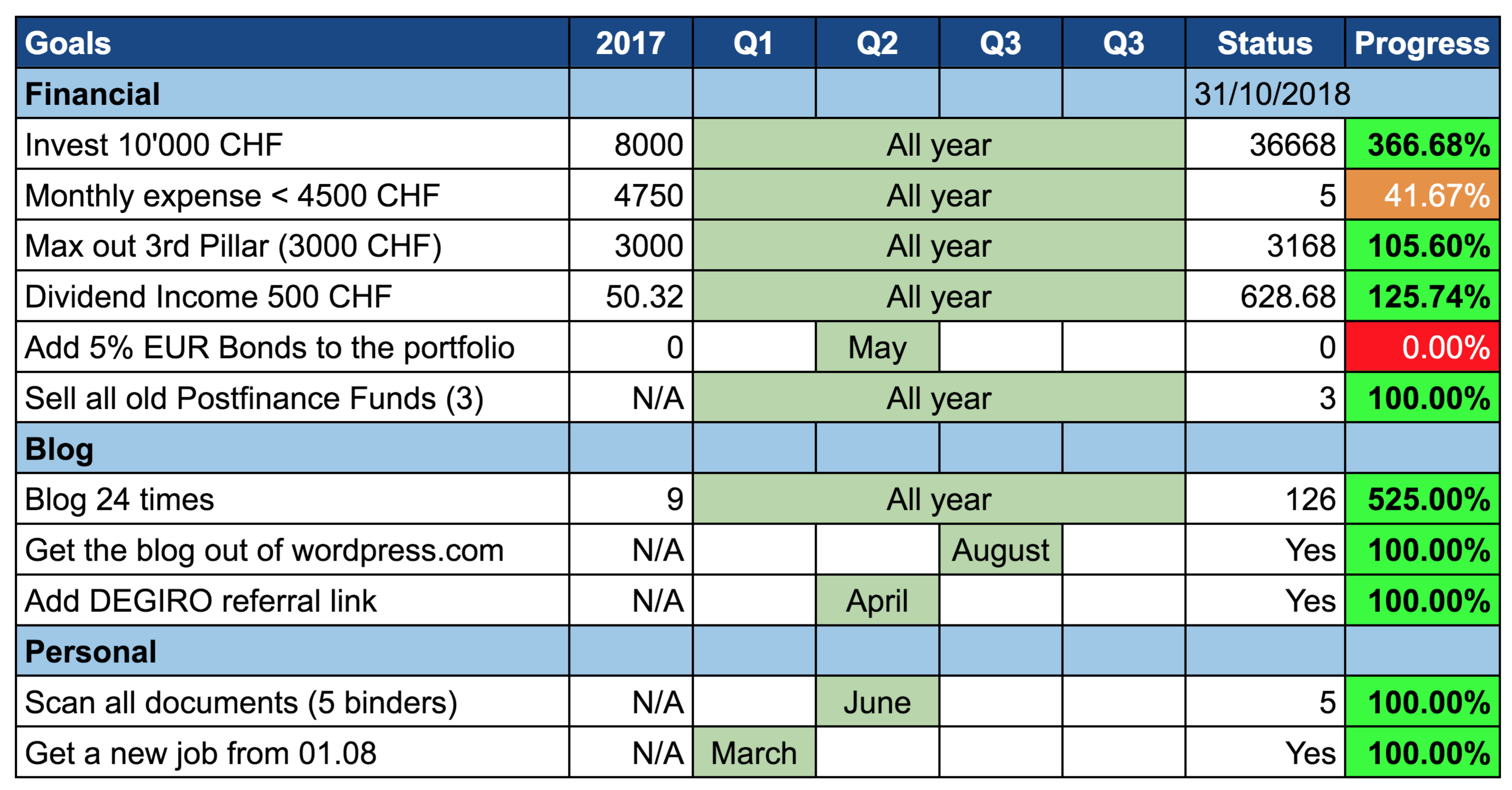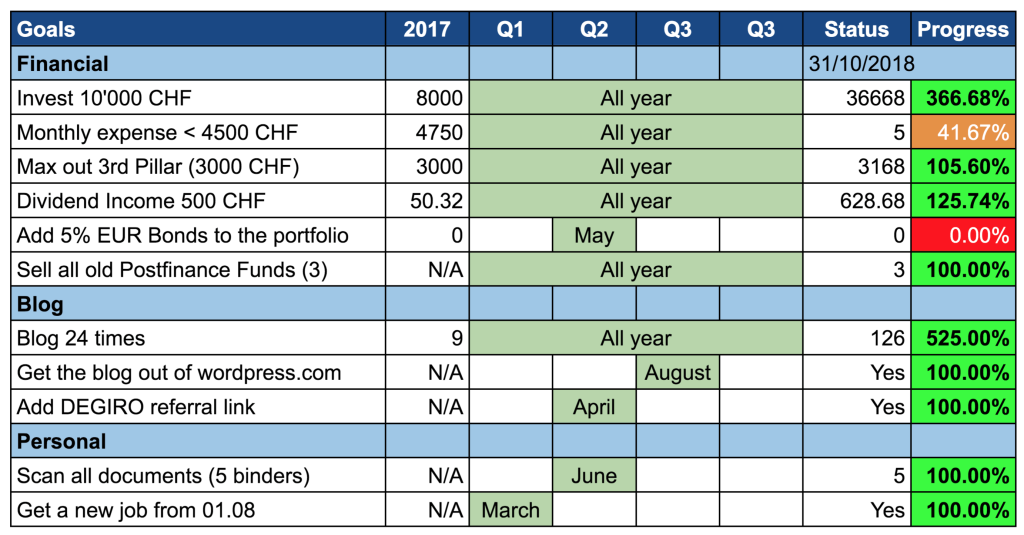 That should give you a good view of what I have achieved during this year. Now, I am going to check each goal in details.
Financial 2018 Goals
Since my main objective is to improve my personal finances, the first of my goals are about finance! For 2018, I have set myself six financial goals.
1. Invest 10'000 CHF – PASSED
The first thing I wanted this year was to increase my investments. My goal was to invest 10'000 CHF. This could be in my broker account or into my retirement account.
I was able to invest 36668 CHF in 2018. This is more than three times more than I thought I could invest. With the new job and the increased savings rate, I was able to save much more than I thought. The goal was really too easy for this year. It was a bit of poor planning on my side. I should have put this goal much higher, at least 20'000 CHF. Next year, I will probably keep the goal but increase it more!
So, in the end, this goal is absolutely easily PASSED.
2. Monthly Expenses < 4500 CHF – FAILED
This year I wanted to drastically reduce my expenses. I set myself a goal of each month being below 4500 CHF expenses.
Here is a graph of my expenses in 2018:


Unfortunately, I failed this more than half of the months of the year. I did not count that I would get married and that Mrs. The Poor Swiss would come live with me when I set the goal. It incurred a lot of new expenses and the fact that now we are two on the same budget makes a difference. Nevertheless, we could have spent less. There were several expenses that we could have avoided altogether. And also several of our expenses could have reduced. In the end, I only succeeded in this goal in four of the months of 2018. Not really good!
In the first half of the year, we were able to maintain our average below 5000 CHF at least. Then, we had our wedding. Even though we managed to keep our wedding frugal, it is still a large expense that is coming in one single month. Nevertheless, I think we should be able to keep our average below five thousand next year.
I did not choose this goal very well. First of all, it should have been a goal on the average expenses. Moreover, I did account for basic expenses not for exceptional expenses like vacations. My estimation of my basic expenses was off.
This goal is absolutely FAILED!
3. Max out my third pillar – PASSED
In 2018, I wanted to max out my contributions to my third pillar. In Switzerland, there is only some amount of money you can contribute to your third pillar. You can contribute more, but you can only declare this maximum amount on your taxes. So it does not make sense to deposit more money. In 2018, the maximum was 6768.
I only deposited 3168 into my third pillar. I also have third-pillar insurance into which I contribute 300 CHF per month. Put together, that gives me the maximum amount that I can contribute. Even though this goal is simple, I think it is an important goal. Because it reminds me that it is important to contribute to my retirement account. Next year, I will probably keep this goal but put the end of the goal for January or February.
So this goal is PASSED :)
4. Dividend Income 500 CHF – PASSED
In 2018, I wanted my investments to bring me at least 500 CHF in dividends. At the beginning of the year, I was thinking that it would good to get some extra income from my investments. This is passive income and this is actually money that you can reinvest.
This goal was not a good goal! There are two reasons for this. First, it only depends on your investment. So it is basically the same goal as an investment some money. The second reason is more important. In Switzerland, dividends are not tax-efficient. Here, we are not taxed on capital gains. But dividends are taxed as income. That means that is better to get some capital gains for appreciation than get dividends. I discussed these points and more in my post about Dividends.
This is not the same in the U.S. for instance. Therefore, it does not really make sense for me to focus on dividends. I want to focus on the entire net worth. There was a good thing about this goal. It made me realize that my custody account at DEGIRO was costing me too much in dividend fees. I may switch to a new broker in the future.
In the end, I still managed to pass this goal with 628.68 CHF received in dividends, after dividend taxes. I am quite happy about this number. Even though this is not a good goal, it still feels good to achieve the goal and especially to receive some real income.
This goal is PASSED.
5. Add 5% EUR Bonds to the portfolio – FAILED
Last year, I thought I needed to increase my bond allocation to at least 5% in my investment portfolio. Therefore, I made it one of my goals.
Early in the year, I added two bond ETFs to my portfolio. I had two small ETF with 2.5% of the allocation. However, it turned out later that this was a mistake. These numbers are too small to make a difference. Moreover, I already have more than enough bonds when I count my second pillar into my net worth. Therefore, I went back on my decision and sold the two bond funds. Now, I am more in favor of a simple portfolio.
This is our current allocation in our net worth at the end of the year: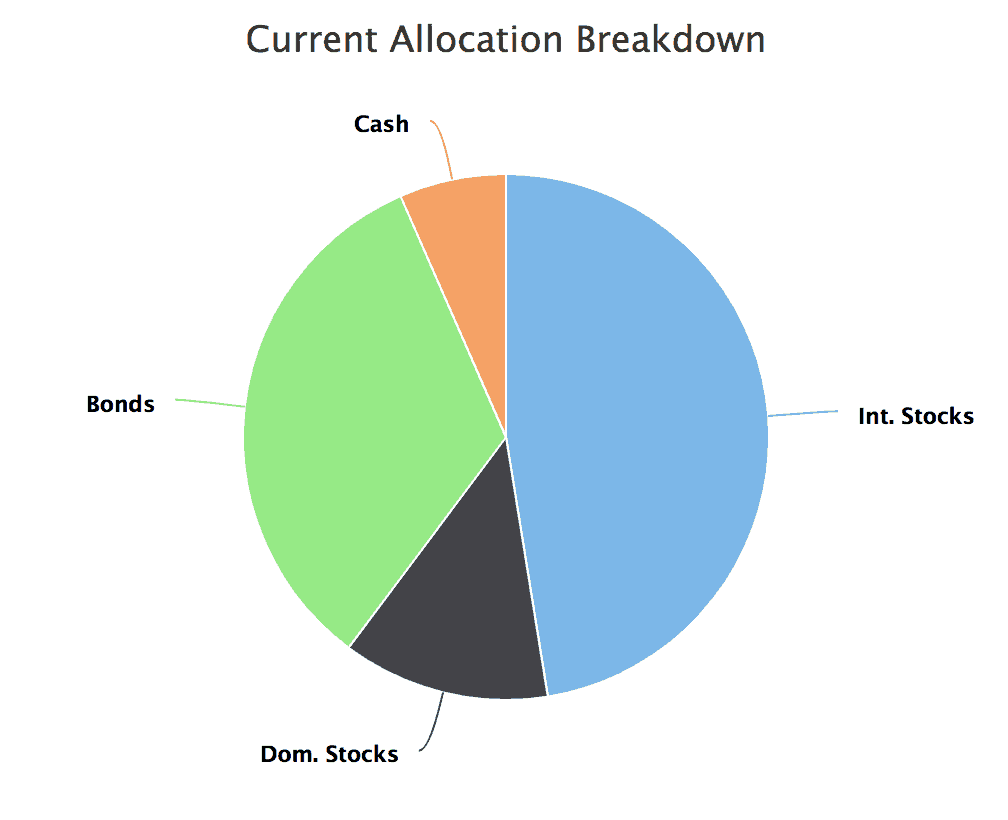 In the end, this goal is FAILED. But this is fine since this goal should not have been done anyway!
6. Sell all old Postfinance Funds (3) – PASSED
Before I found out about the Total Expense Ratio (TER) of funds, I had several investment funds at PostFinance. Once I learned how to distinguish between good and bad funds, I realized that the funds at PostFinance were not really good. So I decided to sell them all.
I sold two very quickly since they were earning. But I decided to wait to sell the third one that was losing about 5%. It turned out to be a bad decision to wait. I should have sold directly. Later that year, PostFinance increased their fees. And that made me want to change bank. For this, I needed to sell this fund. When I sold it, it was losing 10%. Fortunately, I had very little money into it. But I really should have sold it directly.
In the end, this goal is PASSED!
Blog 2018 Goals
In 2018, I set three different blog goals. It was not really difficult to meet them since they were a bit easy in retrospect.
1. Post 24 times – PASSED
My goal was to post 24 posts in the year. This is a schedule of two posts per month. But early on, I decided to follow a schedule of three posts per week. This made the goal very easy to reach. I would not have thought I would enjoy writing on this blog so much. That is why I set the goal very low.
Overall, I wrote more than 100 posts on this blog in one year. This is more than four times the goals of the number of posts. I wrote more than I would have thought possible. Even though I wrote a lot of posts, I do not think I reduced the quality of the posts. But I will let you be the judge of that. This is a good goal I think, but I did not estimate it well.
This goal is more than PASSED!
2. Get the blog out of wordpress.com – PASSED
In 2017, I started to host the blog directly on wordpress.com. This is a free service. But it has some several limitations. You cannot install all the plugins you want and there are some limits on the choice of themes. And you cannot directly edit the themes like you would on a normal WordPress website. Therefore, I decided I wanted to host my blog on a regular hosting provider.
Unfortunately, I made a big mistake by choosing bluehost to host my blog. The transfer went well. But shortly, I realized that bluehost was a terrible company with very poor maintenance and very low-quality support. Therefore, I do not want to be a bluehost customer anymore. The reason I chose bluehost in the first place was that many bloggers were advertising it. But they are only advertising it because the affiliate program is really good. The second time, I did more research and comparison and ended up with Siteground. So I had to migrate from bluehost to Siteground. For now, I have not had any issue with my hosting.
This goal is PASSED. But I could have done it better.
3. Add DEGIRO Referral Link – PASSED Late
The last of my blog goals was to get an affiliate link for DEGIRO. I wanted to do this by the end of April. But they did not have an affiliate system until later on. So I was four months late on this goal. But at least, I now have an affiliate link for DEGIRO.
This goal is not very good. Because I would have done that regardless of the goal. And also it was depending on other people to get the goal, which is not a really good idea. I need to work on that next year.
This goal is PASSED, but late.
Personal 2018 Goals
Finally, I also set two personal goals. These goals are not related to finance, but I also wish to improve
1. Scan all documents – PASSED
In order to remove some of my burden at home, I decided to scan all my documents. Before, I had five huge binders full of documents. So, I figured out it would be much better if I could get rid of them as part of my 2018 Goals.
In the end, I managed to scan them all! It was a very long job. But I am now paperless. I scanned all the documents on my phone. I stored all the documents on my Google Drive account. This saved me a lot of space at home. And now all my documents are available all my devices. This is really practical. I really liked to have done this year.
This goal is PASSED as well!
2. Get a new job from August – PASSED
In late 2017, I finished my Ph.D. I still had my contract to work at my school until mid-2018. Then I needed to find a new job. This was probably the most important goal of the year.
I managed to get a job at a new company this year. In fact, I started to work even earlier than at the end of my previous contract. I quit my previous job and joined them. It is a great advantage to my journey towards Financial Independence. I have many advantages by working at this company.
So this goal is PASSED :)
Conclusion – Next year
This was the first year in my life where I set myself some well-defined goals for the year. I am pretty happy about it went. It is really good to have goals for the year. I will definitely do the same next year. I have not yet finished setting goals for 2019. But there are several lessons that need to be taken from my 2018 Goals.
First of all, the goals were mostly too simple. Except for the dividend and expense goals, I passed all the other goals very easily. It is not a bad thing to have passed all the goals. But it is a bad thing if the goals are too easy. Goals should be a bit ambitious to motivate you to complete them.
Another problem with some of the goals is that they were a bit boring.  It is more motivating to have some original goals. It is also better for the followers of the goals to have something more interesting to follow. So, I am going to try to go a bit different for my new goals.
To learn more about my goals, read our 2019 Goals!
What about you? How did your 2018 goals go? Do you have special goals for 2019?