(Disclosure: Some of the links below may be affiliate links)
March 2021 was not a very special month. We could see some friends and family, which is always good. But of course, everything has to be done in small groups, so we do more invitations than usual.
But there was no significant event during this month. It was a good month, though.
Financially, March is always the month I receive my bonus. So this adds a lot to the income. And it is generally the best month of the year in terms of savings rate. This month, we managed to save 78% of our income.
March 2021
March 2021 was a good month for us. We invited friends and family over several times in small groups. It was a lot of fun, and it was good to see more people again.
On the other hand, this is getting taxing because we would prefer to invite more friends at the same time instead of having to cook for people every weekend. But we had fun, and we will do fewer invitations next month.
Aside from this, nothing really new. Measures are easing in Switzerland, but cases are rising again. So, I am expecting the beginning of a third wave soon and then new measures. Overall, Switzerland is not doing a great job against the virus. But since I am working from home, I am not impacted much. I am just really tired of the limit of 5 people for private meetings. Fortunately, as of March 22nd, this went up to 10 people. But we did not yet have anything with more than 5 people.
Financially, March is the month when I get my bonus. So, March is generally the month with the highest income of the year. This is also an expensive month in general. This month I used part of my bonus to change my computer monitors. I had been waiting for a long time to do that. And I am thrilled with the change.
Since I am working at home, my office is quite important for my work life and personal life. So, I need to have good equipment. I am quite glad about this purchase! In the future, I still have a few things planned to improve my office, but it will have to wait for later during the year. I especially want to change my desk itself for a better one. But this can wait. I will probably not wait until my next bonus, though!
We also had some extra expenses this month compared to usual. This makes it quite high in terms of expenses. But in terms of our savings rate, it is still very reasonable. So, in the end, I am happy with our finances this month. It is good to spend some money from time to time.
So, overall, we managed to save 78% of our income this month. This is the best savings rate we have had! If we continue on this road, we should see an 80% savings rate month next year.
Expenses
Let's see the details of our expenses in March 2021:
| Category | Total | Status | Details |
| --- | --- | --- | --- |
| Insurances | 745 | Average | Our health insurance premiums. |
| Transportation | 507 | Above average | Fuel, bus, and the OCN bill |
| Communications | 85 | Average | Internet and reloading my prepaid SIM. |
| Personal | 4022 | Well Above Average | New monitors, large first pillar bills for the blog, and some health bills |
| Food | 760 | Well Above Average | Many dinners at home, restocking at Aligro |
| Housing | 1159 | Above average | Mortgage interest, ECAB bills, and power bills |
| Taxes | 600 | Below average | Just the federal taxes this month. |
In total, we spent 7892 CHF in March 2021. This is much more than usual. There were several large quarterly bills this month. Interestingly, most of our categories are above average this month. Taxes are lower since we only paid federal taxes this month. Without taxes, this is still 7291 CHF that we spent in a month.
As mentioned before, I changed my three monitors at home to have a more recent system. And I also upgraded a few things on the desk to improve it. Since I am spending a lot of time on this desk, I think it is entirely worth it. The bonus month is a great time to spend money as well.
Aside from this, the blog was quite expensive this month. I had to upgrade my Mailerlite account since I have reached the limit of the tier. And I also h had to pay the quarterly first pillar bill and the first pillar bill for last year since I did not pay enough. This is almost 2000 CHF spent on the blog in one month.
We also had a few standard health bills and some misc shopping.
The only category that has me worried is our food category. It went nuts this month. We went to Aligro to restock on a few items, which accounts for a third of our month. The fact that we invited over people several times this month also played a large role. But I think that we spend more than before. We will see how this plays out next month with fewer invitations.
2021 Goals
Let's take a look at the status of our 2021 goals at the end of March 2021: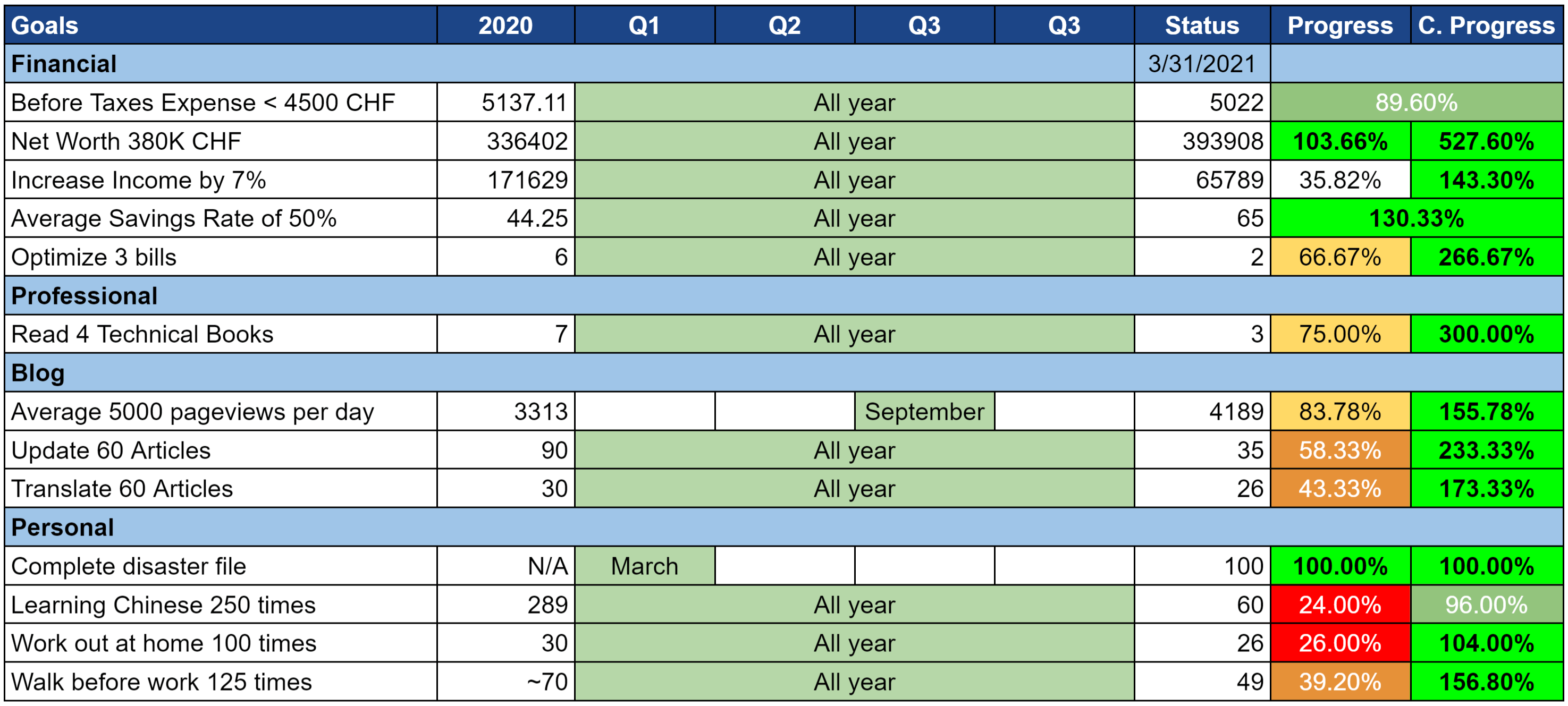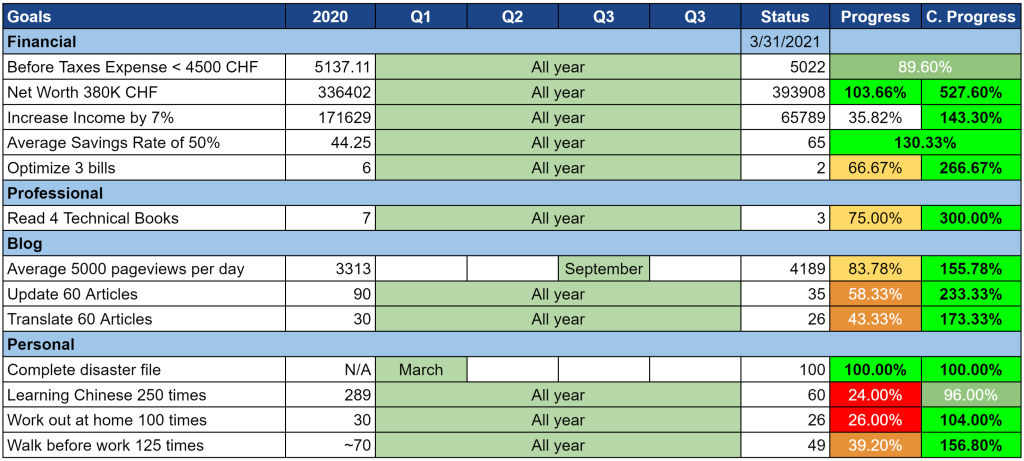 Overall, our goals are still going well. Our income goal is back on track with the bonus, as expected. However, the blog's income this month was quite low, so if this trend continues, it will be difficult to beat our goal for the year.
Our net worth went past our goal already. But we should not be fooled by that. We expect large bills for the house that should be arriving soon. So our net worth will get back down.
Our large expenses blew up our goal to spend less than 4000 CHF per month (without taxes). Our average went up to 5000 CHF. We will see if we can bring down this average again. But I am still satisfied with the large savings rate.
I managed to read two more professional books this month. Both were much better than the one I read first this year, so it went faster than expected!
I also managed to cut down one bill. I have removed partial casco insurance from my car. It is now too old to be worth it. So, with that, I will save 250 CHF per year on my car. This is worth it since the insurance would not have been worth it on this car.
Until now, I was scheduling a workout twice a week and then once during the weekend. But in the end, I rarely do it during the weekend. I just cannot bear wasting time during the weekend. So, I will reschedule and try to do it thrice a week. Hopefully, this will help me do a little more of that.
My Chinese learning is not going well. I lost almost all motivation to do it, so I procrastinated heavily. At this point, I do not know what to do to work on my Chinese.
Net Worth
Let's take a look at our net worth as of March 2021:


We can definitely see the impact of the bonus on our net worth! We went up to 393K this month. This is great. I was not expecting to reach this number so quickly.
However, two things are important to remember. First, 90% of our net worth increase this month comes from our savings, only 10% from our investments. The stock market did relatively well for our investments. But our savings are still driving our net worth.
Also, we are still expecting three large bills this year:
The notary fees
The house purchase tax
The unpaid taxes for last year since we know we did not pay enough
I expect our net worth to drop significantly once we receive these bills. So, while we are very high right now, it will not last!
The Blog
After two relatively good months, March was a very slow month for the blog. The traffic is down compared to the last two months, and the income is also way down. For the first month, the blog is actually losing money, but some large bills will not come back next month.
This month, I lost more than 10% of traffic on the blog. This is quite disappointing. I do not know the cause of this. It seems to be down over the entire website, and several of my articles went down in the rankings. I think it is caused by starting to get many competitors in this niche. And since the traffic is mostly down on the few pages that bring income to this blog, the income is also way down.
For now, I do not plan to do anything different on the blog based on that. But if the trend continues next month, I will have to see what I can do about it. Since I have been working quite hard on the blog and not seeing much effect, I will likely tune down my efforts.
On a better now, I took advantage of the mailing list to get feedback from my readers. I asked what they liked about the blog, what they did not like, and their biggest financial struggle. I got about 150 answers, which is more than I expected! This is precious information for me. And I will do my best to improve the blog based on this feedback.
Overall, people like that my reviews are unbiased and transparent. They also like the content that is easy to understand and in-depth. Finally, people really like the Swiss point of view of the blog.
On the negative side, some people find my articles too long and missing some step-by-step advice. I can try to improve on the step-by-step. But I think that the length of the articles is quite good. Many people also want me to delve into sustainability and ethics and not only frugality. I will address that in the future.
Many readers also say that the design is not that great. This is true. I am a terrible web designer. I will consider using a better theme or hiring a designer in the future. But I want to keep it simple and fast.
Something interesting is that many readers said that the browsing and navigation were not great. This is something I need to work on!
Finally, some readers do not like these monthly updates. On the other hand, many readers like them. And I like them to keep me accountable. So, I plan on keeping them.
The main struggle of my readers is how to increase income. I will try to work on that. But I am not an expert. I have a high income, but I do not think I did much for it. Some people also want to know about some alternative investments. I will try to cover more types of investments in the future, even if I do not recommend them.
If you have more feedback and suggestions, I am always open to them! This blog is for you, so please let me know if there are ways to improve it.
Aside from this, as usual, I continued to update articles, translate a few articles and write new articles!
Next Month – April 2021
In April 2021, we do not expect much. This month, we had many invitations at home. I think we will not have many in April. It was a bit too much for me. But with Easter, we will have a few days off, so this will be a more relaxed month.
Financially, there should be nothing special in April. We will have a normal income. But we should have low expenses next month since we do not expect any large bills coming (unless notary bills are coming). And in theory, we should not pay taxes in April. But large tax bills will come in May.
What about you? How was March 2021 for you?