(Disclosure: Some of the links below may be affiliate links)
September 2022 was an eventful month with many events. The main one was the one-year birthday of our son for which we made a large party. And our son also started kindergarten.
On top of that, there were also smaller events, both at home and at work. This made it an interesting month and a very tiring and expensive one.
Let's find out all that happened to us and our finances.
September 2022
September 2022 was packed with events.
The main event was the birthday of our son. We did a large event with about 25 people. We did it at home because all venues were already reserved because everybody is organizing parties now that COVID is not the on the radar anymore. We settled on doing half caterer and half cooking ourselves.
Even with a part caterer, it was a huge amount of work. We spent the entire day preparing for it and could enjoy the party only several hours after our guests arrived. And we also prepared things in advance several days before.
The party was a success for our guests and our son. But for my wife and me, I think it was way too much work, and we could not celebrate with our guests since we had to do many things.
At least, for me, this was too much to do on borrowed sleep and energy.
Other events were simpler, with good parties with families and friends.
At the end of the month, we started kindergarten for our son. He did a one-week adaptation period. It went okay, I would say. He still is not fully used to kindergarten. Hopefully, the first full day in early October will go nicely. Plan B is a longer adaption and for me to take care of him every Friday. But that is not perfect.
Financially, we spent quite a lot of money to cater for 25 people and prepare the party. We probably spend too much there. And we also restocked many things (meat at Aligro, for instance). This is all leading to very high expenses this month.
This month had very standard earnings. So, the high expenses made a big dent in our savings rate. This month, we saved 28% of our income. I expected a higher result, but given our high expenses and standard income, this is fair.
So, let's delve into the detail of this month.
Expenses
Let's see the details of our expenses in September 2022:
| Category | Total | Status | Details |
| --- | --- | --- | --- |
| Insurances | 878 | Average | Health insurance only |
| Transportation | 312 | Above average | Many parking fees and one half-tax |
| Communications | 84 | Average | Internet and phone for Mrs. |
| Blog | 1099 | Above average | Standard expenses and extra first pillar (quarterly) |
| Personal | 1012 | Above average? | Tons of small things and one swimming pool subscription |
| Food | 1454 | Extremely high | Caterer for the party, Aligro, and many groceries |
| Housing | 1349 | Very high | Heating, mortgage, chimney maintenance, and power |
| Taxes | 5107 | Average | Three levels of taxes |
In total, we spent 11299 CHF. Without the blog and the taxes, this amounts to 5092 CHF, higher than our goal.
Usually, we only have a few categories that are too high. But this month, many categories are much higher than usual. The food category is the highest it has ever been. It is mostly due to the party, so it should fall again next month. The housing category has some quarterly and annual bills, so it should also fall next month. Finally, in the personal category, we have to be more careful next month.
The food budget was very high this month. This is due mostly to the big anniversary we held for our son. We had a caterer for the main course and made the rest of the dishes ourselves. We also went back to Aligro to refill our stock of meat.
The personal budget is also quite high. Some of these expenses are for the party. For instance, we bought a lot of decorations for the party.
Mrs. The Poor Swiss is starting her course this month. For that, she took a half-tax subscription that will very quickly pay itself. She is also starting a swimming course, which is great.
Our expenses are high, but a lot is due to the big party. Given the high expenses for the party, we should have been more careful with the personal category.
Next month, we will hope to be more mindful of our expenses.
2022 Goals
Let's take a look at our goals by the end of September 2022: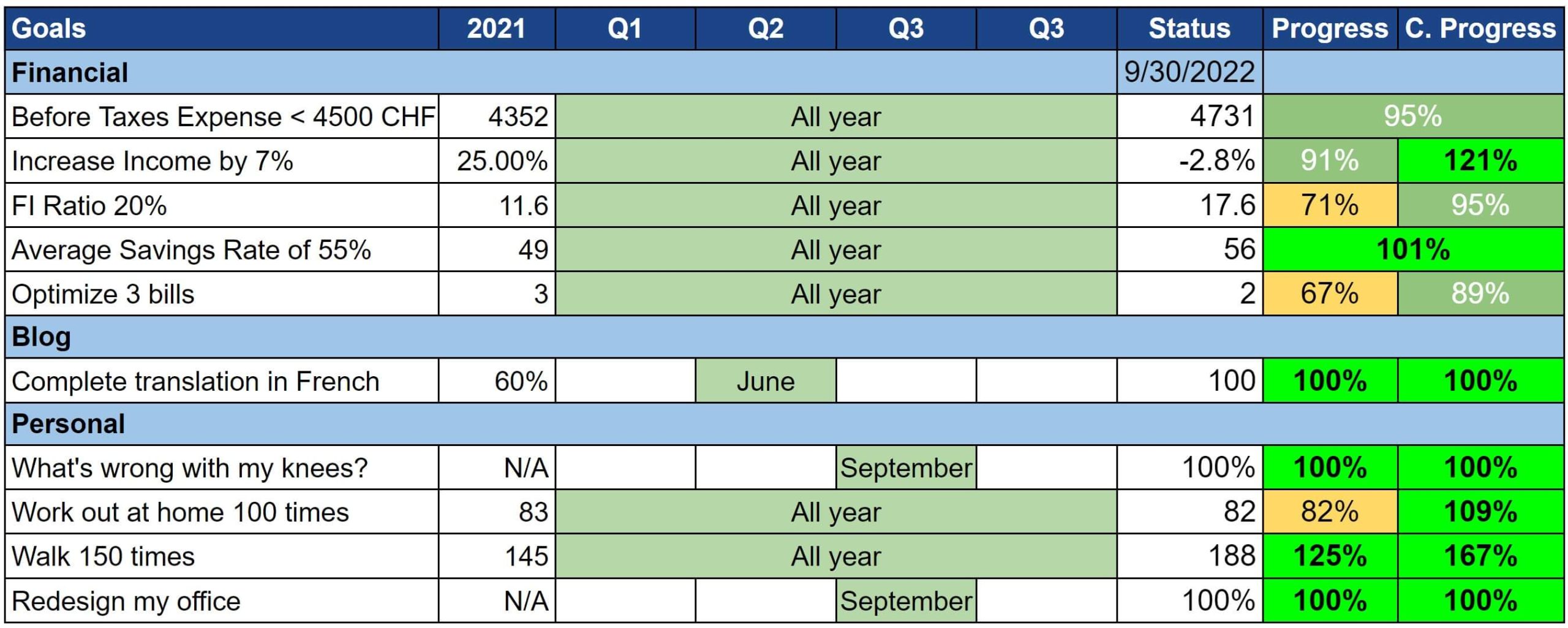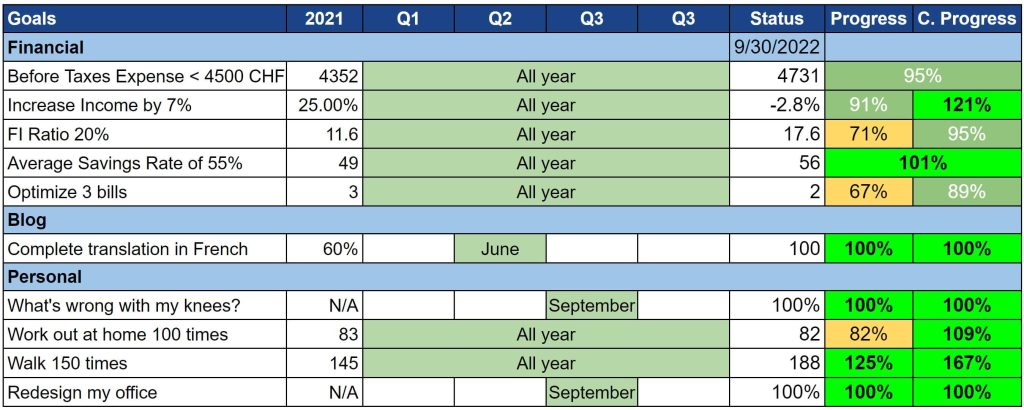 Overall, our goals are going well. Not much has changed since last month.
Having a new expensive month means we are now very unlikely to meet our average 4500 CHF goal. I do not feel too bad about this goal. However, we are also close to the 55% savings rate goal. Our savings rate goal is more important to me.
Other goals are doing well. My gym and work goals are going well. My FI ratio goal will likely fail depending on where the stock market is going in the next few months.
I should be able to optimize one bill in November, normally. I  do not have much idea to optimize before that bill. I will keep this goal next month, but I do not know what to do about it.
So, next month, we should be more careful about our expenses.
FI Ratio
Let's watch our FI Ratio until the end of September 2022:


This month was not very kind to our FI Ratio. Last month, the stock market recouped some of its losses. But this month went even lower than before.
On top of that, our monthly expenses have slightly increased this month, lowering our FI Ratio (by increasing our FI number).
The market is significantly lower, and our lower expenses mean that our FI ratio went down significantly by more than 2%.
I am not particularly worried about the state of the market. While our net worth is lower, we still have more shares than before. And we can buy more shares at a discounted price. For me, this is what matters. This kind of event is bound to happen.
The Blog
Given the number of things happening during the month, very little happened on the blog. Fortunately, I had planned my articles to have some margin, which was useful.
Once again, the blog started a significant decline in traffic, with more than 10% lower than in August. At this point, I do not worry much about these changes.
Other than that, I do not feel anything else is worth mentioning on the blog. Next month, I will publish a summary of the fifth year of blogging.
Next month – October 2022
Next month, we only have a few events planned. I am glad about this. I hope we can rest a little, but that will mostly depend on our nights.
Financially, I expect a standard month in October.
Interestingly, next month, the blog will reach its fifth year! It will not be its best given the little time and energy I gave it, but it did not go so bad either. Stay tuned for the fifth-year summary.