January 2023 – A good start of the year
|
Updated:
|
(Disclosure: Some of the links below may be affiliate links)
After a poor month of December, January started better. It was a relatively quiet month except for the more frequent commute than usual. It was good to get a normal month again!
Financially, it was a regular month in terms of expenses, but we had a relatively high income. So, we started the year with a nice savings rate.
January 2023
January 2023 was a good month to start the year.
We even managed to get a few good nights. They were quickly followed by bad nights again. But it is still a good sign.
We had a few events this month, which is good because we wanted a calm month again. This also allowed us to do things we had postponed for a while. I took a few Fridays off to progress on these projects and to get back on track with the blog.
We even celebrated the Chinese new year with friends. It was great!
And it is great that the snow has come back. Our son enjoys snow, and we like seeing him play in the snow.
Most windows in our house got replaced with modern windows and triple layers. This should help during cold winters by providing better insulation. These last few days, for instance, have been very cold outside. It will take a while to estimate the difference, but I think it was a good investment.
From a work point of view, it was a rather stressful month. I had to return to the office several times, which I am not used to anymore. And I also had to make several commutes to my mom. She takes care of our son when my wife has his course on Tuesday. When both (office and mom) are combined, I have a long commute in the morning and the evening, and if you add late meetings to that, it makes for stressful days. But February should be back to normal on that note.
I have not started to fill out my tax declaration yet. I am still waiting on all the supporting documents. But I expect to do that next month.
Financially, it was a great month. We had some standard expenses, maybe even on the low side. But we had a very high income, primarily due to a yearly payment from the blog.
We saved more than 75% of our income this month. This is a great result that we have only achieved a few times in the past. And this is the best January month ever for us.
Expenses
Let's go over the details of our expenses in January 2023:
| Category | Total | Status | Details |
| --- | --- | --- | --- |
| Insurances | 784 | Average | Our three health insurance policies |
| Transportation | 166 | Average | Twice gas refill and many buses |
| Communications | 99 | Average | Mobile and internet |
| Blog | 608 | Higher than average | Some new subscriptions I am testing and a new logo design |
| Personal | 1738 | Average | Quite a few clothes expenses, a new toner, some health bills |
| Food | 670 | Higher than average | Too many groceries, many small lunches, and snacks |
| Housing | 709 | Higher than average | Mortgage, heating, and water |
| Taxes | 5107 | Average | Taxes at the three levels |
In total, we spent 9884 CHF this month. Excluding taxes and blog expenses, we only spent 4168 CHF, which is a great result, below our goal of 5000 CHF per month.
Overall, our spending was relatively standard, I think. There were unexpected expenses like a new toner for our printer and some late health bills from last year. But overall, nothing was out of the ordinary, which is a good thing.
We spent a little too much on food this month, with many small lunches outside and snacks and coffees. Some factors were making this month special. This should reduce next month.
I also spent some money getting new clothes. For instance, I needed socks, so I bought many pairs to have enough for many years and only wear one style of socks in the future.
Since I went to the office more regularly this month, we spent more on gas than usual. This is not a huge deal, I feel, since I do not plan to go much in February.
Overall, I am happy about our expenses this month.
2023 Goals
Let's take a look at our goals by the end of January 2023:

Our financial goals took a very good start in 2023. We met them all and with a nice margin for the following months. This is a great result.
I have not started the LLC process for the blog. We are currently waiting on having the 20K CHF, and we have other priorities for our money first.
The progress on the health goals is more mixed. I managed to do more steps than I expected, given the weather. But my workouts were really bad this month. I had to spend several days in the office, which completely broke my routine. And some days, I already took so much time off for my son that I cannot take more for my workouts. I need to get back on track next month.
Somehow, we also used more electricity than in December. And this is more than our monthly goal. This was unexpected because I turned off some computers running during the night. I expected electricity to go down this month. I think we have an appliance that takes more power than we hope. We will have to see what it is.
Overall, our goals are doing good for the first month of the year.
FI Ratio
Let's watch our FI Ratio until the end of January 2023:

This month we made a nice increase in our FI ratio, jumping to about 14%. The main reason is the high contribution to our net worth this month.
On the other hand, our average expenses still keep increasing. This is why the blue line (current expenses) is lagging more and more behind the black line (100'000 CHF expenses). I hope we will stabilize our expenses at some point, giving us a better idea of where we are.
But currently, our expenses increase faster than our net worth.
As for our investments, we have started our fifth finpension 3a portfolio. We will rotate investments in these five portfolios beginning next year by continuously contributing to the lowest one. I always like to contribute to my third pillar in January.
In the next two months, we hope to be able to make a new transfer to our pension fund. Our goal is to pay back the 50K we took out for the house by the end of 2024. Then, we want to make regular contributions to save on taxes.
Nevertheless, it is good to see our net worth and FI ratio increasing again. Our investments also started to look better this month, and some will be back to earning next month if the current trend continues.
The Blog
Since I was almost burned out on the blog last month, I wanted to take it easy on the blog. Nevertheless, the circumstances helped, and I was able to get more done than I thought this month. I had a few days off when my son was in kindergarten, which helped move both our personal and blog tasks.
As a result, I could write enough articles early during the month and then advance on some projects. I did not do anything major. However, I made many minor tweaks to the design. I also updated many articles to improve internal linking. This should pay off in the long term.
Unfortunately, I have some issues with mobile usability that Google is reporting that I cannot reproduce or fix. I do not know whether this will impact my rankings, but I wasted a ton of time trying (and failing) to fix them.
One of the next projects will be to rewrite the theme I use to make it much more modern. It should not change much in the design, but it will make it much more solid and make future changes easier. I will not make that on the live site but on a staging site. I have already made some progress on that project. It may be deployed next month already.
By this point, I already have most articles ready for February. This gives me leeway to do other tasks that have been neglected for a long time.
But most of the following tasks will be behind the scenes, so you should not expect significant changes soon.
Next month – February 2023
We do not have much planned for February, only a few family events. It is good because we still want to take it easy.
Financially, February should be average. We will have a higher than average income but must pay the rest of the bill for replacing the windows. Even though we will pay low taxes, this large bill will make it an expensive month.
What about you? How was January 2023 for you?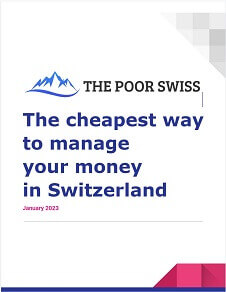 The best financial services for your money!
Download this e-book and optimize your finances and save money by using the best financial services available in Switzerland!
Download The FREE e-book