(Disclosure: Some of the links below may be affiliate links)
August 2021 was a good and simple month for us. We had many events during the weekend with our friends and families. This month was the perfect mix of events and time at home.
Financially, it was also a great month with good income and record low expenses (not counting taxes). So, we managed to save more than half of our income. This puts us back on track to save more than half of our income during the entire year.
August 2021
As I said in the introduction, August 2021 was a good month for us. It was simple and quiet, but this is not a bad thing. Overall, the weather was acceptable so that we could be outside regularly, and we were lucky with our family and friend events since the weather was clement on these days.
Financially, it was also a very simple month. I am actually amazed by how little we spent this month. It is our record spending month, when not counting taxes. We spent less than 3000 CHF before taxes. We know we cannot do this every month, but it is great to be at this level, two months in a row. And we even had some unexpected spending this month. So, we are extremely happy about being able to reach that level.
This is great to have such a month because we expect next month to be more hectic. Although financially, September should be just fine.
Expenses
Let's see the details of our expenses in August 2021:
| Category | Total | Status | Details |
| --- | --- | --- | --- |
| Insurances | 745 | Average | Our health insurance premiums. |
| Transportation | 44 | Average | Just put gas once. |
| Communications | 70 | Average | Internet and online services. |
| Personal | 842 | Below average | Some things for the blog, a few books, some good beers, and fixing the dishwasher. |
| Food | 500 | Above average | We went once to Aligro to refill our freezer |
| Housing | 445 | Average | Interests and heating |
| Taxes | 3845 | New average | Taxes at the three levels |
In total, we spent 6489 CHF in August 2021. Overall, this is a great result for us. We only spent 2643 CHF without taxes, which is our best result since the beginning of the year. It is actually probably our best result ever! I did not think we would spend so little. But it just happened.
Overall, our expenses are quite good this month. There was not much special this month. I ordered some special kinds of beer that I was missing for a long time and splurged on them (about 200 CHF). We also had to fix our dishwasher adding almost 150 CHF to the expenses. And we went back to Aligro to refill our meat freezer! But other than that, we only had some small expenses here and there.
Overall, this brought us to a savings rate of 61% this month, a great result!
Normally, our taxes will now stay at this level more or less. They are likely going to rise a little year after year, but we won't have months with 20K taxes like we had this year. I still wish there was something to do to optimize our taxes. But short of moving (which I won't), I do not see much to do.
2021 Goals
Let's take a look at our goals by the end of August 2021:


Overall, my goals are doing great. Except for the blog traffic goal that I do not want to talk about, all the other goals are well on track for the end of the year. I am not entirely certain we will reach a 50% average savings rate by the end of the year, but we are going to be close and at a good level anyway.
It is the same for the taxes before expense. We are very close to the goal which is great since it was a stretch already. Currently, we are even lower than our goal, which is amazing. If we manage to do a few more months like this one, we will be in a great place by the end of the year!
All the other goals should be completed by the end of the year, and we should even complete some in advance. I thought that my goals were more ambitious this year than last year, but it seems I need to aim higher!
Net Worth
Let's take a look at our net worth as of August 2021: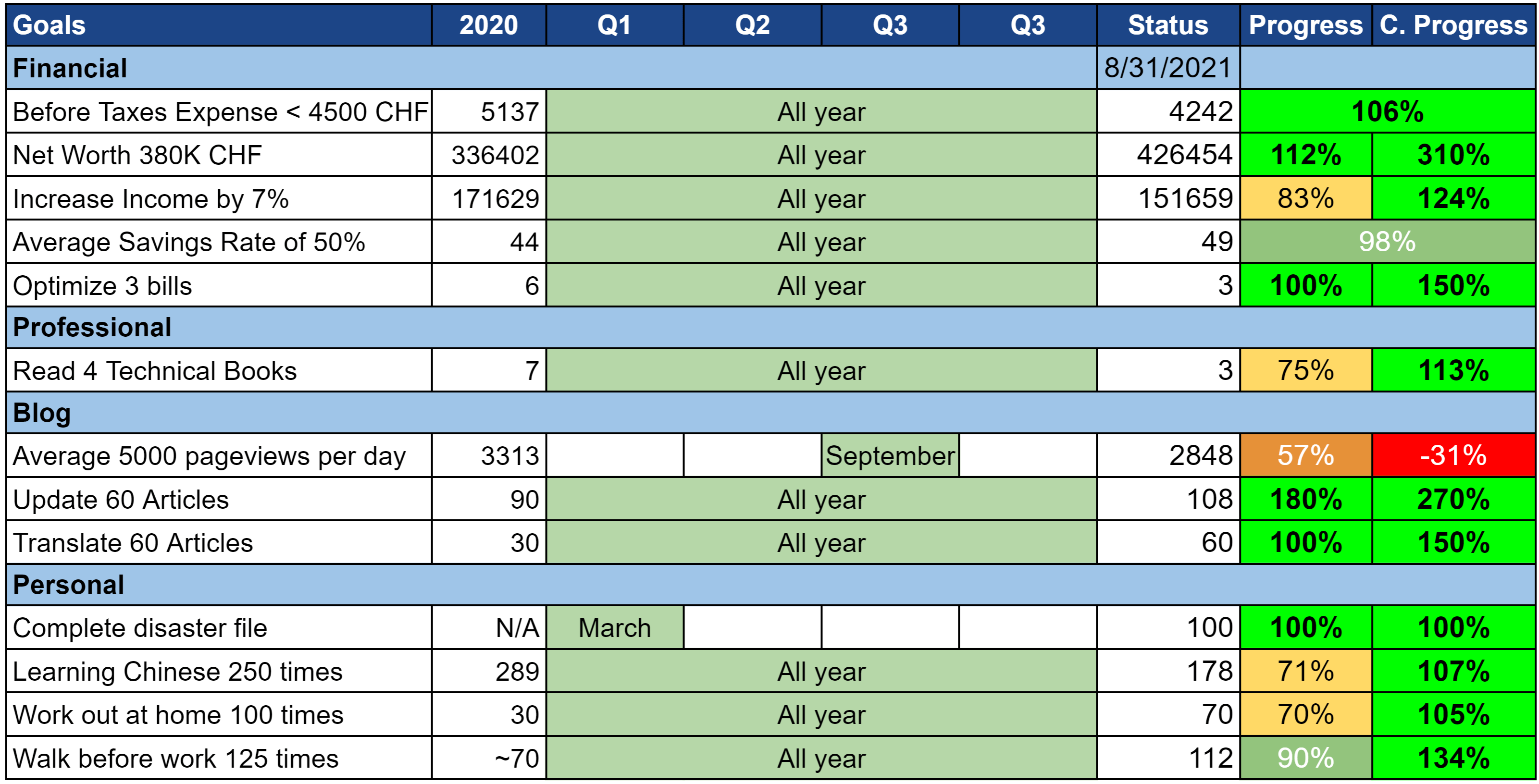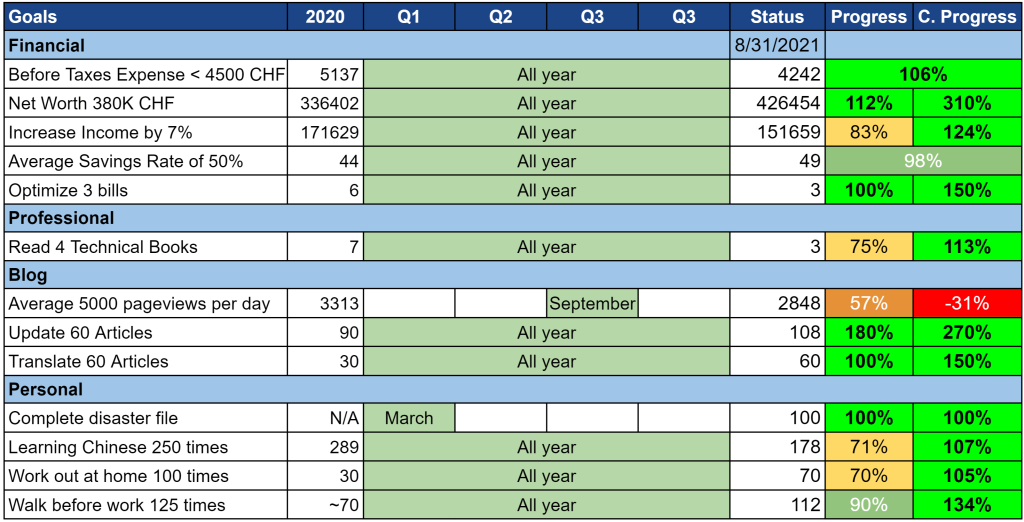 Overall, this month was great for our net worth. We reached 426K CHF. The markets had some up and down this month, but overall my portfolio is up. And we had nice savings this month as well.
Also, my ESPP was paid off this month with a nice profit of about 3000 CHF. Since these profits are taxed, I have decided to count them as income this year. I do not count capital gains as income since they are not taxed. But while these profits are some kind of capital gains they are taxed as income, so I prefer to include them now as income starting this year. This avoids surprises when filing tax declaration and having 10K more income than on my budget numbers!
Nothing changed as to my investments. I have started moving my portfolios from VIAC to Finpension 3a. I will do it slowly, one portfolio at a time. By the end of the year, my three portfolios will be at Finpension. And I will open a fourth portfolio next year and a fifth the year after.
Now that we are almost fully invested again, we can see that the market is starting to influence our net worth more significantly than before.
The Blog
Best platform to start a blog
SiteGround
SiteGround is a great hosting provider, with very low fees. It has one of the best user ratings of all hosting providers.
There is not much to report on the blog. The traffic is continuing to decrease. For the first time in several years, I changed my schedule to one article a week. I do no think this hurts the blog and I feel better doing one article per week, considering the traffic on the blog. I do not think it hurt the traffic at all, the decline is continuing more or less the same as before.
I have continued updating articles on the blog, but significantly fewer than the previous month. I have only translated three articles this month. I will try to translate a few more articles next month.
What do you think about the new posting schedule?
Next Month – September 2021
Overall, September 2021 should be another simple month, but with some important changes coming. I won't spoil you the news, you will have to wait until next month.
Financially, it should be fairly normal, on the same level as August I believe.
What about you? How was August 2021 for you?