Employee Stock Purchase Plan (ESPP): Take advantage of great returns!
|
Updated:
|
(Disclosure: Some of the links below may be affiliate links)
With my new job this year, I get access to an Employee Stock Purchase Plan (ESPP). It is the first time I am working for a company that offers such a plan. As such, I have been researching my options for how to handle this ESPP. In this article, I share what I have found out about ESPP.
An ESPP is a plan to use some part of your salary to get company shares at a discount price.
In this article, I present many strategies to decide when to sell shares coming from an ESPP. Finally, I will go over the strategy I chose for my ESPP shares.
Employee Stock Purchase Plan (ESPP)
All ESPPs are mostly the same. Each month, you can allocate some portion of your salary to buy stock shares from your company. This allocation can be from 1% to 25%.
So, if you have 10'000 income every month, 2500 CHF will be used to buy stock shares. And the rest, 7500 CHF, will be received as cash as your salary.
There is almost a maximum of how much you can contribute per year. The limit is 25'000 USD per year. In Switzerland, this is about 25'000 CHF.
Every six months, the accumulated money from your salary is used to buy stock shares from your company. If you are not paid in USD, the funds will be converted into CHF at the end of the six months before buying shares.
What is very interesting about an ESPP is that the share price is not the market value. The price is generally 15% cheaper than the market value. And even better than that, it will be 15% cheaper based on the minimum between the starting and end prices.
It means you can get a higher discount than 15% if the stock is going up. For instance, imagine that the stock is at 10 USD at the beginning of the period and 15 USD at the end. You will buy it at 8.5 USD and can sell it for 15 USD. That is a 76.5% gain! If the stock goes down, you get at least 15%.
And there is something even better about ESPP. Your purchasing price is generally locked for a longer period. For instance, my company's purchasing price is locked for two years. It can be extremely beneficial if the stock of your company goes up.
Overall, it is a no-brainer; you should allocate the maximum permitted by your ESPP. It is a substantial gain. Honestly, there is no reason not to do it. You need to take advantage of your ESPP if your company offers one!
ESPP Strategies
Now, I hope I have convinced you to buy into your ESPP. Every six months, you will receive some shares from your company stock. What will you do with it?
If you want some gain, you must sell your shares at some point. There are several ESPP strategies to decide when selling the shares. You should have a plan and stick to it. It is important. You can define it as part of your Investor Policy Statement.
The first strategy is to sell the shares as soon as possible. You sell the shares at the end of the period as soon as they are available. It guarantees you a 15% return on investment. And it can be much higher if the company's stock went up. This first strategy is the safest strategy. Mathematically, it is the one that makes the most sense. It is also the strategy that most people advise.
The second strategy is to hold the shares. You hold the shares for the long term, and you only sell when you need the funds. You have to be sure of the value of the stock for this. For instance, does your company shares pay a dividend? Do you believe in the long-term returns of the company?
You also have to be aware that this makes a bias to your work. If the company goes bankrupt, you will leave your job and lose a lot in stocks. It is a risk that you need to take into account. If you have a considerable net worth and your company shares are a tiny part of it, it is okay to hold your company shares. Otherwise, I would not recommend this strategy.
Another strategy is to hold for a specific time. I know some people are always holding for at least one month or at least one year before selling. It is still risky since the stock can go down before you sell. But it is less risky than owning forever since you will never have a huge part of your net worth in your company shares.
If you are a value investor, you can also hold if the stock is undervalued. In that case, you will need to evaluate the value of the stock. If the current price is lower, you hold onto it. Otherwise, you sell. It requires that you have a very good knowledge of the company and the stock market in general.
Another strategy is to hold with some safety. For instance, some people hold but use stop-loss orders to avoid losing money. And you can also put sell order to buy when the stock goes up in price. That way, you can lock in the risk and the returns.
Yet another bad strategy is to hold until you feel you should sell. It is market timing. How will you know when it is time to sell? Professional investors have failed to do that for decades. It is fine if you want to hold, but do not try to time the market.
There are also some complicated strategies involving options and futures. But that this not something I want to do. And I do not advise you to do it either. I believe in simplicity in investing. So, again, you should sell your shares are soon as you receive them. It is a 15% return on investment in six months! Where else will you get that kind of return? Nowhere!
Conclusion – My ESPP strategy
Since I already depend on my company for my job and thus my income, I do not want to rely too much on the stock. For now, I need some diversification.
Therefore, I will use the safest strategy and sell directly when I get the shares. It is the strategy that makes the most sense. This strategy is the only way to get a guaranteed return.
As for the allocation, I allocated 25% of my salary to my ESPP. And will recheck this percentage when my salary increases. I will always use a percentage that makes it very close to the limit per year.
One thing is essential with ESPP: Use your ESPP! A lot of people do not use it enough. Some people do not use it because they fear investing in stocks. But if you sell directly, it is a return much safer than stocks! Some people feel 15% is not enough. But today, a 15% return is enormous!
You should allocate the maximum from your salary to your ESPP if you are lucky enough to have one. If you sell directly, it is just a delay in income. You will get it later! And you will get more than what you allocated. Why would you not want that ?!
What about you? How do you use your ESPP?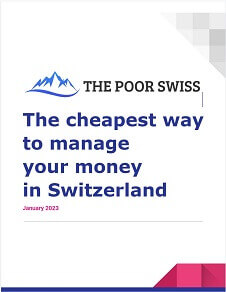 The best financial services for your money!
Download this e-book and optimize your finances and save money by using the best financial services available in Switzerland!
Download The FREE e-book