(Disclosure: Some of the links below may be affiliate links)
It is time for my monthly update for August 2020 already! Quite a few things happened in this month. We went for a short vacation in Davos. And we started buying some furniture for the house.
On top of that, we had many smaller expenses that quickly piled up. So, this month ended up very expensive.
While it was an expensive month, it was still a good month. We had several parties with friends, and the vacation was really good.
So, let's find everything that happened to us in August 2020.
August 2020
Overall, there were no significant events in August 2020. We went to Davos for four days for a little trip. It was excellent to get some vacations. I quite needed some days off.
I am still working from home and will be at least until the end of the year. And hopefully, even longer than that. But I am not going to talk about the virus-thingy, nobody wants to read about that.
I finally started physiotherapy for my knees. For now, there is not much difference, but hopefully, with more appointments, this will improve. We will see how that goes.
From a financial point of view, it was not a great month. Our income was entirely average this month. But we had much more expenses than usual and more than planned as well. The vacation in Davos was planned and expected. But on top of that, we started furniture shopping for the house. And we also had many smaller expenses that quickly piled up.
Regarding the new house, we have decided to change most of our furniture. So, we need a new bed, a new sofa, new tables, and several other items. It is not very frugal. But most of our furniture was pretty bad, and a lot of it was second-hand. We wanted to get things we liked better to feel more at home.
So, we started furniture shopping, but for now, we are still short a lot of pieces of furniture. We only were able to buy a bed (with bed tables), two mattresses, and a kitchen table. So, we will still need to do some shopping next month. Hopefully, we will be able to get it done next month, but I am not very hopeful.
However, my ESPP shares vested this month. I made a very nice profit on the shares. So our net worth jumped quite nicely this month even though we do not have large savings.
Overall, we spent too much money, but we still saved 32% of our income. So, August 2020 is not so bad. And it was a good month for us.
Trip to Davos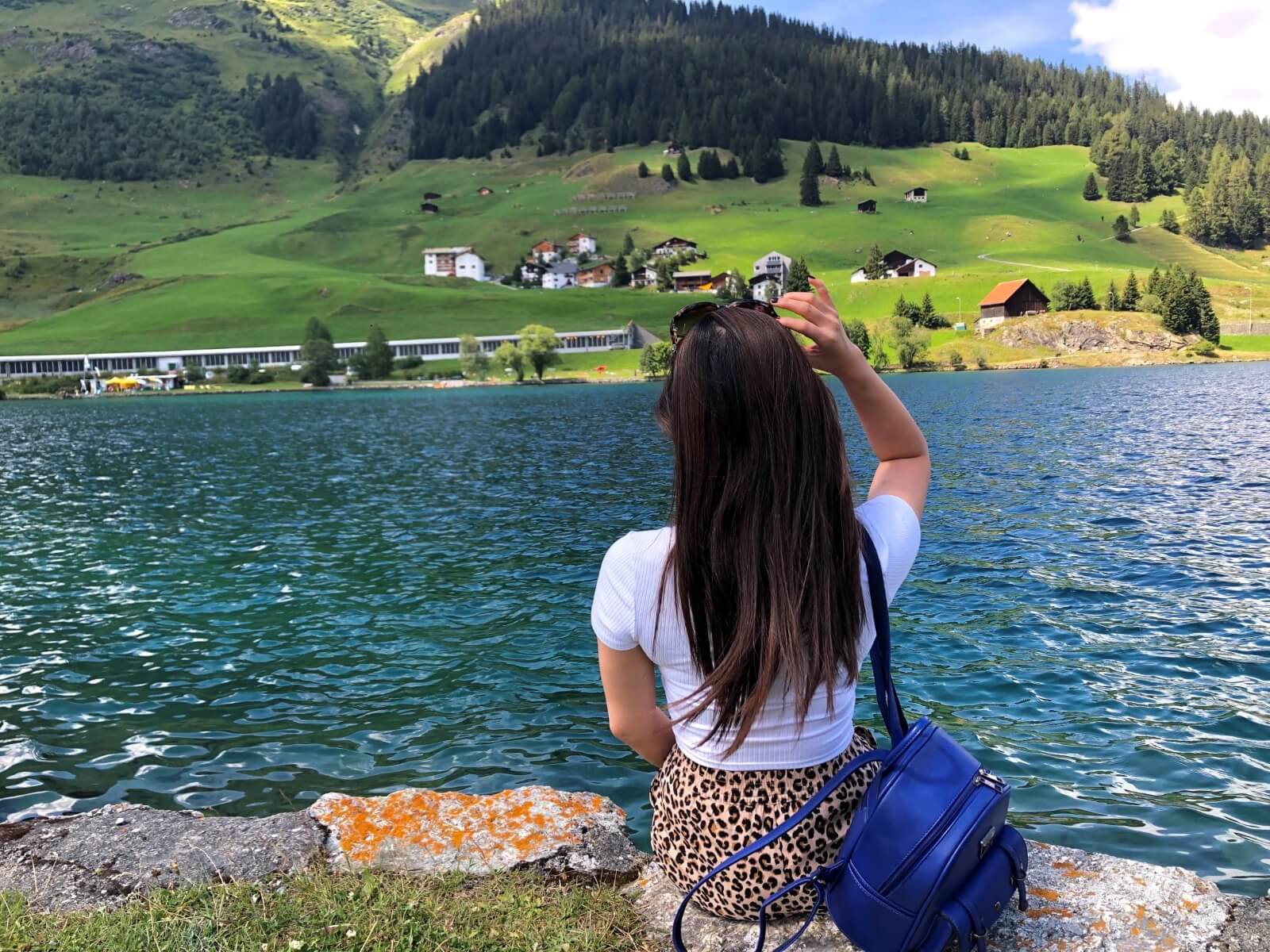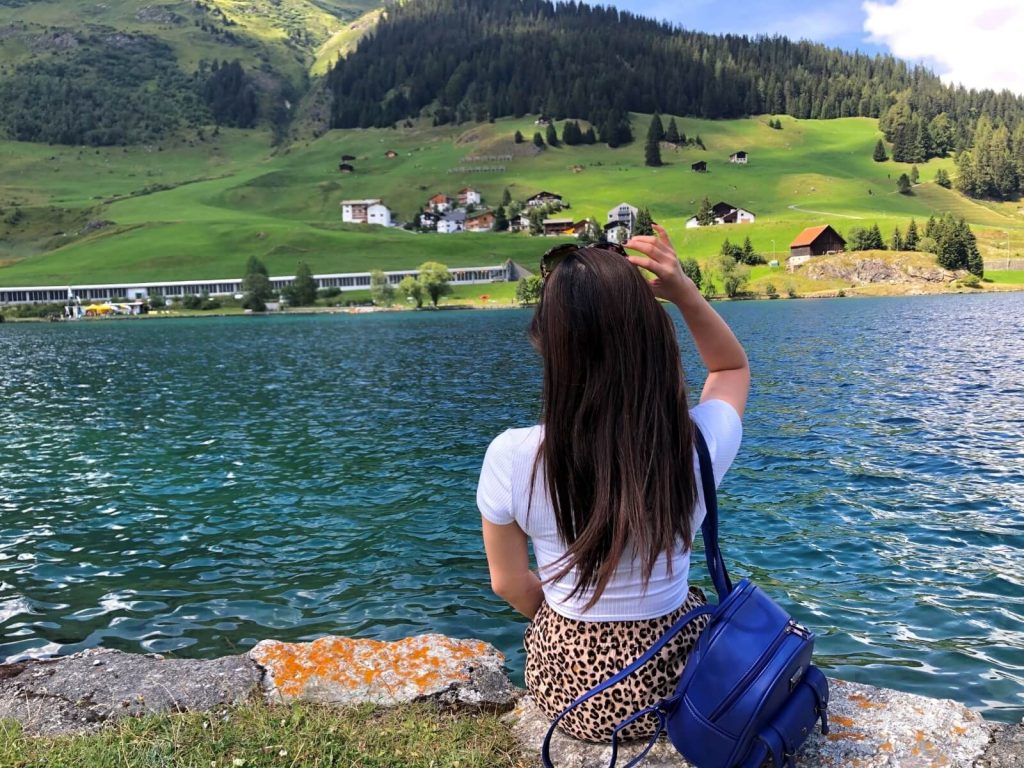 The main event for us was going on vacation in Davos for a few days. We used a freedreams coupon for this trip. It was the first time we used this kind of coupon, and it was a good experience.
Because we went there only for three days and it was the time of our anniversary, we selected a high-end hotel in Davos. In hindsight, we should probably have taken a cheaper one. But it was still a great experience. And we ended up paying less than 1000 CHF for four days in Davos. So, it is not that bad.
Davos is not a nice city. But the location around the city is lovely. It is in the middle of a valley with beautiful mountains around. We went for several hikes in the mountains around, and it was gorgeous. What is impressive is that the cable cars are cheap with the Davos card from the hotels. It is entirely different from Zermatt, where everything is over-priced.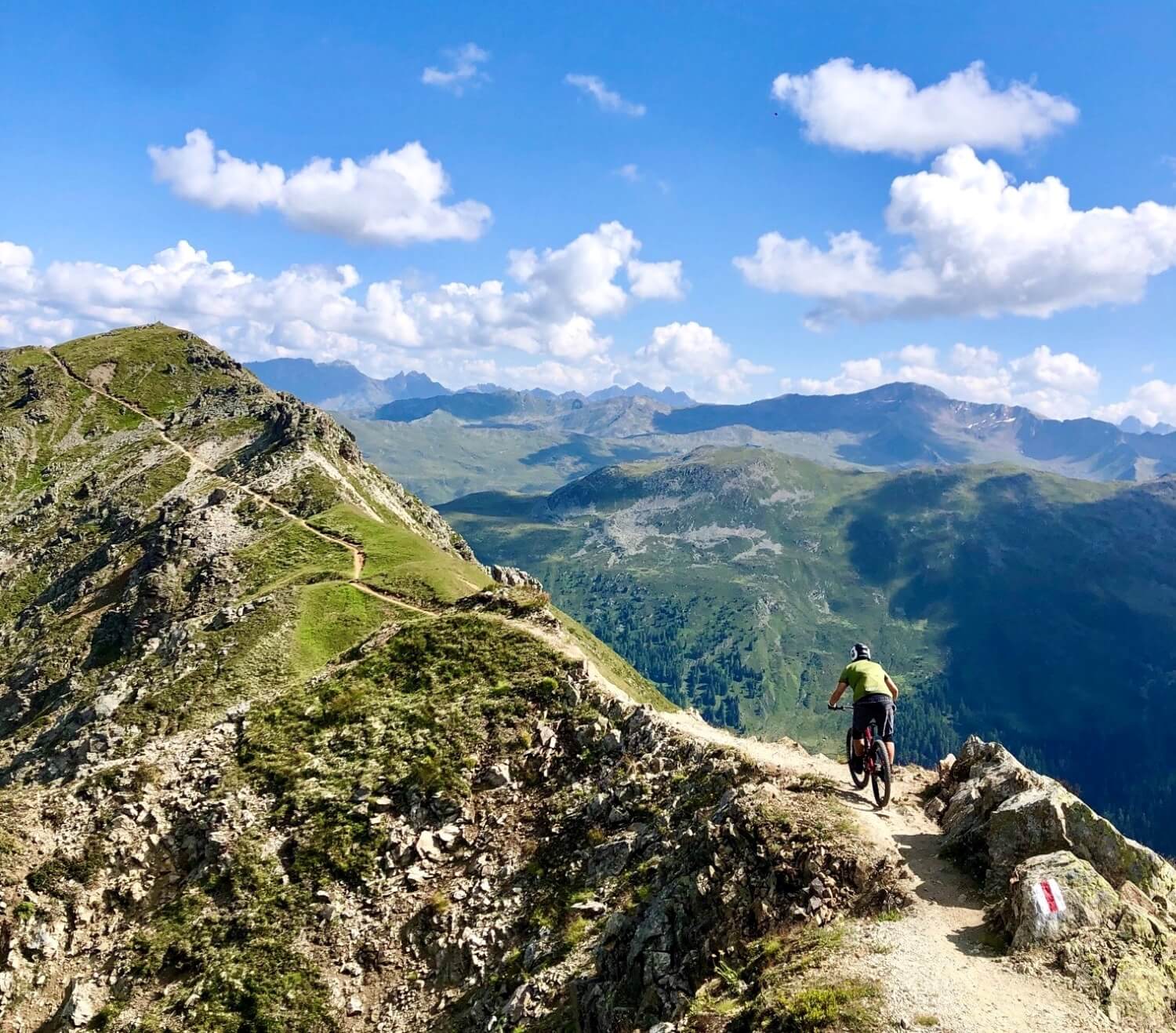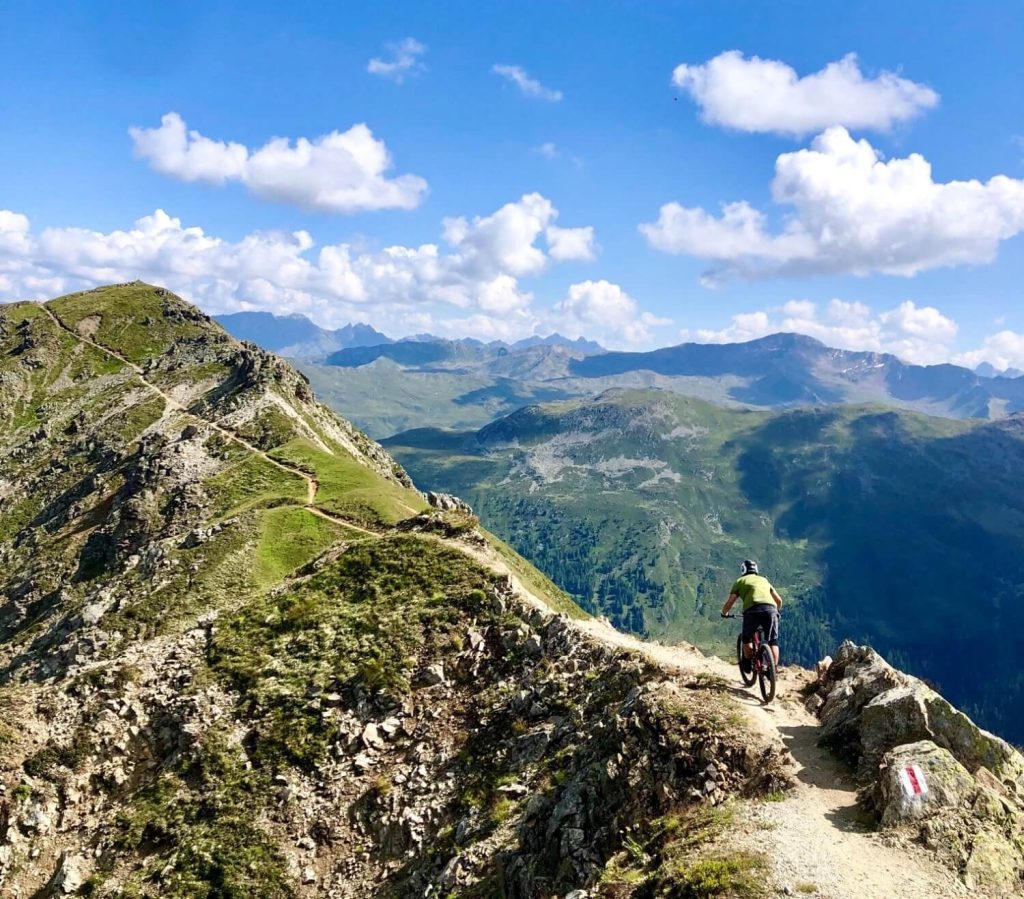 Expenses
Let's see the details of our expenses in August 2020:
Insurances: 795 CHF. Only our health insurance.
Transportation: 158 CHF. Average. Gas, parking, and some cable cars in Davos.
Communications:

95 CHF. Slightly above average. I had to renew some internet domains. And of course, I have to pay the internet bill. 

Personal:

3746 CHF. Well above average! Furniture, gifts and holidays make for 70% of that. But many small expenses accumulated throughout the month.

Food:

522.35 CHF. Well above average. Too many eating out and lots of groceries for some cooking at home.

Apartment: 1247 CHF. Average. Just our rent.
Taxes: 2257 CHF. Average. The taxes for the state, county, and country.
So, overall, we spent 8822 CHF. This total is too high for our usual average. But it should be exceptional. 
Only two budgets are too high this month:
Our food budget is too high compared to what we aim for. But this month it is no that bad because we went on vacation. Also, we had guests for several dinners this month, so this adds to our budget. And finally, we had lunch outside several times because we spent the day out.
Our personal budget is way too high. Too many expenses have accumulated at the same time. Furniture shopping was planned. But we bought a baby stroller from a friend, and we had two large birthdays. I also bought a new phone and some books. So, it is just an accumulation. We should have planned for a quiet month knowing about furniture shopping. But that is life!
For next month, we are still going to be high. But we will plan fewer things next to furniture shopping. So, it should be better next month. We will see how it goes.
2020 Goals
Let's take a look at how our goals are doing at the end of August 2020: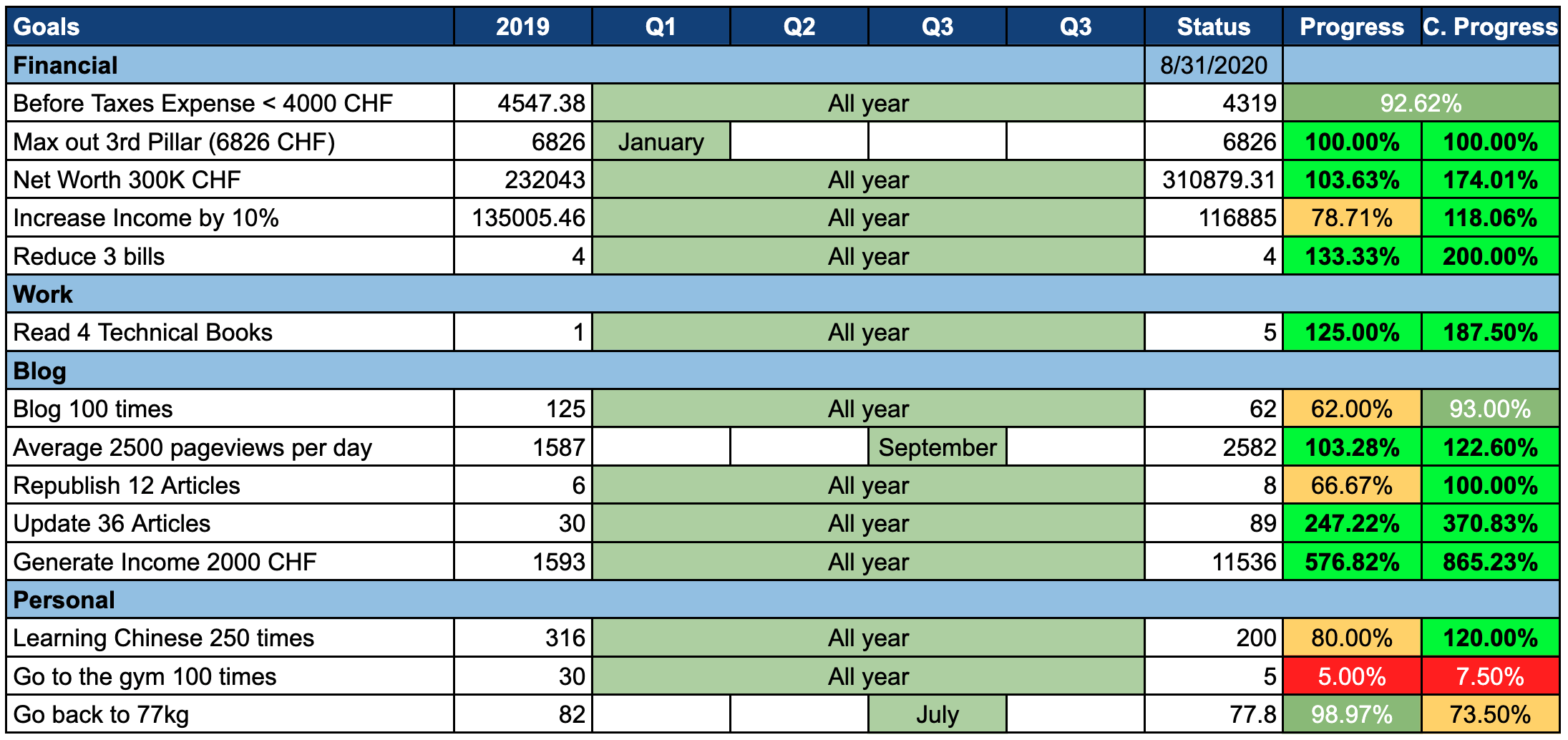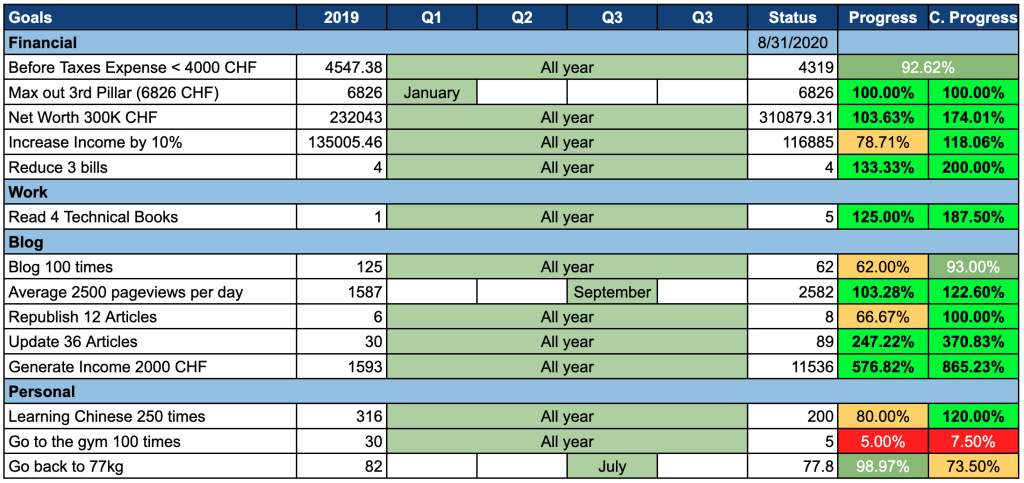 Overall, our goals are going well. We have already reached our net worth target for this year! But more on that in the next section.
And we are still on track to increase our income by 10% for this year. The only financial goal that has been destroyed this month is our expenses goal. We move the average from about 4000 to 4300 in a month. And knowing about the following months, it is unlikely that we will be able to reach this goal this year.
Given the extraordinary event that is buying a house and furniture and some decade's birthday, I think that it is not so bad. We will have to recalibrate our expenses next year anyway.
Other than that, our goals are great. The goal for the number of articles was not good to start with and will not be finished this year. But other goals for the blog are doing fine. I updated many more articles than I planned.
So, overall, I am satisfied with our progress with our goals!
Net Worth
Here is how our net worth evolved in August 2020: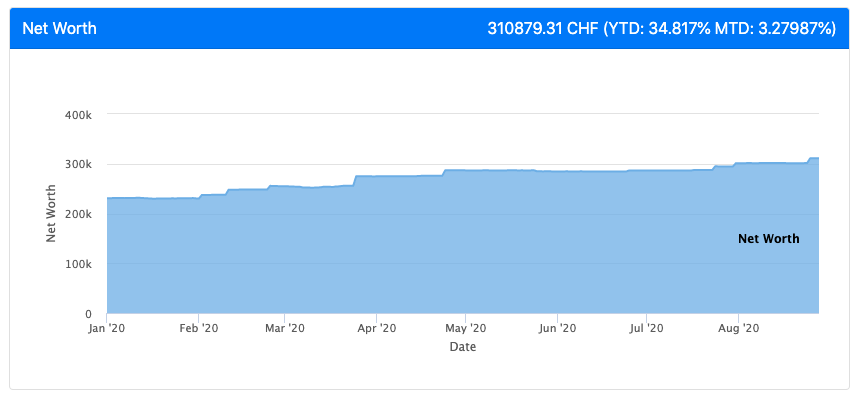 We have now passed the 300K net worth threshold! We are really happy about that. Our goal will now be to keep this level for next year, once the house bills start coming (notary, real estate tax, and other fees).
Most of the gains of this month are due to my ESPP shares vesting. I made more than a 50% profit on these shares. So these shares make a huge difference. It is terrific since otherwise, our net worth would have almost stagnated.
However, some of our expenses are still on credit card bills. So they will still impact next month's net worth.
We already passed the 300K net worth line last month. But, I made a mistake last month in our net worth calculation. I did not correctly report some shares on Interactive Brokers. As such, last month was lower than it should have been. Now, I have double-checked everything, and I should not do that again.
We could reach 330K by the end of the year. But then, as soon as we have to pay the bills for the house, I am expecting that the number drops significantly.
The Blog
The blog has been going well this month. Nothing extraordinary happened, but the traffic went slightly up. It is good since the blog is currently at a good spot for traffic.
If I want to increase the traffic higher, I think I will have to start translating articles. I currently do not see any other way to increase the traffic very significantly. But I am no expert.
I have not been doing anything special this month. I have continued to update many of the articles. I have now finished this effort for the year. I am currently trying to improve traffic in some of the underperforming articles. After this, I will have to see what I should focus on.
As usual, here are the three most-viewed articles of the month:
Wise vs Revolut: It has been my top posts for a long time.
Best Phone Plans in Switzerland: I refreshed the article, and it got a lot of attention. It is great to see that.
Online Shopping in Switzerland: It has also been a top-performing post for a while.
What about you? What was your favorite article in August 2020?
Next Month – September 2020
In September 2020, we do not have much planned. We still have to do some furniture shopping for the new house. But aside from this, we do not have many things planned.
Next month, I will probably transfer the cash for the downpayment. But this will move the money around. Nothing will change in our net worth. I may receive a few bills for the house already. But these bills will probably even later.
So, overall, September 2020 should be relatively quiet. But it will be an expensive month again. Hopefully, it will be cheaper than this month. But I am not very hopeful about that.
What about you? How was August 2020 for you?