(Disclosure: Some of the links below may be affiliate links)
In November 2019, we did very few special things. It was a quiet month. But it was still a good month. And it was a great month for our finances.
I spent a few days in Berlin for work for a conference. It was a good conference. Since it was paid by my company, it did not make big differences in our budget.
We still spent more than 5000 CHF this month. But we managed to save more than 50% of our income anyway. So this is not a bad month!
So, let's see what happened to us during the month of November 2019.
November 2019
In November 2019, I spent 5 days in Berlin, Germany. I was there for a conference for my work. It was a great conference. I did not have much time for sightseeing. But I was there already several times for the same conference, so I have seen enough.
A relative of Mrs. The Poor Swiss also spent some days in our home. And they took the opportunity to go see Lucerne and Zurich. They had a great time. It cost a little on our budget. But nothing too serious.
We had several parties with friends and family. It is quite usual for us.
We are planning our annual trip to China next year. We are going to go there at the end of January. So we had to reserve the flights. We found pretty affordable flights. Given the unrest in Hong Kong, the prices are getting much cheaper.
I wanted to take direct flights to Hong Kong. But Mrs. The Poor Swiss wanted to save some money. So we took a flight with a stop in London. In total, we spent less than 1000 CHF.
I also had to renew my passport. It cost me about 160 CHF. This is not bad considering that it will last for 10 years. I also directly renewed my identity card in the lot.
I decided to start paying for a full year of my Chinese course at FluentU. Until now, I was paying by the month. But I can save some money by paying at once. And I plan to continue learning Chinese next year. So this is another 240 CHF that we spent.
Overall, it was a great month for our savings. We saved 51% of our income this month. We finally reached a 50% average savings rate for the last 12 months!
Now, we need to work on bringing our average to a 55% savings rate!
Expenses
Here are the details of our expenses for November 2019:
Insurances: 790.05 CHF. Average. This includes health insurance for both of us.
Transportation: 174.00 CHF. Average. Gas and some public transportation.
Communications: 162.81 CHF. Above average. I had to pay for one year of newsgroup plan.
Personal: 1706.70 CHF. Well above average. The two flights to China, my Chinese course for 12 months and the renewal of my passport are the big expenses.
Food: 552.55 CHF. Well Above average. A few lunches out for my wife and acquaintance. And some extra groceries. And I also bought some local beer for the holiday season.
Apartment: 1247 CHF. Average. Only our rent.
Taxes: 765.80 CHF. Average. Taxes for the state and the county.
Overall, we spent 5411 CHF this month. It is not really good.
We spent a bit too much on food this month. We did some larger groceries for several large meals with more people than usual. And we also spent money on eating out when my wife and her family member were in Zurich and Lucerne. And I bought for more than 50 CHF of beer. There is also the fact that I did groceries on the last day of the month too. But it is not really bad either.
We are used to it by now, but we failed short of our goal to spend less than 5000 CHF in a month. But we are not much higher than that and we spent 1000 CHF on flights. So, I am not unhappy about this result.
And regarding our savings rate, this is still more than 50%.
2019 Goals
Let's take a look at how our goals look like after November 2019: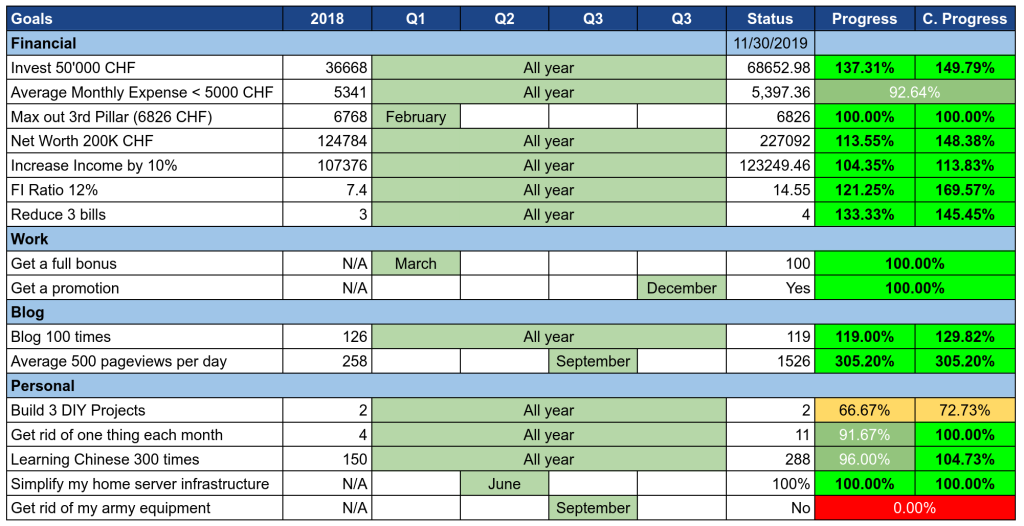 We only have one month left until the end of the year now. I expect that we will reach all our goals but three:
Average monthly expenses below 5000 CHF. I did not do enough to reduce our expenses for this goal. We will probably spend less than last year. But this will be very close.
Build 3 DIY projects. I will definitely not do one more now that the weather has turned cold.
Get rid of my army equipment. I already discussed this goal in the past. It was just a bad goal because it did not depend on me. There is nothing I can do to do this goal.
I will have to improve my goals next year. There is still some area for improvement. But I will also have to improve the way I focus on some of my goals. I should have worked more on reducing our expenses this year.
But overall, our goals are going great!
Net Worth
Let's see what happened to our net worth during November 2019:


This was a really good month for our net worth. Our net worth grew more than 8000 CHF this month. And there was no special income. Next month will probably be in the same ballpark.
We passed the 225K CHF net worth! I think the 250K line will be passed in March with my bonus.
The Blog
November 2019 was a slow month for the blog. Traffic increased by about 5%. This is slow progress but this is still progress!
I was expecting some more traction on some of my posts. Especially when I released my FIRE Calculator. But hopefully, this will pay in the long-term. I am quite happy I have been able to release that to everybody. I am planning a few improvements to the calculator.
Since this is the first calculator I ever release on the internet, it is quite possible that some things are not great with it. Let me know if you have ideas for improvements!
I have finally created a Facebook Group: Personal Finance in Switzerland. This is something that I considered doing for a long time. It is now time! Let's hope we can build a community around this and save money together!
Best platform to start a blog
SiteGround
SiteGround is a great hosting provider, with very low fees. It has one of the best user ratings of all hosting providers.
I did my first ever appearance on a podcast: Financial Independence Podcast 73. I think it turned out pretty nicely!
I am also happy about my interview series turned out! I interviewed Janet, another blogger. It is really impressive how much she can save! This motivates me to try to spend less money next year. I am starting to have a few ideas as to how to do that.
As usual, here are the three most viewed posts of November 2019:
What about you? What was your favorite post of the month?
In December 2019, I do not expect any big changes on the blog. I am still planning some small changes.
I will not post on the blog the last week of December and the first week of January. It will give me time to work on other things and go through my backlog. And I do not think people read blogs that much during these times anyway.
Next Month – December 2019
I cannot believe that next month is already December! This year went by so fast!
Next month will be quiet except for Christmas and New Year's Eve. We will have parties with friends and families. We will probably eat and drink too much!
This year, the holidays are during the week, so I will have some days. This is fortunate since because of our trip to China, I cannot take any days off during the official holidays.
From a financial point of view. I do not plan anything special next month. There will be the usual end of year bills of course. We should probably be in the same ballpark as this month.
What about you? How was November 2019 for you? What do you have planned for December?